Adjunct Faculty Around the Country Join Fight for 15 Protests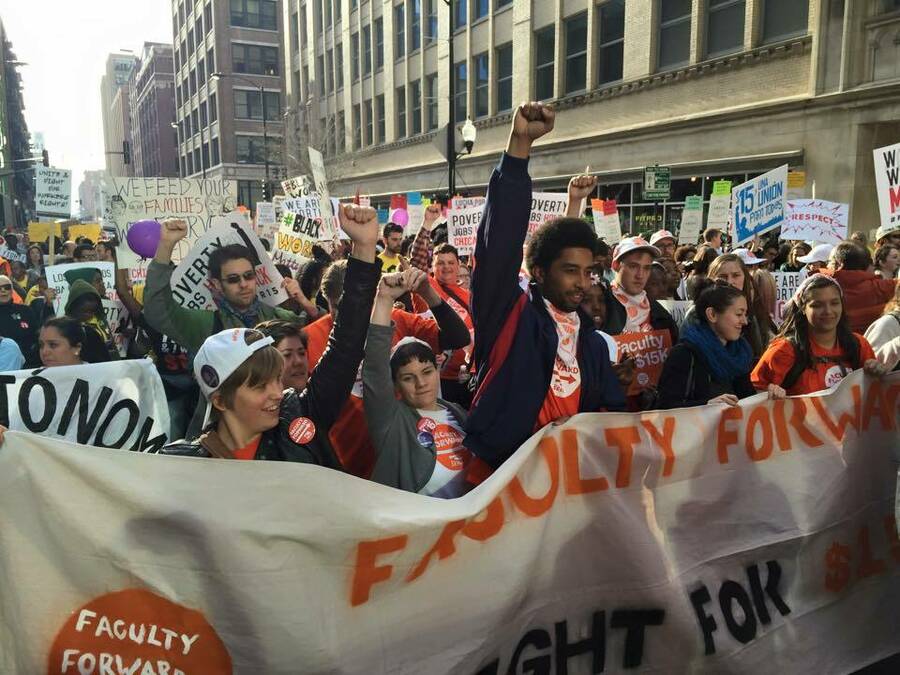 After speak­ing to an adjunct instruc­tor par­tic­i­pat­ing in yesterday's mas­sive low-wage work­er protests, I thanked her for her time and walked away. Anoth­er adjunct, who had been lis­ten­ing on the side­lines as my inter­vie­wee talked about her 12 years piec­ing togeth­er part-time work at five dif­fer­ent Chica­go col­leges, approached and intro­duced her­self. ​"I just want­ed to make sure we con­nect­ed today," she said to my inter­vie­wee before adding know­ing­ly, ​"It sounds like we have a lot in common!"
A key com­po­nent of any union dri­ve is work­ers' recog­ni­tion that their prob­lems on the job are shared rather than unique ones, and that they there­fore must be solved by col­lec­tive action. Orga­niz­ers involved in the grow­ing effort to union­ize con­tin­gent fac­ul­ty say that this is often an espe­cial­ly dif­fi­cult real­iza­tion for high­ly edu­cat­ed, low-wage work­ers who are trained to pur­sue indi­vid­ual suc­cess by putting their noses ever hard­er to the Ivory Tower's grindstone.
But that appears to have changed as of yesterday's walk­outs and ral­lies in more than 200 cities nation­wide, in which adjuncts joined fast-food, home­care and oth­er low-wage work­ers in what orga­niz­ers say was the largest such protest in his­to­ry. The day's actions marked a new phase of the ​"Fight for 15," which will head to col­leges as con­tin­gent fac­ul­ty press for union rep­re­sen­ta­tion, a wage bump and greater job security.
Ear­li­er this year, the Ser­vice Employ­ees Inter­na­tion­al Union (SEIU), which backs both adjunct and fast-food work­er orga­niz­ing, announced a new cam­paign called ​"Fac­ul­ty For­ward," which will demand a min­i­mum com­pen­sa­tion of $15,000 per col­lege course taught, plus ben­e­fits. That would be a stag­ger­ing increase over adjuncts' cur­rent medi­an pay of just $2,700 per course nation­wide, but it com­ple­ments the bold demand of a $15 min­i­mum wage that fast-food work­ers have been advanc­ing since 2012.
"This is the time to be heard for all low-wage work­ers," said Alyson Paige War­ren, an adjunct who has worked at Loy­ola Uni­ver­si­ty Chica­go and oth­er Chica­go-area schools for 12 years, some­times mak­ing as lit­tle as $100 per week­ly class.
Chica­go is one of the most recent cities where SEIU is hop­ing to orga­nize adjuncts city­wide, fol­low­ing con­sid­er­able suc­cess in the Boston, San Fran­cis­co and Wash­ing­ton, DC metro areas. While the city's major pub­lic school and sev­er­al com­mu­ni­ty col­leges already have active fac­ul­ty unions, there are approx­i­mate­ly 8,000 part-time and con­tin­gent fac­ul­ty mem­bers across the city that remain non-union­ized, includ­ing at pri­vate uni­ver­si­ties such as Loy­ola and DePaul.
Ahead of yesterday's main Fight for 15 protest in Chica­go, a group of about 50 adjuncts, stu­dents and full-time fac­ul­ty sup­port­ers ral­lied at Loy­ola on the city's far North Side. Car­ry­ing signs that read, ​"Invest in instruc­tion, fight for $15K" and ​"No more profs in pover­ty," the group marched across cam­pus before board­ing bus­es to join an esti­mat­ed 6,000 demon­stra­tors call­ing for a liv­ing wage.
The group of adjuncts also deliv­ered a peti­tion with 500 sig­na­tures to Loy­ola admin­is­tra­tors, urg­ing them to live up to the school's Jesuit val­ues of social jus­tice by grant­i­ng instruc­tors fair ben­e­fits, fair wages and the right to union­ize. Adjuncts at Loy­ola are not for­mal­ly demand­ing $15,000 a course, but they say their cur­rent rate of between $4,000 and $4,500 isn't enough to make ends meet.
They're not alone. A study released this week by the Uni­ver­si­ty of Cal­i­for­nia Berkeley's Cen­ter for Labor Research and Edu­ca­tion finds that a full 25 per­cent of part-time col­lege pro­fes­sors rely on some form of pub­lic assis­tance to sup­ple­ment their wages. That's not as high at the 48 per­cent of home­care work­ers who received assis­tance from pro­grams includ­ing Med­ic­aid, food stamps, wel­fare pay­ments or the Earned Income Tax Cred­it, or the 52 per­cent of fast-food work­ers who do so. But it's a stun­ning sta­tis­tic that flies in the face of the assump­tion that high­er edu­ca­tion is a path to prosperity.
Paige War­ren believes that it's also a basis for sol­i­dar­i­ty with oth­er work­ers, some­thing that adjuncts are increas­ing­ly attuned to. ​"If some­one who serves my cof­fee before I go to teach my stu­dents is strug­gling to make ends meet," she said, ​"it's my job to be con­cerned about his plight, just as he should be about mine."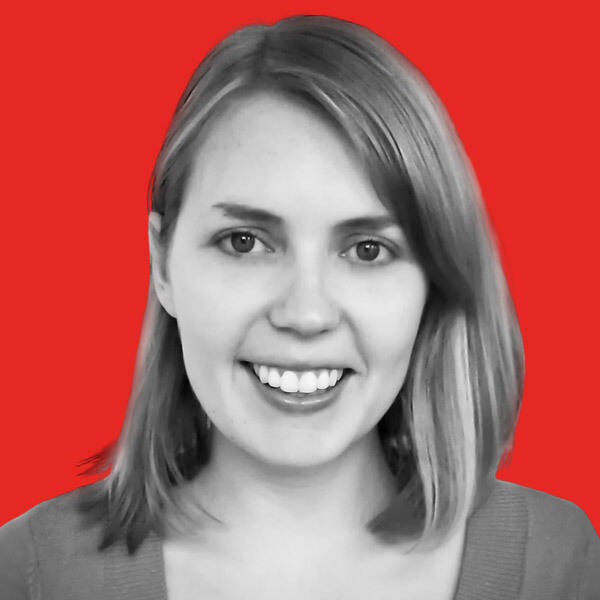 Rebec­ca Burns
is an award-win­ning inves­tiga­tive reporter whose work has appeared in The Baf­fler, the Chica­go Read­er, The Inter­cept and oth­er out­lets. She is a con­tribut­ing edi­tor at In These Times. Fol­low her on Twit­ter @rejburns.