Before "Silent Spring" Debuted in 1962, Ag Pilots on the Great Plains Questioned Pesticide Safety
It is easy to frame con­ser­va­tion as a clash between envi­ron­men­tal­ists and pol­luters. But this view can great­ly over­sim­pli­fy many com­plex choic­es. What does con­ser­va­tion look like when ideas about nature cut across polit­i­cal lines?
In my book, Chem­i­cal Lands: Pes­ti­cides, Aer­i­al Spray­ing and Health in North America's Grass­lands since 1945, I explore how pilots, sci­en­tists and farm­ers devel­oped prac­tices for ​"crop­dust­ing" on the Great Plains after World War II. This indus­try took shape years before Rachel Car­son pub­lished Silent Spring, a sweep­ing cri­tique of wide­spread use of syn­thet­ic pes­ti­cides, in 1962.
Chem­i­cal com­pa­nies made broad promis­es about these ​"mir­a­cle" prod­ucts, with lit­tle dis­cus­sion of risks. But pilots and sci­en­tists took a much more cau­tious approach. Well before a nation­al envi­ron­men­tal move­ment emerged, local pro­duc­ers devel­oped their own ways to study safe­ty and health ques­tions as ear­ly as the 1950s. If pro­tect­ing agri­cul­tur­al health here meant using pes­ti­cides to meet pro­duc­tion goals, they want­ed to under­stand the risks too.
A cau­tious approach
After World War II, U.S. farm­ers began using new chem­i­cals, many devel­oped dur­ing the war, to fight pests. Grass­lands weeds like musk this­tle and field bindweed, and insects like corn bor­ers, threat­ened pro­duc­tion lands as mar­kets were expand­ing dur­ing the post­war eco­nom­ic boom.
Farm poi­sons seemed like a ​"sil­ver bul­let" response. Just as insec­ti­cides like DDT had pro­tect­ed Allied sol­diers against dis­eases such as typhus fever, they could pro­tect fields at home, com­pa­nies like DuPont and Dow told farm­ers in adver­tise­ments, trade jour­nals and in-per­son sales.
But crop­dust­ing pilots, known as ​"ag pilots," and land-grant agri­cul­tur­al sci­en­tists didn't all buy this mes­sage. They wor­ried that using pes­ti­cides might be just as dan­ger­ous as not using them. In search of answers, they attend­ed annu­al con­fer­ences held at uni­ver­si­ties and rur­al con­ven­tion cen­ters. At meet­ings like the North Cen­tral Weed Con­trol Con­fer­ence, which took place annu­al­ly start­ing in 1944, ag pilots and farm­ers could learn about new advances and debate cur­rent prac­tices. Records of these meet­ings show a kind of ​"chem­i­cal stew­ard­ship" devel­op­ing on the Plains.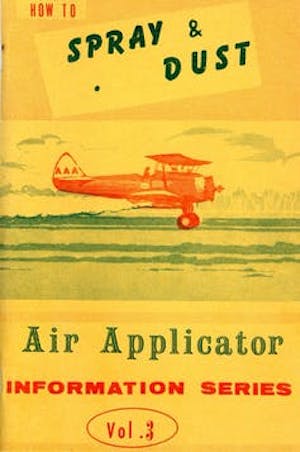 Crop­dust­ing pilots often pub­lished their own man­u­als for spray­ing schools. (Image: Uni­ver­si­ty of Nebras­ka at Kear­ney, CC BY-NC)
Poten­tial for good or harm
Many farm­ers and experts were well aware of how lit­tle they real­ly knew about pes­ti­cide and her­bi­cide impacts. Uni­ver­si­ty of Nebras­ka agri­cul­tur­al exten­sion sci­en­tist Noël Han­son cau­tioned in his ple­nary speech at the 1947 NCW­CC meet­ing in Tope­ka, Kansas, about the promise of agri­cul­tur­al chemicals:
We all know that it will take years of research, edu­ca­tion, reg­u­la­tion, man­u­fac­ture, dis­tri­b­u­tion of mate­ri­als, and plain good farm­ing in a sound agri­cul­ture and indus­try before the weeds that are now present can be most effi­cient­ly and eco­nom­i­cal­ly brought under con­trol. Lit­tle progress can be made until the bio­log­i­cal foun­da­tions … are bet­ter known.
Reporter Dick Mann observed in the Kansas Farmer that wheat farm­ers also wor­ried about the new pes­ti­cides and poten­tial impacts of aer­i­al spraying:
These chem­i­cals com­pare with some of the new mir­a­cle drugs in med­i­cine. They have the pow­er for tremen­dous good, but they also have the pow­er for great harm if improp­er­ly used. … With this infor­ma­tion as back­ground you can see that many per­sons are deeply con­cerned over the pos­si­bil­i­ties of this thing get­ting out of hand.
In Hays, Kansas, pilot Don­ald E. Pratt — known as the ​"Spray King of the West" — estab­lished the P‑T Air Ser­vice, an aer­i­al spray­ing school that com­bined spray­ing edu­ca­tion with agri­cul­tur­al sci­ence. Pratt had his pilots learn as much as they could about the newest pest con­trol chem­i­cals on the mar­ket. His crew met with state ento­mol­o­gists and weed sci­en­tists to bet­ter under­stand crop-pest inter­ac­tions. Then Pratt con­duct­ed his own exper­i­ments on pri­vate test plots to assess effec­tive­ness and haz­ards. Many Great Plains pilots ran flight schools sim­i­lar to Pratt's.
Rogue pilots and chem­i­cal bootleggers
Nonethe­less, some oper­a­tors cut cor­ners. Rene­gade pilots failed to pay atten­tion to wind direc­tion for tar­get fields. In my archival research, I found that their hap­haz­ard­ness result­ed in many chem­i­cal poi­son­ings in fields and communities.
Some sup­pli­ers devel­oped a process called ​"incor­po­rat­ing" — mix­ing two or three dif­fer­ent pes­ti­cides togeth­er, then repack­ag­ing the adul­ter­at­ed poi­son and mis­la­bel­ing it as an entire­ly dif­fer­ent chem­i­cal. These prod­ucts either over-poi­soned farm­ers' fields or had vir­tu­al­ly no effect on pests. They also threat­ened ag pilots' pro­fes­sion­al reputations.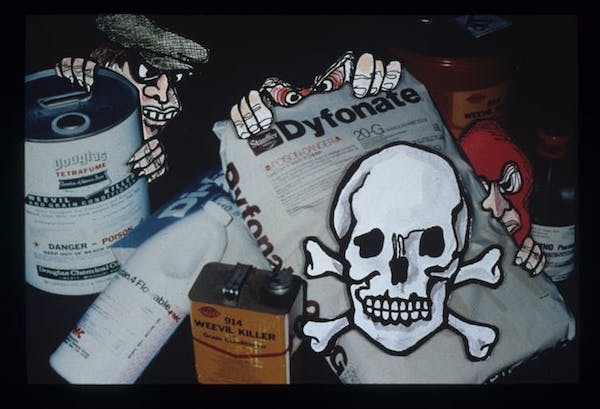 Car­i­ca­tures of farm chem­i­cal huck­sters and crim­i­nals from the

1970

s.
(Image: Kansas State Uni­ver­si­ty Libraries)
But rep­utable weed sci­en­tists and ag pilots con­tin­ued study­ing risks of aer­i­al pes­ti­cide appli­ca­tion. They also devised meth­ods to stop chem­i­cal huck­sters, such as design­ing indus­try cer­ti­fi­ca­tion doc­u­ments and sup­port­ing aer­i­al spray­ing laws.
The ​'Silent Spring' era
Then came Rachel Carson's best-sell­er. A key ques­tion in Silent Spring was how users applied agri­cul­tur­al chem­i­cals, espe­cial­ly insec­ti­cides. Car­son nev­er argued for com­plete­ly ban­ning pop­u­lar insec­ti­cides or urged farm­ers to stop using chem­i­cals entire­ly. But she called indis­crim­i­nate aer­i­al appli­ca­tion the best exam­ple of vast eco­log­i­cal dan­gers asso­ci­at­ed with DDT and oth­er farm chemicals:
Although today's poi­sons are more dan­ger­ous than any known before, they have amaz­ing­ly become some­thing to be show­ered down indis­crim­i­nate­ly from the skies. Not only the tar­get insect or plant, but any­thing human and non­hu­man with­in range of the chem­i­cal fall­out has known the sin­is­ter touch of the poison.
For Car­son, health encom­passed humans, wildlife and the envi­ron­ment in a holis­tic way. She impli­cat­ed pro­duc­ers and the chem­i­cals they used in endan­ger­ing all liv­ing things. Farm­ers, ranch­ers, cat­tle, crops, water sup­plies and cities were all at risk. Silent Springsparked calls for reg­u­la­tion in the 1960s and 1970s, cul­mi­nat­ing in the cre­ation of the Envi­ron­men­tal Pro­tec­tion Agency in 1970 and the ban­ning of DDT in 1972.
Many ag pilots pushed back, claim­ing they had already devel­oped prac­ti­cal meth­ods to min­i­mize risks. Pes­ti­cides were dan­ger­ous, but so were pests. Pro­tec­tion and safe­ty on farm­lands meant ​"safe," ​"stan­dard­ized" agri­cul­tur­al chem­i­cal use.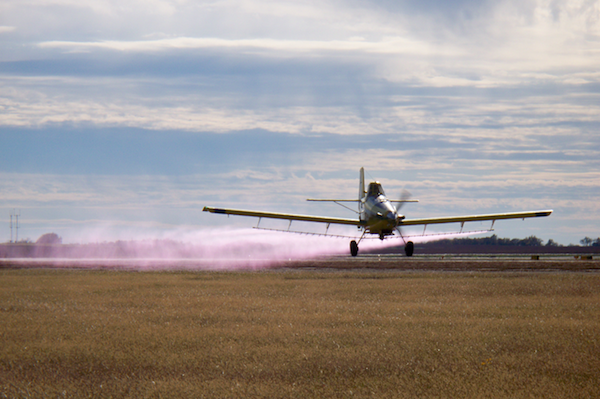 Agri­cul­tur­al plane test-spray­ing Kansas wheat for drift haz­ards. (Image: David Vail, CC BY-ND)
Still on the treadmill
After DDT was banned, new and more tox­ic alter­na­tives suc­ceed­ed it — first organophos­phates, and more recent­ly, neon­i­coti­noids. But insect pests and weeds have devel­oped resis­tance to each new gen­er­a­tion of prod­ucts. Today many farm­ers are con­tend­ing with weeds that have devel­oped resis­tance to the wide­ly used her­bi­cide glyphosate — the lat­est step on this chem­i­cal-pest treadmill.
Farm chem­i­cals remain a key part of con­ven­tion­al agri­cul­ture, and aer­i­al spray­ing is still a cen­tral prac­tice for most large-scale farms on the Great Plains. Many pilots and farm­ers still pur­sue chem­i­cal stew­ard­ship, using GPS tech­nolo­gies to apply pes­ti­cides pre­cise­ly and use no more than needed.
But as cheap chem­i­cal solu­tions lose their poten­cy, agri­cul­tur­al exten­sion pro­grams increas­ing­ly are rec­om­mend­ing approach­es that include non-chem­i­cal tac­tics, like crop diver­si­ty and plant­i­ng prac­tices that inhib­it weed growth. These seem­ing­ly con­trast­ing views — using chem­i­cals to con­trol pests while seek­ing to min­i­mize envi­ron­men­tal dam­age — reflect the nuanced atti­tudes many Great Plains farm­ers and pilots have long held toward pes­ti­cides and herbicides.
(​"Farm­ers and crop­dust­ing pilots on the Great Plains wor­ried about pes­ti­cide risks before ​'Silent Spring'" was first pub­lished on The Con­ver­sa­tion and is repost­ed on Rur­al Amer­i­ca In These Times under a Cre­ative Com­mons license.)
David Vail
is an assis­tant pro­fes­sor of his­to­ry at Uni­ver­si­ty of Nebras­ka Kear­ney. He grew up in South­ern Oregon's Rogue Val­ley and spent much of his youth explor­ing the state's moun­tains and wilder­ness areas. He holds a BA from South­ern Ore­gon Uni­ver­si­ty, an MA from Utah State Uni­ver­si­ty, and a PhD from Kansas State University.