Affordable Housing is Vanishing. These Ballot Initiatives Could Help Stem the Crisis.
This November, voters in cities including Baltimore, San Francisco and LA will decide on measures that could fund more affordable units and improve services for the homeless.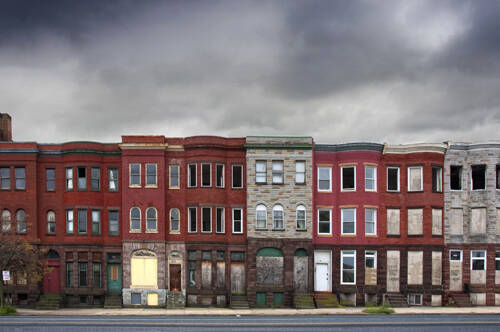 Afford­able hous­ing may not have received much atten­tion in the pres­i­den­tial elec­tion, but it's on the minds of many vot­ers. A nation­al sur­vey released by Ipsos Pub­lic Affairs in July found that six in 10 Amer­i­cans say it's a key issue for them, and near­ly six­ty per­cent of respon­dents say their local offi­cials are not doing enough to improve hous­ing affordability.
Faced with ris­ing hous­ing costs, at least twelve cities will be vot­ing on afford­able hous­ing bal­lot ini­tia­tives come Elec­tion Day – with most of them revolv­ing around con­struct­ing more afford­able units and pro­vid­ing more sup­port for the homeless.
In addi­tion to push­ing for bond and loan ref­er­en­dums that would cre­ate new financ­ing for these ends in pricey areas like San Fran­cis­co and Oak­land, com­mu­ni­ty activists are con­fronting a deep­en­ing hous­ing cri­sis in Bal­ti­more, a city that's often over­looked in dis­cus­sions of afford­abil­i­ty. Bal­ti­more res­i­dents will have the oppor­tu­ni­ty to vote on a bal­lot ini­tia­tive that would amend the city's char­ter to cre­ate an afford­able hous­ing trust fund – an enti­ty to pro­vide hous­ing assis­tance for fam­i­lies mak­ing 50 per­cent or less than the area medi­an income. The fund could also sup­port a vari­ety of oth­er afford­able hous­ing efforts, such as pro­vid­ing home­own­er­ship work­shops and cred­it coun­sel­ing, devel­op­ing new low-income hous­ing or reha­bil­i­tat­ing vacants.
Many Amer­i­cans think of places like New York, Wash­ing­ton D.C., and San Fran­cis­co as the most unaf­ford­able places to live, but though they have high­er rents, they also also high­er medi­an incomes. Johns Hop­kins grad­u­ate stu­dent Philip Gar­bo­den ana­lyzed the most recent Amer­i­can Com­mu­ni­ty Sur­vey and Amer­i­can Hous­ing Sur­vey data and found that of the top 25 largest cities in the coun­try, Bal­ti­more ranks fifth for rental hous­ing bur­dens, behind only Detroit, Los Ange­les, Philadel­phia, and Mem­phis. (Los Ange­les res­i­dents will be vot­ing on two hous­ing ini­tia­tives this Novem­ber – one that would raise prop­er­ty tax­es to fund hous­ing for the chron­i­cal­ly home­less, and anoth­er that would require large hous­ing devel­op­ments to set aside a por­tion of units for low-income res­i­dents.) Despite Bal­ti­more rents rank­ing as aver­age among the 25 largest cities, only six cities have low­er medi­an incomes, and all of those six cities have low­er medi­an rents.
For the 34 per­cent of Bal­ti­more renters who live below the pover­ty line, the chal­lenge of find­ing afford­able units on the pri­vate mar­ket has grown increas­ing­ly dif­fi­cult — not to men­tion that the major­i­ty of poor renters in Bal­ti­more receive no hous­ing sub­si­dies from the gov­ern­ment. The city has also seen sharp rent increas­es in recent years, so mid­dle class fam­i­lies with stag­nant incomes have also expe­ri­enced unprece­dent­ed hous­ing bur­dens. In the past six years, the num­ber of cost-bur­dened mid­dle-income renter house­hold­ers in the city shot up from 1,800 to more than 7,500.
Afford­able hous­ing trust funds are not a new idea, but they've attract­ed more atten­tion as of late. ​"They have def­i­nite­ly been pick­ing up at a greater clip," says Mary Brooks, the senior advi­sor of the Cen­ter for Com­mu­ni­ty Change's Hous­ing Trust Fund Project. ​"When I start­ed work­ing on these in the late 1980s there was only a hand­ful, and now there are 770 exist­ing in cities, coun­ties, and states across the coun­try." They're no panacea – plen­ty of cost­ly cities, includ­ing San Fran­cis­co, Chica­go, and Boston have them – and a hous­ing trust fund's effec­tive­ness depends large­ly on how com­mit­ted the local juris­dic­tion is to fund­ing it. But they can be pow­er­ful tools: in Wash­ing­ton D.C., their for­mi­da­ble trust fund receives annu­al allo­ca­tions of $100 million.
Brooks says that hous­ing trust funds tend to be polit­i­cal­ly pop­u­lar because their dol­lars are extreme­ly flex­i­ble – there are few­er strings attached to how mon­ey can be direct­ed, so funds can be used at dif­fer­ent times for dif­fer­ent things. ​"A com­mu­ni­ty could say, ​'Okay, we want to improve exist­ing prop­er­ties' – and they do that for a few years," says Brooks. ​"And then they could say, ​'Okay, now let's start pro­duc­ing new housing."
Hous­ing for All Bal­ti­more, a coali­tion of local groups, includ­ing the ACLU of Mary­land, the Com­mu­ni­ty Devel­op­ment Net­work of Mary­land, CASA de Mary­land, Enter­prise Com­mu­ni­ty Part­ners, and Unit­ed Work­ers cam­paigned for the ref­er­en­dum. Vol­un­teers need­ed to col­lect 10,000 sig­na­tures to get the ini­tia­tive on the bal­lot, and ulti­mate­ly gath­ered more than 18,500 over the sum­mer months. The Bal­ti­more Board of Elec­tions then cer­ti­fied 12,057 of those signatures.
Unit­ed Work­ers, a Bal­ti­more-based human rights orga­ni­za­tion, did a lot of the orga­niz­ing leg­work to col­lect peti­tion sig­na­tures. Mem­bers sta­tioned them­selves all over the city — from gro­cery stores, to church­es, to com­mu­ni­ty fes­ti­vals. ​"I was sur­prised by the diver­si­ty of inter­est in this issue," says Todd Cherkis, an orga­niz­er with the group. ​"There real­ly just hasn't been robust pub­lic pol­i­cy around afford­able hous­ing and com­mu­ni­ty-dri­ven devel­op­ment in this city, and we found that that there real­ly was wide­spread support."
Last Jan­u­ary Unit­ed Work­ers unveiled their ​"20÷20 Vision" cam­paign – a call for $20 mil­lion annu­al­ly invest­ed in pub­lic bonds for com­mu­ni­ty land trusts, and $20 mil­lion annu­al­ly invest­ed in pub­lic bonds to hire the unem­ployed to decon­struct Baltimore's noto­ri­ous vacant hous­ing. ​"The 20/20 cam­paign is a set of demands and goals that attempt to rewire the city to actu­al­ly meet people's hous­ing demands, cre­ate jobs and do sus­tain­able devel­op­ment," says Cherkis. ​"The hous­ing trust fund would be a vehi­cle to help raise resources direct­ly to do some of this. It's only a first step."
If the mea­sure pass­es, steep chal­lenges will remain. Chief among them, the bal­lot ini­tia­tive does not come with any source of fund­ing because the state con­sti­tu­tion pro­hibits appro­pri­a­tions by ref­er­en­dum. Instead, the ref­er­en­dum would empow­er the City Coun­cil to direct funds into the trust fund. At present, only the may­or has that author­i­ty. ​"That's why we need­ed the ref­er­en­dum," explains Odette Ramos, the exec­u­tive direc­tor of the Com­mu­ni­ty Devel­op­ment Net­work of Mary­land. ​"We thought if we tried to do it through the leg­isla­tive process, the may­or would veto it." When asked how much she antic­i­pates going into the trust fund, Ramos says she's ​"hope­ful" that that they can raise between $15 – 25 mil­lion. The fund would be open to pub­lic financ­ing, includ­ing from state and fed­er­al sources, as well as pri­vate financ­ing, like indi­vid­ual donors and phil­an­thropic orga­ni­za­tions. Advo­cates say they're explor­ing dif­fer­ent ded­i­cat­ed rev­enue sources, like a tax on AirBnB rentals. There are also dis­cus­sions around pres­sur­ing local uni­ver­si­ties to pay direct­ly into the hous­ing trust fund, as they are cur­rent­ly exempt from pay­ing prop­er­ty tax­es. ​"We'll throw every­thing on the wall and see what sticks," Ramos says.
Not every­one is enthu­si­as­tic about the ini­tia­tive. Car­ol Ott, a local hous­ing advo­cate, says she's vot­ing against the trust fund this Novem­ber. ​"This is what Bal­ti­more does," she tweet­ed. ​"Invests in straw­man ​'game chang­ers' that change lit­tle to noth­ing for those who need it the most." Ott calls for cre­at­ing a pro­gram that allows mid­dle-income afford­able rental hous­ing to coex­ist with home­own­er-occu­pied homes, as well as divert­ing more resources from sub­si­dized down­town devel­op­ments to neglect­ed, poor neigh­bor­hoods (some­thing Unit­ed Work­ers also supports).
While the goal of rais­ing $25 mil­lion for a Bal­ti­more hous­ing trust fund seems rel­a­tive­ly pal­try com­pared to the likes of Wash­ing­ton D.C., Mary Brooks says not to under­es­ti­mate what even a mod­est hous­ing trust fund could accom­plish in Bal­ti­more, and notes that funds in oth­er cities – like Nashville and Rich­mond – have increased their rev­enues over time. If the bal­lot mea­sure pass­es, sup­port­ers say they don't expect to see mon­ey come out of the trust fund until at least 2018. Advo­cates will also have a brand new city coun­cil and may­or to work with fol­low­ing November's elec­tion. Accord­ing to The Bal­ti­more Sun, about half of cur­rent coun­cilmem­bers are retir­ing, seek­ing oth­er office, or lost their April may­oral primaries.