Why Bill de Blasio's Housing Plan Is Nowhere Near Affordable for Low- and Mid-Wage New Yorkers
Expanding New York City's housing supply is not enough to expand affordable housing.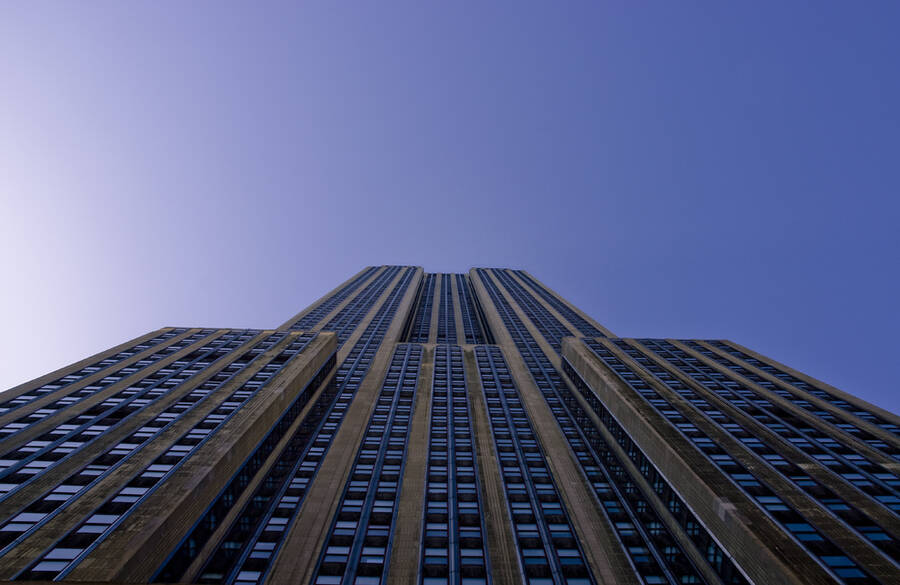 ­­
Expanding the housing supply could help alleviate the enormous demand for housing throughout NYC. However, without restriction, development of the wrong kind of housing can exacerbate gentrification and displace longtime residents, specifically low-income communities of color.
Over the past decade and a half, urban areas have seen move­ment toward sup­posed ​"revi­tal­iza­tion," aggres­sive polic­ing tac­tics to reduce crime and mas­sive invest­ment in devel­op­ment to attract wealth. The result: rapid gen­tri­fi­ca­tion of urban areas, with an influx of white pro­fes­sion­als and the über-rich, and the dis­place­ment of poor peo­ple of color.
May­or Michael Bloomberg opined that his goal was to recruit every bil­lion­aire to come to New York City, assert­ing that an increase in inequal­i­ty would be good. His goal was to cre­ate a cos­mopoli­tan city that would attract these bil­lion­aires through bike lanes, invest­ments in fine arts and enter­tain­ment, state of the art urban parks and of course lots of lux­u­ry condominiums.
This mod­el is being per­fect­ed in New York and San Fran­cis­co, while gain­ing lots of steam in cities like Chica­go, Wash­ing­ton, D.C. and Philadelphia.
No New York­er needs an expla­na­tion about what's hap­pen­ing here. Fam­i­lies are being priced out. Entire com­mu­ni­ties are fear­ful that they will not exist in 5 – 10 years. The entire fab­ric and make­up of New York as we have known it is hang­ing in the balance.
It's no sur­prise that New York elect­ed a may­or based on the promise of an end to the inequal­i­ty that grew expo­nen­tial­ly dur­ing past admin­is­tra­tions, with a major focus on the cre­ation of much-need­ed afford­able hous­ing. May­or Bill de Bla­sio has said that a poten­tial solu­tion to the afford­able hous­ing cri­sis in NYC is to ​"build to the sky" — increas­ing hous­ing den­si­ty in the city by build­ing taller build­ings with more units.
Expand­ing the hous­ing sup­ply could help alle­vi­ate the enor­mous demand for hous­ing through­out NYC. How­ev­er, with­out restric­tion, devel­op­ment of the wrong kind of hous­ing can exac­er­bate gen­tri­fi­ca­tion and dis­place long­time res­i­dents, specif­i­cal­ly low-income com­mu­ni­ties of color.
A major strat­e­gy that the may­or is using to build afford­able hous­ing is called Manda­to­ry Inclu­sion­ary Hous­ing, which changes the city's zon­ing laws. Zon­ing laws gov­ern how indi­vid­ual land parcels can be used, whether it is man­u­fac­tur­ing space, com­mer­cial space, res­i­den­tial or some kind of mixed-use.
They also restrict how tall and wide the struc­tures on each par­cel are allowed to be.
Rezon­ing neigh­bor­hoods for devel­op­ment can there­fore expo­nen­tial­ly increase the val­ue of land, as chang­ing a par­cel zoned for man­u­fac­tur­ing to res­i­den­tial, and allow­ing that res­i­den­tial build­ing to be built ​"into the sky" (and there­fore have a lot of units) means the own­er of the land can make a lot more mon­ey on what is built there.
Rezon­ings should there­fore only be done with sharp restric­tions on the type of hous­ing that is being built, guar­an­tee­ing a stock of hous­ing that is afford­able for low-income fam­i­lies in the neigh­bor­hoods where devel­op­ment is tak­ing place. Because rezon­ings act like a sub­sidy by great­ly increas­ing the val­ue of the land, we need to be cap­tur­ing that val­ue and con­vert­ing it into a pub­lic good.
This should not done be incre­men­tal­ly, either, as that leaves us vul­ner­a­ble to chang­ing mar­ket con­di­tions as devel­op­ment hap­pens. If the major­i­ty of hous­ing units that are built are not imme­di­ate­ly afford­able to the neigh­bor­hood, then that devel­op­ment will increase prices every­where in the neigh­bor­hood and dis­place­ment will increase. At least 50 per­cent of all units should be afford­able to the neigh­bor­hood — that should be the floor.
The goal of any hous­ing devel­op­ment should be max­i­miz­ing afford­able hous­ing units by sheer num­ber and by depth of afford­abil­i­ty. For instance, the city should guar­an­tee units that could be afford­able to a fast food work­er or a dis­abled par­ent. It is not enough to just increase the sup­ply of afford­able hous­ing for mid­dle-income res­i­dents — it needs to be man­dat­ed for fam­i­lies in the low­est income brackets.
Yet May­or Bill de Blasio's administration's Manda­to­ry Inclu­sion­ary Hous­ing (MIH) plan, which man­dates a cer­tain per­cent­age of hous­ing be set-aside as afford­able every time a piece of land is rezoned (with some excep­tions), fails mis­er­ably in actu­al­ly cre­at­ing hous­ing for the New York­ers who need it the most: the low­est-income res­i­dents of the city.
Under the mayor's pro­pos­al, the vast major­i­ty of units will be built for fam­i­lies at 60 per­cent of the Area Medi­an Income — an income of about $47,000 year for a fam­i­ly of three. Too many low-income peo­ple will con­tin­ue to be at risk of dis­place­ment and home­less­ness. Even if they receive a wage increase to $15 per hour, low-wage work­ers won't able to afford the over­whelm­ing major­i­ty of New York apart­ments under de Blasio's MIH plan.
That's why Com­mu­ni­ty Boards and New York­ers across the city have met the pro­posed MIH poli­cies with resistance.
Rachel Rivera, for exam­ple, won't be able to afford a decent apart­ment under the cur­rent plan in her neigh­bor­hood of East New York, Brook­lyn. As a sin­gle moth­er of six, she is try­ing to raise her fam­i­ly on a dis­abil­i­ty check of $733 a month. Surg­ing rents have forced her from Bush­wick to Bed-Stuyvesant and now to East New York in Brook­lyn, which is the first neigh­bor­hood de Bla­sio intends on rezoning
The same is true for Fitzroy Chris­t­ian, a South Bronx retiree who had to return to work to meet ris­ing rents and help his three chil­dren fin­ish col­lege. He now works to help fam­i­lies nav­i­gate the hous­ing courts and avoid evic­tion. Despite mak­ing $10,000 above his neighborhood's AMI, he still won't qual­i­fy for an ​"afford­able" apart­ment in the Mayor's plan.
The pro­pos­al on the table to cre­ate a so-called ​"afford­able hous­ing" will do lit­tle to stem the tide of the cri­sis at hand in com­mu­ni­ties across the city. The afford­abil­i­ty lev­els fail to reach New York­ers most in need of hous­ing: the work­ing poor.
Accord­ing to a report by New York City comp­trol­ler Scott M. Stringer, 84 per­cent of res­i­dents in East New York — the first neigh­bor­hood to be rezoned under the city's pro­pos­al — will be unable to afford the mar­ket rate hous­ing units pro­posed under the rezon­ing, and 55 per­cent will be unable to afford the ​"afford­able units" based on the proposal's income requirements.
To make mat­ters worse, the cur­rent pro­pos­al sets no job stan­dards for the work­ers who will build the new devel­op­ments, there­fore incen­tiviz­ing devel­op­ers to con­tin­ue to sub­ject con­struc­tion work­ers to work under deplorable conditions.
We are at a piv­otal point as a city. Either we cre­ate a devel­op­ment mod­el that focus­es on cre­at­ing tru­ly afford­able hous­ing for our work­ing class and com­mu­ni­ties of col­or, or we fol­low in the steps of the city of San Fran­cis­co and head toward a mono­lith­ic urban enclave for the upper class­es, with lit­tle-to-no work­ing-class residents.
When fast food work­ers and oth­er low-wage work­ers can't gain access to real afford­able hous­ing in the rich­est city in the world, it's a mas­sive moral fail­ure that must be chal­lenged and cor­rect­ed. May­or de Bla­sio must change course and imple­ment reforms that can keep our diverse com­mu­ni­ties intact and, in doing so, he has the oppor­tu­ni­ty to set the course for cities across the nation threat­ened by gentrification.
As it stands we will only con­tin­ue to see mas­sive dis­place­ment — and an end to the city we love.
Jonathan West­in
is the Exec­u­tive Direc­tor for New York Com­mu­ni­ties for Change. Fol­low him on Twit­ter: @jwnychange.