Afghan Refugees Rise Up Across Europe
Against the threat of deportation, refugees from Athens to Vienna are standing up for their rights.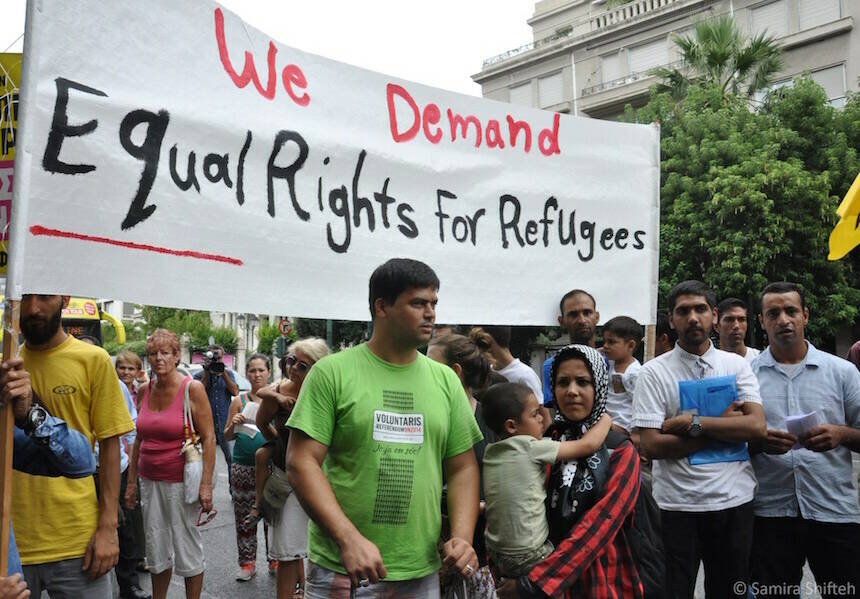 "In Afghanistan, the Tal­iban or Daesh kill me once, but here in Greece I am being killed every day."
In early August, hundreds of Afghan unaccompanied minors in Stockholm held a sit-in outside the parliament building, demanding an end to deportations.
–An Afghan refugee liv­ing in a camp out­side Athens
ATHENS, GREECE — Afghan refugees across Europe are orga­niz­ing demon­stra­tions against the depor­ta­tion poli­cies of the Euro­pean Union. In par­tic­u­lar, they are demand­ing their rights under inter­na­tion­al law, which are con­tin­u­ous­ly being vio­lat­ed by two 2016 deals: the Joint Way For­ward agree­ment between the EU and the Islam­ic Repub­lic of Afghanistan, and the EU-Turkey agreement.
The EU-Afghanistan Joint Way For­ward Agree­ment (JWF), signed Oct. 2, 2016, allows EU mem­ber states to deport an unlim­it­ed num­ber of Afghan asy­lum seek­ers by clas­si­fy­ing them as eco­nom­ic migrants rather than refugees, and oblig­es the Afghan gov­ern­ment to receive them. Thanks to a leaked memo, it is wide­ly known to have been a back­room deal that Afghanistan was forced to accept in order to receive human­i­tar­i­an aid. The agree­ment has been crit­i­cized by the Afghan par­lia­ment as well as human rights groups, and rests on the false assump­tion that Afghanistan is safe to deport peo­ple to, when all recent reports indi­cate an alarm­ing rate of violence.
The March 2016 EU-Turkey Deal allows Greece to deport refugees to Turkey, ignor­ing that Turkey is also not a safe coun­try for refugees to be deport­ed to: Accord­ing to Turk­ish law only Euro­peans can claim asy­lum under the 1951 Refugee Con­ven­tion. Thus, the depor­ta­tion of refugees to Turkey leaves them in extreme­ly vul­ner­a­ble posi­tions that can lead to their abuse by traf­fick­ers and oth­ers. In exchange for the agree­ment, Turkey is to receive bil­lions of euros in aid, visa-free trav­el through the EU for Turk­ish cit­i­zens and revived nego­ti­a­tions for Turk­ish acces­sion to the EU. Often, the peo­ple deport­ed back to Turkey are held in deten­tion cen­ters built using EU mon­ey. They are forced to live in deplorable con­di­tions while detained, often end­ing in their depor­ta­tion back to their coun­tries of origin.
Faced with the threat of depor­ta­tions, on August 22 more than 100 Afghan refugees and allies marched and ral­lied in Athens. Peo­ple chant­ed in Dari, Eng­lish and Greek, call­ing for an end to depor­ta­tions and for open bor­ders. Peo­ple marched with hand-paint­ed ban­ners, read­ing, in ref­er­ence to the JWF agree­ment, ​"Afghanistan is Not Safe," and ​"War Refugees, Not Eco­nom­ic Migrants." The uni­fied mes­sage was clear: Stop the deten­tion and depor­ta­tion of Afghan asy­lum seek­ers back to Afghanistan.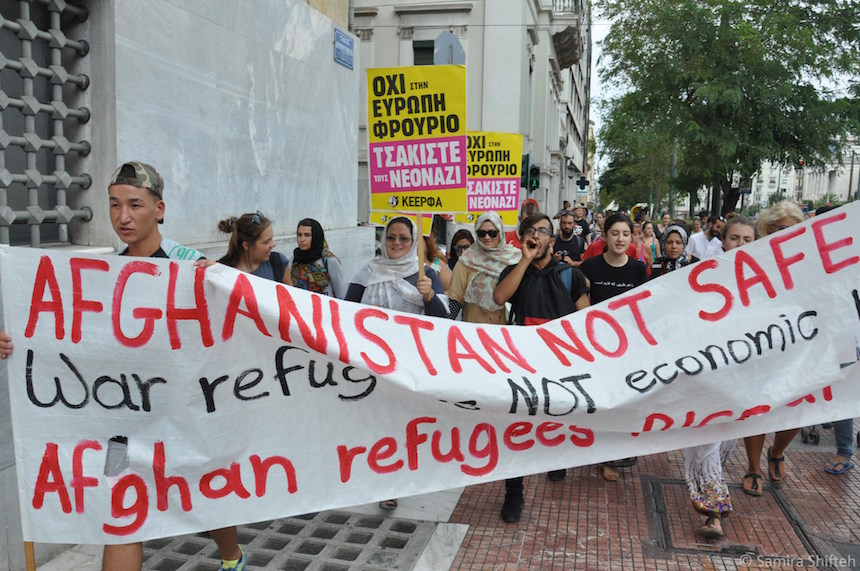 Afghan refugees and advo­cates march in Athens on August 22. The signs in Greek read ​"No to fortress Europe." (Sami­ra Shifteh)
Refugees came to the August 22 action from two gov­ern­ment-run refugee camps, Schis­to and Eleonas, as well as the Athens sol­i­dar­i­ty squat City Plaza, run by activists. Res­i­dents of Malakasa Camp attempt­ed to attend the action, but allege they faced polit­i­cal repres­sion by offi­cials with the Inter­na­tion­al Orga­ni­za­tion for Migra­tion (IOM) who threat­ened to with­hold sup­plies (such as cloth­ing) if they board­ed the bus­es to the protest. Res­i­dents at Schis­to camp tell us they also faced repres­sion by Inter­na­tion­al Res­cue Com­mit­tee (IRC) offi­cials, who, they allege, attempt­ed to pre­vent refugees from leav­ing the camp.
We were there as well, as part of a recent del­e­ga­tion to Greece, through the War Resisters League, a U.S.-based anti-war orga­ni­za­tion. Our del­e­ga­tion came togeth­er as eight activists from the Syr­i­an, Iraqi, Yemeni, Afghan, Iran­ian and Pak­istani dias­po­ras liv­ing in the Unit­ed States and Canada.
Dur­ing our time in Athens we con­nect­ed with many Afghan refugees and par­tic­i­pat­ed in com­mu­ni­ty meet­ings hear­ing their con­cerns. With their lead­er­ship, and help from mem­bers of the Afghan dias­po­ra inside and out­side of Greece, we draft­ed a let­ter of their demands, and sup­port­ed a polit­i­cal action to deliv­er the let­ter to the EU and the Greek Min­istry of Migra­tion and Policy.
The Afghan refugee com­mu­ni­ty read aloud these demands in front of the Min­istry of Migra­tion and Pol­i­cy, before march­ing to the offices of the Euro­pean Com­mis­sion of Greece to do the same. Demands includ­ed a mora­to­ri­um on all depor­ta­tions and the can­cel­la­tion of the EU-Turkey Deal and the JWF. The let­ter also called for Afghan refugees to be des­ig­nat­ed as refugees flee­ing war and gen­er­al­ized vio­lence, and called for time­ly fam­i­ly reuni­fi­ca­tion trans­fers with loved ones else­where across Europe.
Less than a week lat­er, on August 28, around 50 Afghan refugees from Moria refugee camp marched from the camp into Sap­pho Square, the heart of Myti­lene city, Lesvos. The deci­sion to protest out­side the camp in the city cen­ter was intend­ed not only to gain media atten­tion but also to avoid vio­lent police repres­sion recent­ly met by pro­tes­tors at the camp that result­ed in the arrests of 35 refugees. Cit­ing inspi­ra­tion from the recent vic­to­ri­ous hunger strike led by refugees in Moria's Sec­tion B deten­tion cen­ter, the pro­test­ers claimed they would not leave until their demands were met. Men protest­ing had hand­writ­ten mes­sages on their T‑shirts with the date they arrived to Moria to show how long they have been trapped on the island, unable to trav­el to the main­land and wait­ing for deci­sions on their asy­lum cas­es. Many have been there over a year, with no updates on their sta­tus. Dur­ing the action, peo­ple remained camped out overnight in Sap­pho Square. Many expe­ri­enced harass­ment from the Greek police as well as vio­lence from an off-duty Moria guard. After three days the Greek author­i­ties respond­ed with claims that the people's asy­lum deci­sions would be issued by the end of the week; pro­test­ers dis­as­sem­bled but vowed to be back if their demands were unmet. As we write this, they are still wait­ing for an offi­cial response on their asy­lum cas­es.
The protests in Greece were part of a greater move­ment of Afghan refugees protest­ing their depor­ta­tions across Europe. In ear­ly August, hun­dreds of Afghan unac­com­pa­nied minors in Stock­holm held a sit-in out­side the par­lia­ment build­ing, demand­ing an end to depor­ta­tions. In an open let­ter to Swedish Migra­tion Agency, Migra­tionsver­ket, youth wrote about their con­cerns for their safe­ty if they were returned to Afghanistan. The group was attacked by fas­cists one day into their protest, and after lit­tle police inter­ven­tion, they moved their action to anoth­er site, where they remained for near­ly two weeks, and were joined by many Swedish sup­port­ers show­ing their solidarity.
Also join­ing the call to action, over 100 Afghan refugees protest­ed in Vien­na, at Votiv­park, from August 25 to 28. Pro­test­ers also draft­ed an offi­cial let­ter of demands for their asy­lum rights that reads sim­i­lar­ly to the Athens let­ter. Addressed to the EU, the Unit­ed Nations High Com­mis­sion­er for Refugees, and the Prime Min­is­ter of Aus­tria, the let­ter includes a call for an end to depor­ta­tions, the imme­di­ate recon­sid­er­a­tion and reval­u­a­tion of reject­ed asy­lum cas­es, and legal sup­port and qual­i­fied inter­preters for inter­views and appeals.
On August 31, Franz-Michael Mell­bin per­ma­nent­ly closed the office he held, the EU Spe­cial Rep­re­sen­ta­tive for Afghanistan, after 16 years of oper­a­tion. He end­ed his last report with ​"Long Live Europe!" leav­ing many to spec­u­late how this will affect diplo­mat­ic rela­tions and policy.
Afghans have been flee­ing Afghanistan for many years now in search of safe­ty due to dete­ri­o­rat­ing secu­ri­ty there, and a lack of essen­tial gov­ern­ment sup­port. The civil­ian pop­u­la­tion is con­tin­u­ous­ly under threat of vio­lence from the Tal­iban, Daesh, war­lords, the Unit­ed States and NATO mil­i­tary occu­pa­tion and war­fare. And with Pres­i­dent Trump's recent announce­ment that he would be send­ing thou­sands more mil­i­tary troops to Afghanistan, the longest U.S. war has no end in sight. Afghan refugees arriv­ing in Greece after a long and dan­ger­ous migra­tion face ongo­ing inse­cu­ri­ty with inad­e­quate access to shel­ter, health ser­vices, edu­ca­tion and employ­ment, as well as vul­ner­a­bil­i­ty to drug and sex traf­fick­ing. The pop­u­la­tion is also at high risk of depor­ta­tions as a result of the false clas­si­fi­ca­tion by the EU of Afghanistan as a ​"safe" coun­try and as ​"post-con­flict," mean­ing that Afghan refugees are not con­sid­ered war refugees.
The Euro­pean Union and Min­istry of Migra­tion and Pol­i­cy must rec­og­nize that the EU-Turkey deal is a vio­la­tion of inter­na­tion­al law. Once a per­son arrives at a nation's bor­ders exer­cis­ing their right to seek asy­lum under the 1951 Refugee Con­ven­tion, they can­not be turned away or detained. The prin­ci­ple of non-refoule­ment, which is enshrined in the Refugee Con­ven­tion, for­bids the return or depor­ta­tion of asy­lum seek­ers to their coun­tries of ori­gin or last habit­u­al res­i­dence. The EU-Turkey deal and the JWF allow for exact­ly this type of ille­gal depor­ta­tion to occur. The EU and oth­er rel­e­vant par­ties have also con­tin­u­ous­ly vio­lat­ed these rights of Afghan refugee com­mu­ni­ties through long assess­ment process­es, which take years, or through restric­tion of move­ment with refugees stuck lan­guish­ing in camps and deten­tion cen­ters. There­fore, it was inevitable that the Afghan refugee com­mu­ni­ty would right­ful­ly take mat­ters into their own hands and rise up against such injustices.
As activists in the dias­po­ra, we will con­tin­ue to fol­low the strong lead­er­ship of Afghan refugee activists, and we will con­tin­ue to raise their demands to the inter­na­tion­al com­mu­ni­ty, as we strength­en transna­tion­al sol­i­dar­i­ty in the move­ment for refugee rights. We call on the inter­na­tion­al anti-war move­ment to heed the call of refugees, and lend your voice and resources to sup­port their strug­gle and vision.
Sami­ra Shifteh is an Iran­ian-Amer­i­can activist based in Seat­tle, who has been work­ing on immi­grant and refugee rights for well over a decade, from sup­port­ing sur­vivors of inti­mate partner/​family vio­lence to orga­niz­ing actions against depor­ta­tions and deten­tion cen­ters. Sura­ia Sahar is an Afghan-Cana­di­an activist based in Toron­to study­ing inter­na­tion­al devel­op­ment at York Uni­ver­si­ty. Urooj Rah­man is a Pak­istani-Amer­i­can activist and lawyer from Brook­lyn, N.Y., who has worked direct­ly with refugees and asy­lum seek­ers as a legal advi­sor while liv­ing in Istan­bul. Present­ly she is the pol­i­cy coor­di­na­tor for Bob Gangi's may­oral campaign.