With Afghanistan Surge, Donald Trump Just Took Ownership of the Forever War
Monday's announcement shows Trump will continue the same failed strategies of his predecessor.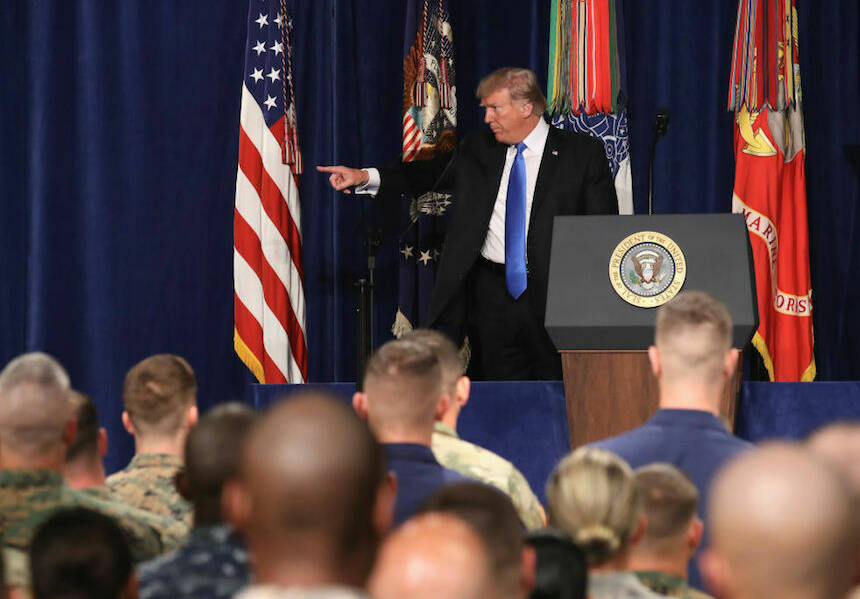 Pres­i­dent Trump's August 21 speech about his strat­e­gy for the war in Afghanistan sound­ed eeri­ly famil­iar. First, stand­ing before mem­bers of the mil­i­tary at Fort Myer in Vir­ginia, he laud­ed the ​"vig­i­lance" and ​"sac­ri­fice" of the U.S. armed forces. Then, as if we need­ed a reminder, he quick­ly brought up the hor­rors of 9⁄11, and the breed­ing ground from which the ter­ror­ists came 16 years ago: Afghanistan. The for­mat of his open­ing sim­i­lar enough to Pres­i­dent Obama's 2009 address that, before Trump got any fur­ther, it was evi­dent where his speech was head­ed: He was to con­tin­ue, by send­ing more troops, to esca­late the Afghanistan War.
Since Trump took office, the U.S. military has dropped almost 2,000 air strikes in Afghanistan.
In 2009, in a speech like Trump's, Oba­ma announced he would be send­ing an addi­tion­al 30,000 troops in a final push to clear the region of ter­ror­ists, with the plan of a grad­ual pull-out begin­ning in 2011. We all know how that worked out: It didn't. By 2015, Obama's plan to ful­ly pull all troops from Afghanistan by 2016 was can­celled. In his words, ​"the secu­ri­ty sit­u­a­tion is still very fragile."
How, then, does Trump plan to erad­i­cate ter­ror­ism with 4,000 addi­tion­al troops and no defined timetable? And why is he try­ing to send more troops when very recent his­to­ry sug­gests inevitable failure?
The cost and prof­its of pro­longed war
The short answer: War is extreme­ly prof­itable. Since 2001, almost $800 bil­lion has been spent on the Afghan war so far. Arms man­u­fac­tur­ing com­pa­nies and defense con­trac­tors like Lock­heed Mar­tin and Raytheon ben­e­fit sig­nif­i­cant­ly when the Unit­ed States is engaged in long-term, con­tin­u­ous warfare.
This may have helped lead Trump to con­tra­dict the bilat­er­al secu­ri­ty agree­ment signed between Afghanistan and the Unit­ed States in 2014, which called for a reduc­tion of U.S. forces to a mil­i­tary advi­so­ry pres­ence at the U.S. embassy in Kab­ul by the end of 2017. Instead, Trump said that ​"con­di­tions on the ground, not arbi­trary timeta­bles, will guide our strat­e­gy from now on. Amer­i­ca's ene­mies must nev­er know our plans or believe they can wait us out. I will not say when we are going to attack, but attack we will."
Trump had pre­vi­ous­ly crit­i­cized the war in Afghanistan for being futile and inef­fi­cient. On Twit­ter, Trump post­ed about the war on sev­er­al occa­sions in 2011, 2012 and 2013, call­ing it a ​"waste" and advo­cat­ing a total with­draw­al from the coun­try. As can­di­date Trump, he told CNN's ​"New Day" on Oct. 6, 2015 that he believed it was a mis­take for the U.S. to enter Afghanistan. Only lat­er that month, how­ev­er, he claimed to have been call­ing the Iraq War a mis­take, and said the U.S. had been right to invade Afghanistan. Dur­ing a pres­i­den­tial debate in March 2016, he dou­bled down, say­ing, ​"I think you have to stay in Afghanistan for a while." In short, he has shift­ed his stance and appears con­fused about the exact his­to­ry of U.S. mil­i­tary involvement.
In his August 21 speech, he said, ​"My orig­i­nal instinct was to pull out [of Afghanistan], and his­tor­i­cal­ly I like fol­low­ing my instincts. But all my life, I have heard that deci­sions are much dif­fer­ent when you sit behind the desk in the Oval Office."
Trump now calls for ​"an hon­or­able and endur­ing out­come," but this can­not be achieved by killing inno­cent Afghans across the provinces. Since Trump took office, the U.S. mil­i­tary has dropped almost 2,000 air strikes in Afghanistan, caus­ing an untold num­ber of civil­ian casu­al­ties. And in April of this year, the mil­i­tary dropped the 22,000-pound Mas­sive Ord­nance Air Blast (MOAB) bomb in the Achin dis­trict of Nan­garhar province. The MOAB is the largest non-nuclear bomb used in his­to­ry. More troops will like­ly mean even more deaths and con­tin­ued air strikes.
In addi­tion, Trump's argu­ment that ​"a hasty with­draw­al would cre­ate a vac­u­um [that] ter­ror­ists … would instant­ly fill" is a red her­ring. After 16 years of U.S. occu­pa­tion, the Tal­iban are stronger than before and show no sign of stop­ping their reign of destruc­tion and insta­bil­i­ty. Speak­ing to The Inter­cept, one Tal­iban-allied com­man­der, Esmat­ul­lah Bashari, explained how the U.S. pres­ence was actu­al­ly help­ing the group:
"After every strike, peo­ple, some­times the whole clan, join our fight," said Bashari, with char­ac­ter­is­tic exag­ger­a­tion. ​"Espe­cial­ly when women and chil­dren get killed, the anger is enor­mous, they don't have any oth­er choice than to fight."
If the U.S. con­tin­ues with a kill-first, peace-lat­er atti­tude toward the war, we will only see more casu­al­ties and per­pet­u­al blood­shed. The ​"fog of war" will become a storm we can­not clear.
A new anti-war Left?
Dur­ing the Oba­ma admin­is­tra­tion, the anti-war move­ment was large­ly absent. Even groups that were vocal against the Iraq War were notice­ably silent when it came to Afghanistan. How­ev­er, now that Trump, abhorred by the Left, has come out in sup­port for the war in Afghanistan, one sil­ver lin­ing is that per­haps peo­ple will start to orga­nize against the war in the same man­ner they have against racism and Nazism.
As has been made clear, Amer­i­cans can­not ​"save" the Afghan peo­ple; only Afghans can save them­selves. The most impor­tant step that we Amer­i­cans can take to end this war and stop the blood­shed is to sup­port the sov­er­eign­ty of Afghans and their right to self-deter­mi­na­tion. We can start by sup­port­ing the work of groups and indi­vid­u­als work­ing to gen­uine­ly help Afghanistan, such as Razia's Ray of Hope Foun­da­tion, which works to edu­cate women and chil­dren, and Emran Fer­oz, a jour­nal­ist who com­mem­o­rates civil­ian drone vic­tims. We must call on the pop­u­lar resent­ment and dis­like of Trump and turn the tide against a war that has cost hun­dreds of thou­sands of inno­cent lives, severe­ly dam­aged the country's infra­struc­ture, and caused irre­versible harm to the envi­ron­ment and nat­ur­al resources.
See­lai Popal
is an Afghan-Amer­i­can com­mu­ni­ty orga­niz­er, jour­nal­ist, and poet. Her writ­ing has pre­vi­ous­ly appeared in Ric­o­chet ​and Truthout.