The U.S. Bombed Afghanistan More in September Than Any Month Since 2010, But the Toll Remains Hidden
In the war on terror, Trump doubles down on a failed strategy.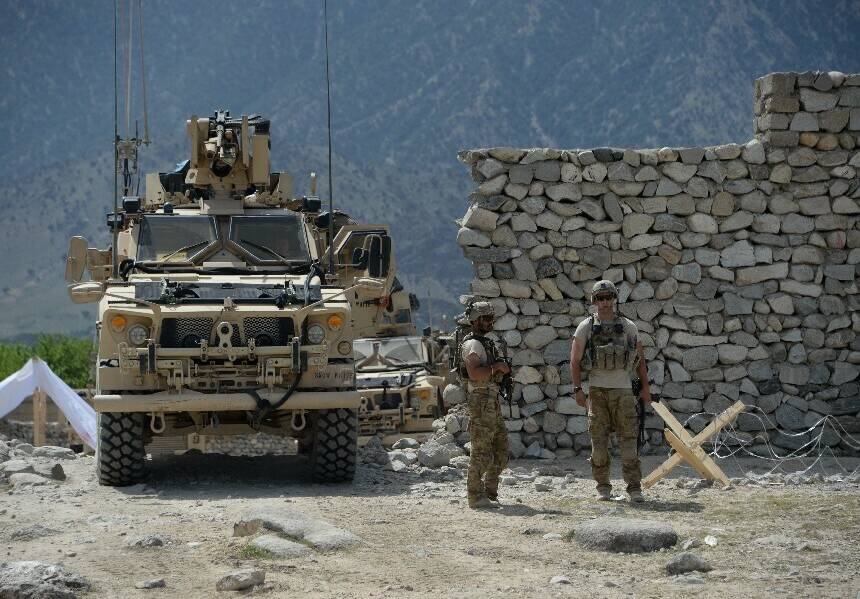 On August 21, U.S. Pres­i­dent Don­ald Trump unveiled his long-await­ed Afghanistan strat­e­gy. He made clear that the longest war in mod­ern U.S. his­to­ry had no end in sight, and that the U.S. gov­ern­ment would increase its troop con­tin­gent by sev­er­al thou­sand soldiers.
"We are all terrorists. If we get hit now, you are going to be called like that too."
Accord­ing to news reports, anoth­er 4,000 U.S. sol­diers are slat­ed for deploy­ment to Afghanistan. How­ev­er, Trump him­self admit­ted the true num­bers will remain in the dark, say­ing in his August 21 speech that the num­ber of U.S. troops deployed to Afghanistan, Iraq, Syr­ia and oth­er coun­tries would not be released by his admin­is­tra­tion in the future.
Nine days lat­er, it was revealed that, instead of rough­ly 8,000 troops, as pre­vi­ous­ly believed, at least 11,000 sol­diers are cur­rent­ly deployed in Afghanistan. That's not the only instance of infor­ma­tion being with­held from the pub­lic: Dur­ing the last days of Barack Oba­ma's pres­i­den­cy, the Pen­ta­gon stopped releas­ing redact­ed inves­ti­ga­tions of major civil­ian casu­al­ty events caused by the U.S. mil­i­tary. This includ­ed war crimes in Syr­ia, Afghanistan and sev­er­al oth­er coun­tries where drones are haunt­ing the skies, while spe­cial forces units are con­duct­ing shad­owy oper­a­tions on the ground.
Trump's speech also dropped the pre­tense of ​"nation-build­ing" that many across the polit­i­cal spec­trum had used to jus­ti­fy the Afghanistan war. For him, it's all about hunt­ing down and killing ​"ter­ror­ists."
Although the word ​"ter­ror­ist" has become vac­u­ous, a label for every­thing and every­one, the ques­tion remains: Who are the ​"ter­ror­ists" in Afghanistan? Are they al-Qae­da, which has been prac­ti­cal­ly non-exis­tent in the coun­try for years? Are they the lead­ers of the Tal­iban, which has grown since the start of the U.S.-led inva­sion and now con­trols many parts of the coun­try? Are they the extrem­ists of ISIS, whose pres­ence was enabled by the vio­lence of the U.S.-led war and inva­sion, too? Are they the bru­tal war­lords and mili­tia fight­ers who have become a cru­cial part of Afghanistan's land­scape and, since ally­ing with the Unit­ed States in 2001, have led parts of the Kab­ul government?
From an Afghan view, there are oth­er ​"ter­ror­ists": the drone oper­a­tors who are remote­ly killing inno­cent peo­ple on a dai­ly basis, or the West­ern sol­diers who are hunt­ing civil­ians and col­lect their body parts like trophies.
For the U.S. gov­ern­ment, the answer is chill­ing­ly sim­ple. Since 2012, the White House has main­tained that every mil­i­tary-aged male in a strike zone is con­sid­ered as an ​"ene­my com­bat­ant." This means what near­ly all Afghan men — includ­ing teenagers — are con­sid­ered ​"ter­ror­ists." The same is true for Syr­i­ans, Iraqis, Pak­ista­nis, Soma­lis, Yemenites and every oth­er cit­i­zen of a coun­try that has the luck to be ter­ror­ized by U.S. bombs and rock­ets, dropped by con­ven­tion­al air­craft or weaponized drones.
"We are all ter­ror­ists. If we get hit now, you are going to be called like that too," a Tal­iban fight­er in Nan­garhar province in the east of the coun­try told me when I vis­it­ed his vil­lage in May. Local civil­ians who were near­by agreed with him.
What he said was true. I often thought how I would be described after get­ting killed by a drone strike, espe­cial­ly while research­ing in remote regions that are bare­ly entered by West­ern jour­nal­ists. Like most Afghan men, I have a beard and black hair. In today's world, that's enough to be called a ​"ter­ror­ist," a dan­ger to West­ern civilization.
Since Trump took over the pres­i­den­cy, about 2,000 airstrikes have been con­duct­ed by the U.S. mil­i­tary in Afghanistan. On Octo­ber 12, a U.S. drone strike killed 14 peo­ple; Afghan offi­cials claim the vic­tims were ISIS mil­i­tants but a local mem­ber of par­lia­ment alleges those killed were civil­ians. Last month, the U.S. dropped more bombs and mis­siles on Afghanistan than in any oth­er month since 2010. Most of these strikes hit Nan­garhar province, which was also the tar­get of the Mas­sive Ord­nance Air Blast (MOAB), also known as the ​"Moth­er of All Bombs", the most pow­er­ful non-nuclear weapon in the Pen­tagon's arse­nal. Accord­ing to recent UN data, U.S. strikes in Nan­garhar are more like­ly to result in civil­ian casu­al­ties than strikes any­where else in the coun­try. But con­trary to reports that often describe all vic­tims as ​"sus­pect­ed mil­i­tants" or ​"ter­ror­ists," many dead are civilians.
Provinces like Nan­garhar, where the Unit­ed States has been fight­ing its ​"War on Ter­ror" since 2001, are the places where the U.S. lost this war. While the Tal­iban con­trol many dis­tricts of such provinces, after years of con­stant occu­pa­tion, many Afghan locals have devel­oped a hatred toward the Amer­i­can sol­diers, like their fore­fa­thers did towards the Rus­sians and the British.
While Trump is giv­ing one weird speech after the oth­er, the Afghans in these remote areas live in real dystopia. The so-called gov­ern­ment in Kab­ul, which was installed by the Unit­ed States in 2001, has no influ­ence here.
Instead, the peo­ple's lives are con­trolled by Tal­iban insur­gents who are often deeply con­nect­ed with the local com­mu­ni­ties. More than 100,000 U.S. sol­diers, who were deployed in Afghanistan dur­ing the Oba­ma era, were not able to change this real­i­ty. It will not be much dif­fer­ent under Trump.
It's not just the mere pres­ence of for­eign troops that fuels war, but also what those troops have done and con­tin­ue to do: car­ry out air strikes, con­duct bru­tal night raids on civil­ians' homes and tor­ture detainees at places like Bagram Air Base — a place so noto­ri­ous in Afghanistan that, to some, Guan­tanamo is con­sid­ered a haven by comparison.
All signs indi­cate these atroc­i­ties will con­tin­ue in the era of Don­ald Trump.
The iden­ti­ties of the peo­ple who have been mur­dered by the MOAB are still not known. While the Kab­ul gov­ern­ment sup­port­ed the attack and lat­er announced that more than 90 ISIS mil­i­tants have been killed, the White House pre­ferred to stay silent. Too often, sim­i­lar fig­ures in the past have proven to be bogus. But in the Unit­ed States, the sto­ries of Afghans are only told when they fit with the inter­ests of the U.S. empire. Oth­er­wise, they remain face­less and invis­i­ble — and that's how Don­ald Trump wants to keep them.
Emran Fer­oz
is an Aus­tri­an-Afghan jour­nal­ist and author based in Ger­many, and the founder of Drone Memo­r­i­al, a vir­tu­al memo­r­i­al for civil­ian drone strike vic­tims. His book on the U.S. drone war just has been released in German.