What It Looks like When Union Members Stand with Black Lives Matter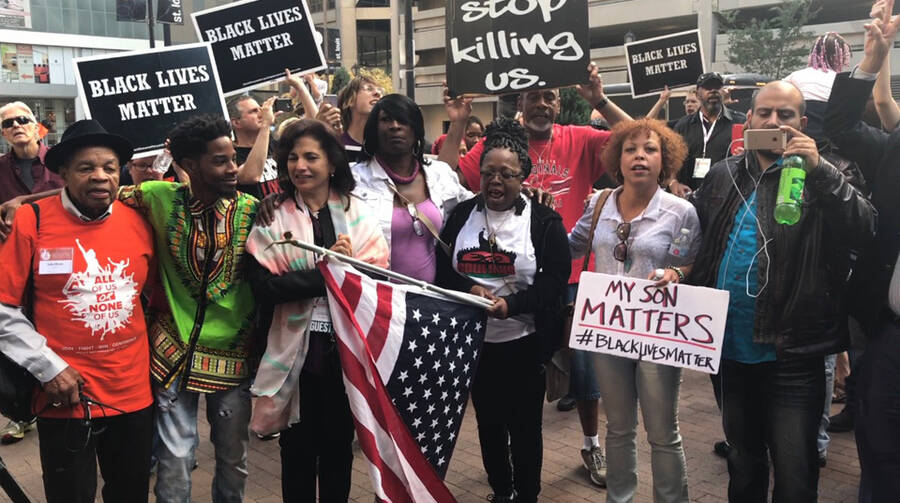 We wanted to make sure you didn't miss the announcement of our new Sustainer program. Once you've finished reading, take a moment to check out the new program, as well as all the benefits of becoming a Sustainer.

This article first appeared on People's World.
ST. LOUIS — In an act of powerful solidarity with the Black Lives Matter movement, delegates attending the AFL-CIO's 2017 national convention walked out of the America's Center Saturday to join local Black Lives Matter activists protesting outside after convention center management refused them entry. They had been invited to take part in the AFL-CIO's Diversity and Inclusion Pre-Conference. The protest put the issues of racism and police brutality center-stage on the eve of the convention of the largest federation of unions in the United States.
The controversy began just as the second half of the pre-conference — entitled ​"All of Us or None of Us: Join, Fight, and Win Together"—was set to start. A panel on the topic of building independent political power was scheduled to include Missouri State Representative and Black Lives Matter activist Bruce Franks of District 78. But Franks was nowhere to be seen on stage.
Eventually, former AFL-CIO Executive Vice President Arlene Holt Baker announced to the waiting audience that Franks, along with his fellow Black Lives Matter activists, were locked out of the convention center. Every door facing onto Washington Avenue, the main thoroughfare outside the center, was chained shut on the orders of convention center management.
Baker was told by the America's Center that there was a fear of ​"damage to property" if the activists were allowed into the building. Baker then announced that since Franks and the other activists weren't being allowed entry to the conference, the delegates would take the conference outside to them.
What followed was hundreds of trade unionists rising to their feet and marching out towards the chained doors of the convention center, demanding to be let out in order to join the Black Lives Matter activists and Franks who were protesting outside.
Once they reached the protest outside, chants of solidarity rang out as delegates demanded that the activists be allowed into the building. Speaking to the crowd, Baker proclaimed, ​"On behalf of the AFL-CIO ​'All of Us or None of Us' conference, we have come out here to say that we stand in solidarity with you because we all stand for justice. We have invited State Rep. Bruce Franks to speak. We now invite all of you to come into our conference. I want you to all do what I know you all know how to do — go in united."
After several minutes, convention center management was eventually forced to relent. The chains and locks came off, and the doors swung open. AFL-CIO delegates, Franks and Black Lives Matter activists marched into the building together and back into the conference hall. Seated at the head table directly in front of the stage, the same protesters who were shut out only a few minutes before were now honored guests.
Finally taking the stage, Franks expressed thanks to the delegates who walked out in protest, emphasizing the need for unions to stand up — beyond just words — for Black Lives Matter and against racism and discrimination.
Connecting the issue to the big political picture, Franks said, ​"The unions have the power. Your endorsement is letting people know that you stand with a candidate. If that candidate does bad, then that is a reflection on you… We have to do things different. We need you all to stand up, like you did today. Where are the union leaders in the streets? Don't be with us sometimes. Be with us all the time."
While measures like civilian police oversight boards, further training and independent investigations of police violence are necessary, Franks argued that it wasn't enough. ​"All the provisions and policies won't stop a cop from killing someone that looks like me in the streets because of the racism he's been taught about me since childhood."
Referring to his red St. Louis Cardinals jersey and backwards cap, he continued, ​"And all the provisions won't stop them from stopping me from walking into a convention I've been invited to speak at, because I don't fit the way a state representative is ​'supposed' to look like."
Franks and other Black Lives Matter activists in St. Louis have been in the midst of an intense battle for justice after the acquittal of ex-cop Jason Stockley, who was charged with first-degree murder and armed criminal action in the 2011 killing of 24-year-old African-American Anthony Lamar Smith. Since Stockley was found not guilty in September, a wave of protests has rocked St. Louis.
Rasheen Aldridge, 5th Ward Committeeman, was on the scene to support Franks and spoke to People's World about how the lockout of Black Lives Matter activists was connected to the larger fight against discrimination — and the role the unions need to play. ​"Bruce Franks let it be known that the only way he was going to go in is if his people were allowed to go in," he said.
Emphasizing the overlapping roles that he and many activists play, Aldridge said, ​"We let them know that we are the people. I stand with unions. I'm with the Fight for $15. I'm with Black Lives Matter."
The show of solidarity by convention delegates is an example of what needs to happen more often, he argued. ​"It was so powerful to see all the union people joining with us. It pushes the narrative to talk about issues that are important to us all."
Be a Sustainer
We surveyed thousands of readers and asked what they would like to see in a monthly giving program. Now, for the first time, we're offering three different levels of support, with rewards at each level, including a magazine subscription, books, tote bags, events and more—all starting at less than 17 cents a day. Check out the new Sustainer program.
Chauncey K. Robinson
believes that writing and media, in any capacity, should help to reflect the world around us, and be tools to help bring about progressive change. Born and raised in Newark, New Jersey, she has a strong belief in people power and strength. She is the Social Media Editor for People's World, along with being a journalist for the award winning publication. She's a self professed geek and lover of pop culture. Chauncey seeks to make sure topics that affect working class people, peoples of color, and women are constantly in the spotlight and part of the discussion.