Acknowledging "Ugly History of Racism" in Labor Movement, AFL-CIO Creates New Commission on Race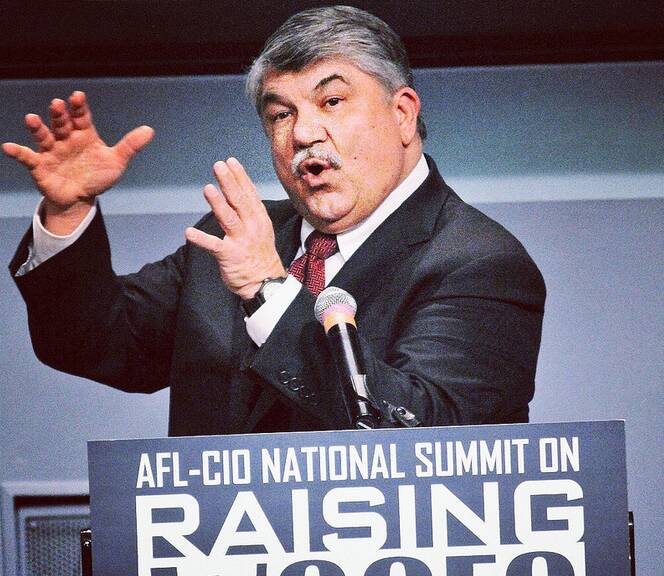 Cit­ing ​"an ugly his­to­ry of racism in our own move­ment," the lead­ers of the AFL-CIO vot­ed in late Feb­ru­ary to cre­ate a new Labor Com­mis­sion on Racial and Eco­nom­ic Jus­tice to exam­ine how issues of race can be bet­ter addressed by the confederation's mem­ber unions.
The move was prompt­ed by the riots and relat­ed con­flicts last year in Fer­gu­son, Mis­souri, which high­light­ed the stark racial and class divide in the St. Louis sub­urb, says Car­men Berkley, Direc­tor of the AFL-CIO's office of Civ­il, Human and Women's Rights. The shoot­ing death of African-Amer­i­can teenag­er Michael Brown by white police offi­cer Dar­ren Wil­son inflamed racial schisms nation­wide, includ­ing with­in the labor move­ment, she says. But ​"we have to have a rela­tion­ship with the [African-Amer­i­can] com­mu­ni­ty," that is an improve­ment over the sta­tus quo, Berkley tells In These Times.
Berkley cit­ed an unusu­al­ly emo­tion­al speech deliv­ered by AFL-CIO Pres­i­dent Richard Trum­ka in Fer­gu­son last year in which he said:
We as a move­ment have not always done our best to sup­port our broth­ers and sis­ters of col­or who face chal­lenges both on and off the job — chal­lenges that you don't real­ly under­stand unless you live them.

The test of our movement's com­mit­ment to our lega­cy is not whether we post Dr. King's pic­ture in our union halls, it is do we take up his fight when the going gets tough, when the fight gets real against the evils that still exist today.
Trumka's speech also harkened back to the East St. Louis race riots of 1917, when angry white work­ers attacked African-Amer­i­can strike­break­ers. The labor con­flict ignit­ed a wider riot that is judged by his­to­ri­ans to be one of the worst out­breaks of racial vio­lence in any U.S. city dur­ing the 20th century.
With this lega­cy in mind, the new Com­mis­sion will attempt to devel­op pro­grams to improve com­mu­ni­ca­tion and coop­er­a­tion between AFL-CIO unions and African-Amer­i­can com­mu­ni­ties, Berkley says. The first step will be to con­vene pub­lic meet­ings in a num­ber of cities to air the impor­tant local issues and to for­mu­late responses.
No such meet­ings have been sched­uled yet, she adds, but it is expect­ed that six to eight gath­er­ings will be held with­in a year. Nor have any spe­cif­ic indi­vid­u­als been named as mem­bers of the Com­mis­sion, although each is expect­ed to the pres­i­dent or chief exec­u­tive of one the AFL-CIO affil­i­at­ed unions, she says. In any event, the Com­mis­sion is expect­ed to pro­duce a for­mal report to the AFL-CIO lead­er­ship, which will then decide what fur­ther action is called for.
Patrick White, Pres­i­dent of the Greater St. Louis Labor Coun­cil, says the com­mis­sion is a nec­es­sary idea. Unions in the St. Louis area have been rat­tled by the Fer­gu­son devel­op­ments, he says, includ­ing the St. Louis police offi­cers union, which is a mem­ber of the city's labor coun­cil even though it is not for­mal­ly affil­i­at­ed with the AFL-CIO.
"A lot of the African-Amer­i­can leg­is­la­tors here have called us on the car­pet. They want their young peo­ple to be includ­ed" in job train­ing pro­grams that would help alle­vi­ate the chron­ic unem­ploy­ment prob­lem in the African-Amer­i­can com­mu­ni­ty, he says. ​"They are def­i­nite­ly rat­tling that cage, and they want us to be held accountable."
St. Louis-area unions have a mixed record of offer­ing oppor­tu­ni­ty across the col­or line, he con­tin­ues. ​"Our per­cent­ages are bet­ter than the nation­al num­bers — for exam­ple we had 33 per­cent of the Inter­na­tion­al Broth­er­hood of Elec­tri­cal Work­ers (IBEW) appren­tice class come from the African-Amer­i­can com­mu­ni­ty, and it's about 50 per­cent for the trainees for the police depart­ment — but I don't think we are where we need to be," White says.
Progress at IBEW and the St. Louis Police Offi­cer Asso­ci­a­tion notwith­stand­ing, ​"some of the locals real­ly haven't got­ten out of their own way" and need to open up more oppor­tu­ni­ties, he says.
In its for­mal state­ment on the cre­ation of the Com­mis­sion, the AFL-CIO Exec­u­tive Coun­cil was care­ful to avoid to mak­ing any spe­cif­ic com­mit­ments. It concluded:
The com­mis­sion will attempt to cre­ate a safe, struc­tured and con­struc­tive oppor­tu­ni­ty for local union lead­ers to dis­cuss issues per­tain­ing to the per­sis­tence of racial injus­tice today in the work­force and in their com­mu­ni­ties, and to ensure that the voic­es of all work­ing peo­ple in the labor move­ment are heard. The results of the com­mis­sion will lead to reports and tools to trans­form how we think about racial jus­tice issues, and to pro­vid­ing the tools to sup­port these dis­cus­sions at the city and state levels.
"This is an inter­nal con­ver­sa­tion we need to have. This is not [just] a local thing in St. Louis — we see the same issues in com­mu­ni­ties across the coun­try," Berkley says. ​"A lot of the ten­sions with the black com­mu­ni­ty come from a feel­ing that they want a piece of the pie," of good-pay­ing union jobs. Giv­en the low num­bers of African Amer­i­cans in union trades that Patrick White ref­er­enced, the feel­ing seems understandable.
Bruce Vail
is a Bal­ti­more-based free­lance writer with decades of expe­ri­ence cov­er­ing labor and busi­ness sto­ries for news­pa­pers, mag­a­zines and new media. He was a reporter for Bloomberg BNA's Dai­ly Labor Report, cov­er­ing col­lec­tive bar­gain­ing issues in a wide range of indus­tries, and a mar­itime indus­try reporter and edi­tor for the Jour­nal of Com­merce, serv­ing both in the newspaper's New York City head­quar­ters and in the Wash­ing­ton, D.C. bureau.