Smithsonian Symposium Explores Complicated History of Native American Slaveholders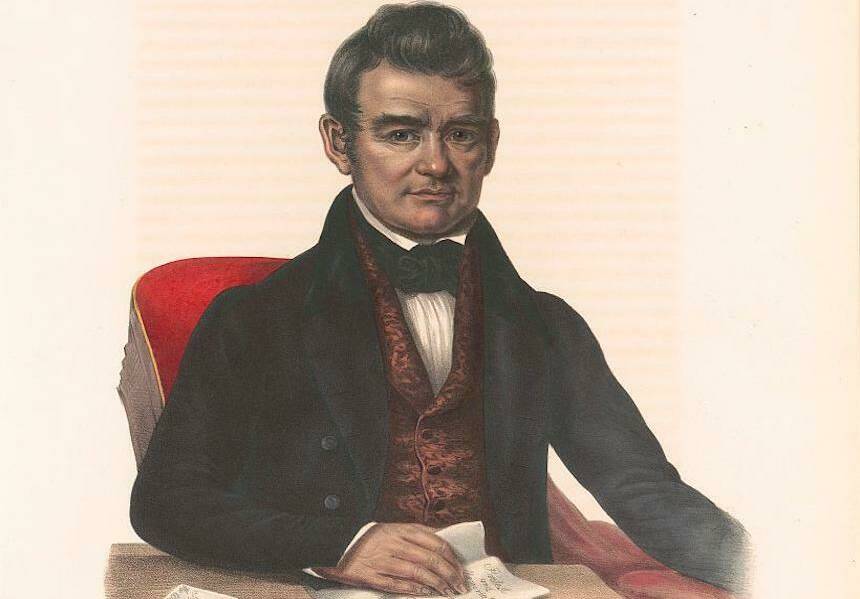 When you think of the Trail of Tears, you like­ly imag­ine a long pro­ces­sion of suf­fer­ing Chero­kee Indi­ans forced west­ward by a vil­lain­ous Andrew Jack­son. Per­haps you envi­sion unscrupu­lous white slave­hold­ers, whose inter­est in grow­ing a plan­ta­tion econ­o­my under­lay the deci­sion to expel the Chero­kee, flood­ing in to take their place east of the Mis­sis­sip­pi River.
What you prob­a­bly don't pic­ture are Chero­kee slave­hold­ers, fore­most among them Chero­kee chief John Ross. What you prob­a­bly don't pic­ture are the numer­ous African-Amer­i­can slaves, Chero­kee-owned, who made the bru­tal march them­selves, or else were shipped en masse to what is now Okla­homa aboard cramped boats by their wealthy Indi­an mas­ters. And what you may not know is that the fed­er­al pol­i­cy of Indi­an removal, which ranged far beyond the Trail of Tears and the Chero­kee, was not sim­ply the vin­dic­tive scheme of Andrew Jack­son, but rather a pop­u­lar­ly endorsed, con­gres­sion­al­ly sanc­tioned cam­paign span­ning the admin­is­tra­tions of nine sep­a­rate presidents.
These uncom­fort­able com­pli­ca­tions in the nar­ra­tive were brought to the fore­front at a recent event held at the Nation­al Muse­um of the Amer­i­can Indi­an. Titled ​"Find­ing Com­mon Ground," the sym­po­sium offered a deep dive into inter­sec­tion­al African-Amer­i­can and Native Amer­i­can history.
For muse­um cura­tor Paul Chaat Smith (Comanche), who has over­seen the design and open­ing of the wide­ly laud­ed ​"Amer­i­cans" exhi­bi­tion now on view on the museum's third floor, it is imper­a­tive to pro­vide the muse­um-going pub­lic with an unflinch­ing his­to­ry, even when doing so is painful.
"I used to like his­to­ry," Smith told the crowd rue­ful­ly. ​"And some­times, I still do. But not most of the time. Most of the time, his­to­ry and I are fren­e­mies at best." In the case of the Trail of Tears and the enslave­ment of blacks by promi­nent mem­bers of all five so-called ​"Civ­i­lized Tribes" (Chero­kee, Chick­a­saw, Choctaw, Creek and Semi­nole), Smith went one step fur­ther, liken­ing the ugly truth of his­to­ry to a ​"mangy, snarling dog stand­ing between you and a crowd-pleas­ing narrative."
"Obvi­ous­ly," Smith said, ​"the sto­ry should be, needs to be, that the enslaved black peo­ple and soon-to-be-exiled red peo­ple would join forces and defeat their oppres­sor." But such was not the case — far from it. ​"The Five Civ­i­lized Tribes were deeply com­mit­ted to slav­ery, estab­lished their own racial­ized black codes, imme­di­ate­ly reestab­lished slav­ery when they arrived in Indi­an ter­ri­to­ry, rebuilt their nations with slave labor, crushed slave rebel­lions, and enthu­si­as­ti­cal­ly sided with the Con­fed­er­a­cy in the Civ­il War."
In oth­er words, the truth is about as far a cry from a ​"crowd-pleas­ing nar­ra­tive" as you could pos­si­bly get. ​"Do you want to hear that?" Smith asked the audi­ence. ​"I don't think so. Nobody does." And yet, Smith is firm in his belief that it is a museum's duty to embrace and elu­ci­date ambi­gu­i­ty, not sweep it under the rug in the pur­suit of some clean­er fiction.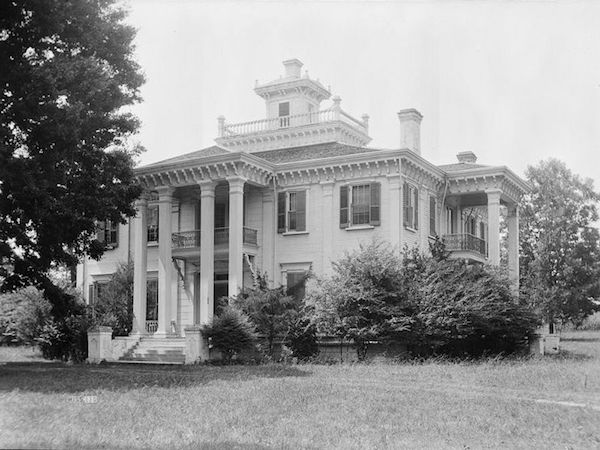 The Mis­sis­sip­pi home of Choctaw chief Green­wood LeFlo­re who had

15

,

000

acres of land and

400

enslaved Africans under his domin­ion.
(Image: Library of Con­gress / Smithsonian)
Tiya Miles, an African-Amer­i­can his­to­ri­an at the Uni­ver­si­ty of Michi­gan, agrees. At the ​"Find­ing Com­mon Ground" event, she metic­u­lous­ly laid out pri­ma­ry-source evi­dence to paint a pic­ture of Indi­an/African-Amer­i­can rela­tions in the years lead­ing up to the Civ­il War.
Native Amer­i­cans, she said, had them­selves been enslaved, even before African-Amer­i­cans, and the two groups ​"were enslaved for approx­i­mate­ly 150 years in tan­dem." It wasn't until the mid 18th-cen­tu­ry that the bondage of Native Amer­i­cans began to wane as Africans were import­ed in greater and greater num­bers. Increas­ing­ly, where white colonists viewed Africans as lit­tle more than mind­less beasts of bur­den, they saw Native Amer­i­cans as some­thing more: ​"noble sav­ages," unre­fined but coura­geous and fierce.
Per­verse­ly, Native Amer­i­can own­er­ship of black slaves came about as a way for Native Amer­i­cans to illus­trate their soci­etal sophis­ti­ca­tion to white set­tlers. ​"They were work­ing hard to com­ply with gov­ern­ment dic­tates that told native peo­ple that in order to be pro­tect­ed and secure in their land base, they had to prove their lev­el of ​'civ­i­liza­tion,'" Miles explained.
How would slave own­er­ship prove civ­i­liza­tion? The answer, Miles con­tends, is that in cap­i­tal­ism-crazed Amer­i­ca, slaves became tokens of eco­nom­ic suc­cess. The more slaves you owned, the more seri­ous a busi­nessper­son you were, and the more seri­ous a busi­nessper­son you were, the fit­ter you were to join the ranks of ​"civ­i­lized soci­ety." It's worth remem­ber­ing, as Paul Chaat Smith says, that while most Native Amer­i­cans did not own slaves, nei­ther did most Mis­sis­sip­pi whites. Slave own­er­ship was a seri­ous sta­tus symbol.
Smith and Miles agree that much of ear­ly Amer­i­can his­to­ry is explained poor­ly by mod­ern moral­i­ty but effec­tive­ly by sim­ple eco­nom­ics and pow­er dynam­ics. ​"The Chero­kee owned slaves for the same rea­sons their white neigh­bors did. They knew exact­ly what they were doing. In truth," Smith said, the Chero­kee and oth­er ​"Civ­i­lized Tribes were not that com­pli­cat­ed. They were will­ful and deter­mined oppres­sors of blacks they owned, enthu­si­as­tic par­tic­i­pants in a glob­al econ­o­my dri­ven by cot­ton, and believ­ers in the idea that they were equal to whites and supe­ri­or to blacks."
None of this lessens the very real hard­ship endured by Chero­kees and oth­er Native Amer­i­cans com­pelled to aban­don their home­lands as a result of the Indi­an Removal Act. Signed into law in the spring of 1830, the bill had been rig­or­ous­ly debat­ed in the Sen­ate (where it was endorsed with a 28 – 19 vote) that April and in the House of Rep­re­sen­ta­tives (where it pre­vailed 102 – 97) that May. Despite a sus­tained, coura­geous cam­paign on the part of John Ross to pre­serve his people's prop­er­ty rights, includ­ing mul­ti­ple White House vis­its with Jack­son, in the end the influx of white set­tlers and eco­nom­ic incen­tives made the bill's momen­tum insu­per­a­ble. All told, the process of removal claimed more than 11,000 Indi­an lives — 2,000 – 4,000 of them Cherokee.
What the slave­hold­ing of Ross and oth­er Civ­i­lized Nations lead­ers does mean, how­ev­er, is that our assump­tions regard­ing clear­ly dif­fer­en­ti­at­ed heroes and vil­lains are worth push­ing back on.
"I don't know why our brains make it so hard to com­pute that Jack­son had a ter­ri­ble Indi­an pol­i­cy and rad­i­cal­ly expand­ed Amer­i­can democ­ra­cy," Smith said, ​"or that John Ross was a skill­ful leader for the Chero­kee nation who fought the crim­i­nal pol­i­cy of removal with every ounce of strength, but also a man who deeply believed in and prac­ticed the enslave­ment of black people."
As Paul Chaat Smith said to con­clude his remarks, the best max­im to take to heart when con­fronting this sort of his­to­ry may be a quote from African anti-colo­nial leader Amíl­car Cabral: ​"Tell no lies, and claim no easy victories."
(​"How Native Amer­i­can Slave­hold­ers Com­pli­cate the Trail of Tears Nar­ra­tive" was orig­i­nal­ly pub­lished on Smith­son­ian Mag­a­zine's web­site and is repost­ed on Rur­al Amer­i­ca In These Times in accor­dance with their Terms of Use. ​"Amer­i­cans" will be on view at the Nation­al Muse­um of the Amer­i­can Indi­an through 2022.)
Ryan P. Smith
recent­ly grad­u­at­ed from Stan­ford Uni­ver­si­ty with a degree in Sci­ence, Tech­nol­o­gy and Soci­ety. His avo­ca­tions include moviego­ing and cross­word puz­zle construction.