Another Disease Outbreak Threatens U.S. Pigs, But Big Ag Would Rather Talk About Bacon Prices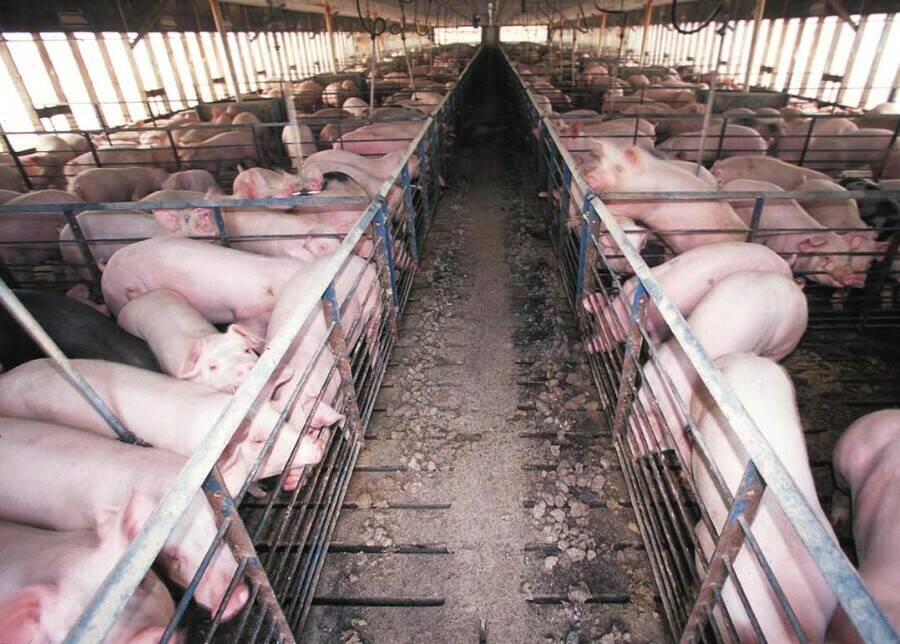 Editor's Note: This is a light­ly edit­ed ver­sion of an arti­cle that was orig­i­nal­ly pub­lished on the blog of the Organ­ic Con­sumers Asso­ci­a­tion. You can read the orig­i­nal arti­cle here.
There's a lot the indus­tri­al fac­to­ry farm indus­try prefers to keep con­sumers in the dark about, includ­ing what hap­pens when mil­lions of con­fined, stressed out ani­mals with weak­ened immune sys­tems are exposed to disease.
What's the lat­est food ani­mal pan­dem­ic Big Meat has been try­ing to keep out of the news? African swine fever (ASF), caused by the African swine fever virus (ASFV), a dis­ease that just this year has killed one-fourth of the world's pigs, includ­ing half of all China's fac­to­ry farm pigs.
So far, main­stream media's cov­er­age of ASF has focused almost exclu­sive­ly on eco­nom­ic issues, includ­ing the disease's poten­tial impact on glob­al trade. Ques­tions about the pan­dem­ic dis­ease poten­tials of inten­sive ani­mal agri­cul­ture are skirted.
ASF orig­i­nat­ed in East Africa and reached East­ern Europe in 2007, where it has remained. Since ASF's out­break in Chi­na last year, in which half of the country's pigs died and anoth­er 1 mil­lion were culled, ASF has spread to Viet­nam, Cam­bo­dia, Laos, North Korea, the Philip­pines, more of east­ern Europe and even Belgium.
"It's not a ques­tion of whether ASF reach­es Amer­i­can shores, but when," write Thomas Par­sons, pro­fes­sor at the School of Vet­eri­nary Med­i­cine, and Scott Michael Moore, Chi­na Pro­gram Direc­tor at the Uni­ver­si­ty of Penn­syl­va­nia, in the Hill.
"Should the virus enter the U.S., your future as a pork pro­duc­er would rad­i­cal­ly change," warns Pork Busi­ness.
In acute cas­es, the ASF virus caus­es death in one to eight days. This allows the spread of the dis­ease as ani­mals and their meat are sold, either delib­er­ate­ly or not.
This is not the first time that Big Meat has kept the facts about major ani­mal pan­demics away from con­sumers, who like­ly would be turned off to indus­tri­al­ly pro­duced meat if they knew the truth. The fac­to­ry farm meat indus­try also sup­pressed the facts about porcine epi­dem­ic diar­rhea virus (PEDv) and avian flu.
By 2014, PEDv had killed 10 per­cent of pigs con­fined in fac­to­ry farms in the U.S.
The PEDv scourge was so dev­as­tat­ing, a Ken­tucky farm fed dead pigs to oth­er pigs in an attempt to induce ​"immu­ni­ty" in survivors.
To com­bat PEDv the gov­ern­ment gave $11.1 mil­lion of our tax dol­lars to pri­vate farm­ers who were ​"pro­duc­ers of infect­ed herds."
Here's a cheap­er idea: How about giv­ing the ani­mals fresh air, space to move and no drugs?
From 2014 through mid-2015, 48 mil­lion chick­ens and turkeys were killed in the U.S. to pre­vent the spread of bird flu, and to pro­tect farmer prof­its. Yet despite the mass mur­der spree, the dis­ease resur­faced in 2017.
It's easy to see why. To pre­vent the spread of bird flu, in many cas­es, healthy, floor-reared turkeys and broil­er chick­ens were herd­ed into enclosed areas where they were admin­is­tered propy­lene gly­col foam to suf­fo­cate them.
In oth­er cas­es, birds were killed by ​"ven­ti­la­tion shut­down" –  – the term used when barn tem­per­a­tures are raised to at least 104°F for a min­i­mum of three hours to kill the entire flock. As report­ed by For­tune, ​"round-the-clock incin­er­a­tors and crews in haz­mat suits" were com­mon­ly required for bird depop­u­la­tion in 2015.
When farm ani­mal dis­ease pan­demics hit in the U.S., Big Meat likes to con­trol the main­stream media's nar­ra­tive by focus­ing the sto­ry on ​"the price of bacon," trade wars or farmer prof­its. With the ASF virus, main­stream media is naive­ly por­tray­ing it as a dis­ease of oth­er countries.
For exam­ple, The New York Times attrib­ut­es Chi­na's ASF to the coun­try's ​"empha­sis on gov­ern­ment-dri­ven, top-down solu­tions to major prob­lems, some­times at the expense of the prac­ti­cal." This analy­sis con­ve­nient­ly ignores the U.S.'s recent PEDv and bird flu epidemics.
The Times also indicts Chi­na's ​"small farms, often packed togeth­er in crowd­ed agri­cul­tur­al areas," for the pan­dem­ic — again con­ve­nient­ly ignor­ing the U.S.'s own crowd­ed fac­to­ry farms, which are cer­tain­ly at risk.
The real sto­ry of ASF is this: Fac­to­ry farm ani­mal pris­ons, with their pes­ti­cides, antibi­otics and intense con­fine­ment, weak­en the immune sys­tems of ani­mals, mak­ing them high­ly sus­cep­ti­ble to pan­demics. The mod­el also caus­es egre­gious harm to work­ers, the envi­ron­ment and human consumers.
The African swine fever is just the lat­est example.