After String of Defeats, Workers Win Union at Baltimore Gas & Electric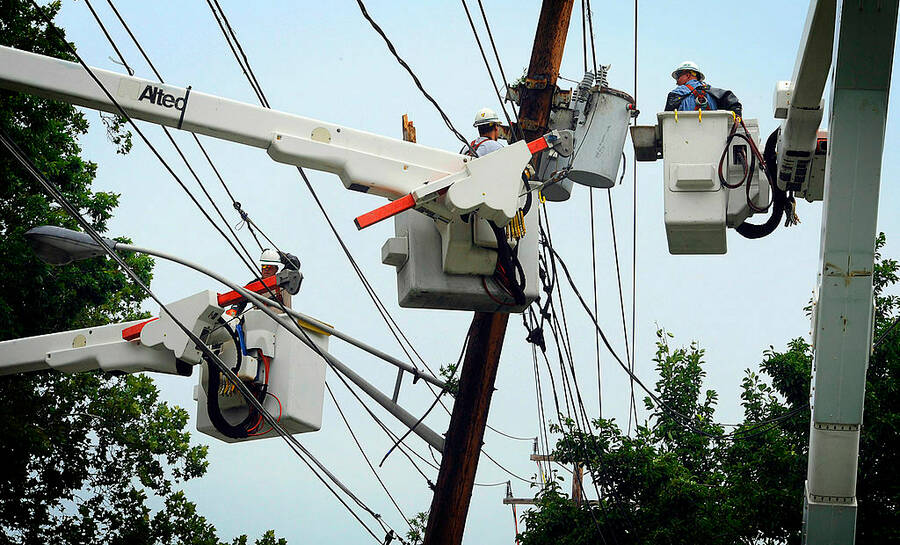 BAL­TI­MORE — Bal­ti­more-area work­ers opened the Trump era by vot­ing in favor of a labor union at the largest util­i­ty com­pa­ny in the metro region. The elec­tion vic­to­ry at Bal­ti­more Gas & Elec­tric Co. (BGE) will bring more than 1,400 new mem­bers into the Inter­na­tion­al Broth­er­hood of Elec­tri­cal Work­ers (IBEW).
IBEW's suc­cess in the Nation­al Labor Rela­tions Board-super­vised elec­tion last month breaks a long string of defeats for the union, which ran four unsuc­cess­ful orga­niz­ing cam­paigns at BGE, stretch­ing back to 1996. The final vote, 741 – 610, is strong enough to deter any legal chal­lenge from BGE, accord­ing to union orga­niz­er Troy John­son. Both sides expect to move quick­ly to nego­ti­ate a first contract.
Cir­cum­stances have changed rad­i­cal­ly since the last cam­paign, in 2010, explains 12-year com­pa­ny vet­er­an Eric Gomez. Back then, BGE man­agers ran an aggres­sive anti-union cam­paign, stress­ing the local roots and home­town com­mit­ments of the com­pa­ny, he says. But the com­pa­ny has since come under the con­trol of Exelon Corp., a much larg­er com­pa­ny that oper­ates oth­er elec­tric util­i­ties in Chica­go, Philadel­phia, Wash­ing­ton, D.C., and elsewhere.
"There is a lot of com­pa­ny loy­al­ty," among the BGE work­ers, ​"but we're not ​'mom-and-pop' BGE any­more, we're Exelon," Gomez says. ​"The major deci­sions are com­ing from Chica­go, and they are look­ing after the inter­ests of the Exelon share­hold­ers, not what's good for Baltimore."
Union orga­niz­er John­son agrees that the sale to Exelon made a huge dif­fer­ence and helped the cam­paign. Exelon's oth­er sub­sidiaries were already heav­i­ly union­ized, he notes, with IBEW con­tracts cov­er­ing work­ers in Chica­go, Philadel­phia, Wash­ing­ton, D.C., Atlantic City, N.J., and the Del­mar­va penin­su­la. Includ­ing the 1,400 work­ers at BGE, the union now has an esti­mat­ed 8,000 mem­bers at Exelon subsidiaries.
"It's hard to argue that BGE work­ers shouldn't have union rep­re­sen­ta­tion when so many of the oth­er employ­ees in Exelon already have it," John­son says.
The union also employed a new tac­tic this time around that proved extreme­ly help­ful, adds Gomez. Vol­un­teer orga­niz­ers were recruit­ed from IBEW locals around the coun­try and sent to Bal­ti­more for the final four weeks of the cam­paign. The vol­un­teers (some of whom were paid or oth­er­wise com­pen­sat­ed by their own locals) came in two waves, each for two weeks. Some 80 such vol­un­teers, trav­el­ing from as far away as Cal­i­for­nia and Hawaii, manned infor­ma­tion­al pick­ets at the nine BGE ser­vice loca­tions where work­ers typ­i­cal­ly assem­ble for their shifts.
"They were at every loca­tion, every day. They did ​'hand­billing' and talked to the mem­bers to answer any ques­tions. They pro­vid­ed moral sup­port for the pro-union work­ers. And they made phone calls and house calls on every­body that was eli­gi­ble to vote," Gomez says. ​"We hadn't done that before, and it worked just great."
Cory McCray, an activist mem­ber of Baltimore's IBEW Local 24, which rep­re­sents some 2,000 build­ing trades work­ers in Mary­land, cred­it­ed offi­cials at union head­quar­ters in Wash­ing­ton, D.C., for ​"putting a lot of resources," into the cam­paign. McCray, a for­mer union orga­niz­er who was elect­ed to the Mary­land House of Del­e­gates in 2014, says ​"the offi­cial cam­paign last­ed about 18 months, but it real­ly start­ed before that. I'd say it real­ly start­ed when the rumors about the Exelon merg­er became hot and heavy."
Health­care and retire­ment ben­e­fits were among the most impor­tant con­cerns of BGE workers.
"There was a recog­ni­tion, I think, that these were vul­ner­a­ble in the after­math of the merg­er," said McCray. ​"Merg­ers always set off a search of cost sav­ings by the com­pa­ny that gets bought out, and it's the employ­ees that are always the most vul­ner­a­ble ones."
The sale of BGE did not set off an imme­di­ate attack on work­er ben­e­fits as feared, McCray con­tin­ued, but employ­ees noticed that BGE increased the amount of work con­tract­ed out to non-union com­pa­nies, effec­tive­ly reduc­ing the demand for the labor of the long-stand­ing employees.
"That was a mes­sage that most every­body under­stood. Their jobs were at risk, and with­out a union there is very lit­tle pro­tec­tion," said McCray.
Bruce Vail
is a Bal­ti­more-based free­lance writer with decades of expe­ri­ence cov­er­ing labor and busi­ness sto­ries for news­pa­pers, mag­a­zines and new media. He was a reporter for Bloomberg BNA's Dai­ly Labor Report, cov­er­ing col­lec­tive bar­gain­ing issues in a wide range of indus­tries, and a mar­itime indus­try reporter and edi­tor for the Jour­nal of Com­merce, serv­ing both in the newspaper's New York City head­quar­ters and in the Wash­ing­ton, D.C. bureau.