A Young Filmmaker Shares Her Story of Losing a Mother to Gun Violence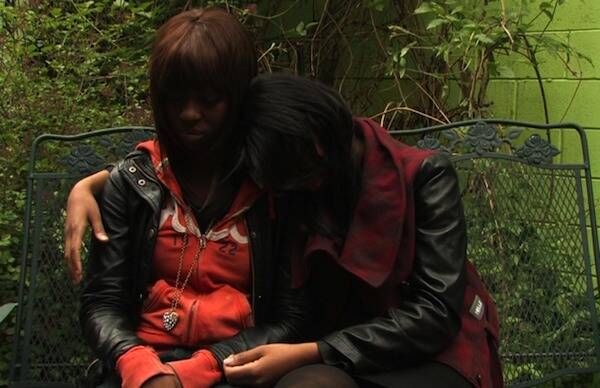 Brittany Douglas was
11
when her mother was shot and killed in front of her home in Chicago
&
rsquo;s North Lawndale neighborhood in
2005
. Now
19
, Douglas still feels the reverberations of her mother
&
rsquo;s murder, and she says she
&
rsquo;s doing what she can to keep the moments of quiet panic she experiences every day under control. Douglas
&
rsquo; short film After The Bullet, which premiered last month at Chicago
&
rsquo;s Columbia College, is a small part of that process. At just over
19
minutes, After The Bullet offers a glimpse into the lives of Douglas and her friend Diamond Johnson, who also lost her mother to gun violence in
2005
, as they prepare to graduate from high school without mothers. Community TV Network (CTVN) produced the film from its Bucktown-based studio, where the organization works to enable young people from some of the city
&
rsquo;s poorest neighborhoods to express themselves through film. It
&
rsquo;s clear that making After the Bullet was an enormous act of courage for Douglas. During the film's premiere, Douglas left the theater briefly, unable to stomach watching the scene in which she tells the story of her mother
&
rsquo;s murder in graphic detail. She describes being awakened by gunshots and running outside to find her mother lying at the bottom of the porch steps. As they waited two hours for the ambulance to arrive, Douglas says, her mother urged her to go back inside, while police looked on.
&
nbsp; Douglas was inspired to make the film, one of several she
&
rsquo;s made with CTVN, after watching
&
nbsp;The Interrupters, a documentary that follows three Chicagoans working to
&
ldquo;interrupt
&
rdquo; the city
&
rsquo;s pervasive gun violence, drawing from their own violent pasts. Douglas said their courage compelled her to tell her story of the aftermath of the very violence its subjects work to disrupt. Douglas spoke with In These Times about the film.
After your mother's death, you were raised by your grandmother. Do you think losing her daughter to gun violence affected the way your grandmother raised you? She was very protective about every little thing. She always said the world isn
&
rsquo;t safe. She made it very clear that she was very nervous about losing us.
&
nbsp;It was either I didn
&
rsquo;t go out, or I came home at a certain time. I used to carry mace. Now I don
&
rsquo;t go out a lot either; it
&
rsquo;s too dangerous. People say I
&
rsquo;m boring now. I want to say I
&
rsquo;m in control, but you
&
rsquo;re not even safe in your own house anymore. I would say I am scared. I don
&
rsquo;t like going around new areas. Your brother is almost
17
&
mdash;do you worry about him? I worry about my little brother being a male growing up in Chicago. He tries his best to fit in and sometimes he chooses the wrong crowd. With males, if you don
&
rsquo;t make the right friends you feel like less of a man. If you
&
rsquo;re not strong enough, males will pick on your because you don
&
rsquo;t want to join the gang. I
&
rsquo;m worried he
&
rsquo;s going to get himself into a situation that he can
&
rsquo;t get himself out of after he gets out of high school. How does Chicago play a part in the film? Chicago is one of the most dangerous and violent cities now in America. We have so much loss that most Chicagoans deal with their grief by creating more violence. So
&
nbsp;After The Bullet
&
nbsp;points out the change that needs to begin. I created it to show those who grieve that they are not alone, and that there are [other] ways to deal. Do you see yourself staying here? The first flight out of here, I
&
rsquo;ll take it. It
&
rsquo;s so dangerous. You have to watch even to go check your mailbox. When I have children, this is the last place I
&
rsquo;d want them to grow up.
&
nbsp; In the film, both you and Diamond discuss your struggle to live without your moms. What
&
rsquo;s it like for you on a daily basis? I was my mom
&
rsquo;s first child, and we look so much alike. Looking in the mirror reminds of her so much. It
&
rsquo;s a good thing, to see her every day. Every day the hardest thing is to actually put in my head that she
&
rsquo;s really not here. It
&
rsquo;s been eight years, and it doesn
&
rsquo;t feel like it at all. I get it everyday from my family: ​
"
You remind me so much of your mom, you have so many of her characteristics." It makes me feel good that I hold something that helps the family remember her. But sometimes I feel like, wow, what if she was still here? Who would I be? Have you dealt with this part of your life in other films you
&
rsquo;ve made? I did a documentary that won several awards called
&
nbsp;Dear Mom, Dear Dad, about two teenagers whose parents are not in their lives for different reasons. Those parents were alive and just chose to not be in their children
&
rsquo;s lives, so they can also change their minds. But in my case, my mom can't. They still have a chance. What was so inspiring to you about
&
nbsp;The Interrupters? [The Interrupters] is about three adults who have been through jail, losing close ones, and still find their way up and are helping others not make the same mistakes. They all went to jail for murder, attempted murder, horrible things. But they say,
&
ldquo;We created these problems and now we want to prevent them.
&
rdquo; It brought me to tears. Their stories were so powerful, and it took so much courage. They didn
&
rsquo;t care about being judged, they just wanted the story to be told. And it touched my heart. Do you find it easier to talk about your mother
&
rsquo;s death now that people have seen the film? I finally gained the strength to talk about it, now that I
&
rsquo;ve said it on camera. Everyone has been Tweeting me since I shared it. They
&
rsquo;re telling me it made them cry and that they want to treat their moms better. That
&
rsquo;s what I want. In the film, you talk about how it felt to be a student, and to graduate, without your mom. Can you tell me a little bit more about that? Everything I do is for my mom. If I was doing it for me, I would have given up. School got frustrating; extracurriculars were overwhelming. But I don
&
rsquo;t do it for myself. I do it for her.
&
nbsp;My mom was my hero, and when she passed away, I was like, why I am here?
&
nbsp;I have to do something for her. She wanted me to follow my dreams
&
mdash;she really wanted that and couldn
&
rsquo;t stress it enough. She did not want me to end up making the same mistakes she made. What are your dreams now? I want to open my own business
&
mdash;a dance studio and a salon in one. Two things I love: doing hair and teaching dance. …
&
nbsp;[Diamond and I] both love dance and that
&
rsquo;s a big way of how we cope. My favorite type of dance is
&
nbsp;praise
&
nbsp;[a type of religious worship through dance], because I like dancing passionately; it releases steam. It sets me free and it makes me happy. What do you hope your audience takes from your film? I want other people who have experienced this type of violence to know that they
&
rsquo;re not alone. You
&
rsquo;re not the only people who deal with this. It took a long time for me to be strong enough to tell it. I also wanted the message to be: If you have your mother now, value her. If you do her wrong, just know, you can
&
rsquo;t understand the pain you would have if she wasn
&
rsquo;t there. The overall meaning is that I want people to learn from me. Appreciate their mothers and close ones also because once they are gone all you have is memories. That
&
rsquo;s the strength of the film. It
&
rsquo;s personal; it tells my story and it tells a bigger story, too.
Be one of the first
Help kick off the new era of In These Times! Without a media that brings people together and creates a written record of the struggles of workers, their voices will be fragmented and forgotten.
The mission of In These Times is to be that written record, and to guide and grow those movements.
We have a lot of work ahead of us, and that work starts today. Early support is the most valuable support, and that's why we're asking you to pitch in now. If you are excited for this new era of In These Times, please make a donation today.