Farming Pathogens: An Evolutionary Biologist on the Links Between Big Ag and Disease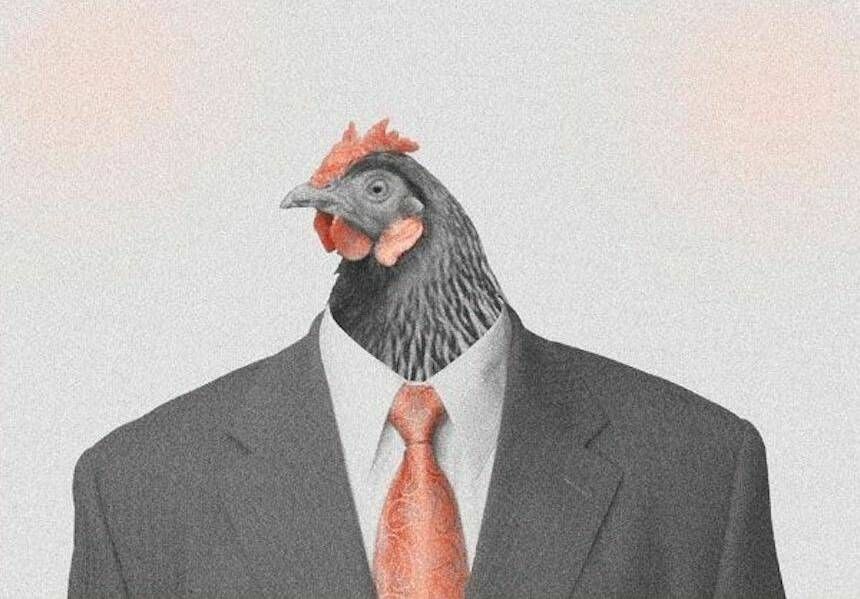 Inten­sive or mono­cul­ture farm­ing — the indus­tri­al agri­cul­tur­al prac­tice of pro­duc­ing way too much of one thing in order to max­i­mize yield and prof­its — has seri­ous glob­al eco­nom­ic and eco­log­i­cal con­se­quences. This, for the most part, is com­mon knowl­edge. Despite all the patents, land grabs, pes­ti­cides and antibi­otics, hunger and insuf­fi­cient nutri­tion remain a prob­lem for many peo­ple in the Unit­ed States and around the world. But ​"Big Ag" isn't just stiff­ing farm­ers, con­fin­ing ani­mals, pol­lut­ing water sup­plies, fail­ing to ​"feed the world" and, in the process, mak­ing a lot of mon­ey for a few cor­po­ra­tions. Accord­ing to Rob Wal­lace, it's cre­at­ing entire­ly new ​"agro-envi­ron­ments" for dead­ly pathogens to thrive.
Wal­lace is an author, evo­lu­tion­ary biol­o­gist and phy­lo­geo­g­ra­ph­er — some­one who stud­ies the forces behind the geo­graph­i­cal spread and dis­tri­b­u­tion of var­i­ous liv­ing things, from virus­es to mam­mals. His most recent book, Big Farms Make Big Flu: Dis­patch­es on Infec­tious Dis­ease, Agribusi­ness and the Nature of Sci­ence, tracks the ways influen­za (bird and swine flus for exam­ple) and oth­er pathogens are emerg­ing with­in ​"an agri­cul­ture con­trolled by multi­na­tion­al cor­po­ra­tions." His blog, Farm­ing Pathogens, explores the inter­sec­tion of eco­nom­ics, food pro­duc­tion, the envi­ron­ment and pub­lic health. In his words, the project is con­cerned with ​"dis­ease in a world of our own mak­ing" and fol­lows every­thing from ​"agri­cul­ture, infec­tions, evo­lu­tion, eco­log­i­cal resilience, dialec­ti­cal biol­o­gy, and the prac­tice of science."
In his lat­est post, ​"Ten The­ses on Farm­ing and Dis­ease," Wal­lace hash­es out why indus­tri­al agribusi­ness is ​"a scam" for farm­ers. He also makes the case that the epi­demi­o­log­i­cal risks it pos­es could even­tu­al­ly kill a lot of peo­ple. The solu­tion, he argues, is an end to the indus­tri­al food com­mod­i­ty par­a­digm, and the imple­men­ta­tion of bio­di­verse, local, agroe­co­log­i­cal food systems.
Rob Wal­lace, a phy­lo­geo­g­ra­ph­er, writes:
Every once in a while, we have to take a stab at putting all the pieces togeth­er. In some ways these ten the­ses on farm­ing and dis­ease only touch on what I, and oth­ers, have been say­ing all along. But there's a grow­ing under­stand­ing of the func­tion­al rela­tion­ships health, food jus­tice and the envi­ron­ment share. They're not just ticks on a check­list of good things cap­i­tal­ism shits on. Fal­si­fy­ing Hume's guil­lo­tine, embody­ing a niche con­struc­tion at the core of our human iden­ti­ty, jus­tice and the ecosys­tem appear to define each oth­er at a deep lev­el of cause and effect.
1. Con­tract farm­ers around the world are suf­fer­ing cost-price squeezes. Pro­duc­ers are at one and the same time suf­fer­ing increas­ing input costs and low or falling prices for their goods at the farm gate. The farm­ers are forced to chase an eco­nom­ic Red Queen. Indi­vid­ual farm­ers must increase pro­duc­tion if only in an effort to cov­er for low prices that increas­es in pro­duc­tion across farms helped depress to begin with.
2. The squeeze is a scam agribusi­ness is run­ning on farm­ers. In enforc­ing high farm out­put, com­pa­nies are seek­ing gluts that cheap­en ingre­di­ents for their processed prod­uct lines. High out­put, pro­duc­ing food beyond glob­al con­sumer demand, is also about mak­ing mon­ey off farm­ers con­trac­tu­al­ly oblig­at­ed to buy syn­thet­ic inputs they don't need to grow us enough food.
3. The gap between cost and price, also a form of labor dis­ci­pline, forces many farm­ers out, lead­ing to plot con­sol­i­da­tion as those small­hold­ers and mid-lev­el oper­a­tions still left buy up aban­doned land, bank­ing on economies of scale, debt-financed mech­a­niza­tion, and appre­ci­a­tion in land equi­ty to pull them through the arti­fi­cial price squeeze.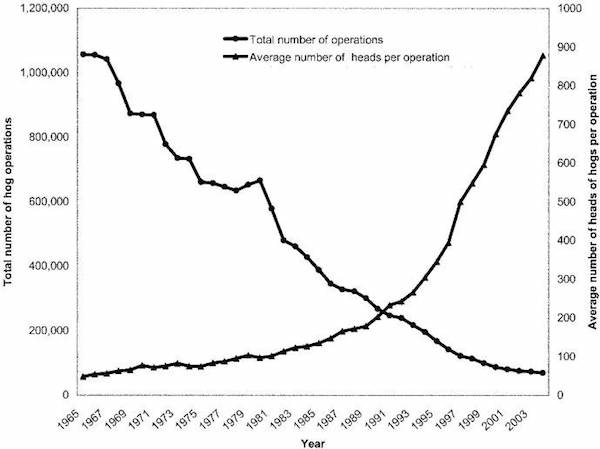 Con­sol­i­da­tion in hog oper­a­tions from 1965 to 2003. (Source: Farm­ing Pathogens)
4. The result­ing increas­es in farm size and debt, declines in crop and live­stock diver­si­ty, and length­en­ing com­mod­i­ty chains across expand­ing food geo­gra­phies depress rur­al resilience to dis­ease out­breaks asso­ci­at­ed with agri­cul­tur­al pro­duc­tion. By their immense mono­cul­tures, crop and meat pro­duc­ers alike are also indus­tri­al­iz­ing pests and pathogens, ramp­ing up out­break fre­quen­cy, scale, and dead­li­ness. In short, indus­tri­al pro­duc­tion offers less pro­tec­tion against a grow­ing epi­demi­o­log­i­cal dan­ger of its own making.
5. In this sys­tem, con­trol­ling out­breaks means first and fore­most pro­tect­ing the eco­nom­ic mod­el mak­ing agribusi­ness so much mon­ey. Actu­al farm­ing prac­tices — how food is grown across the land­scape — are allowed to change only to the extent they con­tribute to new ways of expro­pri­at­ing the farmer. That means, even the prob­lems of agribusi­ness pro­duc­tion, dis­ease includ­ed, become just anoth­er way to make mon­ey off farmers.
6. Cor­po­rate buy­ers at the farm gate demand pro­duc­ers con­trol out­breaks aris­ing inevitably out of mono­cul­ture pro­duc­tion with pes­ti­cides and phar­ma­ceu­ti­cals many of these cor­po­ra­tions — chem­i­cal or phar­ma­ceu­ti­cal com­pa­nies first—sell. No solu­tions — say, agroe­co­log­i­cal diver­si­fi­ca­tion or region­al mosaicism — are to be pur­sued out­side the com­modi­ties the com­pa­nies buy­ing the pro­duce dictate.
7. Agri­cul­tur­al pests and pathogens — with many of the live­stock and poul­try dis­eases capa­ble of spilling over into human pop­u­la­tions — don't care to coop­er­ate with such an arrange­ment. They don't read com­pa­ny mem­os or respect quar­ter­ly earn­ings. That isn't to say they don't like the mod­el of glob­al mono­cul­ture. In fact, if you'll excuse the anthro­po­mor­phism, a wide array of dis­ease agents pros­per by it. The busi­ness mod­el helps many pathogens and pests to spread across the world, meet­ing new poten­tial hosts they wouldn't oth­er­wise, along the way often evolv­ing greater infec­tious­ness and deadliness.
8. So the only way to stop the next dead­ly pan­dem­ic to emerge direct­ly out of live­stock or poul­try or indi­rect­ly out of wild ani­mals sub­ject­ed to Big Ag-dri­ven defor­esta­tion is to end cap­i­tal­ist agribusi­ness as we know it.
9. Land own­er­ship and the state of farmer auton­o­my and the con­trol local com­mu­ni­ties can exert over con­fig­ur­ing food land­scapes are fun­da­men­tal­ly linked to the epi­demi­o­log­i­cal fates of our dead­liest dis­eases. If we want to keep the next pan­dem­ic, the next Ebo­la or bird flu or Nipah virus, from killing a bil­lion peo­ple, agri­cul­ture must be returned to farm­ers and their local sup­port­ers at both the lev­el of the indi­vid­ual farm and as a col­lec­tive enter­prise across diver­si­fied landscapes.
10. Pub­lic trusts and coop­er­a­tive mod­els orga­nized around mul­ti­func­tion­al agroe­colo­gies address­ing the needs of food and farmer and envi­ron­ment all togeth­er are our best pro­tec­tion against the worst of the new diseases.
Rob Wal­lace talks agri­cul­ture, eco­nom­ics, pathogens and dis­ease. (Video: IAS UMN / YouTube)
("Ten The­ses on Farm­ing and Dis­ease," was orig­i­nal­ly pub­lished on Farm­ing Pathogens and is repost­ed on Rur­al Amer­i­ca In These Times with per­mis­sion from the author.)
This blog's mis­sion is to pro­vide the pub­lic ser­vice of help­ing make the issues that rur­al Amer­i­ca is grap­pling with part of nation­al discourse.