Ahead of NATO Summit, Occupy Launches 'Chicago Spring'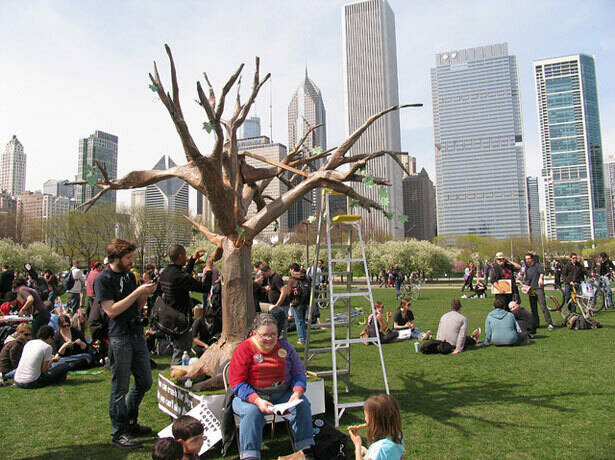 When the city of Chicago plays host to the NATO summit next month, it will also become a focal point of activity for the newly re-energized Occupy movement — and expectations are high for a showdown between police and protesters.
But though the upcoming demonstrations have been discussed most often in terms of ominous (and often historically dubious) comparisons to the 1968 Democratic National Convention, the first event of the ​"Chicago Spring" this Saturday took a decidedly different tone. In a community festival attended by more than 1,000, Chicago occupiers marked the revival of a movement that has grown more mature and broad-based than when it was last seen outdoors in similar numbers.
Though a number of activists held signs that read ​"We're Back," Occupy Chicago organizers were quick to point out that the movement never really left — it has been building strength while meeting in an indoor location during the winter. But actions held downtown during the first months of 2012 were often poorly attended as the movement in Chicago, as elsewhere, struggled with the question of how important a continued outdoor presence was to its success.
The movement's return on Saturday to Grant Park, which once again became the site of an outdoor General Assembly, was reminiscent of the past fall's two attempts to set up an encampment, each of which ended in mass arrests. But an attempted re-occupation was not on the agenda this weekend. Though the magazine Adbusters has called for 50,000 to set up camp in Chicago on May 1 in advance of the NATO summit, the local iteration of the movement has not yet said that it plans to attempt the same this spring.
Instead, the stated purpose of the day on Saturday was to "[break] down economic, social, racial, and geographic barriers that the 1% have used to divide us," with decentralized events taking place throughout the city in the morning. At 1 P.M., demonstrators gathered at Jackson and LaSalle for an unpermitted march to Butler Field, during which demonstrators revived the familiar chant of ​"Banks got bailed out, we got sold out!"
Much of the day took the form of a community bazaar with costumes, theater and music. Hare Krishnas meditated near a street theater performance in which a monster with Mayor Rahm Emanuel's face pretended to eat a kitten. Later in the day, practitioners from across the city led attendees in a well-attended yoga session, and occupiers took the field for a game of ​"capture the flag" — with opposing teams marked by anarchist and Communist flags.
But Evelyn DeHais of the Occupy Chicago Press Committee said that the day's teach-ins and trainings were also geared toward building the connections that would bring Chicagoans out into the streets during the NATO summit. ​"Prior to NATO/G8, we wanted to make sure that our members — and Chicagoans — were inspired and educated," she told In These Times. ​"In order to care about NATO and G8 and what they signify, you need to first understand that … the struggles you are facing are also struggles that are being faced by the 99% of the city and of the world."
The 10 workshops and teach-ins that took place during the afternoon were focused heavily on austerity in Chicago and the effect that the $410 million in spending cuts, approved by the City Council last November, would have on the city's schools, mental health clinics and other vital social services.
But a number of speakers also drew connections between these cuts in Chicago and the program of global austerity advanced by international bodies like the G8 and perpetuated by record military spending. Speaking during a workshop on housing, human rights and healthcare, Reverend Jesse Jackson asked participants to make May 20 — the day of the NATO summit — the ​"ground-breaking day, the deal-breaking day" where popular protest would force a shift in spending priorities. ​"On May 20, we will occupy for our future!" Jackson concluded.
Iraq Veterans Against the War (IVAW), whose members plan to march to the NATO summit and attempt to return the ​"Global War on Terrorism service medals" awarded to them, also spoke to the crowd.
Aaron Hughes of IVAW said that while ​"most people don't understand the relationship between NATO and their daily lives," veterans coming home from the war are among those most affected by deep cuts to social services. Earlier this year, IVAW launched ​"Operation Recovery," a campaign to push for an end to the deployment of traumatized troops and adequate medical and mental healthcare for veterans.
David Amerson of IVAW told In These Times that demonstrating against NATO is an important part of the group's ​"pro-soldier, anti-war" message. ​"Protesting NATO is just a lot of theater to a lot of people," said Amerson, ​"but it's important because if you don't make the show, it's as if you're consenting. If you're not willing to come out and object to these things when they're right here in your city, then when are you going to do it?"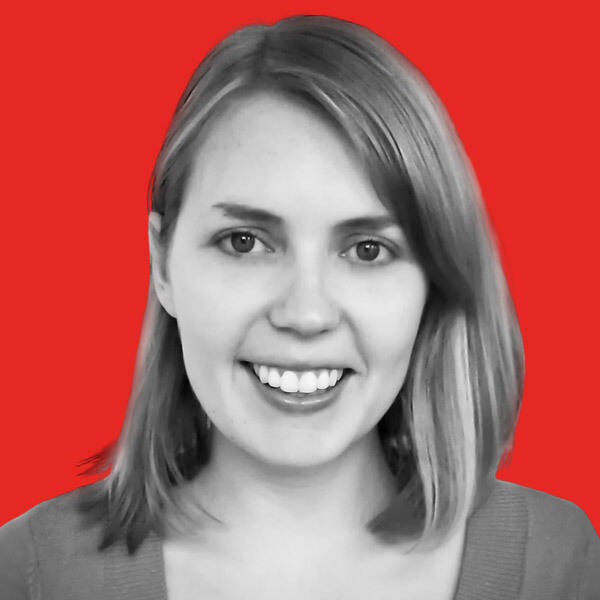 Rebecca Burns is an In These Times contributing editor and award-winning investigative reporter. Her work has appeared in Bloomberg, the Chicago Reader, ProPublica, The Intercept, and USA Today. Follow her on Twitter @rejburns.