Aiding and Abetting War Crimes
The Israeli military tested new weapons in Gaza with U.S. support.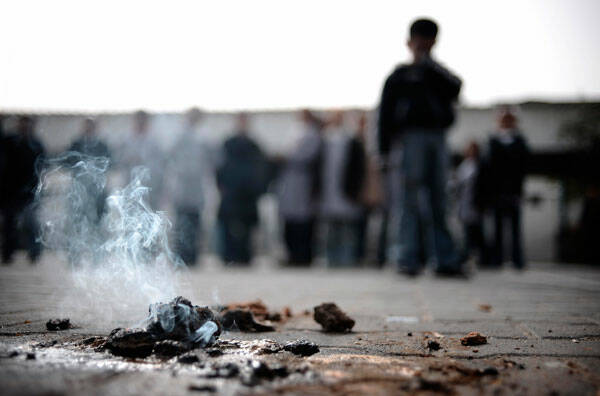 "You feel like a child play­ing around with a mag­ni­fy­ing glass, burn­ing up ants." That is how one Israeli sol­dier described Oper­a­tion Cast Lead, the Israeli Defense Force's (IDF) inva­sion of the Gaza Strip, which began in Decem­ber 2008.
One woman described what happened after her arm was hit by burning white phosphorus: 'It burnt a hole and melted everything.'
His is one of 54 tes­ti­monies col­lect­ed by the Israeli orga­ni­za­tion Break­ing the Silence in a 110-page report that paints a dis­turb­ing pic­ture of urban war­fare in one of the world's most dense­ly pop­u­lat­ed areas, where more than 1.5 mil­lion peo­ple occu­py a nar­row strip of land between Israel and the sea.
Anoth­er sol­dier, after recount­ing an inci­dent in which his unit used civil­ians as human shields, described Gaza as a ​"moral twi­light zone."
It is an apt term for Gaza's whole­sale destruc­tion: homes demol­ished by Cater­pil­lar D9 bull­doz­ers (man­u­fac­tured in the Unit­ed States and armored by Israeli Mil­i­tary Indus­tries) and set afire by white phos­pho­rus can­is­ters (made by Pine Bluff Arse­nal, a U.S. Army instal­la­tion in Pine Bluff, Ark.). Save the Chil­dren, a U.K.-based NGO, esti­mat­ed that more than 500,000 peo­ple were dis­placed dur­ing the war, and, a month after the cease­fire, 100,000 remained home­less. The Pales­tin­ian Eco­nom­ic Devel­op­ment Coun­cil puts a $1.9‑billion price tag on rebuild­ing from the 22-day war. It not­ed that even under ide­al cir­cum­stances the work could take five years.
The term also applies to the civil­ians killed: chil­dren cut down while play­ing, women and men killed as they tried to car­ry on their nor­mal lives. Civil­ians were tar­get­ed by Cobra heli­copters armed with high-explo­sive anti-tank (HEAT) mis­siles (both made by Lock­heed Mar­tin), blast­ed by Strike mis­siles shot from Her­mes drones (designed and man­u­fac­tured in Israel) and caught in the cross­fire as groups of sol­diers advanced on fir­ing mil­i­tants. Richard Falk, the UN Spe­cial Rap­por­teur for Human Rights in the Occu­pied Ter­ri­to­ries, says that of the 1,434 Pales­tini­ans killed in Gaza, 960 were civil­ians, includ­ing 121 women and 288 children.
Arms and dol­lars for the ​
'

moral twi­light zone'

Israel – the largest recip­i­ent of U.S. mil­i­tary aid – has one of the most sophis­ti­cat­ed and exten­sive mil­i­tary arse­nals in the region. U.S.-origin weapons pre­dom­i­nate and are an emblem of Washington's close rela­tion­ship with Tel Aviv. Dur­ing George W. Bush's pres­i­den­cy, Israel received more than $22 bil­lion in mil­i­tary assis­tance from the Unit­ed States. The bulk of this was in For­eign Mil­i­tary Financ­ing (FMF), which are U.S. grants for weapons pur­chas­es. Now, FMF is on the rise. Pres­i­dent Oba­ma is fol­low­ing through on his predecessor's promise to increase secu­ri­ty assis­tance to $30 bil­lion over the next 10 years.

In a review of the Gaza war pub­lished in Feb­ru­ary 2009, the non­par­ti­san Con­gres­sion­al Research Ser­vice list­ed U.S. weapons plat­forms used in Oper­a­tion Cast Lead, includ­ing ​"F‑15 and F‑16 air­craft [and] Apache heli­copters." Human Rights Watch's (HRW) list of the U.S. sys­tems deployed by Israel is far more exten­sive, includ­ing Cobra heli­copters and Amer­i­can-made High-Explo­sive, Dual-Pur­pose rock­ets and HEAT missiles.

In addi­tion to these sys­tems, human rights groups found evi­dence of Israel's use of a wide array of con­tro­ver­sial, exper­i­men­tal weapons systems.
White phos­pho­rus
"Why fire phos­pho­rus?" ​"Because it's fun. Cool." – Israeli sol­dier, to Break­ing the Silence.
White phos­pho­rus is designed to obscure the bat­tle­field, increas­ing free­dom of move­ment for the user. It can also be used as a weapon. The U.S. Army Cen­ter for Health Pro­mo­tion and Pre­ven­ta­tive Med­i­cine notes that white phos­pho­rous is ​"spon­ta­neous­ly flam­ma­ble" and an ​"extreme­ly tox­ic inor­gan­ic sub­stance." In Gaza, it was used to dev­as­tat­ing effect used to burn down build­ings. As one Israeli sol­dier told Break­ing the Silence, ​"phos­pho­rus was used as an ignit­er, sim­ply to make it all go up in flames."
One woman inter­viewed by HRW described what hap­pened after she was hit by burn­ing white phos­pho­rus: ​"It burnt a hole and melt­ed every­thing," she said, point­ing to her ban­daged arm. The phos­pho­rus ignites and burns on con­tact with oxy­gen, and con­tin­ues burn­ing until noth­ing is left or the oxy­gen sup­ply is cut. Accord­ing to med­ical per­son­nel, the wounds some­times began to burn again as they cleaned them.
In late Jan­u­ary 2009, an Amnesty Inter­na­tion­al inves­ti­ga­tion ​"found white phos­pho­rus still smol­der­ing in res­i­den­tial areas through­out Gaza days after the cease­fire came into effect on 18 Jan­u­ary." In the bombed court­yard of the Gaza head­quar­ters of the UN Relief and Works Agency for Pales­tine Refugees, researchers found frag­ments of white phos­pho­rus artillery shells and note that the ​"attack had caused a large fire, which destroyed tens of tons of human­i­tar­i­an aid, includ­ing med­i­cines, food and oth­er non-food items."
Dead­ly drones
Unlike much of Israeli mil­i­tary hard­ware, the Her­mes and Heron drones are man­u­fac­tured domes­ti­cal­ly, and both were used in Oper­a­tion Cast Lead. In a joint assess­ment of Israeli drone attacks, B'Tselem, the Pales­tine Cen­tre for Human Rights and Al Meza Cen­tre for Human Rights found that Israel car­ried out 42 drone attacks in which 87 civil­ians were killed dur­ing the war.
Marc Gar­las­co, a senior mil­i­tary ana­lyst with HRW, describes how pre­cise and dis­crim­i­nate the drones can be: ​"Drone oper­a­tors can clear­ly see their tar­gets on the ground and also divert their mis­siles after launch." In a study of six spe­cif­ic IDF drone attacks dur­ing Oper­a­tion Cast Lead, HRW found that 29 civil­ians were killed, includ­ing 8 chil­dren. Accord­ing to their study, 5 of the 6 attacks were car­ried out in broad day­light, all of them in civil­ian areas far from the fight­ing and in ​"unlike­ly sites for launch­ing rock­ets into Israel." Giv­en the drones' high degree of pre­ci­sion, HRW asserts that ​"these attacks vio­lat­ed inter­na­tion­al human­i­tar­i­an law."
New weapons testing
Human rights inves­ti­ga­tors, jour­nal­ists and human­i­tar­i­an work­ers were all barred from Gaza dur­ing the fight­ing, fuel­ing con­fu­sion and spec­u­la­tion about what kinds of weapons sys­tems were being used.
Mads Gilbert, a Nor­we­gian doc­tor who worked in a Gaza hos­pi­tal dur­ing the war, told ​"Democ­ra­cy Now!" that ​"we have seen a sub­stan­tial num­ber of ampu­ta­tions where the amputees do not have shrap­nel injuries. On the con­trary, they have torn apart their legs, often one or two or even three limbs." These injuries – new, ter­ri­ble and seem­ing­ly shrap­nel-free – have led to the hypoth­e­sis that Israel has been using what are known as Dense Inert Met­al Explo­sives (DIME), a type of weapon that is still in test­ing phase in the Unit­ed States.
"It is high­ly like­ly that Israel has devel­oped its own ver­sion of DIME," writes jour­nal­ist David Ham­bling on the nation­al secu­ri­ty blog Dan­ger Room. The ​"Iron Fist" inter­cep­tor, unveiled by the Israeli mil­i­tary in 2006, works in a way that is con­sis­tent with DIME tech­nol­o­gy. As Ham­bling writes in the online mag­a­zine Defense Update, the Iron Fist ​"uses only the blast effect to defeat the threat, crush­ing the soft com­po­nents of a shaped charge or deflect­ing and desta­bi­liz­ing the mis­sile or kinet­ic rod in their flight."
Amnesty Inter­na­tion­al researcher Donatel­la Rovera sur­veyed the dam­age wrought by these weapons and con­clud­ed, ​"The kinds of weapons used and the man­ner in which they were used indi­cates pri­ma facie evi­dence of war crimes."
War crimes?
Months after Oper­a­tion Cast Lead, count­less ques­tions about the con­duct of the IDF and the weapons used in Gaza remain unan­swered. Gath­er­ing incon­tro­vert­ible evi­dence and mak­ing sol­id con­clu­sions is a crit­i­cal part of post-con­flict recon­struc­tion. But giv­en the kind of inves­ti­ga­tions that have been car­ried out thus far, that sort of clo­sure seems out of reach for the peo­ple of Gaza.
The IDF car­ried out five of its own inves­ti­ga­tions, con­clud­ing that it ​"oper­at­ed in accor­dance with inter­na­tion­al law" and that the small num­ber of ques­tion­able inci­dents that did occur were ​"unavoid­able and occur in all com­bat situations."
HRW deems these inves­ti­ga­tions ​"not cred­i­ble" and has called on the Israeli gov­ern­ment to coop­er­ate with a com­pre­hen­sive UN inves­ti­ga­tion led by the for­mer chief pros­e­cu­tor of the inter­na­tion­al war crimes tri­bunals for the for­mer Yugoslavia and Rwan­da, Richard Gold­stone. Thus far, Israel has opt­ed not to participate.
And the Unit­ed States – Israel's clos­est ally and largest sup­port­er – has refused to push Israel to coop­er­ate. It seems the ​"moral twi­light zone" extends beyond Gaza, all the way to Washington.
GET INVOLVED:
Break­ing the Silence: Sol­diers' Tes­ti­monies from Oper­a­tion Cast Lead
Glob­al BDS Move­ment: Boy­cott, Divest­ment and Sanc­tions for Palestine