8,000 Airport Workers in Chicago Just Won a Wage Raise and the Right to a Union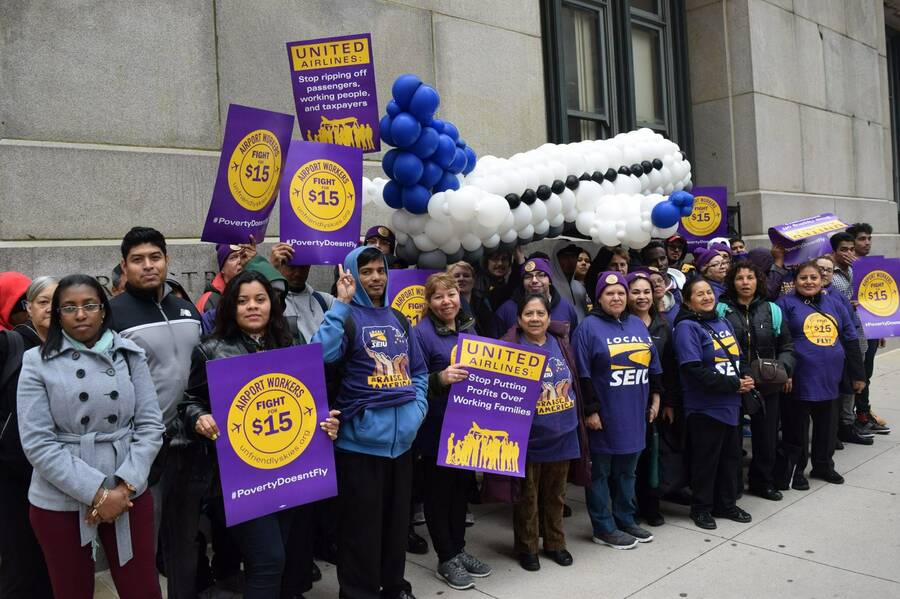 CHICA­GO — Eight thou­sand work­ers at Chicago's two air­ports have scored a major vic­to­ry in their two-year cam­paign for high­er wages and a union.
On Wednes­day, the City Coun­cil unan­i­mous­ly passed an ordi­nance requir­ing pri­vate con­trac­tors — who employ O'Hare and Midway's bag­gage han­dlers, cab­in clean­ers, wheel­chair atten­dants, jan­i­tors, secu­ri­ty offi­cers, tick­et col­lec­tors and de-icers — to abide by new labor stan­dards in order to be licensed by the city. Most employ­ees of air­port con­trac­tors make low wages, receive few ben­e­fits and lack job security.
The ordi­nance will require con­trac­tors to pay a min­i­mum wage of $13.45 start­ing July 1, 2018, well above Chicago's cur­rent min­i­mum of $11 an hour. Though the Illi­nois Gen­er­al Assem­bly recent­ly passed a bill that would have raised the state's min­i­mum wage to $15 an hour, Repub­li­can Gov. Bruce Rauner vetoed it last month.
"I'm a sin­gle mom with three kids and two grand­kids. This raise will help con­tribute to sup­port­ing my fam­i­ly," Dar­lene Navar­ro Mon­tañez, an O'Hare jan­i­tor employed by the con­trac­tor Scrubs, told In These Times through an inter­preter. ​"Eleven dol­lars an hour is just not enough."
"With the raise, besides help­ing my fam­i­ly more, I could put big­ger pay­ments into pay­ing back my stu­dent debt," said Dan­ny Rodriguez, a 24-year-old wheel­chair atten­dant, secu­ri­ty offi­cer and shift lead at O'Hare.
The new law also stip­u­lates that con­trac­tors must enter into ​"labor peace agree­ments" with any union seek­ing to orga­nize their employ­ees. Under such an agree­ment, the employ­er must remain neu­tral dur­ing a union orga­niz­ing dri­ve and cer­ti­fi­ca­tion elec­tion. In return, the union promis­es not to engage in ​"eco­nom­i­cal­ly dis­rup­tive" actions like strikes and boy­cotts. By pro­hibit­ing employ­er inter­fer­ence, such agree­ments dra­mat­i­cal­ly improve the like­li­hood of unionization.
"The next step is get­ting the union," said Navar­ro Mon­tañez, 37, who came to the U.S. main­land from Puer­to Rico in search of a bet­ter life. ​"I want to see the com­pa­ny and the air­port respect the employees."
With a union con­tract, one of Rodriguez's first pri­or­i­ties would be to get his employ­er, Prospect, to allow paid time off for fam­i­ly emer­gen­cies. Under the employer's cur­rent pol­i­cy, he fears get­ting fired when­ev­er he has to miss work unex­pect­ed­ly to look after his elder­ly grand­moth­er, who requires 24-hour care.
"I have to risk los­ing my job for being a respon­si­ble grand­son," Rodriguez said. "[Prospect's pol­i­cy] needs to be reworked to make sure it's fair­er for every­one. Not just for me tak­ing care of my grand­ma, but oth­er peo­ple who are par­ents or guardians."
The work­ers will like­ly seek to join SEIU Local 1. Since Sep­tem­ber 2015, Local 1 has led the efforts that result­ed in this week's ordi­nance, as part of SEIU's nation­al Air­port Work­ers Unit­ed and Fight for $15 campaigns.
With sup­port from Local 1, O'Hare work­ers have staged mul­ti­ple protests over the past two years pres­sur­ing employ­ers and the city to take action, includ­ing one-day strikes in March and Novem­ber 2016 involv­ing hun­dreds of employees.
"It was my first time ever on strike," Rodriguez said of the Novem­ber walk­out. ​"It was amaz­ing. It was the first time I had ever seen what real­ly makes O'Hare run besides just the planes."
Navar­ro Mon­tañez not­ed that her employ­er tried to scare her and her fel­low work­ers into not par­tic­i­pat­ing in the Novem­ber strike. ​"We did it any­way. I felt very strong," she said.
"There was so much great feel­ing and emo­tion that day. It fired so many peo­ple up," Rodriguez told In These Times. ​"It was that first major domi­no. It had this domi­no effect to where we're at today with this ordi­nance get­ting passed."
In May, Rodriguez and Navar­ro Mon­tañez also par­tic­i­pat­ed in a protest out­side Unit­ed Air­lines' share­hold­er meet­ing, in which 30 air­port work­ers and sup­port­ers were arrest­ed doing civ­il disobedience.
The esca­lat­ing actions final­ly prompt­ed the City Coun­cil to take up a liv­ing wage ordi­nance for air­port work­ers ear­li­er this year. After the orig­i­nal bill became stalled in com­mit­tee this sum­mer, 47th ward Alder­man Ameya Pawar — a Demo­c­ra­t­ic can­di­date for Illi­nois gov­er­nor and pro­po­nent of the ordi­nance — threat­ened to move it the floor for a vote by the full coun­cil, where it was poised to pass with­out May­or Rahm Emanuel's sup­port. To regain con­trol over the process, Emanuel nego­ti­at­ed with the ordinance's cospon­sors, result­ing in the new law passed this week by a unan­i­mous vote.
"This was a long, hard effort," SEIU Local 1 pres­i­dent Tom Bal­anoff said at a press con­fer­ence this week. ​"These work­ers were strong enough to stand up and fight for their rights. They weren't afraid, they weren't intimidated."
All along the way, the cam­paign has been sup­port­ed by a vast coali­tion of labor and com­mu­ni­ty orga­ni­za­tions, includ­ing Chica­go Jobs with Jus­tice and the Arab Amer­i­can Action Net­work (AAAN), among many others.
"These work­ers are our own peo­ple: black, Arab, Mus­lim, Lati­no, oth­er immi­grants," AAAN exec­u­tive direc­tor Hatem Abu­dayyeh said at the press con­fer­ence. ​"They are from the most mar­gin­al­ized com­mu­ni­ties in Chica­go, attacked by Trump's racist poli­cies and also bare­ly able to make ends meet because they are exploit­ed so ter­ri­bly. Pass­ing this ordi­nance will prove that we can win, and moti­vate us to con­tin­ue our oth­er fights."
"Even though we won this ordi­nance, this fight is not over," Rodriguez insist­ed. ​"We're going to keep fight­ing for what needs to be done. Once we final­ly get this union and get this con­tract, then I could say we final­ly had our voice heard."
Jeff Schuhrke has been a Work­ing In These Times con­trib­u­tor since 2013. He has a Ph.D. in His­to­ry from the Uni­ver­si­ty of Illi­nois at Chica­go and a Master's in Labor Stud­ies from UMass Amherst. Fol­low him on Twit­ter: @JeffSchuhrke