8,000 Airport Workers in Chicago Just Won a Wage Raise and the Right to a Union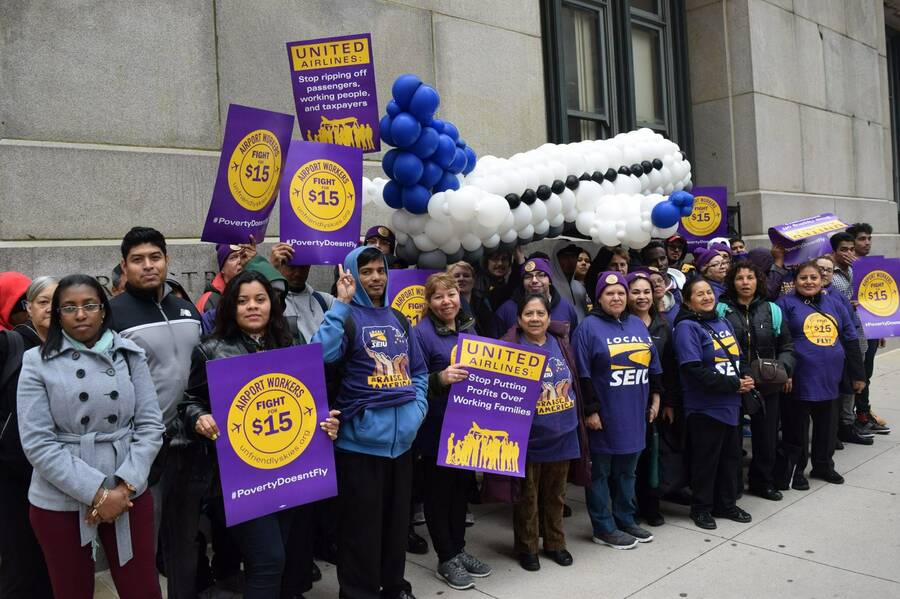 CHICAGO — Eight thousand workers at Chicago's two airports have scored a major victory in their two-year campaign for higher wages and a union.
On Wednesday, the City Council unanimously passed an ordinance requiring private contractors — who employ O'Hare and Midway's baggage handlers, cabin cleaners, wheelchair attendants, janitors, security officers, ticket collectors and de-icers — to abide by new labor standards in order to be licensed by the city. Most employees of airport contractors make low wages, receive few benefits and lack job security.
The ordinance will require contractors to pay a minimum wage of $13.45 starting July 1, 2018, well above Chicago's current minimum of $11 an hour. Though the Illinois General Assembly recently passed a bill that would have raised the state's minimum wage to $15 an hour, Republican Gov. Bruce Rauner vetoed it last month.
"I'm a single mom with three kids and two grandkids. This raise will help contribute to supporting my family," Darlene Navarro Montañez, an O'Hare janitor employed by the contractor Scrubs, told In These Times through an interpreter. ​"Eleven dollars an hour is just not enough."
"With the raise, besides helping my family more, I could put bigger payments into paying back my student debt," said Danny Rodriguez, a 24-year-old wheelchair attendant, security officer and shift lead at O'Hare.
The new law also stipulates that contractors must enter into ​"labor peace agreements" with any union seeking to organize their employees. Under such an agreement, the employer must remain neutral during a union organizing drive and certification election. In return, the union promises not to engage in ​"economically disruptive" actions like strikes and boycotts. By prohibiting employer interference, such agreements dramatically improve the likelihood of unionization.
"The next step is getting the union," said Navarro Montañez, 37, who came to the U.S. mainland from Puerto Rico in search of a better life. ​"I want to see the company and the airport respect the employees."
With a union contract, one of Rodriguez's first priorities would be to get his employer, Prospect, to allow paid time off for family emergencies. Under the employer's current policy, he fears getting fired whenever he has to miss work unexpectedly to look after his elderly grandmother, who requires 24-hour care.
"I have to risk losing my job for being a responsible grandson," Rodriguez said. "[Prospect's policy] needs to be reworked to make sure it's fairer for everyone. Not just for me taking care of my grandma, but other people who are parents or guardians."
The workers will likely seek to join SEIU Local 1. Since September 2015, Local 1 has led the efforts that resulted in this week's ordinance, as part of SEIU's national Airport Workers United and Fight for $15 campaigns.
With support from Local 1, O'Hare workers have staged multiple protests over the past two years pressuring employers and the city to take action, including one-day strikes in March and November 2016 involving hundreds of employees.
"It was my first time ever on strike," Rodriguez said of the November walkout. ​"It was amazing. It was the first time I had ever seen what really makes O'Hare run besides just the planes."
Navarro Montañez noted that her employer tried to scare her and her fellow workers into not participating in the November strike. ​"We did it anyway. I felt very strong," she said.
"There was so much great feeling and emotion that day. It fired so many people up," Rodriguez told In These Times. ​"It was that first major domino. It had this domino effect to where we're at today with this ordinance getting passed."
In May, Rodriguez and Navarro Montañez also participated in a protest outside United Airlines' shareholder meeting, in which 30 airport workers and supporters were arrested doing civil disobedience.
The escalating actions finally prompted the City Council to take up a living wage ordinance for airport workers earlier this year. After the original bill became stalled in committee this summer, 47th ward Alderman Ameya Pawar — a Democratic candidate for Illinois governor and proponent of the ordinance — threatened to move it the floor for a vote by the full council, where it was poised to pass without Mayor Rahm Emanuel's support. To regain control over the process, Emanuel negotiated with the ordinance's cosponsors, resulting in the new law passed this week by a unanimous vote.
"This was a long, hard effort," SEIU Local 1 president Tom Balanoff said at a press conference this week. ​"These workers were strong enough to stand up and fight for their rights. They weren't afraid, they weren't intimidated."
All along the way, the campaign has been supported by a vast coalition of labor and community organizations, including Chicago Jobs with Justice and the Arab American Action Network (AAAN), among many others.
"These workers are our own people: black, Arab, Muslim, Latino, other immigrants," AAAN executive director Hatem Abudayyeh said at the press conference. ​"They are from the most marginalized communities in Chicago, attacked by Trump's racist policies and also barely able to make ends meet because they are exploited so terribly. Passing this ordinance will prove that we can win, and motivate us to continue our other fights."
"Even though we won this ordinance, this fight is not over," Rodriguez insisted. ​"We're going to keep fighting for what needs to be done. Once we finally get this union and get this contract, then I could say we finally had our voice heard."
Jeff Schuhrke is a labor historian, educator, journalist and union activist who teaches at the Harry Van Arsdale Jr. School of Labor Studies, SUNY Empire State College in New York City. He has been an In These Times contributor since 2013. Follow him on Twitter @JeffSchuhrke.