Alexandria Ocasio-Cortez's 70% Tax Proposal Is a Great Start—But We Need to Abolish the Ultra-Rich
To combat inequality and oligarchy, we need to tax the accumulated wealth of the billionaire class, not just income.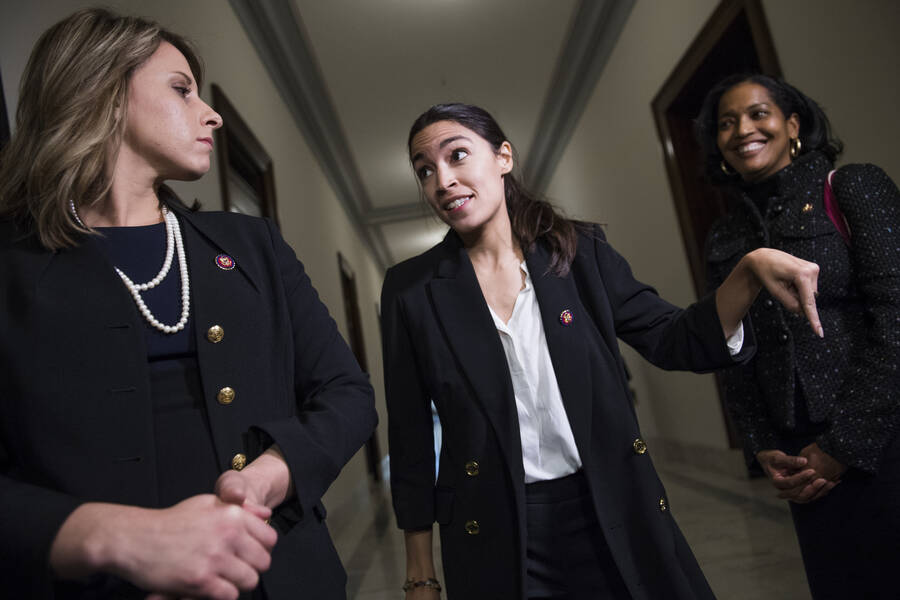 Last week, when 60 Min­utes aired an inter­view with new­ly sworn-in Rep. Alexan­dria Oca­sio-Cortez, the fresh­man New York con­gressper­son caused an uproar with what, by Wash­ing­ton stan­dards, seemed a rather immod­est pro­pos­al. Asked whether an expan­sion of pub­lic invest­ment in green tech­nolo­gies would require rais­ing tax­es, she cit­ed history.
Ultimately, finding an optimal tax rate for the super-rich is a moral and political issue as much as an economic one.
"You look at our tax rates back in the 60s… [and] on your 10 mil­lionth dol­lar, some­times you see tax rates as high as 60 or 70 per­cent," Oca­sio-Cortez explained. Giv­en that a 70 per­cent tax on the wealthy would be near­ly dou­ble the cur­rent rate on top earn­ers, CBS's Ander­son Coop­er respond­ed with dis­be­lief. ​"What you are talk­ing about…" he said, ​"is a rad­i­cal agen­da com­pared to the way pol­i­tics is done now."
Coop­er was not the only one to express skep­ti­cism. While con­ser­v­a­tives were pre­dictably apoplec­tic, even rank­ing Democ­rats on the House Ways and Means Com­mit­tee, respon­si­ble for draft­ing the tax code, were incred­u­lous. Texas Demo­c­rat Lloyd Doggett described Ocasio-Cortez's sug­ges­tion as ​"a lit­tle over the top." New Jer­sey Demo­c­rat Bill Pascrell dis­missed it as ​"com­i­cal."
In fact, Ocasio-Cortez's com­ments rep­re­sent good pol­i­cy­mak­ing. Both look­ing abroad and in terms of the Unit­ed States' own his­to­ry, there is strong evi­dence to sup­port the ben­e­fits of high­er tax­es on the super-rich. But more than look­ing at her off-hand­ed response as an actu­al pro­pos­al or a final pol­i­cy goal, her com­ments should serve as an open­ing to a broad­er conversation.
Yes, we should be ask­ing what is the opti­mal tax rate on the wealthy for an expan­sion of pub­lic invest­ment in nec­es­sary goods and ser­vices. But we should also con­sid­er a more fun­da­men­tal ques­tion: Do we real­ly want to live in a soci­ety in which those at the top can make hun­dreds or even thou­sands of times as much mon­ey as those toil­ing at the bottom?
Tax­ing the rich is pop­u­lar — and makes good eco­nom­ic sense
In the fall­out from Ocasio-Cortez's inter­view, econ­o­mist and New York Times colum­nist Paul Krug­man was quick to point out that her view of opti­mal tax rates was far from controversial.
A flight of promi­nent aca­d­e­mics, includ­ing Nobel lau­re­ate Peter Dia­mond, whom Krug­man describes as ​"arguably the world's lead­ing expert on pub­lic finance," have con­curred that a top tax rate of over 70 per­cent would be entire­ly rea­son­able. ​"Some put it high­er," Krug­man not­ed. ​"Christi­na Romer, top macro­econ­o­mist and for­mer head of Pres­i­dent Obama's Coun­cil of Eco­nom­ic Advis­ers, esti­mates [the opti­mal rate for the top tax brack­et] at more than 80 per­cent."
Amer­i­ca indeed long had tax rates on the rich that reached the lev­els Oca­sio-Cortez pro­posed or high­er, while the nation expe­ri­enced mas­sive eco­nom­ic expan­sion. In fact, she under­stat­ed the rates from the past: For two decades after World War II, until 1964, the mar­gin­al tax rate on the high­est brack­et hov­ered around 91 per­cent.
For a mar­ried cou­ple in 1960, that applied to income earned above $400,000, the equiv­a­lent of approx­i­mate­ly $3 mil­lion today. Yet this was the peri­od in which the Unit­ed States econ­o­my boomed most dra­mat­i­cal­ly, when col­lege stu­dents could reli­ably expect both a new car and a home mort­gage after grad­u­a­tion. The annu­al growth rate in GDP reached lev­els as high as 7 and 8 percent.
There are also inter­na­tion­al prece­dents to sug­gest that tax­ing the super-rich yields sub­stan­tial pub­lic ben­e­fits. Swe­den has tax­es on high incomes com­pa­ra­ble to Ocasio-Cortez's 70 per­cent pro­pos­al, with cur­rent rates of eco­nom­ic growth and labor-force par­tic­i­pa­tion greater than in the Unit­ed States. Before Mar­garet Thatcher's Tory gov­ern­ment cut tax­es on the wealthy in the 1980s, the Unit­ed King­dom long main­tained top rates in excess of 75 per­cent, with addi­tion­al sur­charges on invest­ment income.
While, like in the Unit­ed States, inequal­i­ty has soared in Britain in recent decades (the tax rate on income earned above £150,000, or about $200,000, is now 45 per­cent) its his­to­ry of high­er rates was part of the broad­er arse­nal of social-demo­c­ra­t­ic poli­cies aimed at mak­ing the coun­try a more fair and just place for its res­i­dents. These include pub­lic hos­pi­tals acces­si­ble to all, just as pri­ma­ry and sec­ondary schools are in the Unit­ed States. They also include at least 28 days of guar­an­teed paid vaca­tion for all workers.
In con­trast, there is no eco­nom­ic con­sen­sus on the upside of cut­ting top tax rates. The his­tor­i­cal evi­dence is unam­bigu­ous: Over the past 40 years, slash­ing tax­es on the rich has had no dis­cern­able pos­i­tive effect on invest­ment or inno­va­tion. On the con­trary, both have slowed.
"Right now the main eco­nom­ic puz­zle in macro­eco­nom­ics is that cor­po­rate prof­its are very, very high," says Mar­shall Stein­baum, an econ­o­mist and Research Direc­tor at the Roo­sevelt Insti­tute. ​"At the same time, cor­po­rate invest­ment and inno­va­tion [are] at all-time lows. Pro­duc­tiv­i­ty growth is stag­nant." Despite repeat­ed­ly imple­ment­ing the tax pol­i­cy pre­scribed by right-wing thinkers, the Unit­ed States has failed to reap the sup­posed benefits.
Part of the Repub­li­can coun­ter­at­tack on Oca­sio-Cortez has involved attempt­ing to scare the pub­lic with the idea that, under her plan, everybody's income will be taxed at the same, high­er lev­el. But, as Oca­sio-Cortez her­self has repeat­ed­ly explained, that's not how mar­gin­al rates work. Even for some­one mak­ing $12 mil­lion per year, the 70 per­cent tax would only kick in on the last $2 mil­lion. Your first $10 mil­lion would be taxed at low­er rates.
The idea of apply­ing such a levy on the extreme income of the wealthy is also very pop­u­lar. A recent Hill-Har­risX sur­vey shows that 59 per­cent of reg­is­tered vot­ers sup­port Ocasio-Cortez's pro­pos­al of rais­ing the top mar­gin­al tax rate to 70 per­cent — with 45 per­cent of Repub­li­can vot­ers say­ing they favor the concept.
Toward a more equal society
High­er tax­es on the rich could go a long way towards cre­at­ing high­er-qual­i­ty pub­lic schools, free high­er edu­ca­tion, uni­ver­sal health­care and a Green New Deal. Accord­ing to the Wash­ing­ton Post, Ocasio-Cortez's hike on the top tax brack­et could gen­er­ate $72 bil­lion per year in revenue.
Some pro­gres­sives — notably advo­cates of Mod­ern Mon­e­tary The­o­ry, a brand pop­u­lar­ized by the econ­o­mists Stephanie Kel­ton and L. Ran­dall Wray — dis­pute the neces­si­ty of such fund­ing. They argue the gov­ern­ment need not be pre­oc­cu­pied with rais­ing tax­es, as it can com­fort­ably bor­row to stim­u­late the econ­o­my and make social­ly pro­duc­tive invest­ments. But a high­er tax on top earn­ers is not just about gen­er­at­ing rev­enue. Rather, tax­es on the ultra-wealthy can be seen as goods in their own right, as tools for fight­ing run­away income inequality.
There is a sur­feit of rea­sons for proac­tive­ly com­bat­ing inequal­i­ty. Though econ­o­mists debate the rea­sons for the effect, there is wide­spread con­sen­sus that increas­ing inequal­i­ty con­tributes to slow­er growth in the economy.
Inequal­i­ty fuels neg­a­tive pub­lic health out­comes, and, among psy­chol­o­gists, it is now con­sid­ered a causal fac­tor in aggre­gate rates of men­tal ill­ness­es and per­son­al­i­ty dis­or­ders. It also fuels social dis­trust. Asked whether ​"most peo­ple can be trust­ed," 60 to 65 per­cent in more equal coun­tries agree, com­pared to 20 per­cent in more unequal soci­eties. And a bil­lion­aire class risks turn­ing democ­ra­cy into oligarchy.
In this con­text, pro­pos­als for high­er tax­es on the super-rich — even those that would use the tax code to cre­ate a de fac­to max­i­mum income — might have social­ly ben­e­fi­cial con­se­quences that have lit­tle to do with gov­ern­ment revenue.
For one, rais­ing tax­es on the rich can help to lessen their dis­pro­por­tion­ate polit­i­cal pow­er. Cur­tail­ing incomes over $10 mil­lion per year will help curb the abil­i­ty of the rich to buy influ­ence through cam­paign con­tri­bu­tions, dark mon­ey issue cam­paigns, lob­by­ing, and non­prof­its aimed at under­min­ing unions, attack­ing envi­ron­men­tal reg­u­la­tions, or pro­mot­ing fur­ther tax cuts.
High mar­gin­al rates can also change labor rela­tions, alter­ing busi­ness incen­tives and shift­ing bar­gain­ing dynam­ics in Amer­i­can work­places. ​"We know the things that rich peo­ple do in order to be rich come at the expense of every­body else," Stein­baum argues. He imag­ines a sit­u­a­tion in which the tax code effec­tive­ly capped the earn­ings of mul­ti-mil­lion­aires: ​"In a labor-bar­gain­ing con­text," Stein­baum says, ​"if the boss's mar­gin­al tax rate is 100 per­cent, he's going to care less about out­sourc­ing labor, about squeez­ing work­ers, about doing every­thing that boss­es do in order to squeeze a mar­gin­al dol­lar out of their work­force, or out of their sup­ply chain, or out of any oth­er eco­nom­ic stake­hold­er they deal with. So the point of the tax pol­i­cy is to equal­ize bar­gain­ing pow­er through­out the economy."
While high­er income tax­es would help to address inequal­i­ty, abol­ish­ing the ultra-rich alto­geth­er would require mea­sures to address the vast con­cen­tra­tions of wealth that have already amassed.
"Ide­al­ly, we should be tax­ing wealth as well as income," says J.W. Mason, an econ­o­mist at John Jay Col­lege. ​"We do tax the wealth of mid­dle class peo­ple — in the form of prop­er­ty tax­es on people's homes — but we don't tax the wealth of the rich, which is more like­ly to be in a port­fo­lio of finan­cial assets. If you are super-rich, although you might pay tax­es on cap­i­tal gains or inher­i­tance, you don't pay any tax­es on your finan­cial assets sim­ply by virtue of owing them," Mason explains.
In con­trast, he says, ​"France has a wealth tax that has exist­ed since the French Rev­o­lu­tion" — and indeed Emmanuel Macron's move to cut it was one of the fac­tors that fueled the recent Yel­low Vest protests.
"Con­cen­tra­tion of wealth may be even more prob­lem­at­ic than the con­cen­tra­tion of income, in terms of the polit­i­cal pow­er it gives you and what it does to per­pet­u­ate inequal­i­ty from gen­er­a­tion to gen­er­a­tion," Mason contends.
Ulti­mate­ly, find­ing an opti­mal tax rate for the super-rich is a moral and polit­i­cal issue as much as an eco­nom­ic one. In a coun­try where the influ­ence of the bil­lion­aire class is pos­ing an increas­ing chal­lenge to democ­ra­cy, Ocasio-Cortez's pro­pos­al for restor­ing the kind of tax­es that exist­ed through America's post­war boom should be seen as but a sen­si­ble start­ing point on the path to more far-reach­ing change.
Mark Engler is a writer based in Philadel­phia and an edi­to­r­i­al board mem­ber at Dis­sent. His lat­est book, writ­ten with Paul Engler, is enti­tled, This Is An Upris­ing: How Non­vi­o­lent Revolt Is Shap­ing the Twen­ty-first Cen­tu­ry (Nation Books). He can be reached via the web­site: http://​www​.Democ​ra​cyUpris​ing​.com.Andrew Elrod is a grad­u­ate stu­dent in his­to­ry at the Uni­ver­si­ty of Cal­i­for­nia, San­ta Barbara.