The Biggest Lesson from Alexandria Ocasio-Cortez's Win? Run on Democratic Socialism.
The 28-year-old Latina scored the biggest upset of 2018 by rejecting Democratic Party orthodoxy and running on a laser-focused message of economic justice. If other candidates want to win, they should follow her lead.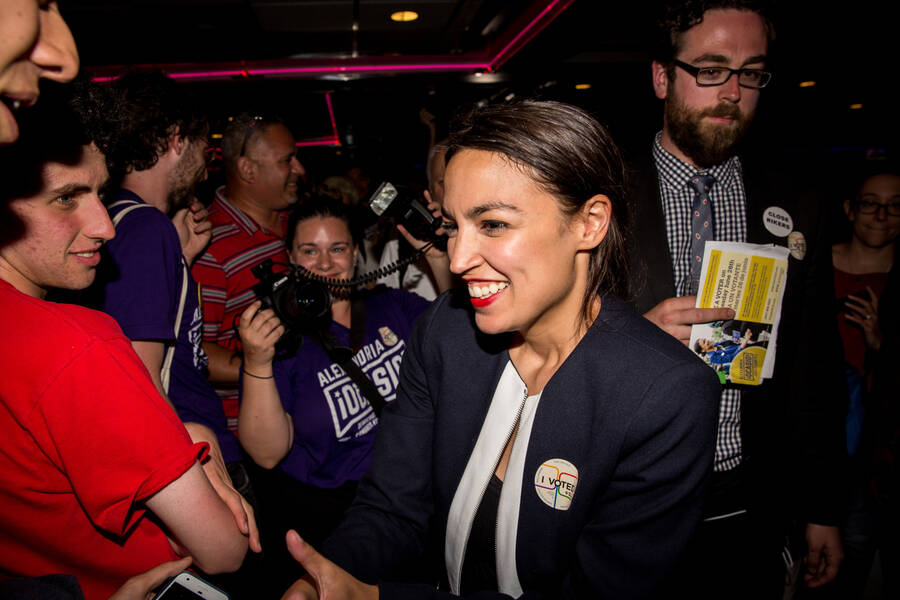 On Tues­day morn­ing, just hours after unseat­ing one of the most pow­er­ful Democ­rats in U.S. Con­gress, Alexan­dria Oca­sio-Cortez gave an inter­view on MSNBC's Morn­ing Joe in which she offered a suc­cinct, yet com­pelling, run­down of her insur­gent campaign's ​"laser-focused" message:
By challenging the power of Wall Street and corporations, and refusing to accept any corporate PAC money, Ocasio-Cortez was able to run a campaign that took on the big money interests that dominate both major parties.
"Eco­nom­ic, social and racial dig­ni­ty for work­ing-class Amer­i­cans, espe­cial­ly those in Queens and the Bronx. We were very clear about our mes­sage, we were very clear about our pri­or­i­ties and very clear about the fact that, even if you've nev­er vot­ed before, we are talk­ing to you."
Clock­ing in just around 16 sec­onds, Oca­sio-Cortez, a 28-year-old demo­c­ra­t­ic social­ist, was able to artic­u­late a clear­er and more cap­ti­vat­ing mes­sage than the entire­ty of the Demo­c­ra­t­ic Par­ty estab­lish­ment could come up with over the course of the 2016 elec­tion. Host Mika Brzezin­s­ki acknowl­edged how refresh­ing it was to hear a Demo­c­rat speak in such straight­for­ward terms, yet warned oth­er can­di­dates not to ​"steal her mes­sage" and to come up with their own.
How­ev­er, if Democ­rats want to win in 2018 and beyond, then crib­bing from what Oca­sio-Cortez ran on in New York's 14th Dis­trict is exact­ly what they should be doing.
Her cam­paign essen­tial­ly rewrote the rules of Demo­c­ra­t­ic Par­ty pol­i­tics, toss­ing out the win­dow the pre­vi­ous­ly accept­ed ortho­doxy that big mon­ey is the path to vic­to­ry, and that out­spo­ken social­ists are too far left to win elec­tion to the U.S. Con­gress. And as a mil­len­ni­al, work­ing-class Puer­to Rican woman from the Bronx, Oca­sio-Cortez proved that, in 2018, chal­lengers from the most unlike­ly back­grounds are capa­ble of top­pling entrenched, machine-backed Democrats.
Her oppo­nent, Rep. Joe Crow­ley, was an embod­i­ment of a career politi­cian, hav­ing been hand­ed his seat in 1998 by a pre­de­ces­sor and for years serv­ing as a par­ty boss detached from the com­mu­ni­ties he was elect­ed to represent.
He out­raised Oca­sio-Cortez 10-to‑1, spend­ing more than $3 mil­lion on the race, much of which came from big banks and tech giants. He had the sup­port of dozens of elect­ed offi­cials includ­ing New York Sen. Chuck Schumer and Gov. Andrew Cuo­mo. He was seen as a con­tender to become the next Speak­er of the House. And yet he was drubbed, los­ing 57 – 42 to an avowed demo­c­ra­t­ic social­ist who had nev­er before run for office.
So what can oth­er can­di­dates learn from Ocasio-Cortez's shock­ing victory?
First off, rather than offer­ing tepid, weak tea solu­tions to the tor­rent of crises fac­ing work­ing-class fam­i­lies, as has been many Democ­rats' pre­ferred strat­e­gy, Oca­sio-Cortez veered left, putting for­ward trans­for­ma­tion­al pro­pos­als built out of move­ment demands: Medicare for all, a fed­er­al jobs guar­an­tee, a Green New Deal, a Mar­shall Plan for Puer­to Rico, the human right to hous­ing, an end to for-prof­it incar­cer­a­tion, free pub­lic col­lege, demil­i­ta­riz­ing the police and abol­ish­ing ICE.
As a can­di­date pro­pelled by social move­ments — and backed by such groups as the Jus­tice Democ­rats, Our Rev­o­lu­tion and the Demo­c­ra­t­ic Social­ists of Amer­i­ca — she was able to attract an army of vol­un­teers who helped make her improb­a­ble win a real­i­ty through their tire­less efforts.
And move­ments didn't just jump on board her cam­paign — Oca­sio-Cortez was already an orga­niz­er and activist with roots in move­ment pol­i­tics. She was ini­tial­ly recruit­ed by Brand New Con­gress to jump in the race after return­ing from an encamp­ment at Stand­ing Rock in late 2016, where she was demon­strat­ing to pro­tect Native rights and stop the Dako­ta Access Pipeline
On Sun­day, two days before the elec­tion, Oca­sio-Cortez was not cam­paign­ing in New York but instead at a bor­der check­point in Texas, protest­ing the inhu­mane deten­tion of immi­grant fam­i­lies by the Trump administration.
Her unwa­ver­ing advo­ca­cy for immi­grant rights led to her ear­ly call to abol­ish ICE, once a fringe posi­tion that has been gain­ing trac­tion among Demo­c­ra­t­ic rep­re­sen­ta­tives and can­di­dates in recent weeks. With reports of immi­gra­tion offi­cials sep­a­rat­ing thou­sands of fam­i­lies, attack­ing and detain­ing attor­neys and beat­ing and drug­ging inno­cent chil­dren, the public's moral out­rage has trans­lat­ed into polit­i­cal momen­tum to defund and dis­man­tle ICE, an agency that's sole pur­pose is to make life more hor­rid for those who attempt to enter the Unit­ed States.
On Mon­day, Rep. Mark Pocan (D‑Wisc.) announced he will be intro­duc­ing a bill in the House to abol­ish ICE, which Oca­sio-Cortez will soon be able to sign on to as the expect­ed next rep­re­sen­ta­tive from New York's 14th District.
Oca­sio-Cortez is also a for­mer orga­niz­er for Bernie Sanders, hav­ing mobi­lized his pres­i­den­tial cam­paign in New York City. In 2016, Sanders demon­strat­ed how to mount a can­di­da­cy around mak­ing ambi­tious demands out­side of the Over­ton win­dow — and many of the poli­cies he ran on now also make up Ocasio-Cortez's platform.
Regard­less of how Sanders is viewed by the Demo­c­ra­t­ic estab­lish­ment, it's dif­fi­cult to argue with the fact that the poli­cies he's long cham­pi­oned, from sin­gle-pay­er health­care to free col­lege, are now becom­ing main­stream in the par­ty. Oca­sio-Cortez has now shown that an even more vision­ary set of poli­cies is capa­ble of win­ning a high-pro­file Demo­c­ra­t­ic Con­gres­sion­al pri­ma­ry over a 10-term incumbent.
Since his pres­i­den­tial run, Sanders has been crit­i­cized for putting too much focus on class issues over those of racial injus­tice. In her cam­paign, Oca­sio-Cortez deft­ly illus­trat­ed that this has always been a false bina­ry, explain­ing to the Nation: ​"I can't name a sin­gle issue with roots in race that doesn't have eco­nom­ic impli­ca­tions, and I can­not think of a sin­gle eco­nom­ic issue that doesn't have racial impli­ca­tions. The idea that we have to sep­a­rate them out and choose one is a con."
And on the issue of social­ism, Oca­sio-Cortez has not shied away from embrac­ing the label, explain­ing it as an ide­ol­o­gy based upon equal­i­ty and democ­ra­cy. By con­nect­ing her core cam­paign mes­sage to these basic tenets, she was able to pro­vide a per­sua­sive expres­sion of social­ism to vot­ers, ground­ed in moral clarity.
"To me, what social­ism means is to guar­an­tee a basic lev­el of dig­ni­ty," she told Vogue. ​"It's assert­ing the val­ue of say­ing that the Amer­i­ca we want and Amer­i­ca we are proud of is one in which all chil­dren can access a dig­ni­fied edu­ca­tion. It's one in which no per­son is too poor to have the med­i­cines they need to live.
"It's to say that no individual's civ­il rights are to be vio­lat­ed. And it's to say that we need to real­ly exam­ine the his­tor­i­cal inequities that have cre­at­ed much of the inequal­i­ties — both in terms of eco­nom­ics and social and racial jus­tice — because they are intertwined."
The fact is, the type of poli­cies sup­port­ed by Oca­sio-Cortez are large­ly pop­u­lar among the pub­lic, and social­ism is grow­ing in pop­u­lar­i­ty among Amer­i­cans, espe­cial­ly younger people.
It's no over­state­ment to say that Oca­sio-Cortez has upend­ed the Demo­c­ra­t­ic Par­ty. Her vic­to­ry — along with wins by oth­er left chal­lengers in Tuesday's pri­maries, includ­ing Ben Jeal­ous in Mary­land and Emi­ly Siro­ta in Col­orado — shows that the ener­gy in the par­ty lies square­ly with its left wing.
By chal­leng­ing the pow­er of Wall Street and cor­po­ra­tions, and refus­ing to accept any cor­po­rate PAC mon­ey, Oca­sio-Cortez was able to run a cam­paign that took on the big mon­ey inter­ests that dom­i­nate both major par­ties. She showed that vot­ers respond when they're giv­en the option to sup­port a can­di­date who speaks for them and tar­gets con­cen­trat­ed eco­nom­ic pow­er as the root cause of many of the issues fac­ing them in their dai­ly lives. Rather than sim­ply con­vert­ing tra­di­tion­al vot­ers in the dis­trict, her cam­paign effec­tive­ly reached out to and ener­gized a new swath of the elec­torate. And she was reward­ed at the bal­lot box.
The day fol­low­ing her vic­to­ry brought a new litany of hor­rors, from the Supreme Court's mon­u­men­tal anti-union Janus deci­sion to the announce­ment that Jus­tice Antho­ny Kennedy plans to retire, threat­en­ing the future of abor­tion access, affir­ma­tive action and many oth­er crit­i­cal pro­tec­tions on which Amer­i­cans rely.
Mean­while, accord­ing to the New York Times, Democ­rats ​"appeared help­less" to stop this right-wing assault. After decades of tack­ing cen­ter and embrac­ing neolib­er­al­ism as the core prin­ci­ple guid­ing its polit­i­cal vision, the Demo­c­ra­t­ic estab­lish­ment seems to have lit­tle to offer work­ing Amer­i­cans sick of a bank­rupt sta­tus quo. On Wednes­day, House Minor­i­ty Leader Nan­cy Pelosi respond­ed to the shock result in New York by refut­ing sug­ges­tions that social­ist pol­i­tics are ascen­dant in the Demo­c­ra­t­ic Par­ty, say­ing: ​"No. They're not."
But if the par­ty hopes to mount a cred­i­ble chal­lenge to Trump and the GOP, take back Con­gress in 2018 and actu­al­ly shift the direc­tion of our pol­i­tics to ben­e­fit work­ing peo­ple, the path for­ward is being blazed by Alexan­dria Ocasio-Cortez.
Demo­c­ra­t­ic can­di­dates don't have to steal her mes­sage. But if they want to win, it's the best place to start.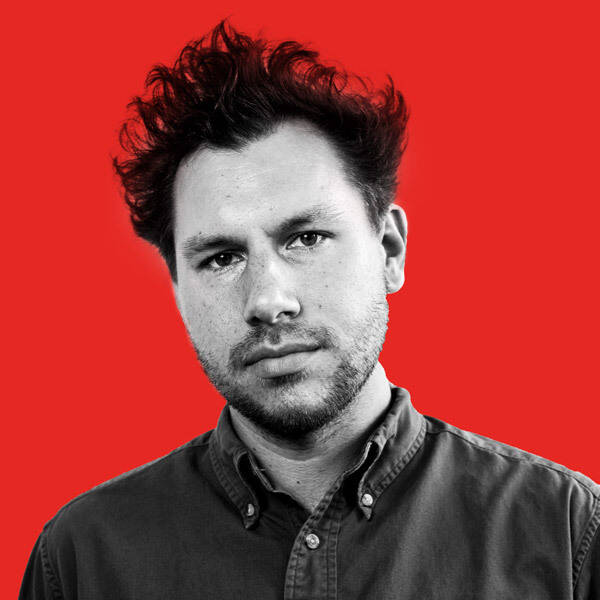 Miles Kampf-Lassin, a grad­u­ate of New York Uni­ver­si­ty's Gal­latin School in Delib­er­a­tive Democ­ra­cy and Glob­al­iza­tion, is a Web Edi­tor at In These Times. Fol­low him on Twit­ter @MilesKLassin