Egypt's Workers: All They Needed Was the Courage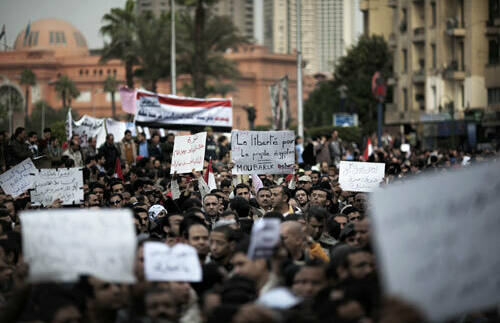 When they began stag­ing their protests in down­town Cairo, it seemed so risky, so unimag­in­able, so like­ly to be bru­tal­ly swat­ted away by the heavy-hand­ed hordes of gov­ern­ment thugs.
In the repub­lic of fear that has long reigned over Egypt, such things didn't hap­pen. Show­ing the small­est hint of dis­obe­di­ence could be painful and some­times fatal.
Yet the work­ers kept on com­ing despite the beat­ings, the threats and long con­fronta­tions with the gov­ern­ment and com­pa­nies that seemed to be going nowhere, and rarely toward work­ers' interests.
But they were — I know what I saw in Cairo last year. The nation's work­ers were one of the groups who began to open the doors to the room where Egyp­tians have for decades stored their col­lec­tive grit and out­rage. They are now redis­cov­er­ing those nation­al assets.
The forces that first brought angry work­ers to down­town Cairo and to fac­to­ries' gates across the coun­try a few years ago were pow­er­ful and deeply dis­rup­tive —the rea­son for the ven­om that poured forth.
Sev­er­al years ago, when the state stepped up its pri­va­ti­za­tion of gov­ern­ment-owned facil­i­ties in a fur­ther lib­er­al­iza­tion of the one-time social­ist econ­o­my, work­ers more often wound up as losers.
The new own­ers trimmed the ranks of the facil­i­ties, cut wages, reduced ben­e­fits and essen­tial­ly wiped out the tiny sense of eco­nom­ic secu­ri­ty that the work­ers had clung to. As the demon­stra­tions grew against the new own­ers, the gov­ern­ment promised to look into the prob­lem and to slow the pri­va­ti­za­tion. But the dam­age was already done and the promis­es were rarely met.
While Egypt's econ­o­my boomed and lux­u­ri­ous gat­ed com­mu­ni­ties blos­somed in the desert sur­round­ing Cairo, work­ers' lifestyles were with­er­ing away as infla­tion ate away at their mea­ger earn­ings and wages remained stuck at sub­sis­tence levels.
Time and again work­ers plead­ed for the gov­ern­ment to boost the min­i­mum wage, which was about $7 per month for most of last year. But the gov­ern­ment held off and offi­cials said that work­ers actu­al­ly were doing bet­ter. Their aver­age wages were up around $70 a month, accord­ing to gov­ern­ment officials.
So as new hotels and new malls bloomed, four out of ten Egyp­tians were earn­ing less than $2 a day last year.
This viper econ­o­my meant that there has been a boom­ing mar­ket in Egypt for peo­ple to sell their body parts to mer­chants in Egypt and across the Mid­dle East. But even when they do, they are often cheat­ed out of the mon­ey and left ter­ri­bly sick from an eco­nom­ic fan­ta­sy gone bad.
Des­per­a­tion has brought a brisk trade in sell­ing young girls as short-term brides to wealthy Arab vis­i­tors, a euphemism meant to deal with Mus­lim sen­si­tiv­i­ties. In actu­al­i­ty, the girls are pros­ti­tutes who are sold for week­end ser­vices to super rich Gul­fies, who have left behind thou­sands of young­sters with­out finan­cial or any oth­er support.
In most coun­tries of the world, the ones with the high­est unem­ploy­ment rates are the low edu­cat­ed. Not in Egypt. Col­lege grad­u­ates dom­i­nate the ranks of the unem­ployed because many of their degrees are worth­less, and the only jobs many can find are low-wage ser­vice jobs.
That is why there has been a slow trick­le of young well-edu­cat­ed Egyp­tians try­ing to smug­gle them­selves into Europe and into bet­ter lifestyles. A num­ber of these have lost their lives at the hands of heart­less smugglers.
With­out sta­ble, decent-pay­ing jobs, they have no prospects for improv­ing them­selves and no chance of get­ting mar­ried. Before mar­ry­ing in Egypt, a groom needs to be able to sup­port a new fam­i­ly. Many young men can't and that is just one rea­son why you see most­ly young faces march­ing in Cairo and Alexan­dria today.
On the books, Egypt­ian offi­cials have been able to point to fig­ures show­ing a nation­al econ­o­my grow­ing steadily.
But when Egyp­tians have reached into their pock­ets, they have often found bare­ly enough to keep them going. That's one rea­son why the coun­try has a high rate of stunt­ed chil­dren – young­sters who nev­er grow to full size.
On paper, most work­ers belong to unions. But in real­i­ty the unions have shown lit­tle inter­est in work­ers' rights or secur­ing a bet­ter future for them. That is why near­ly all of the more than 3,300 fac­to­ry occu­pa­tions, strike and oth­er forms of protest since 2004 involved work­ers on their own or through their attempts to cre­ate dis­si­dent unions.
In a tra­di­tion­al soci­ety, the men have been the ones that have led the protests. But female work­ers began shoul­der­ing their share of the fury sev­er­al years ago, tak­ing part in the demon­stra­tions and protests. In one case, women alone led and dom­i­nat­ed a fac­to­ry occu­pa­tion, their chil­dren by their sides.
Hun­gry, tried and frus­trat­ed, work­ers began chal­leng­ing the gov­ern­ment to improve their lives sev­er­al years ago. Some­times the uproar was so great that the gov­ern­ment caved in and met their demands. But it always took a clinched bat­tle for the gov­ern­ment to even­tu­al­ly back away and reach a deal, fac­to­ry by factory.
But this time, they are no longer wor­ried about what they could lose.
Stephen Franklin is a for­mer labor and work­place reporter for the Chica­go Tri­bune, was until recent­ly the eth­nic media project direc­tor with Pub­lic Nar­ra­tive in Chica­go. He is the author of Three Strikes: Labor's Heart­land Loss­es and What They Mean for Work­ing Amer­i­cans (2002), and has report­ed through­out the Unit­ed States and the Mid­dle East.