Today Amazon, Tomorrow the Railroad Industry: The Fight for $15 Rolls On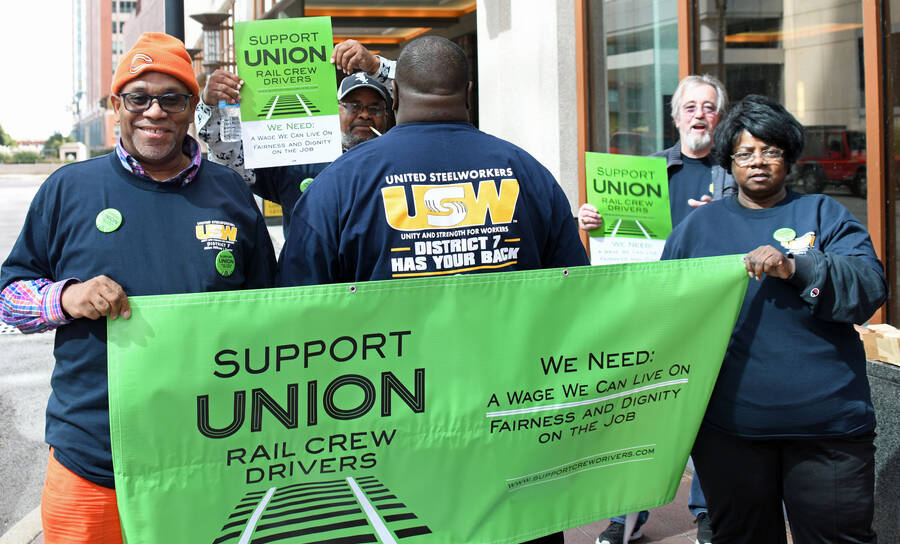 After being called out by labor activists and pro­gres­sive politi­cians like Bernie Sanders for pay­ing pover­ty wages despite receiv­ing tax breaks and rak­ing in bil­lions of dol­lars, Ama­zon has caved to the pres­sure and announced it will offer all its work­ers a $15-per-hour min­i­mum wage start­ing next month. Now, a new coali­tion of work­ers and com­mu­ni­ty lead­ers is tak­ing aim at anoth­er major play­er in the logis­tics indus­try: the railroads.
Class I rail­roads like CSX, Nor­folk South­ern and BNSF ben­e­fit from bil­lions in tax­pay­er sub­si­dies and are report­ing high prof­its. Yet the peo­ple who trans­port their rail crews between trains, cities, hotels and homes are paid low wages and receive few ben­e­fits. To keep costs down and evade lia­bil­i­ty, the rail­roads use sub­con­trac­tors like Hall­con and Pro­fes­sion­al Trans­porta­tion Inc. (PTI) to hire their crew drivers.
On Sep­tem­ber 27, sev­er­al dozen rail crew dri­vers with the Unit­ed Elec­tri­cal Work­ers (UE), Unit­ed Steel­work­ers (USW), Sheet Met­al, Air, Rail and Trans­porta­tion Work­ers (SMART) and Unit­ed Pub­lic Ser­vices Employ­ees Union (UPSEU) protest­ed out­side a con­fer­ence of rail­road exec­u­tives in down­town Chica­go. The dri­vers and com­mu­ni­ty allies are call­ing on the Class I rail­roads to imple­ment respon­si­ble con­trac­tor poli­cies to make com­pa­nies like Hall­con and PTI pay a $15-an-hour min­i­mum wage and offer decent benefits.
"We're ded­i­cat­ed dri­vers out here," said Devin Ragland, a PTI dri­ver with USW Dis­trict 7. ​"It's not fair that we're out here from sun­down to sunup, run­ning these crews back and forth where they need to go, and then we get mis­treat­ed when it comes time for pay."
Ragland and the oth­er dri­vers were joined by Cook Coun­ty Com­mis­sion­er and con­gres­sion­al can­di­date Jesús ​"Chuy" Gar­cia, who called for an ​"end to the pover­ty wages in the rail yards."
"I join your voic­es in say­ing to these rail­road com­pa­nies that they should adopt respon­si­ble con­trac­tor poli­cies to ensure that the pros­per­i­ty that they are expe­ri­enc­ing is shared with all of the work­ers in the indus­try," Gar­cia told the drivers.
UE, USW, SMART and UPSEU rep­re­sent crew dri­vers from coast to coast. UE has been orga­niz­ing Hall­con dri­vers nation­wide for the past sev­er­al years, recent­ly win­ning a union elec­tion at the com­pa­ny that added 650 more dri­vers from 8 states into the union's ranks, bring­ing the total num­ber of UE-rep­re­sent­ed dri­vers at the com­pa­ny to near­ly 1,700.
"Every­where we go at Hall­con, peo­ple are at min­i­mum wage or just above," UE Inter­na­tion­al Rep­re­sen­ta­tive J Burg­er told In These Times. Dri­vers say they earn so lit­tle that many are forced to rely on pub­lic assistance.
UE is cur­rent­ly nego­ti­at­ing a new mas­ter con­tract at Hall­con. Burg­er said the com­pa­ny is resist­ing demands for liv­ing wages, instead argu­ing that dri­vers should only get a one-time bonus or minis­cule rais­es of between 15 to 20 cents per year.
"I've been told we were offered 21 cents. I can't make a phone call with 21 cents," dri­ver and UE mem­ber Vick­ie Bogovich said on Sep­tem­ber 27. ​"Is that all I'm worth? I don't think so."
"They're offer­ing us pen­nies and we need dol­lars," added Clarence Hill, a Hall­con dri­ver who serves as Chief Stew­ard of UE Local 1177. Hill said he is paid only $12 an hour after 8 years on the job.
The dri­vers are on-call at all hours of the day, required to hop in a com­pa­ny van at a moment's notice to shut­tle a rail crew from one loca­tion to anoth­er. Fre­quent­ly, they wait hours at a time before final­ly get­ting a call. After one trip, they often have to wait sev­er­al more hours for the next call, some­times stretch­ing their work day to 24 hours or more. Dri­vers are only paid for their dri­ving time, not for the hours they spend waiting.
Burg­er not­ed this ​"stretch out" is not only unfair to dri­vers, but it also endan­gers the rail crews they trans­port, putting them at the mer­cy of fatigued dri­vers oper­at­ing on lit­tle to no sleep. In con­tract talks, UE is fight­ing for on-call pay and more com­pact hours when the com­pa­ny is unable to put dri­vers to work.
Addi­tion­al­ly, the union is demand­ing improved ben­e­fits, includ­ing paid time off and afford­able health insur­ance. ​"We're try­ing to make the job some­thing peo­ple can actu­al­ly live by," Burg­er told In These Times.
UE's cur­rent con­tract at Hall­con was orig­i­nal­ly set to expire in August, but has been extend­ed to Octo­ber 21. Mean­while, USW, SMART and UPSEU — which rep­re­sent dri­vers at both Hall­con and PTI — will also see some of their cur­rent con­tracts expire lat­er this fall, set­ting up the poten­tial for a nation­wide strike that could dis­rupt retail freight in time for the busy hol­i­day shop­ping season.
The unions have been increas­ing­ly coor­di­nat­ing efforts over the past year, try­ing to ​"have a unit­ed front approach," Burg­er explained. ​"We're all talk­ing about rais­ing the stan­dards in the indus­try. We're unit­ed for the bet­ter­ment of the drivers."
In addi­tion to Chuy Gar­cia, the dri­vers also have the sol­i­dar­i­ty of the rail crews they shut­tle. Oth­er union work­ers in the rail­road indus­try — includ­ing from the Broth­er­hood of the Main­te­nance and Way Employ­ees and the Chica­go All Rail Craft Coali­tion—joined Thursday's protest.
"The labor move­ment was built on the sim­ple con­cept that an injury to one is an injury to all," Mark Bur­rows of Rail­road Work­ers Unit­ed, a coali­tion of rank-and-file rail work­ers from across North Amer­i­ca, told the dri­vers. ​"We're doing all that we can to edu­cate our cowork­ers and get them behind this struggle."
Jeff Schuhrke has been a Work­ing In These Times con­trib­u­tor since 2013. He has a Ph.D. in His­to­ry from the Uni­ver­si­ty of Illi­nois at Chica­go and a Master's in Labor Stud­ies from UMass Amherst. Fol­low him on Twit­ter: @JeffSchuhrke