A Revived Poor People's Campaign Calls for a "Revolution of American Values"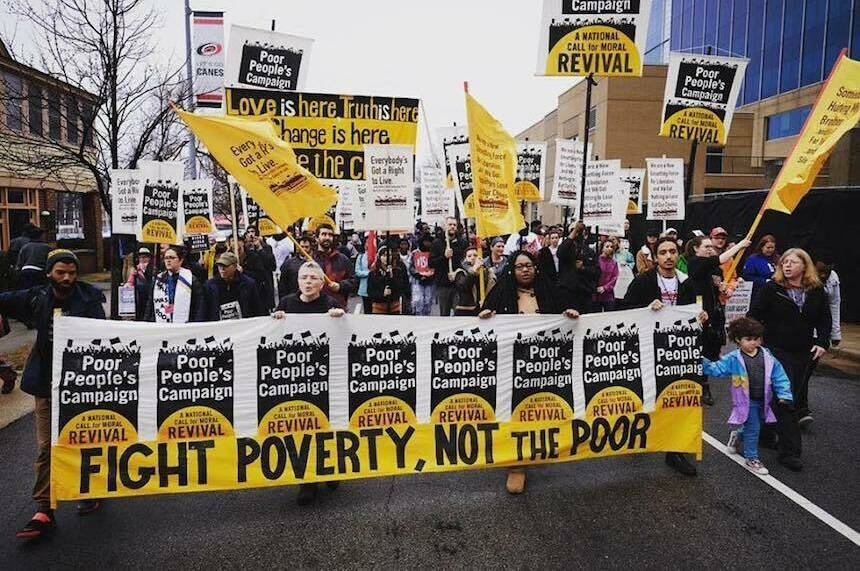 (Editor's Note: On May 17, the Unit­ed Way's ALICE Project released a report that finds, despite record low unem­ploy­ment and stock mar­ket highs, 43 per­cent of Amer­i­cans are strug­gling to pay for basic neces­si­ties — food, rent and child care. In the Unit­ed States today, 66 per­cent of all jobs pay less than $20 per hour and mil­lions of Amer­i­cans have no retire­ment plan and no sav­ings.)
Thou­sands of civ­il rights advo­cates, low-wage work­ers, and reli­gious lead­ers kicked off mas­sive protests on May 14, launch­ing a 40-day cam­paign across the nation in an effort to revive Mar­tin Luther King's Poor People's Campaign.
The Poor People's Cam­paign brings togeth­er poor and mar­gin­al­ized peo­ple from all back­grounds, places, and reli­gions to stand up for their lives and rights by call­ing for a ​"rev­o­lu­tion of Amer­i­can val­ues." They're tak­ing aim at the evils of sys­temic racism, pover­ty, the war econ­o­my and eco­log­i­cal devastation.
The first Poor People's Cam­paign in 1968 brought thou­sands of Amer­i­cans of all races togeth­er to fight for fair incomes and liv­ing stan­dards. After King was mur­dered that same year, the move­ment slowed down. But with the fights for racial and eco­nom­ic equal­i­ty as inter­twined now as they were 50 years ago, orga­niz­ers believe that the movement's vision for Amer­i­ca couldn't come at a bet­ter time.
The Poor People's cam­paign calls not only for a rad­i­cal redis­tri­b­u­tion of polit­i­cal and eco­nom­ic pow­er, but for a deep moral analy­sis of the nation­al con­scious­ness around pover­ty and racism.
This analy­sis calls out the com­mon myths that per­pet­u­ate sys­temic inequal­i­ty, includ­ing the dan­ger­ous belief that pover­ty is the fault of the poor. Those with more than ample wealth, the nar­ra­tive goes, ful­ly mer­it what they have. And oth­ers mer­it less.
My col­league Chuck Collins describes this nar­ra­tive as the ​"myth of deserved­ness." In his book Born on Third Base, Collins defines that myth as the belief ​"that peo­ple are poor because they don't try as hard, have made mis­takes, or lack wit and wis­dom." And the rich, the same sto­ry goes, have worked ​"hard­er, smarter, or more creatively."
This ​"deserved­ness" nar­ra­tive large­ly ignores the dis­crim­i­na­tion and oth­er bar­ri­ers that have blocked eco­nom­ic progress for poor peo­ple and peo­ple of col­or, or the pub­lic poli­cies that have kept these bar­ri­ers intact — things like hous­ing and employ­ment dis­crim­i­na­tion, mass incar­cer­a­tion, and tax poli­cies that favor the wealthy over poor peo­ple of all colors.
A report released this year by the Insti­tute for Pol­i­cy Stud­ies, The Souls of Poor Folks, exam­ines how what Dr. King called the ​"Triplets of Evil" — sys­temic racism, pover­ty, and the war econ­o­my and mil­i­tarism — as well as the inter­re­lat­ed prob­lem of eco­log­i­cal dev­as­ta­tion, have deep­ened since 1968 because of struc­tur­al and sys­temic rea­sons, rather than indi­vid­ual failures.
The report points out that since 1968, the top one percent's share of nation­al income has near­ly dou­bled, while the offi­cial pover­ty rate for all U.S. fam­i­lies has mere­ly inched up and down. The 400 wealth­i­est Amer­i­cans now own more wealth than the bot­tom 64 per­cent of the U.S. pop­u­la­tion (or 204 mil­lion people).
As the gov­ern­ment increas­ing­ly caters to the inter­ests of the few rich and pow­er­ful rather than being account­able to the poor and mar­gin­al­ized major­i­ty, the Poor People's Cam­paign reminds us of the ongo­ing and emerg­ing move­ments that are com­pelling a change in our nation­al priorities.
Dur­ing a time where Amer­i­ca could not be more polit­i­cal­ly and eco­nom­i­cal­ly polar­ized, it's time to change the moral nar­ra­tive in this coun­try by com­ing togeth­er under moral clar­i­ty. We must shift the nation­al con­ver­sa­tion from ​"right ver­sus left" to ​"right ver­sus wrong."
(​"The Moral Rev­o­lu­tion Amer­i­ca Needs" was orig­i­nal­ly pub­lished on Inequal​i​ty​.org and is repost­ed on Rur­al Amer­i­ca In These Times under a Cre­ative Com­mons 3.0 license. The Poor Peo­ples Cam­paign is cur­rent­ly orga­niz­ing events in over 30 states. To learn more, please click here.)
Jes­sic­ah Pierre
is a pub­lic rela­tions pro­fes­sion­al, polit­i­cal blog­ger, and social entre­pre­neur born and raised in Boston, Mass. She grad­u­at­ed from UMass Amherst in
2013
with a Bachelor's degree in Polit­i­cal Science.