To Save the Revolution, Venzuelans Must Grapple With Chavismo's Failures
A resurgent Right cannot be allowed to present itself as the only alternative.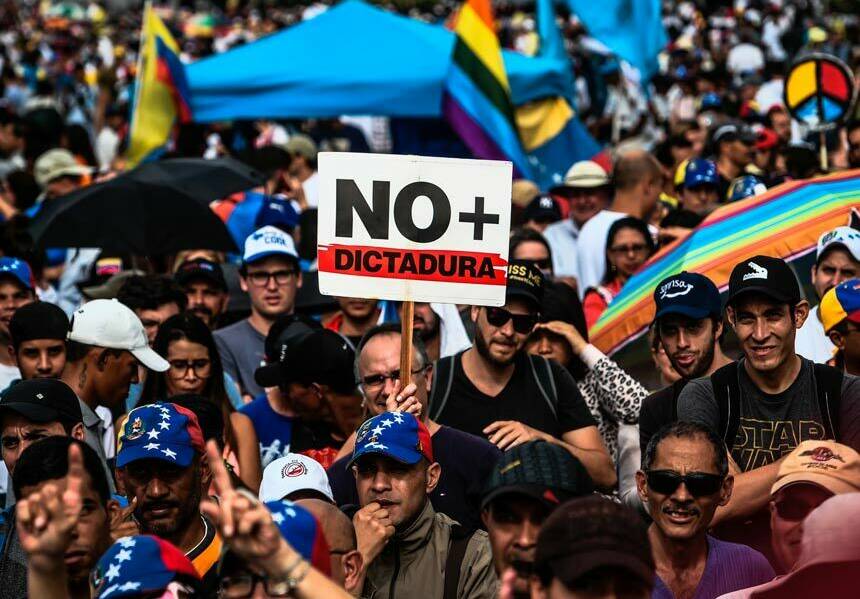 In the last two months of civ­il unrest, dozens of Venezue­lans have been killed. Across the inter­na­tion­al media, images of chaos reveal a coun­try being torn apart— but they don't tell the whole sto­ry. While right-wing pro­test­ers (led by a wealthy elite) and gov­ern­ment forces might clash vio­lent­ly in the streets, the inter­ests of the oppo­si­tion and the state are increas­ing­ly merg­ing: Both are set on resum­ing their place in a glob­al cap­i­tal­ist order. As the two sides grap­ple for pow­er, ordi­nary Venezue­lans — and the entire Chav­ista project — have been left behind.
Toward the end of Chavez's life, he acknowledged the failure to transform the state into a genuinely democratic instrument and called for a "turn of the rudder." The turn never came.
When Hugo Chavez won the pres­i­den­cy in 1998, more than half the coun­try lived in pover­ty. Despite ample rev­enues from the state oil cor­po­ra­tion, the gov­ern­ment did lit­tle to help the strug­gling pop­u­lace. Chavez promised to democ­ra­tize pow­er, con­sol­i­date state con­trol over the oil indus­try and redis­trib­ute the nation's wealth.
This plan was unac­cept­able to the Venezue­lan bour­geoisie. For the most part, their liv­ing stan­dards remained high (in part thanks to prof­i­teer­ing off the arcane cur­ren­cy-exchange sys­tem put in place by Chavez). But they saw Chavez, who was non-white and from a poor back­ground, as an inter­lop­er, and mocked his capac­i­ty to com­mu­ni­cate with ordi­nary peo­ple. More than mon­ey, it seems, what they missed was power.
In 2002, they mount­ed a coup to remove Chavez. But mass mobi­liza­tions helped pre­vent the coup's success.
Mean­while, Chav­is­mo was tak­ing an increas­ing­ly rad­i­cal direc­tion. High­er edu­ca­tion was made avail­able to all, med­ical facil­i­ties were estab­lished in poor and pre­vi­ous­ly under­served areas and, for a time, pover­ty plummeted.
But despite these much-need­ed reforms, the Chav­ista gov­ern­ment was also sow­ing the seeds of its own decline. Instead of elim­i­nat­ing cor­rup­tion, the new state sim­ply repro­duced it. Due to a mix of inep­ti­tude and delib­er­ate sab­o­tage, bil­lions of dol­lars dis­ap­peared from the pub­lic purse.
This cor­rup­tion, com­bined with oth­er obsta­cles such as over-reliance on imports and oil, helped pre­cip­i­tate a dra­mat­ic fall in indus­tri­al and agri­cul­tur­al pro­duc­tion. A more prin­ci­pled social­ist gov­ern­ment com­mit­ted to break­ing oil depen­dence might have gone a more promis­ing direc­tion. By the time Chavez died in 2013, it was obvi­ous that his project was fail­ing. The health and edu­ca­tion sys­tems were dete­ri­o­rat­ing, food and med­i­cine faced uncon­trol­lable infla­tion and short­ages, and the Chav­ista bureau­cra­cy was vis­i­bly enrich­ing itself through fraud and spec­u­la­tion. Toward the end of Chavez's life, he acknowl­edged the fail­ure to trans­form the state into a gen­uine­ly demo­c­ra­t­ic instru­ment and called for a ​"turn of the rudder."
The turn nev­er came. Chavez's vice pres­i­dent, Nicolás Maduro, was elect­ed as his suc­ces­sor, but his nar­row 1.5‑percent mar­gin of vic­to­ry sig­naled the dis­il­lu­sion­ment of the Chav­ista base. (Chavez had con­sis­tent­ly won big, some­times by more than 20 per­cent.) Under Maduro, increased cor­rup­tion, falling oil prices and run­away infla­tion made the sit­u­a­tion even worse. He opt­ed for dia­logue and coop­er­a­tion with the bour­geoisie rather than con­fronta­tion — in part to pro­tect those ben­e­fit­ting from state cor­rup­tion. In the Decem­ber 2015 elec­tions, the Right won two-thirds of Nation­al Assem­bly seats.
At the same time, the Chav­ista state moved fur­ther and fur­ther from its demo­c­ra­t­ic promise. Maduro increas­ing­ly gov­erns by decree, and many of the grass­roots orga­ni­za­tions that defend­ed Chavez in the ear­ly years have grown dis­en­chant­ed at best, or else have seen the state active­ly turn on them.
As the final nail in the revolution's cof­fin, Maduro announced in late 2016 that the Arco Minero, a rich min­ing area in the Ama­zon Basin com­pris­ing 12 per­cent of the nation's ter­ri­to­ry, would be opened to multi­na­tion­al cor­po­ra­tions. Maduro's deci­sion rep­re­sents a return to the glob­al mar­ket — over objec­tions of indige­nous and envi­ron­men­tal groups.
The gov­ern­ment still talks of social­ism and rev­o­lu­tion, but this is a cru­el par­o­dy. The right-wing oppo­si­tion, how­ev­er, offers no solu­tions either. We must hope that the col­lec­tive mem­o­ry sur­vives among the Venezue­lan peo­ple to under­stand what went wrong. It will take a renewed and rebuilt mass move­ment to defend the revolution's dream against those who have once again tak­en to the streets to bring it down.
Mike Gon­za­lez
is an emer­i­tus pro­fes­sor of Latin Amer­i­can stud­ies at Glas­gow Uni­ver­si­ty. He writes on Latin Amer­i­can pol­i­tics and cul­ture in
Jacobin
,
Inter­na­tion­al Social­ism
and oth­er pub­li­ca­tions. He is the author (with Mar­i­anel­la Yanes) of
The Last Drop: The Pol­i­tics of Water.