An International Farmers Alliance Links Climate Change to Industrial Agriculture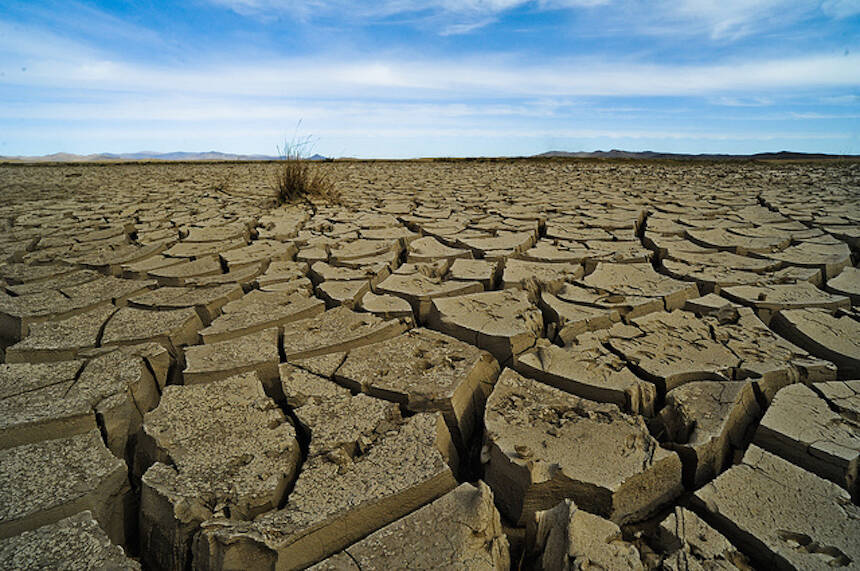 Accord­ing to the Inter­gov­ern­men­tal Pan­el on Cli­mate Change (IPCC) agri­cul­ture is respon­si­ble for a major por­tion of the increase of green­house gas­es. Not all agri­cul­ture has the same impact, how­ev­er — the vast major­i­ty of the effect comes from the post WWII indus­tri­al agri­cul­tur­al system.
This sys­tem — an agri­cul­tur­al mod­el based on cap­i­tal con­cen­tra­tion, high fos­sil ener­gy con­sump­tion, over­pro­duc­tion, con­sumerism and trade lib­er­al­iza­tion — has put our planet's ecosys­tems at risk and pushed human com­mu­ni­ties toward disaster.
Indus­tri­al­ized coun­tries and the indus­tri­al­iza­tion of agri­cul­ture are the biggest con­trib­u­tors to glob­al warm­ing, but it is farm­ers and rur­al com­mu­ni­ties — espe­cial­ly in devel­op­ing coun­tries — that are among the first to suf­fer from cli­mate change. Chang­ing weath­er pat­terns bring unknown pests along with unusu­al droughts, floods and storms, destroy­ing crops, farm­lands, farm­stock and farmer's hous­es. More­over, plants, ani­mal species and marine life are threat­ened or dis­ap­pear­ing at an unprece­dent­ed pace due to the com­bined effects of warm­ing and indus­tri­al exploita­tion. It is esti­mat­ed that by 2080, Latin Amer­i­ca will like­ly see a 24.3 per­cent decline agri­cul­tur­al yields, Asia 19.3 per­cent and Africa 27.5 per­cent. Life at large is endan­gered by the decreas­ing avail­abil­i­ty of fresh water resources. By 2050 an esti­mat­ed 4 bil­lion peo­ple will live in high­ly water-stressed environments.
In trop­i­cal regions, glob­al warm­ing is like­ly to lead to a seri­ous decline in agri­cul­tur­al pro­duc­tion and to the accel­er­a­tion of the deser­ti­fi­ca­tion of farm­land. On the oth­er hand, vast regions of Rus­sia and Cana­da will turn into crop­land for the first time in human his­to­ry. Yet it is still unknown how these regions will be able to grow crops. Farm­ers have to adjust to these changes by adapt­ing their seeds and usu­al pro­duc­tion sys­tems to an unpre­dictable situation.
What is expect­ed is that mil­lions of farm­ers will be dis­placed from the land. Such shift­ing is regard­ed by indus­try as a busi­ness oppor­tu­ni­ty to increase food exports and imports, when the real­i­ty is that hunger and depen­den­cy will only increase around the world.
Via Campesina, a transcon­ti­nen­tal move­ment bring­ing togeth­er of small farm­ers and pro­duc­ers, asserts that it is time to rad­i­cal­ly change the indus­tri­al way to pro­duce, trans­form, trade and con­sume food and agri­cul­tur­al prod­ucts. We believe that sus­tain­able small-scale farm­ing and local food con­sump­tion will help reverse the dev­as­ta­tion and sup­port mil­lions of farm­ing fam­i­lies. Agri­cul­ture can also cool down the earth by using farm­ing prac­tices that store CO2 and reduce the use of ener­gy on farms.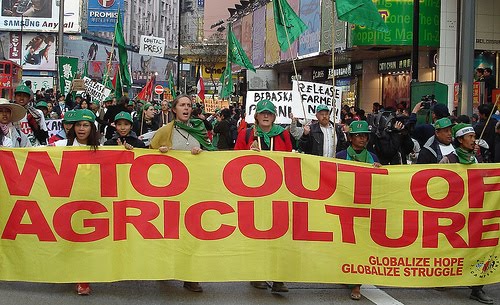 Via Campesina march­es against the World Trade Orga­ni­za­tion in Jakar­ta, Indone­sia. (Pho­to: www​.deinayurve​da​.net)
Five Ways that indus­tri­al agri­cul­ture is con­tribut­ing to glob­al warm­ing and cli­mate change
1. By unnec­es­sar­i­ly trans­port­ing food all around the world:
Fresh and pack­aged food is being shipped thou­sands of miles, while local farm­ers are denied appro­pri­ate access to local and nation­al mar­kets. In Europe and the Unit­ed States, for exam­ple, it is now com­mon to find fruits, veg­eta­bles, meat or wine from Africa, South Amer­i­ca or Ocea­nia. In the Amer­i­c­as or Africa it is easy to find Asian rice. Fos­sil fuels used for food trans­port are releas­ing tons of car­bon diox­ide into the atmos­phere. In fact, the Swiss peas­ants' orga­ni­za­tion UNITERRE cal­cu­lat­ed that one kilo of aspara­gus import­ed from Mex­i­co needs 5 liters of oil to trav­el by plane (11,800km) to Switzer­land, while a kilo of aspara­gus pro­duced in Switzer­land only needs 0.3 liters of oil to reach the consumer.
2. By impos­ing indus­tri­al forms of pro­duc­tion, most notably fer­til­iz­ers and pesticides:
The use of fer­til­iz­ers and pes­ti­cides — so-called ​"mod­ern­ized" agri­cul­ture — is destroy­ing nat­ur­al soil process­es and result­ing in car­bon deposits in soil organ­ic matter.
Due notably to the use of chem­i­cal fer­til­iz­ers, inten­sive agri­cul­ture and ani­mal pro­duc­tion mono­cul­tures pro­duce sig­nif­i­cant quan­ti­ties of nitrous oxide (NO2), a nox­ious green­house gas. In Europe, 40 per­cent of the ener­gy con­sumed on the farm comes from the pro­duc­tion of these nitro­gen fertilizers.
3. By destroy­ing bio­di­ver­si­ty and its capac­i­ty to cap­ture carbon:
Car­bon is cap­tured from the air by plants and stocked in wood and organ­ic mat­ter in the soil. Some ecosys­tems includ­ing native forests, peat lands and mead­ows stock more car­bon than others.
This car­bon cycle has been part of the cli­mate bal­ance for thou­sands of years, but cor­po­rate agribusi­ness has now shat­tered this bal­ance by impos­ing wide­spread chem­i­cal agri­cul­ture (with mas­sive use of oil-based pes­ti­cides and fer­til­iz­ers), by burn­ing forests for mono­cul­ture plan­ta­tions and by destroy­ing peat lands and biodiversity.
4. By con­vert­ing land and forests into non-agri­cul­tur­al areas:
Forests, pas­tures and cul­ti­vat­ed lands are rapid­ly being con­vert­ed into indus­tri­al agri­cul­tur­al pro­duc­tion areas or into shop­ping malls, indus­tri­al com­plex­es, hous­ing devel­op­ments, large infra­struc­ture projects and tourist resorts. This caus­es mas­sive car­bon emis­sions and reduces the capac­i­ty of the envi­ron­ment to absorb the car­bon released into the atmosphere.
5. By trans­form­ing agri­cul­ture from an ener­gy pro­duc­er into an ener­gy consumer:
In terms of ener­gy con­ver­sion, the first role of plants and agri­cul­ture is to trans­form solar ener­gy into ener­gy in the form of sug­ars and cel­lu­lose that can be direct­ly absorbed in food or trans­formed by ani­mals into ani­mal prod­ucts. This is a nat­ur­al process, which brings ener­gy into the food chain. How­ev­er, the indus­tri­al­iza­tion process of agri­cul­ture over the last two cen­turies has lead to a con­sump­tion econ­o­my rather than pro­duc­tion one.
Three prob­lem­at­ic solu­tions to the grow­ing agrar­i­an crisis
1. Agro­fu­els:
Agro­fu­els (fuels pro­duced from plants, agri­cul­ture and forestry) are often pre­sent­ed as one of the solu­tions to the cur­rent ener­gy cri­sis. Under the Kyoto Pro­to­col, 20 per­cent of the glob­al ener­gy con­sump­tion should come from renew­able sources by 2020; this includes agro­fu­els. How­ev­er, leav­ing aside the ethics of pro­duc­ing food to feed cars while so many peo­ple are starv­ing, indus­tri­al agro­fu­el pro­duc­tion will actu­al­ly increase the effects of glob­al warm­ing instead of reduc­ing them.
Inten­sive agro­fu­el pro­duc­tion is not a solu­tion to glob­al warm­ing, nor will it solve the glob­al cri­sis in the agri­cul­tur­al sec­tor. The impacts will again be felt most seri­ous­ly in devel­op­ing coun­tries, as indus­tri­al­ized coun­tries will not be able to cov­er their agro­fu­el demand and will need to import huge amounts from the Glob­al South.
2. Car­bon trading;
Under the Kyoto Pro­to­col and oth­er inter­na­tion­al schemes, ​"car­bon trad­ing" is pre­sent­ed as a solu­tion for glob­al warm­ing. It is a pri­va­ti­za­tion of car­bon after the pri­va­ti­za­tion of land, air, seeds, water and oth­er resources. It allows gov­ern­ments to allo­cate per­mits to big indus­tri­al pol­luters so they can trade ​"rights to pol­lute" amongst them­selves. Some oth­er pro­grams encour­age indus­tri­al­ized coun­tries to finance cheap car­bon dumps such as large-scale plan­ta­tions in the Glob­al South as a way to stall the reduc­tions of their own emis­sions. This allows com­pa­nies to make a dou­ble prof­it while claim­ing false­ly that they con­tribute to car­bon seques­tra­tion. On the oth­er hand, parts of Asia, Africa and Latin Amer­i­ca are being treat­ed as mere car­bon sinks and pri­va­tized through the so-called sale of envi­ron­men­tal ser­vices, thus kick­ing com­mu­ni­ties out of their land and reduc­ing their access to their own forests, fields and rivers.
3. GMOs:
Genet­i­cal­ly mod­i­fied trees and crops are now being devel­oped for agro­fu­el pro­duc­tion. Genet­i­cal­ly mod­i­fied organ­isms will not solve any envi­ron­men­tal cri­sis as they them­selves pose a risk to the envi­ron­ment as well as to health and safe­ty. More­over, they increase cor­po­rate con­trol over seeds, depriv­ing farm­ers of their right to grow, devel­op, select, diver­si­fy and exchange their own seeds.
Food sov­er­eign­ty as the key to pro­vid­ing liveli­hoods to mil­lions while pro­tect­ing life on earth
Via Campesina believes that solu­tions to the cur­rent cri­sis have to emerge from orga­nized social actors that are devel­op­ing modes of pro­duc­tion, trade and con­sump­tion based on jus­tice, sol­i­dar­i­ty and healthy com­mu­ni­ties. No tech­no­log­i­cal fix will solve the cur­rent glob­al envi­ron­men­tal and social disaster.
A set of true solu­tions should include: Sus­tain­able small-scale farm­ing, which is labor-inten­sive and requires lit­tle ener­gy use, and can actu­al­ly con­tribute to stop and reverse the effects of cli­mate change
A true agrar­i­an reform strength­ens small-scale farm­ing, pro­motes the pro­duc­tion of food as the pri­ma­ry use of land and regards food as a basic human right that should not be treat­ed as a com­mod­i­ty. Local food pro­duc­tion will stop the unnec­es­sary trans­porta­tion of food and ensure that what reach­es our tables is safe, fresh and nutritious.
Food sov­er­eign­ty is the right of peo­ples to healthy and cul­tur­al­ly appro­pri­ate food pro­duced through eco­log­i­cal­ly sound and sus­tain­able meth­ods, and their right to define their own food and agri­cul­ture sys­tems. It puts the aspi­ra­tions and needs of those who pro­duce, dis­trib­ute and con­sume food at the heart of food sys­tems and poli­cies rather than the demands of mar­kets and cor­po­ra­tions. Food sov­er­eign­ty pri­or­i­tizes local and nation­al economies and mar­kets, empow­ers peas­ant and fam­i­ly farmer-dri­ven agri­cul­ture, arti­san-style fish­ing, pas­toral­ist-led graz­ing, and pro­tects food pro­duc­tion, dis­tri­b­u­tion and con­sump­tion based on envi­ron­men­tal, social and eco­nom­ic sustainability.
There­fore, Via Campesina is call­ing for:
1. The com­plete dis­man­tling of agribusi­ness com­pa­nies: They are steal­ing the land of small pro­duc­ers and cre­at­ing envi­ron­men­tal disasters.
2. The replace­ment of indus­tri­al­ized agri­cul­ture and ani­mal pro­duc­tion by small-scale sus­tain­able agri­cul­ture sup­port­ed by gen­uine agrar­i­an reform programs.
3. The ban­ning of all forms of genet­ic use restric­tion technologies.
4. The pro­mo­tion of sus­tain­able ener­gy poli­cies. This includes con­sum­ing less ener­gy and decen­tral­iz­ing ener­gy instead of pro­mot­ing large-scale agro­fu­el pro­duc­tion, as is cur­rent­ly the case.
5. The imple­men­ta­tion of agri­cul­tur­al and trade poli­cies at local, nation­al and inter­na­tion­al lev­els that sup­port sus­tain­able agri­cul­ture and local food con­sump­tion. This includes the ban on the kinds of sub­si­dies that lead to the dump­ing of cheap food on markets.
A report, draft­ed by over 400 sci­en­tists and prac­ti­tion­ers from across the globe, empha­sized that ​"busi­ness as usu­al is not an option" in regards to the role of agri­cul­ture in feed­ing the peo­ple of the world,. The sci­en­tists empha­sized the need for more agro-eco­log­i­cal prac­tices that are less reliant on tech­nol­o­gy and more focused on a community's needs. It is impor­tant to add that all attempts to reverse the now well-known prob­lems asso­ci­at­ed with Glob­al Warm­ing will be in vain if ​"busi­ness as usu­al" is allowed. Via Campesina's pro­gram of extend­ing food sov­er­eign­ty to all cor­ners of the globe is not only a strat­e­gy for feed­ing the world's pop­u­la­tion, it is also an inte­gral ele­ment in any pro­gram to cool the planet.
This arti­cle was adapt­ed from the Via Campesina pub­li­ca­tion: ​"Small-Scale Sus­tain­able Farm­ers are Cool­ing Down the Earth."
This blog's mis­sion is to pro­vide the pub­lic ser­vice of help­ing make the issues that rur­al Amer­i­ca is grap­pling with part of nation­al discourse.