Harold Washington and the Elephant in the Room
An untold tale of taking on the issue of race during the '83 campaign.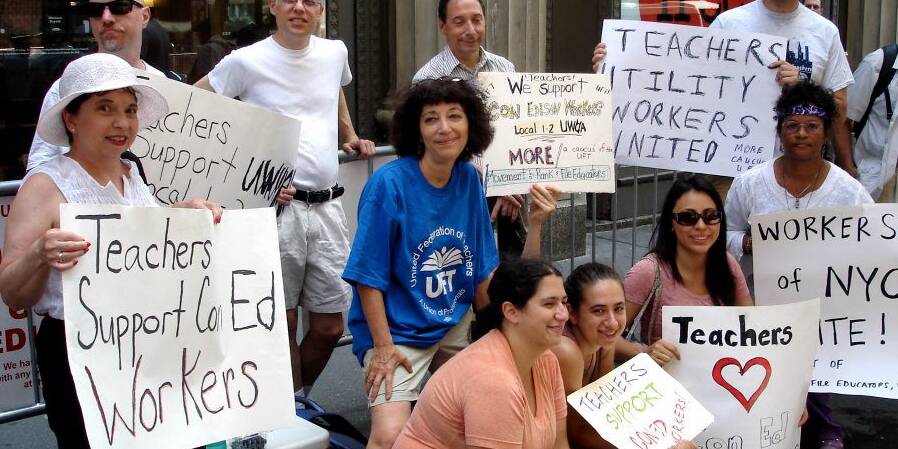 Thir­ty years ago, half of Chica­go — 51.7 per­cent, to be exact—erupt­ed with jubi­la­tion. After two pre­vi­ous unsuc­cess­ful runs and despite the most ardent efforts of many, Harold Wash­ing­ton was elect­ed may­or. Although today many take the vic­to­ry for grant­ed, cit­ing the dynamism of the man and the move­ment, only days before the elec­tion the con­test hung in the bal­ance, and many who were at the cen­ter of the cam­paign, we among them, believe that only a last-minute, bold con­fronta­tion with the city's his­to­ry of racism pro­pelled Wash­ing­ton across the fin­ish line.
To our dismay, the scarcely veiled racist appeal worked. Week by week, Washington's lead eroded as white voters responded to the message that it was 'O.K.' to vote your race.
Two months pri­or to the gen­er­al elec­tion, counter to the pre­dic­tions of polit­i­cal pun­dits, Wash­ing­ton had best­ed sit­ting May­or Jayne Byrne and then State's Attor­ney Richard M. Daley to win the Demo­c­ra­t­ic nom­i­na­tion for May­or of Chica­go. His vic­to­ry was built on the strength of the African-Amer­i­can vote orga­nized by long-time vet­er­ans of the civ­il rights move­ment who had over the years had forged strong bonds with pro­gres­sive Lati­nos, Asians and White lib­er­als — a com­bi­na­tion that pro­vid­ed Wash­ing­ton with the 37 per­cent of the vote he need­ed to win the primary.
Like most media com­men­ta­tors, we in the Wash­ing­ton cam­paign were con­fi­dent that the gen­er­al elec­tion would be <i>pro forma</i>, as had always been the case in Chica­go when the suc­cess­ful Demo­c­ra­t­ic nom­i­nee went up against a Repub­li­can in a gen­er­al elec­tion. We were wrong.
Rather than unite behind Wash­ing­ton, the reg­u­lar Demo­c­ra­t­ic Par­ty, led by its then-chair­man ​"Fast Eddie" Vrdolyak, threw its sup­port to Bernard Epton, the lit­tle-known Repub­li­can can­di­date. Their not-so-sub­tle slo­gan was ​"Epton: Before It's Too Late."
To our dis­may, the scarce­ly veiled racist appeal worked. Where­as imme­di­ate­ly after the pri­ma­ry, both inde­pen­dent and inter­nal polls showed Wash­ing­ton with a com­mand­ing lead, week by week the lead erod­ed as white vot­ers respond­ed to the mes­sage that it was ​'O.K.' to vote your race.
Even in a city known for its seg­re­ga­tion and racist his­to­ry, we were sur­prised by the impact and vit­ri­ol. The low point came on Palm Sun­day, March 27, 1983, when for­mer Vice-Pres­i­dent Wal­ter Mon­dale and Wash­ing­ton vis­it­ed St. Pascal's Church in an all-white neigh­bor­hood on the city's North­west Side.
With no absence of irony, as the ret­inue of cam­paign staff and lead­ers walked to the church, onlook­ers and parish­ioners attacked them with stones, vicious shouts and racist jeers — a scene all too rem­i­nis­cent of what Mar­tin Luther King faced when he walked through Mar­quette Park in 1966. Mon­dale and Wash­ing­ton had to be escort­ed out by the police. A local CBS cam­era­man filmed the event, which fea­tured an angry mid­dle-aged white man repeat­ed­ly shout­ing ​"nig­ger lover" at Mon­dale. The footage was played and replayed on local and nation­al news, becom­ing emblem­at­ic of the state of race rela­tions in Chicago.
While the inci­dent may have shocked the nation, it did not seem to move Chicago's white vot­ers — the ero­sion con­tin­ued. Ten days before the elec­tion, we were still los­ing votes. We need­ed to do some­thing dra­mat­ic if we were to win. We had to con­front the ele­phant in the room.
Through­out the cam­paign, we had tread care­ful­ly around the issue of race — strong­ly appeal­ing to and orga­niz­ing the Black vote while stu­dious­ly not rais­ing race itself as an issue. Now, how­ev­er, we, who were the media team, pro­posed cre­at­ing hard-hit­ting tele­vi­sion spots using the CBS footage of the St. Pas­cal inci­dent to con­front the issue direct­ly. There was great ner­vous­ness — in fact out­right oppo­si­tion — about doing so, par­tic­u­lar­ly among the cam­paign's finance com­mit­tee (who con­trolled the purse strings). The com­mit­tee was com­prised of old­er African-Amer­i­can busi­ness­men who had suc­cess­ful­ly made their way in the city by con­scious­ly not con­fronting the issue of race direct­ly. They feared the spots would cre­ate the kind of ​"back­lash" that they had tried all their lives to avoid by being mod­er­ate in action if not thought.
How­ev­er, final­ly with the tac­it (albeit less-than-enthu­si­as­tic) sup­port of the cam­paign man­ag­er and strong sup­port from African Amer­i­can field lead­ers like Jacky Grimshaw, we were allowed to make two sim­ple but pow­er­ful TV spots — although whether we would be allowed to air them remained in doubt. The first, ​"Pledge", showed a racial­ly diverse group of chil­dren recit­ing the Pledge of Alle­giance, their inno­cent faces inter­spersed with footage of the St. Pascal's mob hurl­ing racial epi­thets. The screen then fades to black, with a tiny pic­ture of Harold Wash­ing­ton and the slo­gan ​"Harold Wash­ing­ton for May­or," while the announc­er intones, ​"When you vote on Tues­day, make sure it's a vote you can be proud of."
We put ​"Pledge" on the air eight days before the elec­tion. It appeared to have worked. Two days lat­er, track­ing polls revealed that Washington's slide had stopped. The next day's num­bers showed a slight increase in his sup­port, but still not enough to win.
With only three days left and inter­nal polls still show­ing us three to five points down, we were cer­tain of the neces­si­ty of using the sec­ond, even more pow­er­ful spot, ​"Shame".
​"Shame" was a sim­ple spot that opened with a series of icon­ic pho­tographs — the Kennedy assas­si­na­tion, the My Lai mas­sacre, the mur­der of Mar­tin Luther King, the shoot­ings at Kent State Uni­ver­si­ty fol­lowed by scenes of the St. Pascal's mob. Over these pow­er­ful images an announc­er sim­ply says, ​"There are moments in our country's his­to­ry of which all Amer­i­cans are thor­ough­ly and pro­found­ly ashamed. One of those moments may be hap­pen­ing now, here in Chica­go." The screen then fad­ed to a pic­ture of Harold Wash­ing­ton and the words ​"Harold Wash­ing­ton for May­or," while a voice intoned, ​"When you vote on Tues­day, make sure it's a vote you can be proud of."
We were all aware that the spot was a stretch — that even the most vir­u­lent racism in Chica­go was not com­pa­ra­ble to the mur­der­ous inci­dents por­trayed. We also were aware, how­ev­er, that if were to move even the small seg­ment of white vot­ers we need­ed to win, we need­ed to show some­thing so dra­mat­ic that they would stop and think of the mean­ing and con­se­quences of their actions.
Giv­en these fac­tors, our plan was to show ​"Shame" only once but at a time when vir­tu­al­ly every poten­tial vot­er would see it.
While it is hard for even those of us who were there to remem­ber, in 1983 there were only five chan­nels and no DVRS. By buy­ing ads on all sta­tions at a spe­cif­ic time one could reach all view­ers. Tak­ing advan­tage of this, with­out the finance committee's knowl­edge we pur­chased a ​"road­block" for the Sun­day night before the election.
On April 10, 1983, ​"Shame" ran at 8:00 p.m. on every Chica­go sta­tion and thus was seen by every per­son in Chica­go watch­ing tele­vi­sion that night. Mon­day morn­ing, many of the Finance Com­mit­tee mem­bers were apoplec­tic. But on Tues­day Harold Wash­ing­ton won his quest to become may­or with 51.7 per­cent of the vote, includ­ing 19 per­cent of the white vote — and the rest, as they say, is history.
Did the spots make a dif­fer­ence? Going into the final week­end, Wash­ing­ton had 48 per­cent of the vote; on Tues­day he had gained near­ly four points to ensure victory.
The campaign's post-elec­tion polls con­firmed what those of us who had fought to put the spots on had hoped for. The two spots played a large role in that final increase. They worked by con­fronting peo­ple with a deep­er and broad­er view of what was hap­pen­ing, ask­ing them to con­sid­er their actions in the light of his­to­ry and offer­ing a stark moral choice. Of this we are sure. They did not change all of the atti­tudes of the fear­ful white vot­ers of Chica­go, but did affect enough of them to pro­vide the need­ed mar­gin for victory.
Could this moment of col­lec­tive moral exam­i­na­tion be repeat­ed today? Of this we are less sure.
Where once it took only four TV sta­tions to reach every view­er in Chica­go, today any par­tic­u­lar hour's view­ing audi­ence is frag­ment­ed among hun­dreds of sta­tion choic­es. And where there once were neu­tral com­men­ta­tors deliv­er­ing the news, today most get their news in and from echo cham­bers of their own opin­ion, places that do not demand any rethink­ing of one's position.
Once upon a time in Chica­go, two tele­vi­sion spots made a small but deci­sive con­tri­bu­tion to his­to­ry. We asked the peo­ple of Chica­go to reject false adver­tis­ing, racial prej­u­dice and polit­i­cal manip­u­la­tion and instead to rise up to sup­port a new vision of the city. While the pro­por­tion was small, some respond­ed and made the crit­i­cal difference.
The sto­ry speaks of many things: Of the pow­er of media, for good and for ill. Of the abil­i­ty of peo­ple to change. And it speaks well of the peo­ple of Chica­go, who togeth­er changed his­to­ry and would do so again 25 years lat­er when they launched and car­ried the first African-Amer­i­can to the presidency.
Bill Zim­mer­man and Mar­i­lyn Katz were the media con­sul­tants to Harold Washington's 1983 campaign.
Bill Zim­mer­man is pres­i­dent of Zim­mer­man & Mark­man, Inc., a Cal­i­for­nia-based polit­i­cal con­sult­ing firm. He is the author, most recent­ly, of Trou­ble­mak­er: A Mem­oir from the Front Lines of the Six­ties, Anchor Books, 2012.
Mar­i­lyn Katz is the founder and pres­i­dent of Chica­go-based MK Com­mu­ni­ca­tions. Learn more about Mar­i­lyn and read her oth­er writ­ing for In These Times here.