Angela Davis: Rescinding of Civil Rights Award Is Attack on "the Indivisibility of Justice"
After an outcry from some Jewish groups over her support for Palestinian justice, Davis saw a prestigious civil rights award revoked. Here is her statement.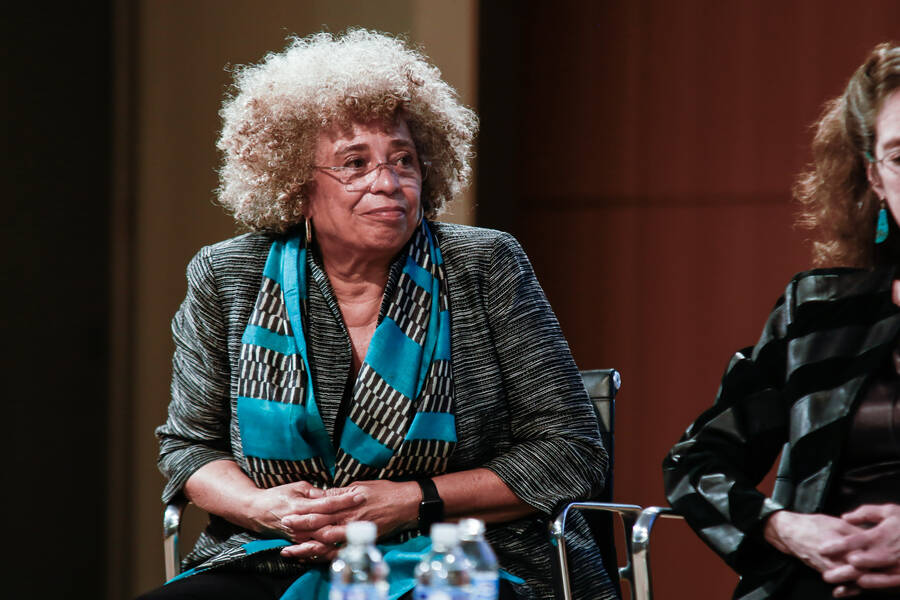 In Octo­ber, the Birm­ing­ham Civ­il Rights Insti­tute announced that it would be pre­sent­ing Angela Davis with the Fred Shut­tlesworth Human Rights Award, estab­lished to hon­or those who car­ry on the lega­cy of the great civ­il rights leader. The award cer­e­mo­ny is planned for Feb­ru­ary. But fol­low­ing objec­tions made by some Jew­ish groups over Davis' long­time sup­port for Pales­tin­ian human rights, on Jan­u­ary 5, the board of the Birm­ing­ham Civ­il Rights Insti­tute abrupt­ly announced that it would be rescind­ing the award.
In These Times has cov­ered Davis and her fight against injus­tice for decades, and here we present her state­ment respond­ing to the revocation.
___________________________________
On Sat­ur­day, Jan­u­ary
5
, I was stunned to learn that the Birm­ing­ham Civ­il Rights Insti­tute Board of Direc­tors had reversed their pre­vi­ous deci­sion to award me the Fred Shut­tlesworth Human Rights Award. Although the BCRI refused my requests to reveal the sub­stan­tive rea­sons for this action, I lat­er learned that my long-term sup­port of jus­tice for Pales­tine was at issue. This seemed par­tic­u­lar­ly unfor­tu­nate, giv­en that my own free­dom was secured – and indeed my life was saved – by a vast inter­na­tion­al move­ment. And I have devot­ed much of my own activism to inter­na­tion­al sol­i­dar­i­ty and, specif­i­cal­ly, to link­ing strug­gles in oth­er parts of the world to U.S. grass­roots cam­paigns against police vio­lence, the prison indus­tri­al com­plex, and racism more broad­ly. The rescind­ing of this invi­ta­tion and the can­cel­la­tion of the event where I was sched­uled to speak was thus not pri­mar­i­ly an attack against me but rather against the very spir­it of the indi­vis­i­bil­i­ty of justice.
I sup­port Pales­tin­ian polit­i­cal pris­on­ers just as I sup­port cur­rent polit­i­cal pris­on­ers in the Basque Coun­try, in Catalun­ya, in India, and in oth­er parts of the world. I have indeed expressed oppo­si­tion to poli­cies and prac­tices of the state of Israel, as I express sim­i­lar oppo­si­tion to U.S. sup­port for the Israeli occu­pa­tion of Pales­tine and to oth­er dis­crim­i­na­to­ry U.S. poli­cies. Through my expe­ri­ences at Eliz­a­beth Irwin High School in New York City and at Bran­deis Uni­ver­si­ty in the late fifties and ear­ly six­ties, and my sub­se­quent time in grad­u­ate school in Frank­furt, Ger­many, I learned to be as pas­sion­ate about oppo­si­tion to anti­semitism as to racism. It was dur­ing this peri­od that I was also intro­duced to the Pales­tin­ian cause. I am proud to have worked close­ly with Jew­ish orga­ni­za­tions and indi­vid­u­als on issues of con­cern to all of our com­mu­ni­ties through­out my life. In many ways, this work has been inte­gral to my grow­ing con­scious­ness regard­ing the impor­tance of protest­ing the Israeli occu­pa­tion of Palestine.
The trip to Birm­ing­ham, where I was born and raised, to receive the Fred Shut­tlesworth Award, was cer­tain to be the high­light of my year — espe­cial­ly since I knew Rev. Shut­tlesworth per­son­al­ly and attend­ed school with his daugh­ter, Patri­cia, and because my moth­er, Sal­lye B. Davis, worked tire­less­ly for the BCRI dur­ing its ear­ly years. More­over, my most inspi­ra­tional Sun­day School teacher Odessa Wool­folk was the dri­ving force for the institute's cre­ation. Despite the BCRI's regret­table deci­sion, I look for­ward to being in Birm­ing­ham in Feb­ru­ary for an alter­na­tive event orga­nized by those who believe that the move­ment for civ­il rights in this moment must include a robust dis­cus­sion of all of the injus­tices that sur­round us.
Angela Davis
is a polit­i­cal activist, writer and schol­ar. She is dis­tin­guished pro­fes­sor emeri­ta at the Uni­ver­si­ty of Cal­i­for­nia, San­ta Cruz, and founder of Crit­i­cal Resis­tance, a grass­roots organ­i­sa­tion that cam­paigns to end impris­on­ment as a solu­tion to social problems.