We Believed Anita Hill
In 1991, an alleged sexual harasser was appointed to the Supreme Court. Let's not repeat history.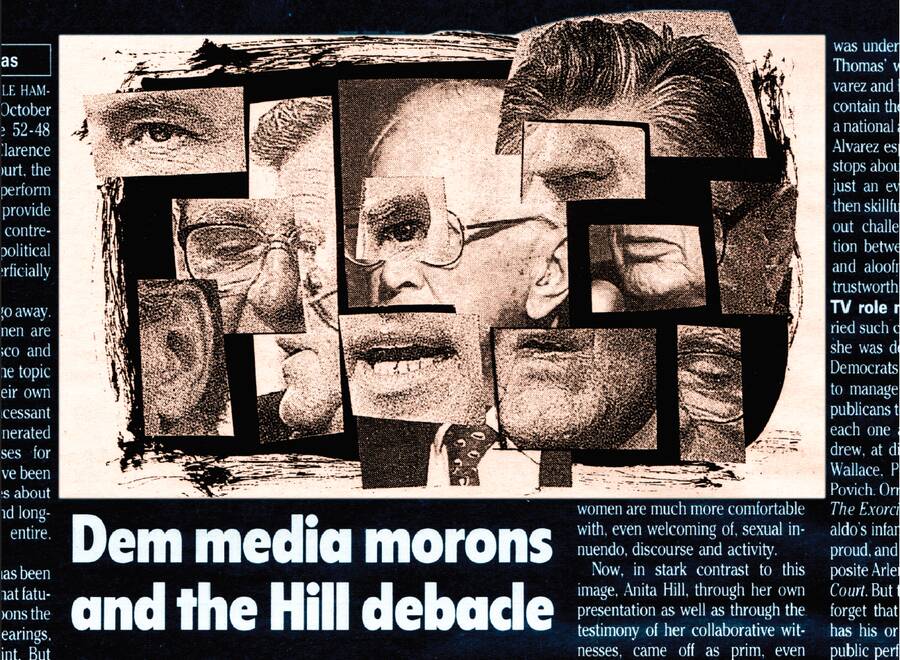 As In These Times went to press, Brett Kavanaugh faced accu­sa­tions of sex­u­al pre­da­tion from three women and the future of his nom­i­na­tion to the Supreme Court remained in doubt. Would the charges scut­tle his appoint­ment, or would he be con­firmed, as Clarence Thomas was 27 years ago?
"This kind of stance by a black woman simply doesn't compute for many white Americans; she seemed deviant, suspect, alien to dominant notions of black female sexuality." —Susan J. Douglas
Recall that, back in Octo­ber 1991, Ani­ta Hill tes­ti­fied before the Sen­ate Judi­cia­ry Com­mit­tee that Supreme Court nom­i­nee Clarence Thomas, her boss at the Equal Employ­ment Oppor­tu­ni­ty Com­mis­sion, had tried to woo her with descrip­tions of ​"women hav­ing sex with ani­mals and films show­ing group sex or rape scenes." He also bragged about the size of his penis and ​"his own sex­u­al prowess." Yet, Thomas went on to be con­firmed by the Sen­ate on a 52 to 48 vote, with 11 Democ­rats join­ing all but two Repub­li­cans in the majority.
In the Nov. 6, 1991, issue of In These Times, Susan J. Dou­glas, fem­i­nist media schol­ar and long-time In These Times colum­nist, cast her crit­i­cal eye on how white male Demo­c­ra­t­ic mem­bers of the com­mit­tee failed the 36-year-old Uni­ver­si­ty of Okla­homa law pro­fes­sor. Dou­glas wrote:
Ever since Dan Quayle ham­mered his gav­el on Octo­ber 15, announc­ing the 52 – 48 vote to install Clarence Thomas on the Supreme Court, the news media have sought to per­form one of their key func­tions: pro­vide sym­bol­ic clo­sure to this con­tretemps, as they do with all polit­i­cal con­flicts, and move on super­fi­cial­ly to the next event. But this sto­ry won't quite go away. It turns out that many women are out­raged by the entire fias­co and don't want to let the sto­ry, the top­ic of sex­u­al harass­ment or their own anger get eclipsed by the inces­sant bar­rage of gov­ern­ment-gen­er­at­ed pro­nounce­ments that pass­es for ​"news" in our society. …

Why did more peo­ple, if we are to believe the polls, find Thomas more cred­i­ble than Hill? After all, she tes­ti­fied with enor­mous dig­ni­ty, restraint and intel­li­gence, and she is a pro­fes­sion­al woman with impec­ca­ble cre­den­tials. But the prob­lem with Ani­ta Hill, I'd like to pro­pose, is that she vio­lat­ed cer­tain media expec­ta­tions about upward­ly mobile pro­fes­sion­al women, and she defied per­sis­tent stereo­types about African-Amer­i­can women in particular.

Despite some pos­i­tive changes in imagery, African-Amer­i­can women, espe­cial­ly in sit­coms, con­tin­ue to be por­trayed as more exu­ber­ant, earthy, phys­i­cal­ly expres­sive and sex­u­al­ly lib­er­at­ed than their white coun­ter­parts. The ​"oh Lordy," ​"oooh-wee," knee- slap­ping black woman of tele­vi­sion still incor­po­rates some of the ele­ments of the mam­my and the min­strel show, albeit in new clothes and more upscale set­tings. With her know­ing smiles and facial expres­sions, her use of street talk, she sug­gests that African-Amer­i­can women are much more com­fort­able with, even wel­com­ing of, sex­u­al innu­en­do, dis­course and activity.

Now, in stark con­trast to this image, Ani­ta Hill, through her own pre­sen­ta­tion as well as through the tes­ti­mo­ny of her col­lab­o­ra­tive wit­ness­es, came off as prim, even prud­ish. She didn't like to talk about sex, even with her close friends, and we all watched her wince as she described Thomas' overtures. …

This kind of stance by a black woman sim­ply doesn't com­pute for many white Amer­i­cans; she seemed deviant, sus­pect, alien to dom­i­nant notions of black female sex­u­al­i­ty. And because of that, and of the lega­cy of such rep­re­sen­ta­tions that all African Amer­i­can women car­ry with them and fight, she was tes­ti­fy­ing not just against Thomas but against a per­va­sive media por­trait of how women like her are sup­posed to behave. It was hard­ly an even bat­tle, and the Democ­rats, because of their cul­tur­al igno­rance, were no help at all.

In addi­tion, Hill cast her­self, as did her close friends, as a very pri­vate per­son who loathes the lime­light and is com­plete­ly unin­ter­est­ed in per­son­al pub­lic­i­ty. In an age when fame and pub­lic renown are hys­ter­i­cal­ly sought by mil­lions of Amer­i­cans, when being famous is more impor­tant than any­thing … the per­son not swept up in this desire is anom­alous and open to suspicion. …

[T]he Democ­rats seemed to for­get that any­one watch­es TV, or has his or her expec­ta­tions about pub­lic per­for­mances shaped by the medi­um. As a result, Joe Biden seemed clos­est to emu­lat­ing Mr. Rogers ("We real­ly, real­ly like you, you brave, shar­ing wit­ness­es") when he should have been imi­tat­ing Tom­my or Grace Van Owen from L.A. Law (wouldn't that have been great?). They failed to cast Ani­ta Hill as a coura­geous under­dog fight­ing the sys­tem (which would have been easy and effec­tive), and they failed to cast them­selves as the gut­sy guys from the block pro­tect­ing this woman from a bunch of capri­cious, mean-spir­it­ed bul­lies. Was it because she is a woman? Because she is black? Because they are dumb­er than we think? Because they are still ter­ror­ized by what they per­ceive as the ide­o­log­i­cal hege­mo­ny of con­ser­vatism in Amer­i­ca? Worse yet, all of the above?
In this #MeToo moment, with women of all races com­ing for­ward, anoth­er ques­tion remains to be answered: Have we learned any­thing since 1991 or will his­to­ry repeat itself?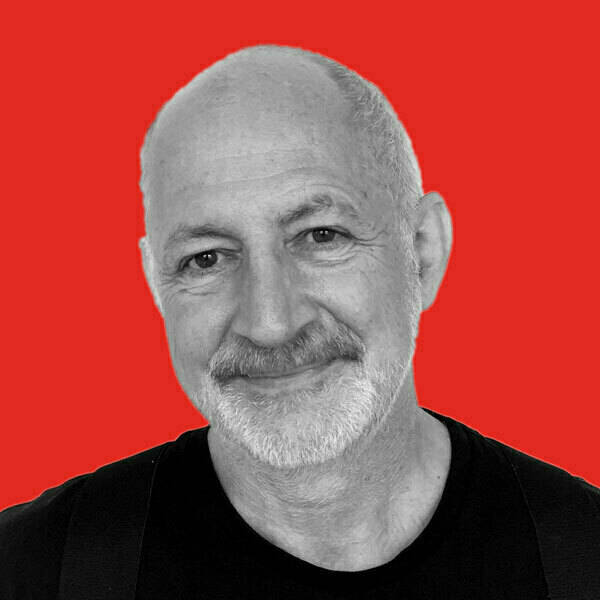 Joel Blei­fuss, a for­mer direc­tor of the Peace Stud­ies Pro­gram at the Uni­ver­si­ty of Mis­souri-Colum­bia, is the edi­tor & pub­lish­er of In These Times, where he has worked since Octo­ber 1986.