Another Hail Mary Pass From Labor's Latest Quarterback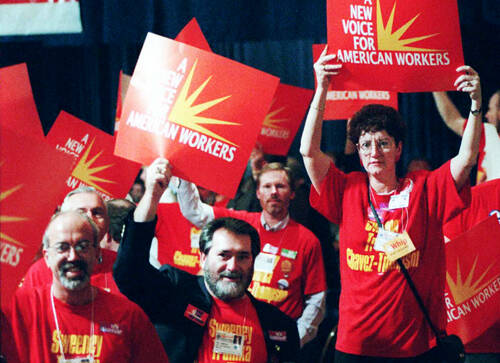 By Steve Early
Hope for a revived union move­ment has come in suc­ces­sive waves in recent decades, only to recede over time. When the nation­al AFL-CIO meets next week in Pitts­burgh to choose new offi­cers, the fans in the stands will be cheer­ing the lat­est change in quar­ter­backs.

But nei­ther hand­ing the ball to Rich Trum­ka (cur­rent sec­re­tary-trea­sur­er of the fed­er­a­tion) or cre­at­ing a unit­ed front of the AFL, Change To Win (CTW), and the Nation­al Edu­ca­tion Asso­ci­a­tion — a par­al­lel effort now stalled by Trumka's own elec­tion – are like­ly to stem union decline, by themselves.
Out­side the Belt­way, labor's con­di­tion con­tin­ues to wors­en as work­ers face an avalanche of job cuts and con­tract concessions.
In the 1930s, adver­si­ty was the moth­er of inven­tion for the work­ing class; from the depths of the depres­sion came a grass­roots upsurge that, in tan­dem with a new Demo­c­ra­t­ic nation­al admin­is­tra­tion, changed the bal­ance of pow­er between unions and man­age­ment for decades to come. In our time, despite myr­i­ad eco­nom­ic woes, nei­ther the AFL nor the break­away CTW have yet found a way to con­vert our cur­rent reces­sion into a ​"rebuild­ing sea­son."

Union mem­bers made key con­tri­bu­tions to Barack Obama's elec­tion vic­to­ry last fall, yet their pay­back so far has been mea­ger. The cur­rent health­care mud­dle in Wash­ing­ton doesn't bode well in many ways, most of all for real labor law reform — when and if that con­tentious issue moves up on the Administration's agen­da.

As Kim Moody recent­ly report­ed in New Pol­i­tics, between 2006 and 2008, CTW affil­i­ates reg­is­tered an 8.6 per­cent net drop in size, while AFL-CIO unions suf­fered a 1.7 per­cent decline — stats not like­ly to improve dur­ing a ​"job­less recov­ery." Over­all, union­iza­tion hasn't been low­er since 1930, lead­ing some in labor to hope that Trum­ka, a for­mer coal min­er, might be able to play the role that his UMW pre­de­ces­sor John L. Lewis did in that era.

Four­teen years ago, a few aca­d­e­m­ic observers even saw shades of Lewis in mild-man­nered, Bronx-born John Sweeney. In 1995, reform­ers, led by Sweeney, oust­ed incum­bent lead­ers of the AFL-CIO for the first time in a cen­tu­ry, promis­ing to end labor's stag­na­tion and mar­gin­al­iza­tion.

The for­mer pres­i­dent of the Ser­vice Employ­ees Inter­na­tion­al Union (SEIU) declared that his ​"New Voice" team want­ed to breath life into a tired cen­tral bureau­cra­cy by reviv­ing its state and local bod­ies, plus engag­ing a wider range of non-labor allies.
Under Sweeney, with Trum­ka as sec­re­tary-trea­sur­er, the AFL-CIO went on a cost­ly hir­ing spree to bulk up its orga­niz­ing pro­gram, deploy ​"field mobi­liz­ers," and apply ​"street heat" to recal­ci­trant employ­ers or way­ward politi­cians.

A decade lat­er, Sweeney's own union, the 2 mil­lion mem­ber SEIU, grew impa­tient when these efforts – led by a legion of for­mer SEIU staffers — began to stall. Spurred on by Andy Stern, Sweeney's suc­ces­sor at SEIU, ​"New Voice" crit­ics insist­ed that fur­ther restruc­tur­ing was nec­es­sary to increase ​"union den­si­ty" and polit­i­cal clout.

In par­tic­u­lar, Stern and his allies want­ed more unions to merge and stick to their own mutu­al­ly agreed-upon ​"juris­dic­tion" so scarce resources wouldn't be wast­ed on com­pet­ing cam­paigns for new mem­bers. When a major­i­ty of AFL-CIO affil­i­ates didn't embrace their ideas in 2005, sev­en orga­ni­za­tion­al dis­senters left to form Change To Win, tak­ing one-third of all AFL-CIO mem­bers with them.
At the time, some labor aca­d­e­mics again saw the sec­ond com­ing of the Con­gress of Indus­tri­al Orga­ni­za­tions, the rival labor fed­er­a­tion born of the great Depres­sion that went on to orga­nize mil­lions of work­ers in the late 1930s and ​'40s (before re-unit­ing with the AFL in 1955).

Unfor­tu­nate­ly, labor his­to­ry has repeat­ed itself — but this time as trag­ic farce. Launched by unions wide­ly viewed as labor's most ​"pro­gres­sive," CTW today is even more divid­ed and dys­func­tion­al than the ​"house of labor" it left.
CTW co-founder John Wil­helm of the Hotel and Restau­rant Employ­ees (HERE), is accus­ing his for­mer ally, SEIU, of med­dling in the messy divorce of UNITE-HERE. A minor­i­ty fac­tion of UNITE-HERE has split off and joined SEIU.

Amid this car­ni­val of orga­ni­za­tion­al can­ni­bal­ism, some con­cerned labor lead­ers have under­stand­ably been try­ing to pro­mote ​"labor uni­ty." After Obama's vic­to­ry (and at his behest), they set up a nation­al-lev­el coor­di­nat­ing com­mit­tee to present a more unit­ed front on key legislative/​political issues like work­ers rights and health­care.

Par­tic­i­pants include the inde­pen­dent Nation­al Edu­ca­tion Asso­ci­a­tion and the biggest unions in both CTW and the AFL-CIO. But their hopes of unveil­ing a new ​"fed­er­a­tion of fed­er­a­tions" by this fall have not mate­ri­al­ized, in part because of the AFL-CIO's own bureau­crat­ic wari­ness about being sub­sumed in some larg­er umbrel­la orga­ni­za­tion.

In Trumka's view, labor uni­ty can best be achieved when and if CTW defec­tors return to the fold, one by one, under his for­giv­ing pres­i­den­cy (after say­ing five Our Fathers and Five Hail Marys for leav­ing labor's one true church in 2005).

Unlike the detailed, pro­gram­mat­ic vision pro­ject­ed by ​"New Voice" in 1995, Trumka's own ​"Hail Mary pass" for orga­nized labor revolves around his uncon­test­ed elec­tion; the man him­self is the message.
He spent the sum­mer on a self-pro­claimed ​"lis­ten­ing tour," but actu­al­ly did quite a bit of talk­ing – about him­self, for the pur­pose of refur­bish­ing an image of mil­i­tan­cy (devel­oped at the Mine Work­ers two decades ago) that has suf­fered from 14 years of Prince Charles-like wait­ing in the wings for Sweeney to retire.

One result­ing pro­file was a Sept. 7 Wash­ing­ton Post piece by Alec MacGillis, enti­tled ​"No Get­ting Around This Guy." Based on a long chat with 60-year-old Rich — who has the ​"burly build" of a ​"bull­dog" – MacGillis sees next week's con­ven­tion as ​"ush­er­ing in a tone of lead­er­ship that will be far more mus­cu­lar than that of the avun­cu­lar Sweeney."

And that's because, as the Post report­ed, Trum­ka played ​"the ​'mon­ster man' posi­tion" on his high-school foot­ball team in Nema­col­in, Pa., forty-two years ago. (Trans­la­tion: he was a defen­sive back who could ​"stop the full­back in the mid­dle or pick up speedy receivers on the flank.")

Left unsaid (or unre­port­ed) was whether Trumka's pro­posed shift from defense to offense, with him play­ing quar­ter­back instead of Swee­ny, is actu­al­ly going to move the ball down the field any fur­ther than the same team did before its ​"New Voice" became old.
Steve Ear­ly worked for 27 years as an orga­niz­er and inter­na­tion­al rep­re­sen­ta­tive for the Com­mu­ni­ca­tions Work­ers of Amer­i­ca. He is the author of sev­er­al books, includ­ing Refin­ery Town: Big Oil, Big Mon­ey, and the Remak­ing of an Amer­i­can City (Bea­con Press).