Anti-Corporate Protesters Drown Out Democratic Party Chair Tom Perez with Chants of "Liar!"
Fault lines in the party were on full display as the California Democratic convention got off to a dramatic start.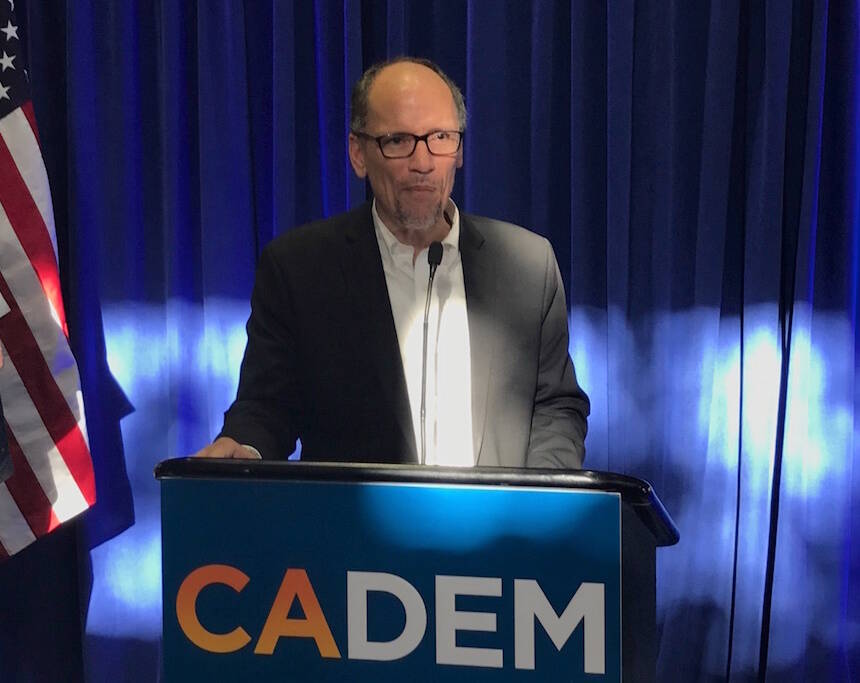 The first night of the Cal­i­for­nia Demo­c­ra­t­ic Con­ven­tion got off to a dra­mat­ic start when Demo­c­ra­t­ic Nation­al Com­mit­tee Chair Tom Perez's speech was drowned out by boos and rau­cous protest.
"Corporate Democrats are in charge and we won't stand for it. I'm fighting for the people. We do not have a left party." - Stefanie Hahn, 40, a nurse from Oakland
The com­mo­tion start­ed a few min­utes before 6p.m. on Fri­day, as Democ­rats from around the state gath­ered in the lob­by of the Sacra­men­to Con­ven­tion Cen­ter to await the Chairman's Wel­come Recep­tion, head­lined by Perez.
Inside, del­e­gates sipped wine and min­gled near small buf­fet tables. Out­side, hun­dreds of pro­test­ers — many of whom were del­e­gates them­selves — marched on the plaza with­in view of the recep­tion area, wav­ing signs that read, ​"Health­care is a human right," ​"Health­care not war­fare," and ​"Sin­gle pay­er NOW." Chants of ​"Hey, hey, ho, ho, cor­po­rate Dems have got to go!" echoed off the win­dows and could be heard clear­ly by del­e­gates gath­ered inside.
The ral­ly, orga­nized by Cam­paign for A Healthy Cal­i­for­nia, a coali­tion work­ing with the Cal­i­for­nia Nurs­es Asso­ci­a­tion (CNA) to push for statewide sin­gle-pay­er health­care, spon­ta­neous­ly moved inside as cur­rent Demo­c­ra­t­ic State Chair John Bur­ton intro­duced Perez. Pro­test­ers lined the stair­well direct­ly above the stage and packed the bal­conies, unfurl­ing ban­ners in sup­port of envi­ron­men­tal pro­tec­tions and health­care for all. The DNC chair's open­ing remarks were drowned out by boos and screams of ​"Liar!" and ​"Hot air!" Bur­ton stood to the side of the stage, clear­ly dis­tressed by the upheaval.
"We are boo­ing because we feel Perez is part of the estab­lish­ment that keeps co-opt­ing the pro­gres­sive move­ment," said Gilbert Feli­ciano, 36, a del­e­gate from North Hol­ly­wood who took part in the protest. ​"The cor­po­ratists have an ally with Tom Perez. We felt like it was impor­tant to come and voice our discontent."
"I need you all to help us play defense," Perez plead­ed with the crowd. ​"This is the most dan­ger­ous time of our lifetime."
The Con­ven­tion was expect­ed to be con­tentious, with a deep­en­ing divide in the par­ty nation­al­ly and a tight race for state chair that many Cal­i­for­nia Democ­rats see as a time­ly chance to move the par­ty to the left. Many of the pro­test­ers at the recep­tion voiced sup­port for Kim­ber­ly Ellis, an orga­niz­er backed by Our Rev­o­lu­tion (a pro­gres­sive move­ment sparked by Bernie Sanders' cam­paign) and CNA. Ellis is run­ning against the party's cur­rent vice chair, Eric Bau­man, who came under fire last year when it was revealed that his polit­i­cal con­sult­ing firm received more than $100,000 from the phar­ma­ceu­ti­cal indus­try. Both can­di­dates' plat­forms include sim­i­lar pro­gres­sive goals, but Ellis is wide­ly seen as a left­ist out­sider. Her sup­port­ers wore bright pink shirts embla­zoned with the phrase ​"UNBOUGHT UNBOSSED," in a nod to Shirley Chisholm's land­mark 1972 pres­i­den­tial cam­paign.
"I'm sup­port­ing Kim­ber­ly Ellis because she's been work­ing with the orga­niz­ers and activists," said Feli­ciano. ​"It's one thing to say it, but she's clear­ly try­ing to make some amends."
Ste­fanie Hahn, 40, a nurse from Oak­land, was one of the loud­est voic­es in the crowd dur­ing Perez's speech. ​"I think the Demo­c­ra­t­ic Par­ty is a joke," she tells In These Times. ​"We're mov­ing fur­ther to the right. Cor­po­rate Democ­rats are in charge and we won't stand for it. I'm fight­ing for the peo­ple. We do not have a left par­ty. We do not believe in Tom Perez."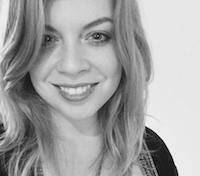 Winona Dimeo-Edi­ger
is a writer spe­cial­iz­ing in pol­i­tics, lifestyle and cul­ture. She's based in Sacra­men­to, California.