A&P Supermarket Chain Stiffs 21,000 Pensioners, Government Will Pick Up $288 Million Tab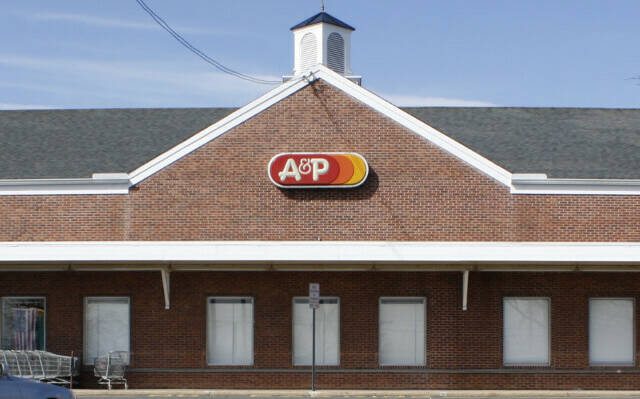 Reader donations, many as small as just $1, have kept In These Times publishing for 45 years. Once you've finished reading, please consider making a tax-deductible donation to support this work.
The bankruptcy and speedy sell-off of the A&P supermarket chain last year has revealed three pension plans covering more than 21,000 former employees as a financial train wreck, forcing a U.S. government agency to come to the rescue at the cost of about $288 million.
The announcement was made last week by the Pension Benefit Guaranty Corporation (PBGC), a federal agency that insures pensions managed by private companies. PBGC is assuming direct control over the failed plans and will be responsible for making monthly pension payments to the former employees for decades into the future, according to spokesperson Nidia Yáñez.
The PBGC rescue was triggered when the bankrupt grocery chain — which operated some 300 stores in six states in the Mid-Atlantic region — sold off its assets while firing almost all of its 28,000 employees. That left the three pension plans with no source of future income, but too little cash to pay the pension benefits already earned by the former A&P employees, Yáñez says.
These pension programs are separate and distinct from the joint labor-management plans handled together with locals of the United Food and Commercial Workers (UFCW) union, Yáñez adds. (UFCW represented the bulk of the unionized work force.) Although damaged by the bankruptcy of A&P and its 20 affiliated companies, these union plans have not sought financial assistance from PBGC, she tells In These Times.
The UFCW Local 406A pension plan for former unionized A&P grocery workers in New Jersey is in good shape, for example, and there is no threat to benefits for retirees, says Local 406A President John T. Niccollai. The union lost ​"several thousand" jobs in the bankruptcy, he says, but many of the New Jersey stores were bought by the ACME food chain, which agreed to continue making pension contributions on behalf of the Local 406A members it retained.
By contrast, the three pension plans being taken over by PBGC suffer from overwhelming financial problems:
The Great Atlantic

&

Pacific Tea Co. Inc. Plan has $

135

million in assets but total liabilities of $

244

.

4

million. It covers

14

,

783

current and future retirees. PBGC expects to make up $

105

.

6

million of the $

109

.

4

million shortfall.
The Pathmark Stores Inc. Pension Plan has $

327

.

2

million in assets but total liabilities of $

509

.

5

million. It covers

6

,

278

current and future retirees. PBGC expects to make up almost all of the $

182

.

3

million shortfall.
The Delaware County Dairies Inc. Hourly Employees Pension Plan has no assets and liabilities of $

100

,

000

. It covers only eight workers. PBGC expects to make up the entire $

100

,

000

.
The PBGC action to salvage the three pension plans comes as part of its normal function of rescuing failed pension plans managed by private companies that go bankrupt. The agency collects insurance premiums from healthy companies to fund these rescues, and A&P was fully paid up in its premiums at the time of the 2015 bankruptcy, Yáñez says.
According to the PBGC's most recent annual report, the agency paid out about $5.6 billion to about 800,000 pensioners last year.
Meanwhile, questions continue to be raised about the management practices at A&P. As reported in In These Times, the company filed for bankruptcy in 2011, but came up with a recovery plan that demanded huge concessions from UFCW. Despite the union concessions, the recovery plan failed, resulting in the second bankruptcy filing in 2015.
Unlike the 2011 bankruptcy proceeding, the 2015 plan for the company did not include any effort to save the grocery chain, but instead to liquidate it as quickly as possible, including shedding all of its employees. In a letter writing campaign to the federal judge handling the bankruptcy, workers complained that senior managers had looted the company while deliberately driving it into bankruptcy.
One result of the worker complaints is that a federal bankruptcy watchdog recently announced an investigation into executive misuse of company expense accounts.
Your donation makes In These Times possible
Bruce Vail
is a Baltimore-based freelance writer with decades of experience covering labor and business stories for newspapers, magazines and new media. He was a reporter for Bloomberg BNA's Daily Labor Report, covering collective bargaining issues in a wide range of industries, and a maritime industry reporter and editor for the Journal of Commerce, serving both in the newspaper's New York City headquarters and in the Washington, D.C. bureau.