Union President: Supermarket Chain A&P Will Fire 25,000 Grocery Workers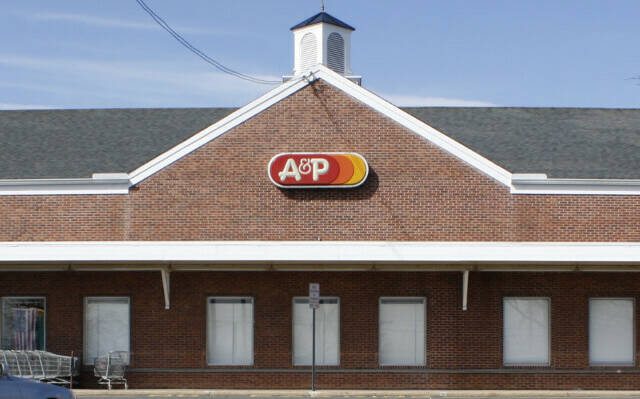 UPDATE: Since the publication of this story, the UFCW issued the following statement to In These Times:
"The UFCW today filed a strong objection to the A&P's 1113(e) motion to impose immediate changes to its collective bargaining agreements with UFCW local unions. Local Unions joined in the UFCW objections and also filed their own objections. Counsel for both the UFCW and UFCW local unions will also appear in court on Monday at 10 a.m. to object to the motion and participate in the hearing."
About 25,000 grocery workers can expect to be fired this week as mid-Atlantic regional supermarket chain A&P goes forward with plans to sell or close all of its 300 stores, according to Bruce Both, President of United Food and Commercial Workers (UFCW) Local 1500, and other sources.
Both, head of a large UFCW local in the New York City metropolitan area, sent the message to union members in a post on Local 1500's website.
"A&P has informed the [union] … that it plans to issue WARN notices to all of our members working for the company," Both wrote on the Local 1500 website. He explained that Worker Adjustment and Retraining Notification Act (WARN) letters are required by federal law when a company like A&P intends to fire large numbers of its workers. Both's message, however, also contained language expressing hope that the company would not carry out all of the intended firings.
A separate report from the respected Supermarket News website elaborated that the termination notices would apply to all of about 25,000 A&P employees in New York, New Jersey, Pennsylvania, Delaware, Connecticut, and Maryland.
The WARN notices inform all workers that their jobs will be terminated in 60 to 90 days. Both's website statement, and similar statements from other union officials, stress that there are tentative arrangements in place to sell 118 stores to other grocery operators, and that many of the jobs at those stores may be saved. In earlier statements to the court, A&P said the number of jobs at those stores was about 12,500.
About 2,500 A&P grocery workers had already received WARN notices earlier this month. These employees work at 25 A&P stores in New York, New Jersey, Pennsylvania, and Delaware that the company intends to close as soon as possible.
A&P spokesman Brian Shiver told In These Times the company had no comment. He would not provide any response whatsoever when asked repeatedly to confirm the widespread reports of mass firings. ​"I don't know anything," he said.
As reported recently at In These Times, UFCW union officials have feared such firings since the company filed a Chapter 11 bankruptcy petition in federal court last month. Several meetings between A&P officials and union leaders have taken place in the last week, according to Both, including an Aug. 11 meeting when union officers were informed of the WARN notices.
The WARN notices appear to be part of a coordinated plan by A&P managers to force the union into economic concessions ahead of the proposed sales and closures.
Bankruptcy court records show that A&P filed a so-called ​"Section 1113" motion on August 11, the same day that the WARN notices were announced. Under that section of the law, bankruptcy court judges are empowered to cancel or modify existing labor contracts.
In the massive Section 1113 filing, A&P specifically asks that those sections of the existing UFCW collective bargaining agreements covering severance payments to fired workers be cancelled. It stated that the cost of severance payments under existing contracts was so high that it would endanger the ability of A&P to wind down the company in an orderly way.
The company also specifically asks that so-called ​"bumping right" be eliminated. Many UFCW contracts contain such provisions, which allow veteran employees who lose their jobs because of store closings to transfer to similar jobs at other stores within the chain. This would have special impact on the 25 stores which the company has already announced will be closed in September and October, where some of those workers currently have bumping rights to transfer to other stores that are remaining open.
A&P also asked that its Section 1113 request be given expedited handling. It seeks to schedule an August 17 hearing to approve the changes to existing labor contracts.
Bruce Vail
is a Baltimore-based freelance writer with decades of experience covering labor and business stories for newspapers, magazines and new media. He was a reporter for Bloomberg BNA's Daily Labor Report, covering collective bargaining issues in a wide range of industries, and a maritime industry reporter and editor for the Journal of Commerce, serving both in the newspaper's New York City headquarters and in the Washington, D.C. bureau.