From Punk Rock to Ultramarathons, Diverse Economies Are Taking Shape in Coal Country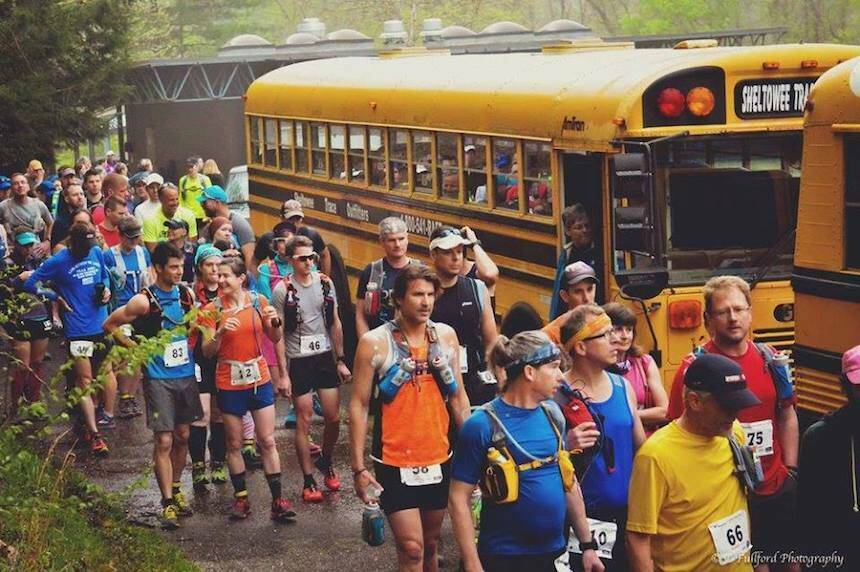 From Ken­tucky to Ohio, gen­er­a­tions of Appalachi­an peo­ple have made their homes amidst rugged and often unfor­giv­ing moun­tain ter­rain. They've fed their fam­i­lies min­ing the region's coal to heat homes across Amer­i­ca. That was until the late 1990s, when coal pro­duc­tion began to plum­met with ris­ing demand for nat­ur­al gas.
East­ern Ken­tucky was par­tic­u­lar­ly hard hit. Between 2000 and 2015, coal pro­duc­tion in the region dropped by 80 per­cent. In 2009 there were 14,098 res­i­dents of east­ern Ken­tucky employed by the mines, accord­ing to the Ken­tucky Depart­ment for Ener­gy Devel­op­ment and Independence's coal report. By 2015 the num­ber had dropped to 5,897.
Stripped of their econ­o­my and a way of life, east­ern Ken­tuck­ians have been pushed to find alter­na­tive economies, par­tic­u­lar­ly in tourism. They have cre­at­ed unique attrac­tions span­ning punk music, com­mu­ni­ty the­ater, and ultra­ma­rathons to bring in out­siders, and their money.
Whites­burg was one of the first com­mu­ni­ties to chart an alter­na­tive econ­o­my by becom­ing a breed­ing ground for punk music.
"Punk music was the sin­gle thing that expand­ed my hori­zons as a teenag­er," says Evan Smith, a native of Whites­burg who after col­lege and law school returned to become an attor­ney for the Appalachi­an Cit­i­zens' Law Cen­ter. He says that punk was the sin­gle thing that most expand­ed his hori­zons as a teenag­er because it was dif­fi­cult to get any new music in the small moun­tain town.
"I had a friend in Whites­burg whose sis­ter was work­ing for a music mag­a­zine in New York City. Every month, she would send a care pack­age home with mag­a­zines and up to 50 CDs," he says. He and his friends began to con­sid­er how to make music more acces­si­ble to the rest of their peers.
The first local punk shows in Whites­burg were put on from 1996 – 1999, Smith says.
"Bands would play in an ele­men­tary school gym in the mid­dle of nowhere because some­one would have a fam­i­ly mem­ber who worked at the school," he says. ​"There would only be a show about once a month, but 10 bands would come out."
Smith is a 10th-gen­er­a­tion Appalachi­an whose par­ents are doc­u­men­tary film­mak­ers affil­i­at­ed with Appal­shop, a pri­vate non­prof­it orga­ni­za­tion found­ed in 1969 that says it con­tributes more than $1.5 mil­lion in salaries and pro­gram­ming into the local econ­o­my each year.
When Smith was a teenag­er, Appal­shop bought an aban­doned car deal­er­ship that was con­vert­ed into a 100-seat the­ater for punk and DIY shows. The orga­ni­za­tion helped estab­lish Youth Bored, a group that put on punk shows at the deal­er­ship that attract­ed folks from across Ken­tucky and from as far away as Vir­ginia, North Car­oli­na and Tennessee.
Mikie Burke was in mid­dle school when Youth Bored was launched. He was 15 years old when he began sell­ing tick­ets to shows.
"I used to tell venues that I want­ed to host a birth­day par­ty and they would rent the space to me for $20," Burke says. ​"The local judge final­ly caught on and real­ized I was too young." The judge made him give back the mon­ey he was making.
"But the oth­er kids just gave me more mon­ey so I could keep the prof­it I made, after pay­ing the bands, to keep the shows com­ing," he says.
Burke, now 27 with a 7‑year-old daugh­ter, works as a mixed media and tat­too artist and tours with a punk band. He says that coal was impor­tant to the com­mu­ni­ty and it kept peo­ple fed, but his focus is now on the new econ­o­my tak­ing hold in town.
"The loss of it has made east­ern Ken­tucky a more artis­tic place. It has made Whites­burg a lit­tle hid­den gem and pushed peo­ple to ven­ture here to see what we are doing," he says.
Har­lan, about 45 miles from Whites­burg, once was home to min­ers who made between $64,000 – $80,000 a year. Today, the medi­an annu­al income in Har­lan is $23,955.
High­er Ground The­ater was born from the void left behind by the col­lapsed coal indus­try. The project reimag­ines nar­ra­tives of drug abuse, teen preg­nan­cy, and labor unrest reflect­ed in com­mu­ni­ties through­out east­ern Kentucky,
Car­rie Bil­lett, who spent 10 years help­ing low-income fam­i­lies reha­bil­i­tate sub­stan­dard hous­ing, was drawn to High­er Ground in 2009 because of its empha­sis on oral his­to­ry; each the­atri­cal pro­duc­tion is inspired by the first­hand accounts of Har­lan Coun­ty res­i­dents col­lect­ed by their neighbors.
"There are end­less sides to every sto­ry," Bil­let says. ​"Some­times when we look at his­to­ry and cur­rent events, we look at the facts, but oral his­to­ry is a way to look at the way that peo­ple expe­ri­ence things. You can learn a lot about a per­son by lis­ten­ing to the sto­ry they tell and the way they tell it."
High­er Ground and its pro­duc­tions are fund­ed through grants, but ulti­mate­ly the mon­ey is put back into local Har­lan busi­ness­es and makes it pos­si­ble for any­one at any income lev­el to get involved.
Bil­lett says High­er Ground can't replace the lost coal econ­o­my rev­enue, but it helps raise aware­ness of the issues for­mer coal com­mu­ni­ties are fac­ing. A per­for­mance in Sep­tem­ber proved just how much: It was the first of its kind to be com­mis­sioned by the Cen­ter for Sub­stance Abuse Prevention.
"Needle­work was direct­ly aimed at work­ing to get ahead of and pre­vent an epi­dem­ic of Hep C and AIDS," Bil­lett says. ​"It's about reduc­ing cur­rent and future bur­den of health care costs on a com­mu­ni­ty affect­ed by drug abuse. It's about keep­ing peo­ple in and bring­ing peo­ple back into the work­force. It's rec­og­niz­ing that when we talk about the future econ­o­my we have to con­tin­ue to build a stronger and health­i­er community."
Stearns is anoth­er ex-coal com­mu­ni­ty and is a two-and-a-half-hour dri­ve from Har­lan and Whites­burg. Long­time res­i­dents like Andy Pow­ell, who is the direc­tor of com­mu­ni­ca­tions and mar­ket­ing at Uni­ver­si­ty of the Cum­ber­lands in near­by Williams­burg, have turned their atten­tion to Appalachia's nat­ur­al beau­ty and how it can be used to attract tourism.
In 2009, Pow­ell was approached by Bri­an Gajus, a run­ner from Knoxville, Ten­nessee, who found­ed Ultra­naut Run­ning. Gajus was inter­est­ed in plan­ning an ultra-race in Stearns through an old coal camp.
"We nev­er had an oppor­tu­ni­ty like this," Pow­ell says. ​"Stearns was kind of lost in terms of stan­dard busi­ness oppor­tu­ni­ties." About 60 per­cent of peo­ple in town who are able to work are on gov­ern­ment assis­tance, accord­ing to cen­sus data.
Pow­ell and Gajus host­ed the first Yamacraw Race in Stearns in 2015. About 100 peo­ple signed up that first year for 10K and 50K runs. By 2017, that num­ber had grown to 650 runners.
The route runs along a moun­tain ridge where Powell's great-grand­fa­ther once lived and rode a mule to the mine each day. The route also includes the old tram road where coal was transported.
Pow­ell says Stearns' trans­for­ma­tion from an extrac­tion econ­o­my to one of con­ser­va­tion is exem­pli­fied by the Yamacraw race.
"And it's work­ing. We have had run­ners from 23 states and Cana­da rep­re­sent­ed in this race. The guy who won the race most recent­ly was from Ore­gon," he says.
For the 2017 race, the Ken­tucky Depart­ment of Adven­ture Tourism cal­cu­lat­ed the uptick in tourism rev­enue the race brought to Stearns was $150,000 for one weekend.
Yamacraw has been instru­men­tal in val­i­dat­ing a tourism economy.
"Local peo­ple are dis­trust­ing of tourism as a legit­i­mate econ­o­my," Pow­ell says. ​"They want fac­to­ries because they don't believe tourism can cre­ate viable jobs and eco­nom­ic opportunities."
"But [now] they are start­ing to see it at gas sta­tions and restau­rants and camp­grounds dur­ing Yamacraw," he says.
"Appalachi­ans are some of the tough­est, most inde­pen­dent peo­ple on Earth. We made a life in one of the most rugged places in the Unit­ed States, and we can do it again," he says.
(​"The Sur­pris­ing Tourist Des­ti­na­tions Reviv­ing Coal Coun­try" was first pub­lished in YES! Mag­a­zine. It was fund­ed in part by a grant from the One Foun­da­tion.)
Nico Gen­dron
wrote this sto­ry for YES! Mag­a­zine. She has worked for The New York Times in strat­e­gy, and cov­ers cul­ture, arts, and soci­ety as a free­lance writer. She is a native of Boston and Cape Cod. Fol­low Nico on Twit­ter @nico_gendron.