Architectural Casualties of War
Architecture and design critic Robert Bevan pens "The Destruction of Memory: Architecture at War"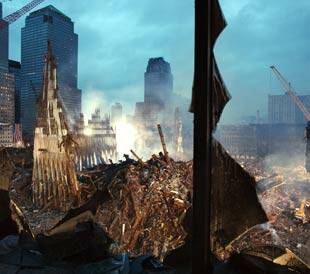 On Nov. 9, 1993, Croat artillery relentlessly bombarded the Bosnian town of Mostar. Their principal target was the Stari Most, a graceful, arching Ottoman bridge that held no strategic or military value. Linking the town's Muslim east and Croat west, the bridge had long symbolized Mostar's proud history of tolerance and cosmopolitanism – its deliberate destruction was intended to erase this legacy and physically rend its communities.
The bridge's demise is one recent example of the fate of architecture in wartime. From the firebombing of Dresden in World War II to the present-day looting of Iraq's archaeological heritage, the built environment has suffered tremendously in the conflicts of the past century. But under what circumstances is it appropriate to focus upon the architectural, rather than human, cost of war?
In The Destruction of Memory: Architecture at War (Reaktion Books), architecture and design critic Robert Bevan argues that attacks on architecture and crimes against humanity have consistently gone hand-in-hand. The Nazi destruction of synagogues on Kristallnacht was a ​"proto-genocidal episode," its symbolic smashing of property foreshadowing the subsequent barbarism of the concentration camps. The ethnic cleansing campaigns in the former Yugoslavia entailed the removal not only of human beings, but of all physical reminders of their presence on the land – homes, mosques and monuments. Buildings occupy a special place in our consciousness: They convey a feeling of permanence and belonging, and serve as ​"a prompt, a corporeal reminder" of individual and collective memories. Consequently, their destruction entails the extinguishing of identities, the dehumanization of the ​"other," and an unshakeable sense of absence and loss.
To illustrate the range of motivations behind deliberate architectural devastation, Bevan explores several key themes. In the chapter ​"Cultural Cleansing," he drives home the connection between genocide and architectural destruction. The demolition of physical space, he argues, is often part of a larger program of denying a people ​"their history, continuing identity and … containers of memory." In ​"Terror," he examines the symbolic power of these acts, from the German ​"Baedeker Raids," targeting historic English cities, to the attacks on the World Trade Center. Terror lies not only in the threat to personal security, but in targeting structures laden with strong associations – whether as symbols of national heritage, colonial occupation or financial might. In ​"Conquest and Revolution," he looks at the Chinese occupation of Tibet and the Khmer Rouge's anti-urbanism campaigns, in which a ruling regime attempts to impose new identities upon a population through the manipulation of urban space. Finally, in ​"Fences and Neighbors," he examines the impact of partitions and borders on the built environment in contexts ranging from Israel/​Palestine to Cyprus and Northern Ireland. The inevitable consequence of such partitions, he writes, is ​"an ugly civic scarification … which spreads contagion well beyond the wound itself."
This thematic approach, while providing a broad background, has the drawback of grouping together widely divergent cases. In ​"Terror," for example, the 9/11 attacks are equated with the failure of American forces to protect Iraq's archaeological sites, as well as the German blitz of Britain. While certainly indicative of the U.S. military's stunning lack of cultural understanding, the looting of Mesopotamian artifacts was not a deliberate act of cultural destruction and was carried out by Iraqis themselves. The World Trade Center attack, by contrast, was a deliberate symbolic act by a terrorist cell, while the bombing of London (though horrific) took place under the aegis of conventional warfare.
This approach also leads to repetition, with the Nazis appearing in almost every chapter, along with the Soviets, Serbian nationalists and the conflicts in Northern Ireland and Israel/​Palestine. As a result, Bevan's thematic divisions become blurred. When is the demolition of a Bosnian mosque an example of ​"cultural cleansing," rather than plain old ​"conquest"? The book also relies on a familiar rogues' gallery of totalitarian regimes and nationalist fanatics. Little attention is paid to the acts of cultural destruction carried out by Western democracies in Southeast Asia or the Middle East, so often justified on the basis of ​"military necessity" or technological failure.
Despite Bevan's emphasis on architecture's importance as a site of memory, we also get very little sense of what destroyed buildings meant to the people who inhabited them. The only human voices present (drawn mostly from newspaper reports) are those of government ministers and architecture critics, most of whom echo the official line on the value of national heritage. Bevan visited many of the sites he writes about, but did not record the impressions of local inhabitants. Doubtless he would have found that people's relationship to these spaces had less to do with national symbolism and more to do with personal memories. Despite its stated intent, this book remains largely on a macro-historical landscape where human beings are conspicuous by their absence.
Bevan's most thoughtful and provocative contributions come in the final sections on reconstruction, commemoration, protection and prosecution. He writes, ​"rebuilding can be as symbolic as the destruction that necessitates it. Construction can be used to cement a violent sundering of the built environment or to weave the fabric of a former life back together." In some instances, rebuilding can be every bit as violent as the original act of demolition, leading to forgetting as much as remembering. In postwar Munich, for example, all structures dating from the Nazi period were promptly bulldozed, and rebuilding efforts were devoted to re-evoking the city's glorious 19th century past. The result was a landscape of ​"willed forgetfulness," a Disney-like reconstruction that not only lacked authenticity but also erased all traces of the Nazi past, whitewashing this dark episode in the city's history. As an alternative to this wholesale, unreflective rebuilding, Bevan supports ​"critical preservation," which aims to preserve traces of past conflict – bullet holes, crumbling walls – and incorporate them into new settings, giving communities the chance to both start anew and remember the past. A useful example of this approach was the recent proposal to maintain a fifteen-story fragment of the World Trade Center as a memorial to the events of 9/11. Though the plan held powerful symbolic resonance, it was quickly rejected in favor of a new building, ​"bigger and better than before," reflecting the desire to shift the focus from feelings of loss to a triumphant celebration of American democracy and freedom.
In the closing chapter, Bevan returns to his original connection between genocide and architectural destruction in order to press for more vigorous prosecution of crimes against architecture. Although cultural heritage has been protected by international treaties for more than 50 years, it rarely features in war crimes tribunals. Yet from the Nazi looting of synagogues to the Taliban's demolition of the Bamiyan Buddhas, deliberate destruction of the physical environment has often presaged devastating conflicts. Bevan's timely book urges us to remain attentive to such early warning signs.