Are Long Lines the 'New Poll Tax'?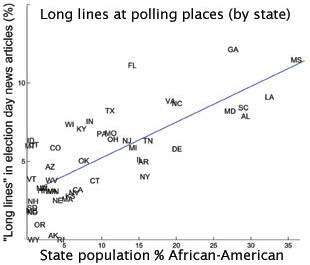 Did Rachel Mad­dow mean to sug­gest racism in nam­ing long polling place lines as ​"the new poll tax"? After all, poll tax­es were out­lawed in 1964 by the 24th Amend­ment, which end­ed a mech­a­nism of vote sup­pres­sion dat­ing back almost a century.
Long lines are not just a quadrennial problem: they leave lasting scars on the democratic process.
After the rat­i­fi­ca­tion of the 15th Amend­ment in 1870 ("The right of cit­i­zens of the Unit­ed States to vote shall not be denied or abridged…on account of race, col­or, or pre­vi­ous con­di­tion of servi­tude.") the South react­ed with intim­i­da­tion of black vot­ers through vio­lence. With­in a few years poll tax­es were enact­ed, very effec­tive­ly dis­en­fran­chised the great major­i­ty of blacks, who could not come up with the cash that the tax required them to pay in order to vote.
Today, inten­tion­al vote sup­pres­sion is ille­gal. So why would Mad­dow refer to long lines as a poll tax? Aren't lines just a bureau­crat­ic sna­fu, the inevitable con­se­quence when vot­er turnout over­runs pre­dic­tions and an under-pre­pared coun­ty elec­tion appa­ra­tus strug­gles to cope?
Maybe not. Two gen­er­a­tions after the Civ­il Rights Act, long lines at polling places show a strik­ing cor­re­la­tion with the per­cent­age of African-Amer­i­cans in the vot­er pop­u­la­tion. States with a greater African-Amer­i­can pop­u­la­tion had more reports of long lines.
(Despite all the study and prob­ing that elec­tions and the elec­torate endure, there is no actu­al sur­vey of polling place delays. In the graph, the fig­ures for ​"long lines" are derived from a tal­ly of Elec­tion Day news reports orig­i­nat­ing in each state that include that term.)
Long lines aren't rec­og­nized for the cor­ro­sive effect that they have. News accounts on Elec­tion Day depict­ed will­ing­ness to wait in lines as a sym­bol of vot­ers' com­mit­ment. We heard of vot­ers who wait­ed six hours in Mis­souri, and of a woman in South Car­oli­na who stayed in line while in labor.
What is vis­i­ble becomes news, what is not vis­i­ble goes unac­knowl­edged. The many would-be vot­ers who did not wait in line did not make it onto TV, because they weren't around for the inter­view. Many had chil­dren or elders to care for, or jobs that wouldn't allow them the time off. For oth­ers, it just wasn't worth it. Because we don't hear from these vot­ers, they are iden­ti­fied by their absence: less com­mit­ted, less civic-mind­ed, less polit­i­cal­ly involved, and cer­tain­ly of less inter­est to the politi­cians they don't help to elect.
Long lines are not just a qua­dren­ni­al prob­lem: they leave last­ing scars on the demo­c­ra­t­ic process. The cost of vot­ing encour­ages peo­ple to become habit­u­al non-vot­ers, to ratio­nal­ize vot­ing as too much trou­ble and inef­fec­tive, to not reg­is­ter for elec­tions they won't par­tic­i­pate in, and to become cyn­i­cal about the idea of elect­ed rep­re­sen­ta­tion. Whole com­mu­ni­ties, and minor­i­ty com­mu­ni­ties in par­tic­u­lar, gain rep­u­ta­tions for low par­tic­i­pa­tion. This fact is duly not­ed by the polit­i­cal estab­lish­ment, which attends to the needs of those com­mu­ni­ties accordingly.
Lines to vote are so stan­dard in many places that we see them as inevitable, or avoid­able only at con­sid­er­able expense. It isn't so. A nation­wide man­dat­ed ratio of vot­ing sta­tions to vot­ers would solve the prob­lem. Some vot­ing tech­nolo­gies use inex­pen­sive vot­ing sta­tions, of which there can be as many as nec­es­sary, and require only one high-tech bal­lot scan­ner per polling place. These tech­nolo­gies are also the more trust­wor­thy ones, as they retain a paper bal­lot marked by each voter.
Lines are not inevitable. What is inevitable, is that where there are lines, few­er peo­ple vote, not because they leave the line but because so many don't get in the line in the first place. Where not as many peo­ple vote, one par­ty ben­e­fits. If long lines occur most­ly in urban or minor­i­ty neigh­bor­hoods, the par­ty that expects a major­i­ty of that demographic's vote is the par­ty that los­es votes – and elections.
[Editor's note: The orig­i­nal ver­sion of this arti­cle stat­ed that the 1964 Civ­il Rights Act abol­ished poll tax­es. In fact, the 24th Amend­ment, rat­i­fied in 1964, out­lawed the use of poll tax­es in fed­er­al elec­tions. In These Times regrets the error.]
Michael Peshkin
is an engi­neer­ing pro­fes­sor at North­west­ern Uni­ver­si­ty. He invites sta­tis­ti­cal­ly ori­ent­ed read­ers to con­sid­er the ques­tion of how much polling place lines affect elec­tion out­comes at
vote​back​home​.com/​l​o​n​g​lines
.