Around Country, UNITE-HERE Actions Take on Hotel Giant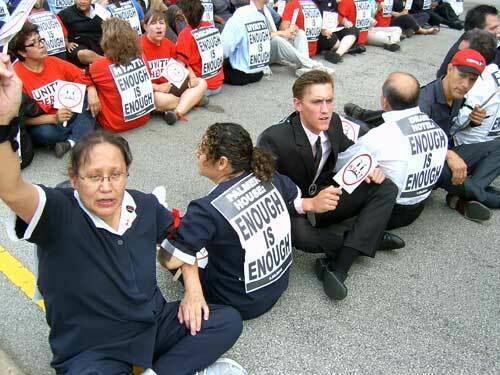 Many labor movement observers have lamented the movement's dismal state throughout the past several decades — and rightly so, much of the time. But a series of coordinated civil disobediences on Thursday reminds us that some segments of the movement aren't dead yet. They're alive and kicking — hard.
Arrests from coast to coast
The hospitality workers union UNITE HERE coordinated civil disobediences around the U.S. and Canada yesterday against Hyatt Hotels, claiming nearly 1,000 people might be arrested. The union says Hyatt and its billionaire owners are using the economic downturn to squeeze workers into a ​"permanent recession," despite a rebound in the industry. In 15 cities — many of which rarely see mass protests or civil disobedience — workers and their supporters hit the streets to express displeasure with the company.
In Chicago, about two dozen were arrested in front of the downtown Hyatt Regency. (David Moberg offers a detailed account of that action here.) In San Francisco, 152 were arrested. Vancouver saw a rally of over 600. Sixty-three were cuffed in West Hollywood. Long Beach, Indianapolis, Pittsburgh, Toronto, and several other cities also saw actions. All made frequent mention of Hyatt's owning family, the Pritzkers.
The best of times, the worst of times
The Pritzkers, one of the richest and most politically-connected families in the country, have rode out the recession fairly well. The billionaire Hyatt ownership family took the hotel chain public last year, cashing out over $900 million in shares, and watched the stock's value skyrocket over six months.
Penny Pritzker, the most powerful member of the family, wrapped up her tenure as National Finance Chair for President Obama in early 2009, and now serves the President's Economic Advisory Board evaluating policy for the commander-in-chief – while remaining a board member and chair of several companies, including the Hyatt, an airport parking company, and a credit check company. The economic crisis remains grave, but the union says the Pritzkers are doing all right.
Finances and high-profile accolades aside, however, the company's public image has taken a serious beating recently. There was the firing of almost 100 housekeepers in Boston last year, who were allegedly told they were training subs from a temp agency to cover for their vacation time, only to discover the minimum wage subs were intended to be permanent and the vacations to be unending. The story blew up around the country. (Even the business press couldn't hold back their incredulity.)
Then there was the National Labor Relations Board case Hyatt settled in San Antonio where two fired workers who engaged in union activities were offered reinstatement with thousands of dollars in back pay. (Hyatt admitted no wrongdoing.) The National Football League players union sent out a letter in May warning that it might boycott a Hyatt hotel in Indianapolis, where they say management has not respected workers' rights to organize and collective bargaining.
Anger at the company has quickly come to a boil — and UNITE HERE has kept the heat on full blast. In May, workers went on a brief wildcat walk-out (a militant move the likes of which probably has not been seen since the Republic Windows and Doors factory occupation) at the Hyatt Regency Chicago, overlooking the city's Magnificent Mile and near the site of yesterday's civil disobedience. Then San Francisco Hyatt workers went on a surprise three-day strike over lagging contract negotiations. Workers swarmed the outside of the annual Hyatt shareholders meeting in Chicago, leading Hyatt to sweat so much that they barred media from entering.
Hyatt weighs in
For its part, the hotel claims it is being treated unfairly and its business practices misrepresented. ​"The union has made this a social justice issue," said John Schafer, vice president and managing director for the Hyatt Regency Chicago. ​"It is claiming that we mistreat our employees. We don't. Our base pay is $15 an hour. Entry level, we've got a package, with benefits, of about $50,000. That doesn't sound like poverty to me."
Annemarie Strassel, spokeswoman for UNITE HERE, said those numbers reflect past struggles by union members. ​"Hotel workers have fought very hard to create jobs that people can support their families on," she said in response to Schafer. ​"Nobody's getting rich on a $14-per-hour housekeeping job."
Schafer also accused the union of employing theatrics instead of hashing out a contract. ​"We don't want to take anything away from anybody. Our time would be better spent sitting around a negotiating table rather than getting arrested in the street," he stated.
Bridget Stalla disagreed. A cook at the Park Hyatt Chicago, Stalla stood in her white chef's uniform and hat several feet from where she would be arrested and accused management of preventing a new contract's passage since the last one expired in 2009. ​"They're using the recession as an excuse to lock us into a bad contract. They're the ones that are refusing to budge at negotiations."
The union cites data they say shows that the hotel industry is ​"on the rebound," with projected revenues exceeding previous estimates.
Stalla took offense to statements placing responsibility for the actions on union leadership.
"I'm not being duped by anybody," she asserted. ​"I see at work everyday that I'm being expected to work more and more, that they're making cuts to our personnel, yet they want to keep cutting. I hope Hyatt will understand that it's not just a couple of us that feel this way, and that they'll actually sit down with us and work this out."
Based on yesterday's actions, worker/​management relations don't seem to be improving. Hyatt contracts around the country will expire this year, and both sides are sure to continue slinging mud at the other.
But yesterday's actions gave a glimpse of an increasingly fed-up labor movement that is willing to take bold action against employers to protect what they feel are hard won (if incomplete) gains. If other unions were to follow suit, corporations could have a tough time containing their pissed-off workforce.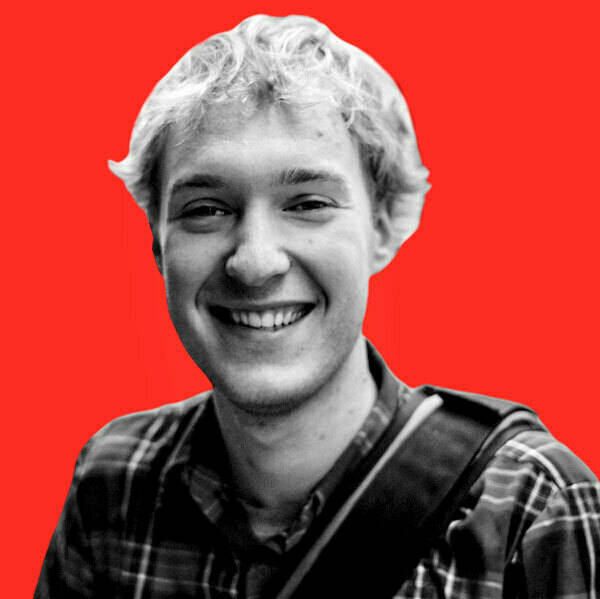 Micah Uetricht is an editor at Jacobin magazine. He is a con­tribut­ing edi­tor and former associate editor at In These Times, and the author of Strike for Amer­i­ca: Chica­go Teach­ers Against Aus­ter­i­ty and coauthor of Bigger Than Bernie: How We Go From the Sanders Campaign to Democratic Socialism, and is currently at work on a book on New Leftists who took jobs in industries like steel and auto to organize on the shop floor.