At 42nd Annual Pride Parade, Chicagoans Have Plenty to Celebrate (SLIDESHOW)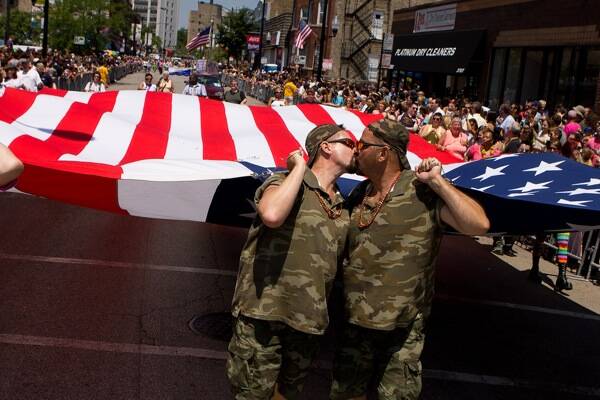 It wasn't just sun­ny weath­er that caused record num­bers of Chicagoans to clog the streets of Chicago's Boys­town neigh­bor­hood this past week­end for the 42nd annu­al Chica­go Pride­Fest Street Fes­ti­val and Parade. So far this year, there's much for the gay com­mu­ni­ty to celebrate.
Just as PrideFest was kicking off, New York became the sixth and largest state to legalize gay marriage.
Late Fri­day, just as Pride­Fest was kick­ing off, New York became the sixth and largest state to legal­ize gay mar­riage — a devel­op­ment many parade-goers saw as an assur­ance that the tide of pub­lic opin­ion is turn­ing when it comes to LGBT rights. The deci­sion, which had been cham­pi­oned by Gov. Andrew Cuo­mo, means gay cou­ples will be mar­ry­ing in New York by late July, The New York Times report­ed. (Text con­tin­ues below.)


Only months ear­li­er, in Jan­u­ary, res­i­dents of Illi­nois felt a sim­i­lar vic­to­ry when Gov. Pat Quinn signed the Civ­il Union Act, a bill that pro­vid­ed gay and les­bian cou­ples with state-lev­el spousal rights begin­ning June 1, 2011. It's been a good year for for Chicago's gay com­mu­ni­ty — which has the third high­est num­ber of LGBT cou­ples in the nation — although many await the day gay mar­riage is legal in Illinois.
In May, a poll found that for the first time, a major­i­ty of U.S. res­i­dents sup­port gay mar­riage. Pres­i­dent Barack Oba­ma, who has been met with pres­sure since the 2008 elec­tion to ​"come out of the clos­et" when it comes to his posi­tion on LGBT rights, has fol­lowed this new majority's lead. Slate report­ed that while Oba­ma has endorsed gay civ­il unions and the repeal of the military's ​'don't ask don't tell' pol­i­cy since the 2008 elec­tion, evi­dence of grow­ing Amer­i­can sup­port for LGBT issues has led him to be frank in his ​"evolv­ing" stance on gay mar­riage. For exam­ple, Oba­ma recent­ly endorsed the U.N.'s gay rights pro­tec­tion res­o­lu­tion—the first inter­na­tion­al con­sen­sus on gay rights of its kind, which will com­mis­sion a ​"glob­al report on dis­crim­i­na­tion against gays." On Wednes­day, Oba­ma will host a gay pride recep­tion at the White House to con­clude June's LGBT Pride Month.
Even as the last floats crawled through packed streets on Chicago's North Side and parade-goers retreat­ed to rooftop par­ties and packed bars, a feel­ing of excite­ment hung in the air. Reports of slashed float tires — a sus­pect­ed hate crime — did not damper the mood. The fight for gay rights is far from over in the Unit­ed States (not to men­tion the rest of the world), but this year, Chicago's LGBT com­mu­ni­ty had some­thing to celebrate.