At Green Party Convention,  Labor-Green Coalition is Invisible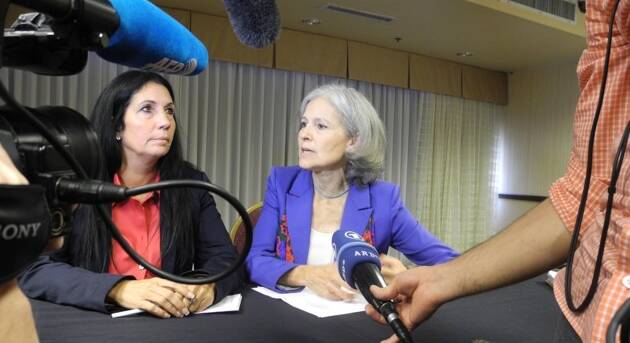 BAL­TI­MORE — If the Green Par­ty pres­i­den­tial nom­i­nat­ing con­ven­tion that end­ed here on July 15 is any indi­ca­tion, move­ment toward polit­i­cal coop­er­a­tion between orga­nized labor and the envi­ron­men­tal move­ment is still weak, with no sign of gath­er­ing strength.
The con­ven­tion — which nom­i­nat­ed physi­cian Jill Stein as the party's pres­i­den­tial can­di­date —did not fea­ture offi­cial par­tic­i­pa­tion by any labor union, or any labor-affil­i­at­ed orga­ni­za­tion. No elect­ed labor lead­ers spoke to the del­e­gates dur­ing the two-day offi­cial pro­ceed­ings, and par­ty activists aren't expect­ing any help from orga­nized labor in the cam­paign this fall.
Not even the Blue­Green Alliance both­ered to send a rep­re­sen­ta­tive. Formed in 2006 by unions and major envi­ron­men­tal lob­by­ing orga­ni­za­tions specif­i­cal­ly to fos­ter coop­er­a­tion between the two groups, the Blue­Green Alliance appears bad­ly wound­ed by the polit­i­cal fight over the pro­posed Key­stone XL pipeline. That con­tro­ver­sy result­ed in the high­ly pub­lic with­draw­al of Labor­ers Inter­na­tion­al Union from the Alliance ear­ly this year, and feel­ings are still raw.
None of this is very sur­pris­ing to Green Par­ty vet­er­an Howard Hawkins, a Team­sters mem­ber from Syra­cuse, N.Y. ​"The major­i­ty of Greens are work­ing class peo­ple, and many of them are in unions," he said. But labor lead­ers are dis­trust­ful of the green move­ment, and coop­er­a­tion only takes place in a hand­ful of iso­lat­ed areas, and at the low­est lev­els of the union hier­ar­chy, Hawkins said.
Hawkins had a close-up view of this dynam­ic two years ago, when he was the Green Par­ty can­di­date for gov­er­nor of New York. Hawkins said he opposed Demo­c­ra­t­ic Par­ty can­di­date Andrew Cuomo's plans for a state gov­ern­ment aus­ter­i­ty pro­gram that would harm pub­lic sec­tor work­ers, but he found lit­tle sup­port from unions. He could gain no back­ing even from New York's Work­ing Fam­i­lies Par­ty, which is heav­i­ly sup­port­ed by the Ser­vice Employ­ees Inter­na­tion­al Union (SEIU) and Com­mu­ni­ca­tions Work­ers of Amer­i­ca (CWA), he said. The Work­ing Fam­i­lies Par­ty ulti­mate­ly endorsed Cuo­mo in that race. ​"They often sup­port cor­po­rate Democ­rats, and even Repub­li­cans," Hawkins commented.
Labor's gen­er­al dis­in­ter­est in the Green Par­ty notwith­stand­ing, Hawkins said he would help lead an effort to secure an endorse­ment for Stein from the Unit­ed Elec­tri­cal, Radio and Machine Work­ers of Amer­i­ca (UE), which is affil­i­at­ed with nei­ther with the AFL-CIO nor the mori­bund Change to Win fed­er­a­tion. ​"I don't know if we'll get the endorse­ment of the UE, but we'll get a fair hear­ing from them," he said.
Stein's accep­tance address at the con­ven­tion reflect­ed the dis­tance between most of orga­nized labor and the Green Par­ty, con­tain­ing no men­tion of unions indi­vid­u­al­ly, despite a heavy empha­sis on green jobs as the log­i­cal means to both relieve unem­ploy­ment and advance envi­ron­men­tal goals.
Green jobs are right­ful­ly the cen­ter­piece of the party's plat­form, Hawkins added, and ought to be the basis of much greater coop­er­a­tion with orga­nized labor. For Hawkins, the Oba­ma admin­is­tra­tion's green jobs ini­tia­tives are a step for­ward, but far too mod­est to have the nec­es­sary effect. He crit­i­cized the Blue­Green Alliance for its fail­ure to embrace a more com­pre­hen­sive green jobs pro­gram that could lead the coun­try toward a car­bon-free econ­o­my. ​"The Blue­Green Alliance won't even come out against nuclear pow­er or so-called clean coal," so there are still enor­mous pol­i­cy dif­fer­ences to be over­come, Hawkins noted.
Hawkins con­clud­ed that he saw few signs that the ten­sion between orga­nized labor and the green move­ment would change any­time soon. Small-scale alliances will con­tin­ue to be forged at the local lev­el, he pre­dict­ed, par­tic­u­lar­ly if the Green Par­ty is suc­cess­ful in elect­ing more offi­cials at the munic­i­pal lev­el. But any larg­er change seems far off.
Hawkins' view seemed to be con­firmed in an indi­rect way by Erin Bzymek, press sec­re­tary for the Wash­ing­ton, D.C.-based Blue­Green Alliance. Asked for com­ment by Work­ing In These Times on the Green Par­ty con­ven­tion, Bzymek said the Alliance had no com­ment. Asked for some assess­ment of the broad­er state of the labor-green rela­tions, Byzymek again said she could make no comment.
Bruce Vail
is a Bal­ti­more-based free­lance writer with decades of expe­ri­ence cov­er­ing labor and busi­ness sto­ries for news­pa­pers, mag­a­zines and new media. He was a reporter for Bloomberg BNA's Dai­ly Labor Report, cov­er­ing col­lec­tive bar­gain­ing issues in a wide range of indus­tries, and a mar­itime indus­try reporter and edi­tor for the Jour­nal of Com­merce, serv­ing both in the newspaper's New York City head­quar­ters and in the Wash­ing­ton, D.C. bureau.