My south­east­ern Ohio town in the Appalachi­an foothills is a small, rur­al place where the demo­li­tion der­by is a hot tick­et, Wal­mart is the biggest store, and peo­ple in the sur­round­ing vil­lages must often dri­ve for 30 min­utes to gro­cery shop.
Athens holds the unfor­tu­nate dis­tinc­tion of being the poor­est coun­ty in the state: an area that is both stun­ning — with rolling hills, rocky cliffs, pas­tures, and ravines — and inac­ces­si­ble, far from industry.
It's here, at the Hazel Gins­burg well in Alexan­der Town­ship, that frack­ing com­pa­nies dump their waste. Trucks ship that sludge of tox­ic chem­i­cals and undrink­able water across the coun­try and inject it into my county's for­got­ten ground.
My step-grand­moth­er, the daugh­ter of a Ken­tucky min­er, used to tell me sto­ries of wash­ing her clothes in pol­lut­ed red water, down­stream from mines. Coal com­pa­nies exploit­ed employ­ees like her father, pay­ing him in com­pa­ny scrip and keep­ing him poor and exploit­ing the land.
That kind of abuse con­tin­ues. It's just changed shape. The Gins­burg well has a long his­to­ry of vio­la­tions, so many that the Ohio Depart­ment of Nat­ur­al Resources ordered it shut.
It was not.
It's a pit well, which looks like an old swim­ming pool, cov­ered by a tarp. No sign indi­cates the pres­ence of chem­i­cals, just a ​"no tres­pass­ing" sign. Alleged­ly, a guard will snap your pic­ture if you stop or turn your car around. The well is locat­ed in a res­i­den­tial area, with hous­es — some with swing sets — just down the road.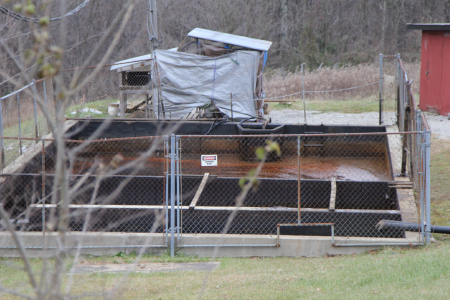 The frack waste stor­age pit of the Hazel Gins­burg well near Albany, Ohio. Note the makeshift shack behind the pit. (Image: slow​down​frack​ing​.word​press​.com)
In 2012, Made­line ffitch (whose last name is spelled low­er­case and with the dou­ble ff) was arrest­ed there. Her arrest was part of an action by a local anti-frack­ing group, Appalachia Resist. The then 31-year-old's arms were locked into cement-filled plas­tic drums just before the gates, block­ing the entrance.
Two years lat­er, Chris­tine Hugh­es, co-founder of the local Vil­lage Bak­ery, was arrest­ed protest­ing against anoth­er well site, as were sev­en oth­ers. My town called them ​"the Athens 8" and they were hailed as heroes.
Ffitch and her young fam­i­ly con­tin­ue to protest wells, despite the attempts of the frack­ing indus­try to, accord­ing to her, ​"paint any­one who is orga­niz­ing resis­tance around this stuff as out­siders or extrem­ists." Her hus­band, Peter Gib­bons-Ballew, was arrest­ed in a peace­ful protest in 2016, while ffitch watched, their baby strapped to her chest.
Our local econ­o­my now depends on tourism and farm­ing. The long, humid grow­ing sea­son makes this part of Appalachia ide­al for wild spe­cial­ties such as paw­paws, black wal­nuts and mush­rooms. And many hunters stay here to be near our famous bucks.
By con­t­a­m­i­nat­ing the envi­ron­ment, frack­ing waste­water wells threat­en all these busi­ness­es. In 2015, tank trucks inject­ed 4 mil­lion bar­rels of waste into my small coun­ty alone.
It's hard to get answers about what is in that waste. But Jason Trem­by, an engi­neer­ing pro­fes­sor at Ohio Uni­ver­si­ty, is lead­ing a local team to ​"clean" frack­ing waste­water using ultra­vi­o­let light, water soft­en­ing tech­niques, and a high pres­sure reactor.
It makes sense to me that a solu­tion to the wells might come not from out­side, but from peo­ple like ffitch, Hugh­es, and Trem­bly, work­ing and liv­ing in Appalachia. Peo­ple are used to doing things for them­selves here — and used to the com­mu­ni­ty help­ing the community.
I keep hop­ing more will be done to pro­tect this place. ​"You want to for­get it," begins the Appalachi­an-born Ruth Stone's poem ​"Garbage." But the frack­ing waste in the injec­tion wells of Appalachia can't be for­got­ten forever.
It'll bub­ble up, one way or anoth­er, before long.
(​"Amer­i­ca Dumps Its Frack­ing Waste in My Ohio Town" was orig­i­nal­ly pub­lished on Oth​er​Words​.org under a Cre­ative Com­mons license. It was adapt­ed from a larg­er sto­ry, com­mis­sioned by the Eco­nom­ic Hard­ship Report­ing Project, that appeared in the Guardian.)