Attack of the Killer Robots
The Pentagon's dream of a techno army is doomed to fail.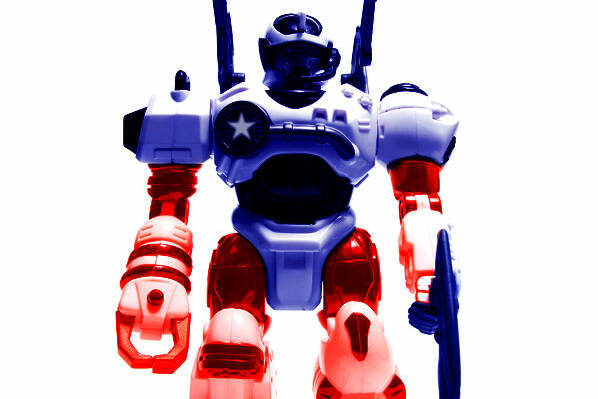 One of the most cap­ti­vat­ing sto­ry­lines in sci­ence fic­tion involves a night­mar­ish vision of the future in which autonomous killer robots turn on their cre­ators and threat­en the extinc­tion of the human race. Hol­ly­wood block­busters such as Ter­mi­na­tor and The Matrix are ver­sions of this cau­tion­ary tale, as was R.U.R. (Rossum's Uni­ver­sal Robots), the 1920 Czech play by Karel Capek that marked the first use of the word ​"robot."
'You don't want your defenses to bankrupt you. If it costs $100,000 to defeat a $500 roadside bomb, that doesn't sound like such a good strategy—as pretty as it may look on YouTube.'
In May 2007, the U.S. mil­i­tary reached an omi­nous mile­stone in the his­to­ry of war­fare – one that took an eerie step toward mak­ing this fic­tion a real­i­ty. After more than three years of devel­op­ment, the U.S. Army's 3rd Infantry Divi­sion based south of Bagh­dad, deployed armed ground robots.
Although only three of these weaponized ​"unmanned sys­tems" have hit Iraq's streets, to date, Nation­al Defense mag­a­zine report­ed in Sep­tem­ber 2007 that the Army has placed an order for anoth­er 80.
A month after the robots arrived in Iraq, they received ​"urgent mate­r­i­al release approval" to allow their use by sol­diers in the field. The mil­i­tary, how­ev­er, appears to be pro­ceed­ing with caution.
Accord­ing to a state­ment by Duane Got­vald, deputy project man­ag­er of the Defense Department's Robot­ic Sys­tems Joint Project Office, sol­diers are using the robots ​"for sur­veil­lance and peacekeeping/​guard oper­a­tions" in Iraq. By all accounts, robots have not fired their weapons in com­bat since their deploy­ment more than a year and a half ago.
But it is only a mat­ter of time before that line is crossed.
Future fight­ing force?
For many in the mil­i­tary-indus­tri­al com­plex, this tech­no­log­i­cal rev­o­lu­tion could not come soon enough.
Robots' strate­gic impact on the bat­tle­field, how­ev­er – along with the moral and eth­i­cal impli­ca­tions of their use in war – have yet to be debated.
Designed by Mass­a­chu­setts-based defense con­trac­tor Fos­ter-Miller, the Spe­cial Weapons Obser­va­tion Remote Direct-Action Sys­tem, or SWORDS, stands three feet tall and rolls on two tank treads.
It is sim­i­lar to the company's pop­u­lar TALON bomb dis­pos­al robot – which the U.S. mil­i­tary has used on more than 20,000 mis­sions since 2000 – except, unlike TALON, SWORDS has a weapons plat­form fixed to its chassis.
Cur­rent­ly fit­ted with an M249 machine gun that fires 750 rounds per minute, the robot can accom­mo­date oth­er pow­er­ful weapons, includ­ing a 40 mm grenade launch­er or an M202 rock­et launcher.
Five cam­eras enable an oper­a­tor to con­trol SWORDS from up to 800 meters away with a mod­i­fied lap­top and two joy­sticks. The con­trol unit also has a spe­cial ​"kill but­ton" that turns the robot off should it mal­func­tion. (Dur­ing test­ing, it had the nasty habit of spin­ning out of control.)
Devel­oped on a shoe­string bud­get of about $4.5 mil­lion, SWORDS is a prim­i­tive robot that gives us but a glimpse of things to come. Future mod­els – includ­ing sev­er­al pro­to­types being test­ed by the mil­i­tary – promise to be more sophisticated.
Con­gress has been a steady backer of this bud­ding indus­try, which has a long-term vision for tech­no­log­i­cal trans­for­ma­tion of the armed forces.
In 2001, the Defense Autho­riza­tion Act direct­ed the Pen­ta­gon to ​"aggres­sive­ly devel­op and field" robot­ic sys­tems in an effort to reach the ambi­tious goal of hav­ing one-third of the deep strike air­craft unmanned with­in 10 years, and one-third of the ground com­bat vehi­cles unmanned with­in 15 years.
To make this a real­i­ty, fed­er­al fund­ing for mil­i­tary robot­ics has sky­rock­et­ed. From fis­cal year 2006 through 2012, the gov­ern­ment will spend an esti­mat­ed $1.7 bil­lion on research for ground-based robots, accord­ing to the con­gres­sion­al­ly fund­ed Nation­al Cen­ter for Defense Robot­ics. This triples what was allo­cat­ed annu­al­ly for such projects as recent­ly as 2004.
The cen­ter­piece of this roboti­cized fight­ing force of the future will be the 14 net­worked, manned and unmanned sys­tems that will make up the Army's Future Com­bat Sys­tem – should it ever get off the ground. The cre­ation of the weapons sys­tems is also one of the most con­tro­ver­sial and expen­sive the Pen­ta­gon has ever undertaken.
In July 2006, the Defense Department's Cost Analy­sis Improve­ment Group esti­mat­ed that its price tag had risen to more than $300 bil­lion – an increase of 225 per­cent over the Army's orig­i­nal $92 bil­lion esti­mate in 2003, and near­ly half of Pres­i­dent Obama's pro­posed stim­u­lus package.
'

War in a can'

Despite the defense world's excite­ment and the dra­mat­ic effect robots have on how war is fought, U.S. main­stream media cov­er­age of SWORDS has been vir­tu­al­ly nonexistent.

Worse, the scant atten­tion these robots have received has often been lit­tle more than free pub­lic­i­ty. Time mag­a­zine, for exam­ple, named SWORDS one of the ​"coolest inven­tions" of 2004. ​"Insur­gents, be afraid," is how its brief puff piece began. And while most arti­cles are not that one-sided, any skep­ti­cism is usu­al­ly men­tioned as a side note.

On the oth­er hand, pri­or to the deploy­ment of SWORDS, numer­ous argu­ments in their defense could reg­u­lar­ly be found in the press. Accord­ing to their pro­po­nents – gen­er­al­ly the robot's design­ers or defense offi­cials – robots will not have any of the pesky weak­ness­es of flesh-and-blood soldiers.

"They don't get hun­gry," Gor­don John­son, who head­ed a pro­gram on unmanned sys­tems at the Joint Forces Com­mand at the Pen­ta­gon told the New York Times in 2005. ​"They're not afraid. They don't for­get their orders. They don't care if the guy next to them has just been shot. Will they do a bet­ter job than humans? Yes."

Ronald Arkin, a lead­ing roboti­cist at Geor­gia Tech, whose research the Defense Depart­ment funds, argues with­out a sense of irony that autonomous robots will be more humane than humans. Atroc­i­ties like the mas­sacre by U.S. troops in Haditha, Iraq, would be less like­ly with robots, he told The Atlanta in Novem­ber 2007, because they won't have emo­tions that ​"cloud their judg­ment and cause them to get angry."

Robots are also pro­mot­ed as being cost-effec­tive. On top of the annu­al salary and extra pay for com­bat duty, the gov­ern­ment invests a great deal in recruit­ing, train­ing, hous­ing and feed­ing each sol­dier. Not to men­tion the costs of health­care and death ben­e­fits, should a sol­dier be injured or killed.

By com­par­i­son, the cur­rent $245,000 price tag on SWORDS – which could drop to $115,000 per unit if they are mass-pro­duced – is a steal.

After attend­ing a con­fer­ence on mil­i­tary robot­ics in Bal­ti­more, jour­nal­ist Steve Feath­er­stone summed up their func­tion in Harper's in Feb­ru­ary 2007: ​"Robots are, quite lit­er­al­ly, an off-the-shelf war-fight­ing capa­bil­i­ty – war in a can."

And the most pop­u­lar talk­ing point in favor of armed robots is that they will save U.S. sol­diers' lives. To dri­ve the point home, pro­po­nents pose this rhetor­i­cal ques­tion: Would you rather have a machine get blown up in Iraq, or your son or daughter?
Remove from reality
At first glance, these ben­e­fits of mil­i­tary robots sound sen­si­ble. But they fall apart upon examination.
Armed robots will be far from cost effec­tive. Until these machines are giv­en greater auton­o­my – which is cur­rent­ly a dis­tant goal – the human sol­dier will not be tak­en out of the loop. And because each oper­a­tor can now han­dle only one robot, the num­ber of sol­diers on the Pentagon's pay­roll will not be slashed any­time soon. More real­is­ti­cal­ly, SWORDS should best be viewed as an addi­tion­al, expen­sive remote-con­trolled weapons sys­tem at the military's disposal.
A dif­fer­ent per­spec­tive is gained when the price of the robot is com­pared with the low-tech, low-cost weapon­ry that U.S. forces face on a dai­ly basis in Iraq.
"You don't want your defens­es to be so expen­sive that they'll bank­rupt you," says Sharon Wein­berg­er, a reporter for Wired's Dan­ger Room blog. ​"If it costs us $100,000 to defeat a $500 road­side bomb, that doesn't sound like such a good strat­e­gy – as pret­ty as it may look on YouTube and in press releases."
The claim that robots would be more eth­i­cal than humans sim­i­lar­ly runs con­trary to both evi­dence and basic com­mon sense.
Lt. Col. Dave Gross­man writes in his 1996 book On Killing that despite the por­tray­al in our pop­u­lar cul­ture of vio­lence being easy, ​"There is with­in most men an intense resis­tance to killing their fel­low man. A resis­tance so strong that, in many cir­cum­stances, sol­diers on the bat­tle­field will die before they can over­come it."
One of the most effec­tive solu­tions to this quandary, the mil­i­tary has dis­cov­ered, is to intro­duce dis­tance into the equa­tion. Stud­ies show that the far­ther the would-be killer is from the vic­tim, the eas­i­er it is to pull the trig­ger. Death and suf­fer­ing become more san­i­tized – the human­i­ty of the ene­my can be more eas­i­ly denied. By giv­ing the Army and Marines the capa­bil­i­ty to kill from greater dis­tances, armed robots will make it eas­i­er for sol­diers to take life with­out trou­bling their consciences.
The Rev. G. Simon Harak, an ethi­cist and the direc­tor of the Mar­quette Uni­ver­si­ty Cen­ter for Peace­mak­ing, says, ​"Effec­tive­ly, what these remote con­trol robots are doing is remov­ing peo­ple far­ther and far­ther from the con­se­quences of their actions."
More­over, the sim­i­lar­i­ty that the robots have to the life-like video games that young peo­ple grow up play­ing will blur real­i­ty further.
"If guys in the field already have dif­fi­cul­ties dis­tin­guish­ing between civil­ians and com­bat­ants," Harak asks, ​"what about when they are look­ing through a video screen?"
Rather than being a cause for con­cern, how­ev­er, Maj. Michael Pot­tratz at the Army's Arma­ment Research, Devel­op­ment and Engi­neer­ing Cen­ter in Picatin­ny Arse­nal, N.J., says in an e‑mail that devel­op­ers are in the process of mak­ing the con­trol unit for the SWORDS more like a ​"Game Boy type controller."
It is not only pos­si­ble but like­ly that a surge of armed robots would lead to an increase in the num­ber of civil­ian casu­al­ties, not a decrease.
The sup­posed con­ver­sa­tion-ender that armed robots will save U.S. lives isn't near­ly as clear as it is often pre­sent­ed, either. ​"If you take a nar­row view, few­er sol­diers would die," Harak says, ​"but that would be only on the battlefield."
As hap­pens in every war, how­ev­er, those fac­ing new tech­nol­o­gy will adapt to them.
"If those peo­ple being attacked feel help­less to strike at the robots them­selves, they will try to strike at their com­mand cen­ters," Harak says, ​"which might well be back in the Unit­ed States or among civil­ian cen­ters. That would then dis­place the bat­tle­field to man­u­fac­tur­ing plants and research facil­i­ties at uni­ver­si­ties where such things are being invent­ed or assem­bled… The whole notion that we can be invul­ner­a­ble is just a delusion."
The new mercenaries
Even if gun-tot­ting robots could reduce U.S. casu­al­ties, oth­er dan­ger­ous con­se­quences of their use are overlooked.
Fri­da Berri­g­an, a senior pro­gram asso­ciate at the New Amer­i­ca Foundation's Arms and Secu­ri­ty Ini­tia­tive and In These Times con­tribut­ing edi­tor, argues that sim­i­lar to the tens of thou­sands of unac­count­able pri­vate secu­ri­ty con­trac­tors in Iraq, robots will help those in pow­er ​"get around hav­ing a draft, high­er casu­al­ty fig­ures and a real polit­i­cal debate about how we want to be using our mil­i­tary force."
In effect, by reduc­ing the polit­i­cal cap­i­tal at stake, robots will make it far eas­i­er for gov­ern­ments to start wars in the first place.
Since the ris­ing U.S. death toll appears to be the pri­ma­ry fac­tor that has turned Amer­i­cans against the war – rather than its dev­as­tat­ing eco­nom­ic costs or the far greater suf­fer­ing of the Iraqi peo­ple – armed robots could also slow the speed with which future wars are brought to an end.
When Sen. John McCain (R‑Ariz.) infa­mous­ly remarked that he would be fine with stay­ing in Iraq for 100 years, few not­ed that he qual­i­fied that state­ment by say­ing, ​"as long as Amer­i­cans are not being injured or harmed or wound­ed or killed."
Robot sol­diers will be sim­i­lar to mer­ce­nar­ies in at least one more respect. They both serve to fur­ther erode the state's long­stand­ing monop­oly on the use of force.
"If war no longer requires peo­ple, and robots are able to con­duct war or acts of war on a large scale, then gov­ern­ments will no longer be need­ed to con­duct war," Col. Thomas Cow­an Jr. wrote in a March 2007 paper for the U.S. Army War Col­lege. ​"Non-state actors with plen­ty of mon­ey, access to the tech­nol­o­gy and a few con­trollers will be able to take on an entire nation, par­tic­u­lar­ly one which is not as tech­no­log­i­cal­ly advanced."
This may not be farfetched.
In Decem­ber 2007, For­tune mag­a­zine told the sto­ry of Adam Get­tings, ​"a 25-year-old self-taught engi­neer," who start­ed a com­pa­ny in Sil­i­con Val­ley called Robo­t­ex. With­in six months, the com­pa­ny built an armed robot sim­i­lar to the SWORDS – except that it costs a mere $30,000 to $50,000. And these costs will drop.
As this hap­pens, and as the lethal tech­nol­o­gy involved becomes more acces­si­ble, Noël Sharkey, a pro­fes­sor of Arti­fi­cial Intel­li­gence and Robot­ics at the Uni­ver­si­ty of Sheffield in the Unit­ed King­dom, warns that it will be only a mat­ter of time before extrem­ist groups or ter­ror­ists devel­op and use robots.
Evi­dence now sug­gests that using armed robots to com­bat insur­gen­cies would be coun­ter­pro­duc­tive from a mil­i­tary perspective.
One study, pub­lished in the jour­nal Inter­na­tion­al Orga­ni­za­tion in June 2008, by Jason Lyall, an asso­ciate pro­fes­sor of inter­na­tion­al rela­tions at Prince­ton, and Lt. Col. Isa­iah Wil­son III, who was the chief war plan­ner for the 101st Air­borne Divi­sion in Iraq and who cur­rent­ly teach­es at West Point, looks at 285 insur­gen­cies dat­ing back to 1800.
After ana­lyz­ing the cas­es, Lyall and Wil­son con­clude that the more mech­a­nized a mil­i­tary is, the low­er its prob­a­bil­i­ty of success.
"All coun­terin­sur­gent forces must solve a basic prob­lem: How do you iden­ti­fy the insur­gents hid­ing among non­com­bat­ant pop­u­la­tions and deal with them in a selec­tive, dis­crim­i­nate fash­ion?" Lyall writes in an e‑mail.
To gain such knowl­edge, troops must cul­ti­vate rela­tion­ships with the local pop­u­la­tion. This requires cul­tur­al aware­ness, lan­guage skills and, impor­tant­ly, a will­ing­ness to share at least some of the same risks as the local population.
The Coun­terin­sur­gency Field Man­u­al, which was released in Decem­ber 2006 and co-authored by Gen. David Petraeus, would seem to agree.
"Ulti­mate suc­cess in COIN [coun­terin­sur­gency] is gained by pro­tect­ing the pop­u­lace, not the COIN force," the man­u­al states. ​"If mil­i­tary forces remain in their com­pounds, they lose touch with the peo­ple, appear to be run­ning scared, and cede the ini­tia­tive to the insurgents."
Mech­a­nized mil­i­taries, how­ev­er, put greater empha­sis on pro­tect­ing their own sol­diers. Con­se­quent­ly, Lyall and Wil­son argue in their study that such forces lack the infor­ma­tion nec­es­sary to use force dis­crim­i­nate­ly, and there­fore, ​"often inad­ver­tent­ly fuel, rather than sup­press, insurgencies."
Giv­en such find­ings, deploy­ing armed robots in greater num­bers in Iraq or Afghanistan would like­ly only enflame resis­tance to the occu­pa­tion, and, in turn, lead to greater carnage.
To under­stand this point, put your­self in the shoes of an Iraqi or Afghani. How could see­ing a robot with a machine gun rum­ble down your street or point its weapon at your child elic­it any reac­tion oth­er than one of ter­ror or extreme anger? What would you do under such cir­cum­stances? Who would not resist? And how would you know that some­one is con­trol­ling the robot?
For all the Iraqis know, SWORDS is the autonomous killer of sci­ence fic­tion – Amer­i­can-made, of course.
The hope that killer robots will low­er U.S. casu­al­ties may excite mil­i­tary offi­cials and a war-weary pub­lic, but the grave moral and eth­i­cal impli­ca­tions – not to men­tion the dubi­ous strate­gic impact – asso­ci­at­ed with their use should give pause to those in search of a quick tech­no­log­i­cal fix to our woes.
By dis­tanc­ing sol­diers from the hor­rors of war and mak­ing it eas­i­er for politi­cians to resort to mil­i­tary force, armed robots will like­ly give birth to a far more dan­ger­ous world.
Eric Ston­er
is a New York-based con­trib­u­tor to
For­eign Pol­i­cy in Focus
. His arti­cles have appeared in
The Nation
,
NACLA
,
The Indypen­dent
and
The Huff­in­g­ton Post
.