An Unelected Board May Be Implementing Austerity in a City Near You
Fiscal control boards are taking control over the finances of cities across the United States.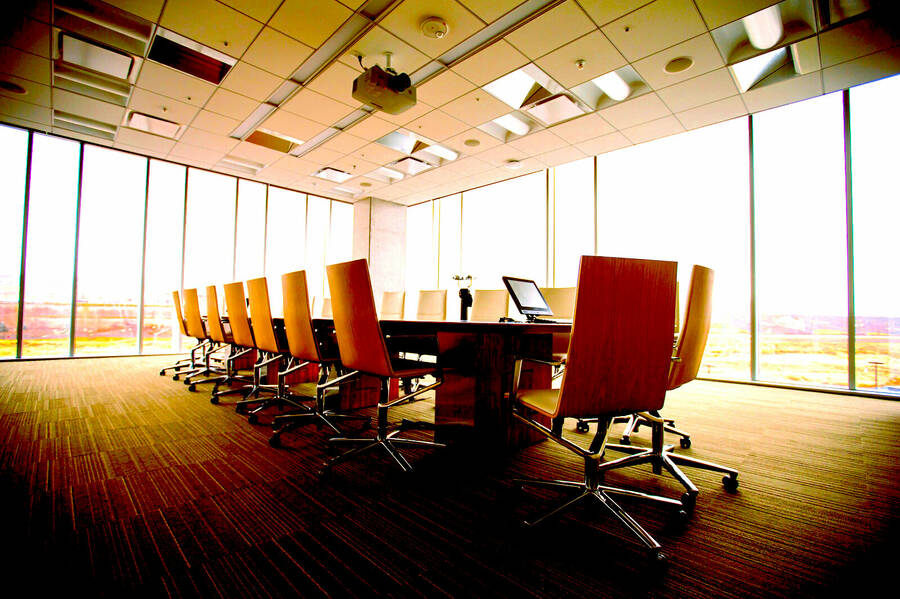 This post first appeared at Cen­tro de Peri­odis­mo Inves­tiga­ti­vo.
Regard­less of their size, the num­ber of res­i­dents or the fis­cal prob­lems they have, U.S. cities under fis­cal con­trol boards have faced a for­mu­la that con­sists pri­mar­i­ly of the fir­ing of pub­lic employ­ees, pen­sion cuts, an increase in the cost of col­lege edu­ca­tion, and a reduc­tion in essen­tial ser­vices, such as health. The struc­tures, the laws that cre­ate them and the names of the boards vary; the pub­lic poli­cies they impose, not so much.
Despite the nor­mal­iza­tion of the boards and their com­mon­ly broad pow­ers, the fed­er­al gov­ern­ment and Con­gress lack con­trol mech­a­nisms, stud­ies, data­bas­es or any enti­ty that active­ly mon­i­tors their impact or effi­cien­cy, the Cen­ter for Inves­tiga­tive Jour­nal­ism (CIJ) in Puer­to Rico found.
"In the Unit­ed States, there is no cen­tral­ized infor­ma­tion across states (about Fis­cal Con­trol Boards)," said Deb­o­rah Kobes, author of the the­sis Out of Con­trol?: Local Democ­ra­cy Fail­ure and Fis­cal Con­trol Boards, pub­lished in 2009. ​"There also isn't a real def­i­n­i­tion about what a board is."
Some cities have a receiv­er, which is a per­son appoint­ed to take con­trol over a local agency or gov­ern­ment. It can car­ry dif­fer­ent titles: coor­di­na­tor, super­vi­sor or emer­gency man­ag­er, as was the case in Detroit.
"It might not be a full board. It might be just one per­son that is appoint­ed, that comes with the back­ing sup­port of the state, but the char­ac­ter­is­tics or the pow­ers, align with what is thought of as a con­trol board. Giv­en the range of the way they are imple­ment­ed, there was no sin­gle way to iden­ti­fy all exist­ing exam­ples," said the doc­tor in urban eco­nom­ic policy.
Boards are cre­at­ed by state laws, such as Detroit, which has had two boards with dif­fer­ent names since 2013. They are also cre­at­ed by con­gres­sion­al laws, such as Puer­to Rico and Wash­ing­ton, D.C. In both sce­nar­ios, they are con­ceived as tem­po­rary enti­ties, with the promise of improv­ing the fis­cal sit­u­a­tion, bal­anc­ing bud­gets, pay­ing debts and recov­er­ing access to the bond mar­ket in local­i­ties with a ​"fis­cal emergency".
But the social costs of the mea­sures tak­en by the boards to achieve their objec­tives do not appear to enter the equa­tion, are being over­looked by pol­i­cy­mak­ers or are con­sid­ered an accept­able col­lat­er­al dam­age to improve gov­ern­ment finances. Cit­i­zens, on the oth­er hand, often have expec­ta­tions that boards will bring effec­tive­ness to the gov­ern­ment, improve the local econ­o­my or end gov­ern­ment corruption.
Detroit, for instance, entered bank­rupt­cy in 2013, once the Detroit Finan­cial Advi­so­ry Board was appoint­ed. When the Chap­ter 9 process was com­plet­ed in 2014, anoth­er board named the Detroit Finan­cial Review Com­mis­sion was formed. In Decem­ber 2017 the city will present its third bal­anced fis­cal bud­get, an event that marks the end of the func­tions of the 11-mem­ber com­mis­sion that con­trols the city's finances.
Now some say that Detroit is bloom­ing in ref­er­ence to sev­er­al infra­struc­ture projects and com­merce in the urban cen­ter. How­ev­er, Adela Nieves, a Puer­to Rican com­mu­ni­ty orga­niz­er liv­ing in Detroit for 11 years, ques­tions: ​"Detroit is back, but for whom?"
City admin­is­tra­tors are claim­ing suc­cess­es in fis­cal man­age­ment, but sev­er­al social indi­ca­tors reflect that, between 2007 and 2015, the qual­i­ty of life of some of its res­i­dents deteriorated.
In 2007, before the ​"fis­cal emer­gency" was declared and the Board's arrived, the medi­an house­hold income in Detroit was $28,097, while in 2015 it was $25,980. As for peo­ple 65 years of age and old­er below the pover­ty line, the trend is on the rise: in 2007 it was 17.5% and in 2015 it reached 19.1%, accord­ing to the Cen­sus Bureau.
"This goes against the ten­den­cy to reduce pover­ty in adults over 65 that the Unit­ed States has had for decades," said social sta­tis­tics expert Luis Avilés, pro­fes­sor of the Grad­u­ate School of Pub­lic Health at the Uni­ver­si­ty of Puer­to Rico.
"In addi­tion, to the extent that pover­ty avoids main­tain­ing pre­ven­tive care for chron­ic dis­eases, such as dia­betes or hyper­ten­sion, the health sys­tem will address more seri­ous and com­pli­cat­ed cas­es that may have been avoid­ed. It rep­re­sents a finan­cial bur­den on the health sys­tem," said Avilés.
The num­ber of home­own­ers decreased in Detroit from 55.41% in 2007 before the Board to 46.57% in 2015.
"The con­se­quence this has for the devel­op­ment of com­mu­ni­ties is ter­ri­ble," Avilés not­ed. ​"When you have few­er peo­ple who are prop­er­ty own­ers in a com­mu­ni­ty, social dete­ri­o­ra­tion increas­es. First of all, because you have peo­ple who do not estab­lish com­mu­ni­ty bonds, because they are peo­ple who rent. Today they rent here and in a year they rent some­where else. Com­mu­ni­ty ties are lost. Then, you have peo­ple there that hard­ly know each oth­er; peo­ple become more tran­sient. Maybe peo­ple do not invest in improv­ing prop­er­ty and the qual­i­ty of res­i­dences drops a lot. Neigh­bor­hoods change dras­ti­cal­ly. So, if there is the pos­si­bil­i­ty of crimes or assaults, they tend to be high­er in places where there are few­er homeowners."
In Wash­ing­ton, D.C., where the con­trol board, whose name was Dis­trict of Colum­bia Finan­cial Respon­si­bil­i­ty and Man­age­ment Assis­tance Author­i­ty, oper­at­ed from 1995 to 2001, home­own­ers increased from 36.4% in 1990 to 42.7% in 2001. How­ev­er, this increase was accom­pa­nied by the dis­place­ment of peo­ple, most­ly black, by white res­i­dents with high­er incomes, in an urban trans­for­ma­tion process known as gentrification.
"Here the rent is expen­sive, because that was one of the strate­gies of the Finan­cial Con­trol Board. In the 1990s, when peo­ple start­ed to get fired, part of the strat­e­gy was to reduce the num­ber of employ­ees in the Dis­trict, and most of the Dis­trict employ­ees under Mar­i­on Bar­ry's admin­is­tra­tion were Afro and minori­ties. So when you move all those peo­ple, you cre­ate a vac­u­um with­in real estate and hous­ing, and spec­u­la­tors come, buy, sit and wait for the invest­ment cli­mate to change… But that's part of the wave, even Jesse Jack­son (the civ­il rights activist) com­plained; there were protests here… But there was no ​'Lati­no and Afro coali­tion against the Board', that did not hap­pen. It man­i­fest­ed itself organ­i­cal­ly, because they saw the Board had to exer­cise its duties. But we did not like the fact that the Board also had the pow­er to destroy your life. Because when they fire you and you're forty-some­thing, start­ing over… ", recalled Rolan­do Roe­buck, a black Puer­to Rican based in D.C. who worked for the city's Human Resources Depart­ment from 1979 to 2008.
"There are parts of D.C. that were once 100% black and turned white because peo­ple were forced to leave. A friend of mine has a house in an area that was entire­ly black and now his is one of the only two African-Amer­i­can fam­i­lies left; I think that's gen­tri­fi­ca­tion," said John Hill, a pub­lic accoun­tant who ini­tial­ly over­saw Wash­ing­ton, D.C. from the Gen­er­al Account­ing Office and from 1995 to 1999 was exec­u­tive direc­tor of the city's Con­trol Board. Now Hill is head of finance for Detroit and a mem­ber of the Detroit Finan­cial Review Commission.
"The over­sight board (Detroit Finan­cial Review Com­mis­sion) has no respon­si­bil­i­ties and no account­abil­i­ty towards the com­mu­ni­ty, nor they care about what they impose on its peo­ple," said Nieves, who spoke from the liv­ing room of her sub­ur­ban South­west Detroit home, a neigh­bor­hood she describes as pre­dom­i­nant­ly Latin that is also known as Mexicantown.
Hous­es have the typ­i­cal attic cab­in style of Amer­i­can homes, many of which, espe­cial­ly in this city, have been reduced to ruins and con­vert­ed into ​"porno­graph­ic images of pover­ty." That's how Nieves describes the tourist prac­tice of com­ing to take pic­tures of the aban­don­ment and dete­ri­o­ra­tion of a city that in the 1950s had a pop­u­la­tion that reached a mil­lion, and now con­sists of just over 600,000 res­i­dents. In Nieves's street, most of the hous­es are stand­ing and in good con­di­tion. One Sun­day after­noon you breathe a calm, qui­et air in the neigh­bor­hood. She works with immi­grants and peo­ple with addic­tion prob­lems and points out that the Detroit Finan­cial Review Com­mis­sion is dis­con­nect­ed from people.
"They have no his­to­ry, no expe­ri­ence with what is going on here, and they are try­ing to be experts in telling us what to do in our community."
A short dis­tance from down­town Detroit, with its clean streets, a foun­tain round­about and Ford Sta­di­um, a des­o­late land­scape of vacant lots where hous­es were demol­ished pops up. There are brick build­ings in good con­di­tion bor­der­ing the remains of homes that were con­sumed by fire. ​"Diana Ross (the singer), was raised here," says Detroi­ter Char­lie LeDuff, point­ing to an aban­doned hous­ing com­plex. It is Sun­day and there are no peo­ple or cars near Gra­tiot Avenue. ​"This is Detroit," says LeDuff, a jour­nal­ist and author of the book, Detroit, An Amer­i­can Autop­sy, at the wheel of his black Cadillac.
The expan­sion of the boards
The mech­a­nism of fis­cal con­trol boards has been in effect since the late 19th cen­tu­ry in the Unit­ed States. It began to expand after the Great Depres­sion of 1930.
Only between 1975 and 2009, there were at least 120 cities and coun­ties where enti­ties of this kind were appoint­ed across the Unit­ed States, accord­ing to Kobes. For 2009, there were 49 of them active in 15 states. There are places with only 171 res­i­dents where a board has been named, like West Mill­grove Vil­lage in Ohio, which is a state where sur­pris­ing­ly 31 boards have been appoint­ed in dif­fer­ent cities and coun­ties in the last decades.
One of the boards that also draws atten­tion for its longevi­ty is in the city of Philadel­phia, Penn­syl­va­nia. It was named since 1991 and is still active.
"Since the Great Reces­sion of 2008, many munic­i­pal­i­ties have faced dif­fi­cult fis­cal con­di­tions. Dur­ing these fis­cal emer­gen­cies, states have often inter­vened in an attempt to min­i­mize the dam­age done to cred­it mar­kets and pub­lic safe­ty," says econ­o­mist and senior deputy state trea­sur­er in the Michi­gan Depart­ment of Trea­sury, Eric Scor­sone, in his paper Munic­i­pal Fis­cal Emer­gency Laws.
In 2016, 28 states, the Dis­trict of Colum­bia and one ter­ri­to­ry (Puer­to Rico) had laws that allow them to inter­vene in the finances of their munic­i­pal­i­ties using con­trol boards, an emer­gency man­ag­er or oth­er mech­a­nism, as James Spi­ot­to, Ann Ack­er and Lau­ra Apple­by point out in the book Munic­i­pal­i­ties in Dis­tress? How States and Investors Deal with Local Gov­ern­ment Finan­cial Emer­gen­cies.
"There's actu­al­ly very lit­tle lit­er­a­ture on con­trol boards," regrets Alice Rivlin, who presided over the Wash­ing­ton D.C. fis­cal con­trol board from 1998 to 2001, which is emblem­at­ic for being one of the first in ​"mod­ern times."
The aus­ter­i­ty handbook
In 1995, the Gen­er­al Account­ing Office (GAO) of the Unit­ed States sum­ma­rized the actions tak­en in five cities with fis­cal con­trol boards to improve their finan­cial health. The agency vis­it­ed Boston, Chica­go (with a school board), Cleve­land, New York and Philadel­phia, and report­ed that: ​"All five cities cut costs by reduc­ing the num­ber of their full-time employ­ees. For exam­ple, by 1978, New York reduced its work­force by about 20 per­cent, or 60,000 employ­ees, pri­mar­i­ly through invol­un­tary lay­offs. When it improved its finan­cial health in the 1980s, the city increased its work­force to pre­vi­ous lev­els. Philadel­phia did not reduce its num­ber of employ­ees through invol­un­tary lay­offs. How­ev­er, Philadel­phia nego­ti­at­ed with labor unions, which led to imme­di­ate reduc­tions in ben­e­fits and freeze in wages."
In Puer­to Rico, the five-year fis­cal plan sub­mit­ted by Gov. Ricar­do Rosselló's admin­is­tra­tion and approved by the Fis­cal Con­trol Board includes health cuts, wage freezes, reduc­tion of ​"non-essen­tial ser­vices" and 179 pub­lic school clos­ings. In addi­tion, the gov­ern­ment rec­om­mend­ed a $520 mil­lion cut over 10 years to the sub­sidy grant­ed to the Uni­ver­si­ty of Puer­to Rico. Detroit has also imple­ment­ed cost increas­es for col­lege edu­ca­tion, a move New York City made as well under the board. ​"In 1976, amidst the tur­moil of a seri­ous fis­cal cri­sis in the city, the free enroll­ment pol­i­cy was removed under pres­sure from the fed­er­al gov­ern­ment, the state and the finan­cial com­mu­ni­ty to res­cue the city from bank­rupt­cy," says the CUNY website.
In D.C., the Con­trol Board made cuts in the uni­ver­si­ty that, in Rivlin's opin­ion, went too far.
"The Uni­ver­si­ty was not very effi­cient­ly run and had an aging fac­ul­ty that could be cut back. I wasn't real­ly part of this deci­sion because I wasn't on the Board, but I think in ret­ro­spect, they cut too much. They had a hard prob­lem and since they didn't want to cut schools and they didn't want to cut social ser­vices, they had to cut some­where and so they did some pret­ty dras­tic cut­ting in some places," Rivlin said.
In 2004, local funds for the Uni­ver­si­ty of the Dis­trict of Colum­bia were $49 mil­lion, 57% less than in 1990 when it was $113 mil­lion. The largest reduc­tion occurred between 1994 and 1997 — at the cli­max of the D.C. fis­cal cri­sis — when local funds fell by $46 mil­lion. Dur­ing that peri­od, approx­i­mate­ly 40% of the uni­ver­si­ty's degree pro­grams were elim­i­nat­ed. The num­ber of stu­dents enrolled in cred­it cours­es fell from about 12,000 in 1990 to 5,000 in 2004, accord­ing to The Untold Sto­ry of D.C. Bud­get study, by Ed Lazere and Idara Nick­el­son of the D.C. Fis­cal Pol­i­cy Institute.
Fis­cal con­trol boards fol­low a glob­al­ly test­ed for­mu­la that is well-known for not being effec­tive in improv­ing the qual­i­ty of life of the pop­u­la­tion: austerity.
In some cas­es, the nar­ra­tive and the aus­ter­i­ty sce­nario begin to be built by local gov­ern­ments before the board's entry. In Puer­to Rico, aus­ter­i­ty mea­sures began to be accen­tu­at­ed in 2009 under the admin­is­tra­tion of for­mer Gov. Luis For­tuño with the approval of a law under which thou­sands of pub­lic employ­ees were dismissed.
By 2015 for­mer Gov. Ale­jan­dro Gar­cía-Padil­la com­mis­sioned a report on the Puer­to Rican government's fis­cal sit­u­a­tion to econ­o­mist Anne Krueger, for­mer deputy direc­tor of the Inter­na­tion­al Mon­e­tary Fund. The rec­om­men­da­tions of the Krueger Report includ­ed increas­es in tax­es, expen­di­ture reduc­tions, pen­sion reforms, and cuts in the num­ber of teachers.
As for Rivlin, in 1990, before becom­ing chair of the Con­trol Board, she rec­om­mend­ed a $700 mil­lion cut for D.C. in her Rivlin Com­mis­sion Report.
"(The Rivlin Com­mis­sion) was not a gov­ern­ment thing. It was a pri­vate­ly fund­ed com­mis­sion, and we had very good peo­ple and a good staff from an account­ing firm, KPMG. And we wrote a report on the future of gov­ern­ment finances. We rec­om­mend­ed sub­stan­tial cuts in spend­ing and staff reduc­tions and mod­ern­iza­tion of com­put­er sys­tems," said Rivlin, who ran the Fed­er­al Office of Man­age­ment and Bud­get dur­ing Clin­ton's presidency.
Rivlin's cur­rent office in the Brook­ings Insti­tute build­ing in Wash­ing­ton, D.C. — where she is a senior mem­ber in the area of eco­nom­ics and health pol­i­cy — is sim­ple. A desk, three book­cas­es and pho­tos of trips, fam­i­ly and oth­ers with Bill Clin­ton or Alan Greenspan, for­mer chair­man of the Fed­er­al Reserve, where Rivlin was vice-chair of the board of gov­er­nors between 1996 and 1999.
At the time when the Fis­cal Con­trol Board was named in Wash­ing­ton, D.C. in 1995, ​"they did a lot of hard work, cut­ting expens­es and rais­ing tax col­lec­tion," recalled Rivlin, who helped cre­ate the law that imposed the board in Wash­ing­ton, D.C., mod­eled after the Penn­syl­va­nia law.
In Detroit, the rec­om­mend­ed bud­get for fis­cal year 2013, pre­sent­ed by May­or Dave Bing to the City Coun­cil in April 2012, includ­ed the elim­i­na­tion of 2,500 job posts and a $50 mil­lion expense reduc­tion, ​"to align income with expens­es and move for­ward in elim­i­nat­ing the sig­nif­i­cant deficit of the Gen­er­al Fund," accord­ing to an analy­sis of the bud­get by Scorsone.
A year lat­er, Michi­gan Gov. Rick Sny­der declared Detroit in a fis­cal emer­gency, named Kevyn D. Orr as an ​"emer­gency finan­cial man­ag­er" and the city went bank­rupt under Chap­ter 9 of the fed­er­al bank­rupt­cy code. In 2015, already out of bank­rupt­cy and with the Detroit Finan­cial Review Com­mis­sion in place, a reduc­tion of 6.7% was imple­ment­ed in the pen­sions of 12,000 pub­lic employ­ees and 5,466 edu­ca­tion sys­tem employ­ees were dismissed.
While par­tic­i­pa­to­ry bud­gets are imple­ment­ed in some dis­tricts and cities in the Unit­ed States, such as Boston, in oth­ers where boards are estab­lished, most of them have veto pow­er over the use of the city bud­get, such as Detroit, Wash­ing­ton D.C., New York State, Puer­to Rico and Penn­syl­va­nia. That is, peo­ple do not par­tic­i­pate in how the boards will use the mon­ey tax­pay­ers give, elect­ed offi­cials are lim­it­ed in their abil­i­ty to decide on the use of those funds and deci­sions about the use of pub­lic mon­ey are made by an unelect­ed group, which does not go through any scrutiny.
Accord­ing to Rivlin, the cri­te­ria fol­lowed by the Wash­ing­ton D.C. Fis­cal Con­trol Board to car­ry out lay­offs and bud­get cuts was to ​"pre­serve ser­vices for the low-income population."
But Lazere, exec­u­tive direc­tor of the D.C. Fis­cal Pol­i­cy Insti­tute, reveals a dif­fer­ent panora­ma: ​"What we had were real­ly sub­stan­tial cut­backs to a lot of things, from edu­ca­tion, hous­ing and so on. There were a lot of things that were need­ed to help peo­ple suc­ceed that were cut in the midst of fis­cal aus­ter­i­ty. We did a study about how the city bud­get had changed from 1992 to 2000, which includ­ed the peri­od of the Con­trol Board. You can prob­a­bly imag­ine the Board say­ing ​'we need to get our finances in order and fix them' or what­ev­er they said. They went into an aus­ter­i­ty process, despite know­ing there was a high unem­ploy­ment rate and a need to stim­u­late the economy."
"There was room for cut­ting because, what we dis­cov­ered when we did the Rivlin Report was that there were lay­ers of bureau­cra­cy they real­ly didn't need. Cut­ting back on that was actu­al­ly very good, not for the peo­ple who lost their jobs, but for the effi­cien­cy of the gov­ern­ment," said Rivlin in an inter­view with the Cen­ter for Inves­tiga­tive Journalism.
"Hun­dreds of peo­ple were fired because the Board­'s atti­tude was that there were too many peo­ple doing the same job. With­in the gov­ern­ment there was an atmos­phere of ter­ror because you did not know if you were going to have your lit­tle cham­bi­ta today," Rolan­do Roe­buck said.
Rivlin recalled that the protests against the Board of D.C. came to her doorstep.
Democ­ra­cy under fis­cal con­trol boards
Com­pared with all the boards that have been appoint­ed in the Unit­ed States since 1975, Puer­to Rico's is the one that has the most pow­er over a ter­ri­to­ry. That pow­er is com­pound­ed by the colo­nial real­i­ty of the island, which has no rep­re­sen­ta­tion in Con­gress. This makes Puer­to Rico not ful­ly com­pa­ra­ble with a state, but nei­ther with sov­er­eign coun­tries that have expe­ri­enced debt crises such as Argenti­na or Greece. Sev­er­al econ­o­mists agree that the Puer­to Rican gov­ern­ment has more con­trol over its macro­eco­nom­ic pol­i­cy than a state, which must adhere to US nation­al pol­i­cy, but that the island is much more lim­it­ed in that regard if com­pared to a sov­er­eign country.
For econ­o­mist Joseph Stiglitz, one of the major con­cerns about the Fis­cal Con­trol Board imposed in Puer­to Rico is that it implies the loss of ​"sov­er­eign­ty." ​"Chang­ing from politi­cians to a Board could be good, if you had the right Board. But the risk is they have a Board appoint­ed by Wash­ing­ton politi­cians. And if you look at Wash­ing­ton today, this is no guar­an­tee for suc­cess. Rather it's like a lot­tery," the Nobel prize lau­re­ate said dur­ing his recent vis­it to San Juan.
On June 30, 2016, for­mer Pres­i­dent Barack Oba­ma signed the Puer­to Rico Over­sight, Man­age­ment, and Eco­nom­ic Sta­bil­i­ty Act, ​"PROME­SA", which imposed a Fis­cal Con­trol Board on the non-incor­po­rat­ed ter­ri­to­ry. PROME­SA was based on the Penn­syl­va­nia Inter­gov­ern­men­tal Coop­er­a­tion Author­i­ty, the Dis­trict of Colum­bia Con­trol Board and the Detroit bank­rupt­cy, accord­ing to Spi­ot­to, gen­er­al man­ag­er of Chap­man Strate­gic Advi­sors who tes­ti­fied in Con­gress dur­ing the 2015 dis­cus­sion hear­ings on the the island's fis­cal cri­sis in sup­port of the approval of the act.
Dur­ing con­gres­sion­al hear­ings on the PROME­SA act, depo­nents such as the Tea Par­ty, for­mer offi­cials and invest­ment fund man­agers, referred to the board as ​"a pow­er­ful fis­cal con­trol board," which was one of the rea­sons they sup­port­ed leg­is­la­tion. Due to the exten­sive pow­er giv­en to it by PROME­SA, the enti­ty that was named as the Finan­cial Over­sight and Man­age­ment Board is known as the ​"Fis­cal Con­trol Board" by the peo­ple, the media, such as The New York Times and Caribbean Busi­ness, aca­d­e­mics and economists.
On May 3 2017, Puer­to Rico became the first ter­ri­to­r­i­al juris­dic­tion to file for a sui gener­is bank­rupt­cy in fed­er­al court. Debt nego­ti­a­tion of about $70 bil­lion through a process sim­i­lar to Chap­ter 9 bank­rupt­cy will now be heard in court in a process over­seen by Judge Lau­ra Tay­lor Swain, and Puer­to Rico will be rep­re­sent­ed by the sev­en-mem­ber Con­trol Board appoint­ed by Oba­ma on August 31, 2016. Dur­ing the bank­rupt­cy process, the Board will con­tin­ue its inter­ven­tion in oth­er areas, such as the bud­get. The enti­ty, which does not respond to the fed­er­al gov­ern­ment and sends annu­al reports to the Con­gress, gave 14 addi­tion­al days to the gov­ern­ment of Ricar­do Rossel­ló to review the bud­get for fis­cal year 2017 – 2018 sub­mit­ted on May 1.
"When is a demo­c­ra­t­ic (enti­ty) jus­ti­fied in turn­ing to non-demo­c­ra­t­ic insti­tu­tions?" asks Kobes, a for­mer stu­dent of Rivlin. In her doc­tor­al the­sis she explores the impli­ca­tions of fis­cal con­trol boards in the gov­er­nance of local governments.
Kobes explains that spe­cial­ized lit­er­a­ture on the sub­ject sug­gests that boards can pro­vide exper­tise and cred­i­bil­i­ty to gov­ern­ments that need access to resources. The dis­ad­van­tage, how­ev­er, is that the boards dimin­ish sov­er­eign­ty, empow­er exter­nal polit­i­cal actors and makes con­ces­sions favor­able to the pri­vate mar­ket. She also says boards can func­tion as ​"scape­goats" that imple­ment unpop­u­lar poli­cies that politi­cians are unwill­ing to impose.
Rivlin had a direct expe­ri­ence with the Board's ​"scapegoat"-type role, when that enti­ty closed a hos­pi­tal in D.C..
"At the very end of my tenure, we looked at this hos­pi­tal sit­u­a­tion and we talked to the May­or and the Coun­cil because we had restored their pow­ers, and they said ​'we agree with you, you've got to close the hos­pi­tal and you bet­ter do it before the Board goes; please do it before the Board goes out of busi­ness so they would blame you and not us.' So we did it right I think. We did close the hos­pi­tal, the inpa­tient facil­i­ty, and we estab­lished a new fund to pay the hos­pi­tal expens­es of peo­ple who were not eli­gi­ble for Med­ic­aid," Rivlin said.
One of the sim­i­lar­i­ties Wash­ing­ton, D.C. had with Puer­to Rico was its large deficit. The dif­fer­ence is that D.C. had no debt prob­lems, Rivlin explained. Not all cities where a board has been appoint­ed have declared bank­rupt­cy. Anoth­er sim­i­lar­i­ty is that in D.C., as in Puer­to Rico, the con­trol board that oper­at­ed for 10 years (from 1995 to 2001) took con­trol of sev­er­al agencies.
"The May­or no longer had respon­si­bil­i­ties for the nine largest depart­ments in the city. They report­ed to the Con­trol Board and we had a Chief Man­age­ment Offi­cer who ran the city for the May­or. We had the abil­i­ty to sit beside the elect­ed School Board and take over the schools and cre­ate our own board. So it was, (the Washington,D.C. Board) had a lot more pow­er and author­i­ty (than Detroit) to act and had much more involve­ment in the man­age­ment of the city," John Hill recalled at his office in Detroit.
"The Wash­ing­ton, D.C. con­trol board could pass leg­is­la­tion for the city of Wash­ing­ton D.C.. We nev­er did but we could. We could knock out every piece of leg­is­la­tion. The con­trol board could also sub­mit its own bud­get for the city, it could hire or declare which government's ser­vices were no longer need­ed. So it was a very pow­er­ful Con­trol Board," Hill said.
Com­pared with the expe­ri­ence of Wash­ing­ton, D.C., the com­mis­sion that per­forms the func­tions of con­trol board in Detroit ​"does not man­age the city at all; it's the may­or who runs the city," Hill said hours before attend­ing the month­ly meet­ing of the Com­mis­sion that day.
At the meet­ing there is a dig­i­tal clock that marks the num­bers in red. It is on the right side of the tables where the mem­bers of the Detroit Finan­cial Review Com­mis­sion sit in a large room. It's Feb­ru­ary and this is their month­ly meet­ing in a suite at Cadil­lac Place; a neo­clas­si­cal 15-sto­ry build­ing that once head­quar­tered Gen­er­al Motors in the New Cen­ter neigh­bor­hood of Detroit, Michigan.
The meet­ing of the Detroit Finan­cial Review Com­mis­sion is pub­lic. Out­side, where the tem­per­a­ture is at 34 degrees, there is no protest. At the entrance there are no police or check­points; nobody asks for iden­ti­fi­ca­tion. At the end of the meet­ing peo­ple have two min­utes to make com­ments. The clock, which had been stopped while the mem­bers of the Com­mis­sion spoke, begins to blink until an alarm sounds. Pub­lic com­ments are always interrupted.
"It's sort of a frus­trat­ing pro­ce­dure because they don't get any real sat­is­fac­tion oth­er than to be able to stand up and talk," said Ron Rose, the Commission's exec­u­tive director.
"They pro­vide us a small space to say some­thing in a mat­ter of two min­utes. Who can say any­thing real­ly sub­stan­tial in two min­utes, and spe­cial­ly when it is some­thing so emo­tion­al and so deep?," said Adela Nieves.
The bit­ter­sweet taste of fis­cal con­trol boards
Ron Rose, a retired bank­rupt­cy judge, was hired in 2015 as exec­u­tive direc­tor of the Detroit Finan­cial Review Com­mis­sion. Two years lat­er he is sat­is­fied with the Com­mis­sion's approach to the Detroit fis­cal cri­sis, but with one exception.
"The may­or is very excit­ed and we (the Com­mis­sion) are not. And after three years of bal­anced bud­gets, when the audit­ed finan­cial state­ments for fis­cal year 2017 come out, we (the Com­mis­sion) have to give up our rights and duties, unless they vio­late the terms of the statute… I would have pre­ferred (the Com­mis­sion) could have stayed for a longer peri­od of time, because we had very large prob­lems… Pen­sions are a finan­cial prob­lem. The oth­er big prob­lem in the city that the may­or has to deal with is that of the schools," said Rose.
Kobes men­tioned that the Con­trol Board starts from the premise that the prob­lems emanate from local gov­ern­ments that are not able to make the right deci­sions. ​"And that's true in some cas­es. But I think it's usu­al­ly more of a mix, that they just do not have the funds, because they have a poor econ­o­my. Now, chang­ing admin­is­tra­tion is not going to fix that. Like­wise, there are exter­nal restric­tions that do not have to do with local admin­is­tra­tion, such as the expens­es they need to make, the lim­i­ta­tion of tax­es that do not allow them to raise more mon­ey or if there has been a decrease in aid. One thing that wor­ries me about Con­trol Boards is that they blame local politi­cians, when they real­ly are not the source of the prob­lem, and I think that leads to solu­tions that do not work, because until you do not deal with the prob­lem ade­quate­ly, you will not solve it. I think that in the long run that takes away local democ­ra­cy, because it implies that local politi­cians are inca­pable, when they real­ly could be part of the solu­tion," Kobes said.
What do you think about the exit of the Finan­cial Review Com­mis­sion? The CIJ asked Detroit May­or Mike Duggan.
"It will end in 2018. It will not be until the begin­ning of 2018 that we make that deci­sion, we must first have the bud­get (in Decem­ber) of 2017. We are work­ing on that, that is what we are try­ing to do," said Dug­gan rush­ing out of the Com­mis­sion meet­ing, in which he has a seat and vote.
In some cas­es, the State impos­es the fis­cal con­trol board. In oth­ers, the cities or coun­ties request the State inter­ven­tion. And some­times, they regret it.
Such is the case of Rhode Island, where the city of Cen­tral Falls request­ed aid from the state court for its finan­cial prob­lems and was put under receiver­ship in May of 2010. This city has a lit­tle more than 19,000 inhab­i­tants (60% Lati­nos) and its Gen­er­al Oblig­a­tions debt reached almost $20 mil­lion. In response to the request for judi­cial admin­is­tra­tion, the Rhode Island leg­is­la­ture passed, and Gov. Don­ald Carcieri signed, a law allow­ing for pro­gres­sive state inter­ven­tion in its munic­i­pal­i­ties in cri­sis, such as Cen­tral Falls.
The law passed in Rhode Island was pos­si­bly an attempt to pre­vent munic­i­pal­i­ties from restruc­tur­ing their debts ​"with tac­tics that might be unfriend­ly to the munic­i­pal mar­ket." The City of Cen­tral Falls attempt­ed to chal­lenge the new statute, but a state court ordered keep­ing the con­sti­tu­tion­al­i­ty of the state-appoint­ed admin­is­tra­tion. In Novem­ber 2010, the new super­vi­so­ry body exer­cised its pow­er to dis­solve the Cen­tral Falls coun­cil and replace it with a three-mem­ber ​"advi­so­ry coun­cil," explains the book Munic­i­pal­i­ties in Distress?
In 2010, Cen­tral Falls faced insol­ven­cy due to strong state aid cuts, income short­falls and lack of funds for about $80 mil­lion in pen­sions and retiree health ben­e­fits. In 2011 it declared bank­rupt­cy, which assured access to the bond mar­ket but neg­a­tive­ly affect­ed the city. In 2012, it emerged from bank­rupt­cy ​"with elect­ed offi­cials with­out pow­er, with prop­er­ty own­ers fac­ing tax hikes every year and retired pub­lic employ­ees with pen­sion cuts," Reuters reported.
Orig­i­nal­ly, the PROME­SA Act that imposed a Fis­cal Con­trol Board in Puer­to Rico in 2016 applied to the ter­ri­to­ries of Guam, Amer­i­can Samoa, the North­ern Mar­i­ana Islands and the U.S. Vir­gin Islands. But the U.S. Vir­gin Islands del­e­gate to Con­gress, Stacey Plas­kett, pro­posed an amend­ment for the law not to apply to those ter­ri­to­ries. The amend­ment was approved in June 2016 and was cel­e­brat­ed by Plas­kett as a ​"sig­nif­i­cant vic­to­ry." How­ev­er, these ter­ri­to­ries could be cov­ered by PROME­SA if their bond­hold­ers sub­mit claims, accord­ing to Tom Bolt from the Bolt­Na­gi law firm.
Puer­to Rico' Board may reject bud­gets that do not meet the cri­te­ria of the fis­cal plan and sub­mit its own bud­get, has leg­isla­tive veto pow­er and could sanc­tion or dis­miss pub­lic offi­cials. It has already approved gov­ern­ment-sub­mit­ted fis­cal plans that include increas­es in the water bill start­ing Jan­u­ary 2018, pri­va­ti­za­tion of the Urban Train and the High­way Author­i­ty oper­a­tions, and 11 crit­i­cal infra­struc­ture projects, whose main focus is nat­ur­al gas and incin­er­a­tion. In March, the Board hired Natal­ie Jaresko as its exec­u­tive direc­tor. The for­mer Ukrain­ian finance min­is­ter will be chauf­feured, escort­ed by secu­ri­ty and earn $625,000 a year, near­ly five times the salary of the exec­u­tive direc­tor of the Detroit Finan­cial Review Com­mis­sion, Ron Rose, whose annu­al salary is $130,000, or more than twice of Kevyn Orr's salary while he was Detroit's Emer­gency Man­ag­er for $275,000 annually.
Lau­ra Moscoso and Dignel­ly Tor­res col­lab­o­rat­ed with this story.
This inves­ti­ga­tion is pub­lished in part with the sup­port of the Rav­itch Fis­cal Report­ing Pro­gram, at the City Uni­ver­si­ty of New York (CUNY) Grad­u­ate School of Journalism.