2,000 Striking Auto Mechanics Say Their Whole Industry Needs Realignment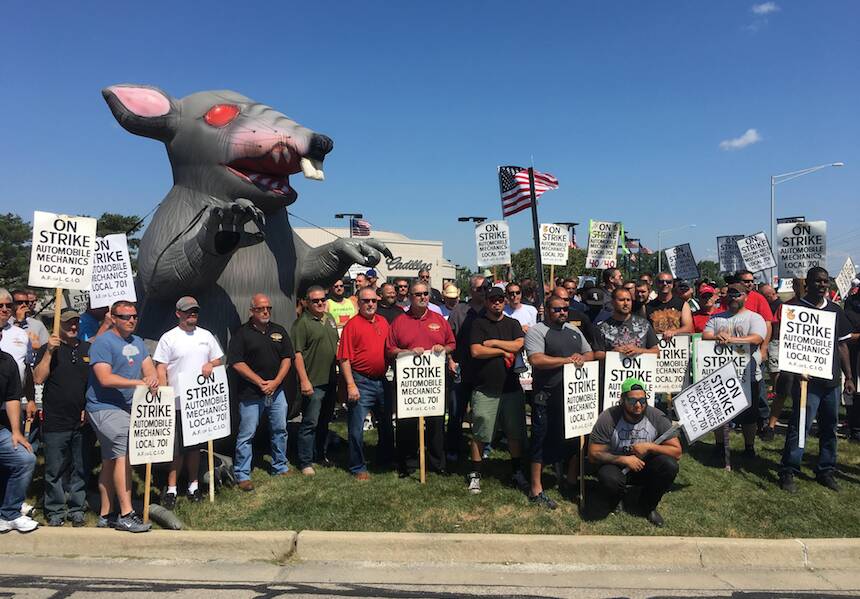 The cost of car repairs might make your heart sink, but Chicago-area mechanics say they don't get a fair deal from dealerships, either. On August 1, the nearly 2,000 members of Auto Mechanics Union Local 701 voted overwhelmingly to strike after rejecting a contract at the end of July. If the strike doesn't produce the contract the union wants, many young mechanics could be facing tough decisions about their future.
Rafael Rosas, 23, has been working at the Nissan dealership in Evanston, Ill, for three years. He was promoted from lube-technician to apprentice last year and now makes a little under $20 an hour. Before he can become a journeyman, or full-fledged mechanic, his employer must agree to promote him — a process that can take up to 8 years. Rosas says he can't wait that long; if the union fails at the negotiation table, he's going to leave the industry for plumbing or another more lucrative trade in order to keep up with rent, bills and student loan payments.
"I wanted to become a mechanic, and we'll see if everything works out," says Rosas. ​"If not, I'm gonna have to change careers."
Better wages and faster promotion for apprentices are among the strikers' top demands. Aspiring auto
mechanics might spend two or three years as a lube-technician before even being offered an apprenticeship, says Elion Seitllari, an Automotive Instructor at Truman College in Chicago. Those positions generally pay under $20 an hour, and aspiring mechanics may also spend thousands of dollars to buy their own tools, which is effectively a requirement in the industry.
The union wants to cut to five years the time that employers can keep apprentices before promoting them. As the strike entered its fourth week, the union sent a new contract proposal Tuesday evening to the New Car Dealers Committee, which is representing 140 or so local dealerships in the negotiations. Both sides are expected to return to the negotiation table in the coming days. The union voted to reject a proposed contract earlier in the month, saying it met very few of their demands.
"It's not even about what's right at this point," says Christian Walker, head technician at Northside Toyota in Chicago. ​"Seems like a battle of ego: ​'How dare us peasants challenge you.'"
Local 701 is the largest mechanics union in the country. It's part of the International Association of Machinists (IAM) and Aerospace Workers, which originally formed in 1888 and began organizing auto mechanics in the 1920s.
On Wednesday, IAM International President Bob Martinez visited strikers outside the Cadillac of Naperville in Chicago's western suburbs. According to a report by CBS Chicago, the suburban dealership recently instructed striking technicians to remove their toolboxes from the premises and threatened to hire replacements.
"We're sick and tired of their bullshit and we deserve what we're owed," Martinez told a crowd of about 50, who had assembled next to an iconic inflatable rat balloon used by unions to shame unfair employers. Martinez told In These Times that said the mechanics' strike highlights the importance of solidarity, saying that it would ​"benefit both union and non-union workers" by improving conditions industry-wide. About 45 percent of Chicago auto mechanics are unionized, according to IAM.
Nationally, the industry is facing an auto mechanic shortage. One estimate predicts there will be more than 25,000 unfilled positions in the next five years, according the New York Times. Experts worry there aren't even enough training facilities to meet the demand in time. Cars are more sophisticated than ever, meaning mechanics need training in traditional auto repairs, as well as computer and electrical repair. Vocational work isn't popular to begin with, and working as a plumber or electrician is often more profitable than trying to break into automotive service.
Local 701 believes their recommended changes will entice new talent. But Dave Radelet, lead negotiator for the NCDC, insists that the union's demands aren't feasible. He acknowledges that a typical dealership charges customers $100 or more for an hour of service, while union technicians usually make around $30 an hour. But the difference goes toward expenses and employee benefits, he says. As for the young workers stuck waiting for a promotion, Radelet said they should leave for another dealership and negotiate a higher job title with better pay.
Another key demand from the union is a 40-hour a week guarantee for journeymen, up from the 34 their
contract currently ensures. The NCDC reports that 70 percent of technicians book 40 hours or more through working additional repair jobs, but the union feels this arrangement leaves workers vulnerable to slow weeks where there isn't enough work coming in. Additionally, low repair times for warranty fixes can lead to unpaid work: per industry standards for new-car dealerships, mechanics are only paid for the time manufacturers state a given job should take, and both the union and NCDC agree these times have dropped in recent years. If a mechanic needs four hours to finish a job that's listed to only take two, they are only paid for half that work time (Radelet says this is a ​"very rare situation," but several mechanics told In These Times that jobs often take longer than the listed repair time).
Marc Osberg, a mechanic at the Evanston Nissan shop, says that his annual pay has fallen from $80,000 in 2007 to less than $60,000 today, thanks to a drop in his paid hours. He filed for bankruptcy earlier this year, after his wife's illness and eventual death pushed him into debt.
"It's almost like losing a part-time job the way we've been getting paid," he says.
There's no word yet on exactly when both sides will return to the negotiating table or have a new contract to vote on. But this strike, says Christian Walker, shows exactly what happens when you don't have enough mechanics in the shop.
"The guys who are treated the worst and ignored the most overnight shut down 140 multi-million- dollar
businesses," he says. ​"You can take anyone else from this equation and this will still operate. You take us out? Done."
Giving Tuesday: Support Progressive Journalism
Today is the single biggest day of the year for giving to nonprofits—last year, individual donors collectively gave more than $2.5 billion to nonprofit organizations in the U.S. alone on Giving Tuesday.
For In These Times, today also marks the kick-off of one of our most important fundraising drives ever.

Giving Tuesday began nearly a decade ago as a way to harness the power of collective giving and highlight the important work of nonprofit organizations. For In These Times, being a nonprofit is more than just a financial model. It is central to our very mission.
The traditional, for-profit news model was built on a foundation of corporate ad dollars. From the beginning, this has been a devil's bargain that limits what can be published by corporate media outlets and inevitably warps what they do print. In These Times is not beholden to any corporate interest.
Who are we beholden to? You—our community of readers. Support from readers allows In These Times to maintain our independence and speak truth to power. It is how we are able to continue publishing the stories readers—like you—want to read, and the voices that need to be heard in this political moment.

This Giving Tuesday, support independent, progressive journalism by making a tax-deductible donation to In These Times.
Will Greenberg
is a journalist from Chicago whose work has appeared in places like The Washington Post, Mother Jones, and the Chicago Reader. You can follow him on Twitter @wrgree.
Giving Tuesday: Support Progressive Journalism