Another Political Revolution in New York? Insurgent Jamaal Bowman Now Has Bernie and AOC on His Side
Bowman, a progressive insurgent, is gaining steam in his primary challenge to Democratic incumbent Rep. Eliot Engel. And now he has both Alexandria Ocasio-Cortez and Bernie Sanders behind him.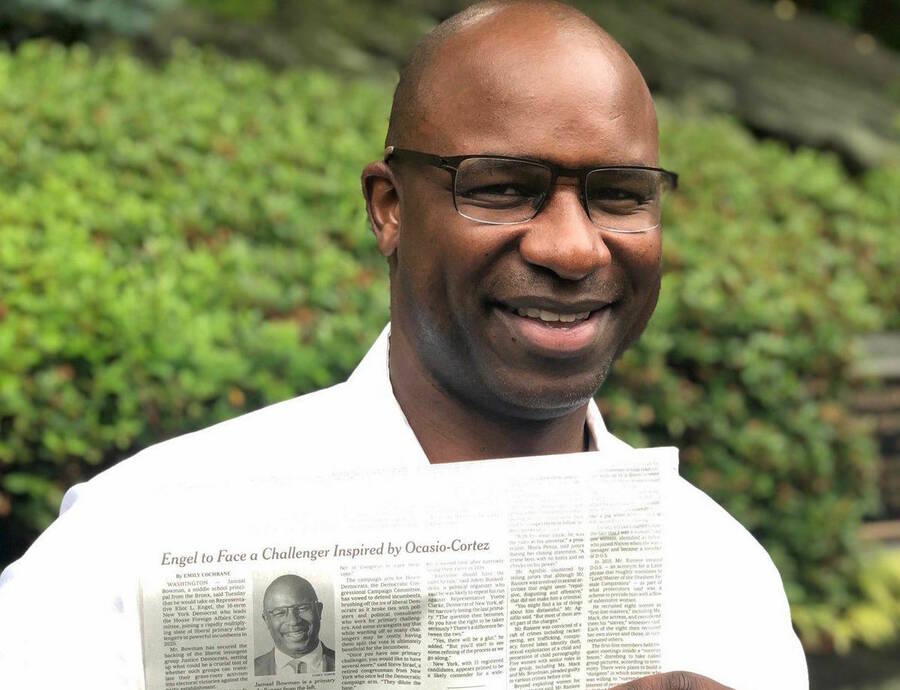 On Tues­day, June 9, Sen. Bernie Sanders (I‑Vt.) gave his endorse­ment to Jamaal Bow­man, a left-wing insur­gent chal­leng­ing 16-term Demo­c­ra­t­ic incum­bent Rep. Eliot Engel in New York, call­ing Bow­man ​"some­one we can trust to be a pow­er­ful advo­cate for a pro­gres­sive agen­da in Congress."
"We need to end the militarization of the police, and transfer significant portions of the funding funneled to police forces into our schools and our healthcare facilities."
The Sanders endorse­ment fol­lows a string of pos­i­tive news for Bowman's pri­ma­ry cam­paign. As the can­di­date puts it, ​"We've reached a point in the cam­paign where we have a ton of momen­tum, a ton of sup­port, major endorse­ments being announced through­out the week. That gives me a tremen­dous amount of clar­i­ty and hope for what's pos­si­ble with this cam­paign, if we're for­tu­nate enough to pull this off on June 23."
Bow­man, a for­mer Bronx mid­dle school prin­ci­pal who grew up in pub­lic and rent-con­trolled hous­ing, has built up a for­mi­da­ble head of steam — and drawn numer­ous com­par­isons to Rep. Alexan­dria Oca­sio-Cortez (D‑NY) — in his pri­ma­ry chal­lenge to Engel, the hawk­ish chair of the House For­eign Affairs Com­mit­tee and rep­re­sen­ta­tive of New York's 16th Con­gres­sion­al Dis­trict. Bow­man is run­ning on a broad pro­gres­sive agen­da includ­ing a Green New Deal, Medicare for All, reduced mil­i­tary fund­ing and trade deals that ​"sup­port work­ers, not CEOs and Wall Street."
Engel, whose dis­trict cov­ers some of Westchester's wealth­i­est com­muter towns, all three of its biggest cities — New Rochelle, Mount Ver­non and Yonkers — and parts of the Bronx, has come under heavy crit­i­cism for a string of gaffes.
First, he appeared to lie to a reporter from The Atlantic in May, claim­ing he had been quar­an­tined both in his Mary­land home as well as his dis­trict, after his com­mu­ni­ca­tions direc­tor told the same reporter that Engel had actu­al­ly been in Mary­land since March.
Engel's office had also adver­tised his par­tic­i­pa­tion in two com­mu­ni­ty aid events which gave away food, hand san­i­tiz­er and masks. ​"I was part of that," Engel claimed. But when Atlantic reporter Edward-Isaac Dovere replied: ​"But you weren't there?," Engel con­ced­ed, ​"I was not there, no."
Then, on June 2, Engel made his first appear­ance in the dis­trict. At a press event address­ing the mass protests and unrest that have fol­lowed the police mur­der of George Floyd, he was caught on a hot mic pres­sur­ing Bronx Bor­ough Pres­i­dent Ruben Diaz Jr. to let him speak at the event. ​"If I didn't have a pri­ma­ry I wouldn't care," he said. Diaz asked him to repeat, and he did.
"Don't do that to me," Diaz replied. He added, ​"Every­body has a pri­ma­ry. You know, I'm sorry."
Bow­man, for his part, has been spend­ing plen­ty of time in the dis­trict. ​"That same day I was at a protest in Mount Ver­non," he says. ​"The day before I was [at a vig­il in] Bronxville, and the day before that I was in Yonkers."
Engel's gaffes ​"cap­tures every­thing that every­one across this coun­try is protest­ing against," accord­ing to Bowman.
"Across the board we've seen our num­bers go up, way up," says Bowman's cam­paign man­ag­er Luke Hayes. ​"Con­ver­sa­tion about Jamaal now ver­sus April is dif­fer­ent. There's a buzz." On June 4, the cam­paign was clos­ing in on 300,000 calls made. One week lat­er, they've bro­ken 400,000.
"I worked on Obama's cam­paign, and it does remind [me] of that broad array," Hayes reflect­ed. ​"Just hav­ing old­er African Amer­i­can vot­ers, young peo­ple across the board, pro­gres­sives, lib­er­als in Westch­ester; the breadth of it is real­ly encouraging."
In the week after Engel's most recent gaffe, the Bow­man cam­paign raised $360,000, putting the entire­ly-grass­roots fund­ed campaign's war chest over $1 mil­lion. Ear­ly on, Bowman's cam­paign had been dwarfed by Engel's $1.6 mil­lion oper­a­tion—fund­ed this cycle by donors affil­i­at­ed with pro-Israel groups, real estate inter­ests and finance. But, aid­ed by a half-mil­lion-dol­lar adver­tis­ing spend from the Work­ing Fam­i­lies Par­ty and Jus­tice Democ­rats, Bowman's cam­paign is now on more even ground.
Bowman's good week began after Andom Ghe­breghior­gis, a fel­low edu­ca­tor and the sec­ond lead­ing pro­gres­sive in the race, dropped out on June 1 to endorse him.
On June 3, Oca­sio-Cortez added her endorse­ment to a slate that includes sev­er­al pro­gres­sive lead­ers and orga­ni­za­tions, includ­ing the Sun­rise Move­ment, Jus­tice Democ­rats and the Work­ing Fam­i­lies Party.
Then, two days lat­er, New York State Sen­a­tor Alessan­dra Biag­gi — whose pro­gres­sive 2018 cam­paign defeat­ed Repub­li­can-aligned Demo­c­rat Jef­frey Klein — appeared to retract her endorse­ment of Engel, con­demn­ing his ​"lack of courage."
"We need some­one who is focused on the future. So my opin­ion about where I stand right now, with­out tak­ing a for­mal posi­tion, is that my full sup­port behind Engel is not there any­more," she told the Mil­len­ni­al Pol­i­tics Podcast.
"I can­not in good faith stand on my two feet and rep­re­sent this dis­trict, which, by the way, over­laps with [Con­gres­sion­al Dis­trict] 16, and watch as my con­stituents and the vot­ers in this dis­trict are harmed by the lack of courage that the peo­ple who rep­re­sent this bor­ough and this dis­trict take every sin­gle day — they take it for granted."
But even before his opponent's mis­steps, Bowman's cam­paign was build­ing excite­ment and chal­leng­ing Engel's shaky hold on the district.
Data for Progress polling from last Octo­ber showed that many vot­ers were unde­cid­ed between Engel and a hypo­thet­i­cal pro­gres­sive chal­lenger. That con­firmed what Bow­man was hear­ing from his com­mu­ni­ty, and what he already knew.
"I've been here 10 years as a mid­dle school prin­ci­pal. I haven't seen one fly­er for an assem­bly, a town hall, or any meet­ing from Engel's office focused on the issues that mat­ter most in this dis­trict, which is ful­ly fund­ing our schools and edu­ca­tion, uni­ver­sal health­care, envi­ron­men­tal jus­tice, and jobs and job train­ing pro­grams," says Bow­man. ​"He hasn't been a leader or fight­er on any of those issues."
His under­dog cam­paign, whose shoe­string bud­get in the ear­ly days meant no office and vol­un­teers meet­ing up at local libraries, cafes, and malls, has anchored a strong pro­gres­sive mes­sage in Bowman's back­ground in the 16th district.
Bow­man is the for­mer prin­ci­pal of Cor­ner­stone Acad­e­my for Social Action, a pub­lic school in the Bronx he found in 2009 after 7 years of teach­ing in the dis­trict. The school clinched the best rank­ing for improved test scores in the city, but Bow­man became a vocal crit­ic of stan­dard­ized test­ing and a pro­po­nent of parent's rights to opt-out of those tests.
Of the tests, Bow­man told the Vil­lage Voice in 2016, ​"We've focused so much on annu­al stan­dard­ized tests that we're not focused on what research says works to close the achieve­ment gap." The year before, he likened the tests, and their fail­ure to cor­rect America's racial achieve­ment gap, to ​"a form of mod­ern-day slavery."
Dis­cussing what led him from prin­ci­pal to can­di­date, Bow­man notes that, as an opt-out activist, what he ​"often heard from local offi­cials that their hands were tied by fed­er­al pol­i­cy. And when you look at fed­er­al pol­i­cy like No Child Left Behind and the [1994] Crime Bill and Glass-Stea­gall, all of which Engel has sup­port­ed, you see a direct con­nec­tion between that and what's hap­pen­ing to our kids."
"As edu­ca­tors, we under­stand very inti­mate­ly the impact of trau­ma and how pover­ty relates to trau­ma, and how pover­ty relates to bad pol­i­cy that comes from Washington."
Bow­man is very famil­iar with the dam­age done by bad government.
"I've been a black man my entire life," Bow­man says, reflect­ing on the recent racial jus­tice protests. ​"My first expe­ri­ence with police bru­tal­i­ty hap­pened when I was 11 years old, I remem­ber it clear­ly. I was horse­play­ing with some of my friends and the police approached us, told us to be qui­et — we may have had some back talk — and they lit­er­al­ly beat the crap out of us. Threw me against the wall, threw me on the ground, dragged my face on the ground — my entire face was scarred up."
"We didn't do any­thing about it. We felt pow­er­less to even act, to even protest."
He recounts, on Twit­ter and his cam­paign web­site, being arrest­ed and held for hours with­out charge on sus­pi­cion of steal­ing his own car.
"This is a chal­leng­ing time in our nation's his­to­ry," he says. ​"Unfor­tu­nate­ly, these protests had to man­i­fest as a result of the death of anoth­er black man, George Floyd, at the hands of the police. But I have incred­i­ble faith and hope in the Amer­i­can peo­ple and the peo­ple of this dis­trict and the protests, and the push­back against the sys­tem of state-sanc­tioned oppres­sion is some­thing I'm inspired by. I feel hum­bled and real­ly for­tu­nate to be in this posi­tion as a can­di­date to speak truth to pow­er on these issues."
"But it's not just the police. One of the rea­sons I ran was because I was tired of expe­ri­enc­ing on a per­son­al lev­el and see­ing on the pro­fes­sion­al lev­el the struc­tur­al racism that con­tin­ues to plague our com­mu­ni­ties and our country."
Bow­man says that racism and the fail­ures of fed­er­al pol­i­cy man­i­fest­ed in his work in a par­tic­u­lar­ly trag­ic way. ​"In 2017 and 2018, 34 chil­dren died with­in the K‑12 school sys­tem in the Bronx, and 17 died via sui­cide, and in New Rochelle, a stu­dent was mur­dered by anoth­er stu­dent. And in Co-Op City a stu­dent com­mit­ted sui­cide by jump­ing off a build­ing after being bul­lied," he says.
"That year was par­tic­u­lar­ly try­ing for me and for my col­leagues, because not only were kids suf­fer­ing and dying, but no one was say­ing or doing much of any­thing about it. Espe­cial­ly some­one like Eliot Engel, who's been in office 31 years, lived in Mary­land 27 of those years, claim­ing that as his pri­ma­ry res­i­den­cy for over a decade." Records show that Engel even filed his tax­es in Mary­land until the state stopped him in 2013. (Engel's cam­paign did not respond to a request for comment.)
The 16th dis­trict, the sec­ond most unequal in the coun­try, is a potent micro­cosm of the coun­try as a whole. While the parts of the Bronx that fall with­in the dis­trict have been among the hard­est hit by the Covid-19 pan­dem­ic, wealthy towns like Rye and Scarsdale's rates are clos­er to New York City's rich­est neigh­bor­hoods, like the Upper East and West Sides. Mount Ver­non, New Rochelle and Yonkers also all have case rates sim­i­lar to the most dev­as­tat­ed Bronx and Queens communities.
To Bow­man, an ambi­tious pro­gres­sive pro­gram is the solu­tion to per­sis­tent eco­nom­ic and social inequal­i­ty. Along with poli­cies like Medicare for All, Bow­man is also run­ning on a New Deal for Edu­ca­tion, which would dra­mat­i­cal­ly increase fed­er­al fund­ing for schools, boost teacher salaries and can­cel stu­dent debt through tax­es on wealth and Wall Street.
Bring­ing that trans­for­ma­tive pol­i­cy suite from ide­al to law, Bow­man argues, is about hold­ing elect­ed offi­cials account­able with­in the halls of pow­er, speak­ing bold­ly and lift­ing up the demands of orga­nized movements.
"A Green New Deal, that's part of the lex­i­con, part of the con­ver­sa­tion now because a fresh­man con­gress­woman came with that bold new vision, that new idea. So it starts there, and then it's about con­tin­u­ing to push col­leagues in that direc­tion while engag­ing the pub­lic in move­ment build­ing around those issues," Bow­man says. ​"Even Chuck Schumer recent­ly wouldn't sign on to a recent for­eign pol­i­cy ini­tia­tive because it didn't have enough about envi­ron­men­tal justice."
When it comes to respond­ing to the recent protests against police vio­lence, Bow­man says that we need a com­pre­hen­sive approach — includ­ing redi­rect­ing fund­ing from police depart­ments to social programs.
"We need to focus on restora­tive jus­tice in our com­mu­ni­ties, and we need to hold police account­able," Bow­man says. ​"We need to end the mil­i­ta­riza­tion of the police and trans­fer sig­nif­i­cant por­tions of the fund­ing fun­neled to police forces into our schools and our health­care facil­i­ties. We need to hire more nurs­es, hire more teach­ers, and hire more school psy­chol­o­gists. We need to cre­ate and grow our care econ­o­my over­all, from ear­ly child­hood care to long-term care for our seniors. We also have to deal with the issue of pover­ty. We see the rage man­i­fest­ing because peo­ple are liv­ing in pover­ty and they've been liv­ing in pover­ty for decades. Until we deal with insti­tu­tion­al racism and pover­ty seri­ous­ly this anger and rage will continue."
But to Bow­man, his campaign's premise is ulti­mate­ly a sim­ple one. ​"You can't fake it — you can't fake authen­tic rela­tion­ships and love for your com­mu­ni­ty," he says. ​"It's either there or it isn't. That's all we've been try­ing to do — con­tin­ue to engage, con­nect, learn, and love the com­mu­ni­ty that I come from and that I'm try­ing to serve in Congress."
Nick Vachon
is a fel­low at Data for Progress, a writer, and a fourth-year Pol­i­tics stu­dent at Ober­lin College.