Bad Karma at Hyatt Regency San Francisco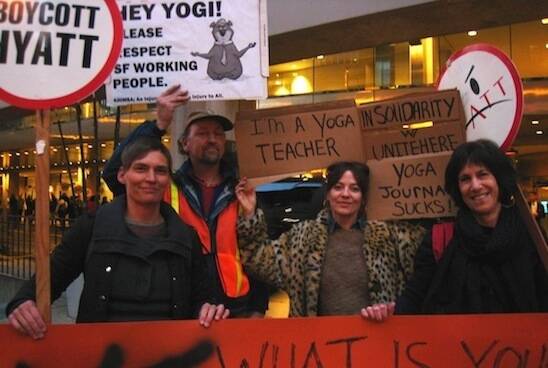 Each year some 2,000 yoga enthu­si­asts assem­ble at the Hyatt Regency Hotel in San Fran­cis­co for ​"a great con­ver­gence of yogis of all ages and back­grounds," accord­ing to the con­ven­tion's spon­sor, Yoga Jour­nal. The extreme­ly lib­er­al and tol­er­ant ​"city by the bay" seems the per­fect spot to spir­i­tu­al­ly and intel­lec­tu­al­ly delve into yoga prin­ci­ples of social ser­vice and phys­i­cal purification.
​
"
But there is one huge problem,"says
19
-year vet­er­an yoga instruc­tor Sri Louise. ​
"
There is a huge dis­con­nect with our eth­i­cal val­ues by sched­ul­ing a con­ven­tion at a union-boy­cotted hotel that has a lousy safe­ty record and mis­treats it employees."
A Jan­u­ary
17
late after­noon pick­et by around
150
UNITE HERE Local
2
sup­port­ers made this point loud and clear.
​
"
This has been an
active boy­cott
with reg­u­lar pick­et­ing for three years and
Yoga Jour­nal
has not tak­en us seri­ous­ly. But it is very seri­ous that Hyatt has dis­tin­guished itself as the
worst employ­er
in the indus­try. It's the worst of the worst," San Fran­cis­co Local
2
, UNITE HERE union rep­re­sen­ta­tive Julia Wong told me.
Walk­ing on the pick­et line with Sri Louise were sev­er­al oth­er yogis, includ­ing trainee Stel­la Ng, a nurse at Sum­mit Hos­pi­tal in Oak­land. ​
"
Yoga is for every­one, not just for improv­ing your­self. So social jus­tice is impor­tant. And I know how tough it is on house­keep­ers because I worked as a state employ­ment coun­selor where work­ers were trained to clean a room and make a bed in sev­en minutes."
Ng's pro­fes­sion­al expe­ri­ence dove­tails with union com­plaints against Hyatt for house­keep­er abuse, high injury rates and exces­sive work­loads. Wong offered exam­ples to back up the union's claims that Hyatt is the ​
"
worst of the worst."
Man­age­ment requires non-union house­keep­ers in Bal­ti­more to clean up to
30
rooms, more than dou­ble the Local
2
con­tract stan­dards; the Nation­al Labor Rela­tions Board is cur­rent­ly con­duct­ing a hear­ing alleg­ing
Hyatt retal­i­a­tion
against out­spo­ken employ­ees; and, final­ly, Hyatt leads the indus­try in con­tract­ing out its house­keep­ing department.
Just like Wal-Mart, Wong explains, Hyatt wants third-par­ty con­trac­tors to per­form work so that the ​
"
respon­si­bil­i­ty for the hotel's rot­ten safe­ty record and mis­treat­ment of immi­grants and women can be passed off to them."

These are absolute­ly false char­ac­ter­i­za­tions, Hyatt spokesper­son Peter Hillan told me.
Defend­ing the hotel's safe­ty record, Hillan said ​
"
UNITE HERE has filed
12
com­plaints against Hyatt with Cal/​OSHA and the most recent set­tle­ment at Fish­er­man's Wharf had all the ergonom­ic com­plaints with­drawn. We take the well-being of our house­keep­ers very seri­ous­ly and we will con­tin­ue to be dili­gent about the train­ing and tools they have to per­form their jobs safe­ly. These charges and the boy­cott are part of an over­all cor­po­rate cam­paign by UNITE HERE aimed at Hyatt."
But crit­ics often accuse Hyatt of con­ceal­ing its real record by deny­ing prob­lems even exist. A Jan­u­ary
17
San Fran­cis­co Bay Guardian
online report
quotes Cal/​OSHA chief coun­sel Amy Mar­tin respond­ing to Hyat­t's claims that Cal/​OSHA charges were not about injuries to house­keep­ers but just some paper­work pro­cess­ing vio­la­tions. On the con­trary, Mar­tin told the
Guardian
: ​
"
Cal/​OSHA believes it found plen­ty of evi­dence both of injuries sus­tained by house­keep­ers, as well as vio­la­tions of Cal/​OSHA regulations."
​
"
It is tech­ni­cal­ly true that [cita­tions] were with­drawn," Mar­tin added, ​
"
but that was the out­come of an in-depth set­tle­ment negotiation."
So there you have it. A con­ven­tion of respect­ed and hon­or­able yogi mas­ters, instruc­tors and trainees who cer­tain­ly all agree with yog­ic prin­ci­ples such as truth­ful­ness and con­sid­er­a­tion for oth­ers, but who seem to be unable to agree that it is sim­ply very ​
"
bad Kar­ma" to cross a pick­et line of employ­ees striv­ing for their own con­sid­er­a­tion from a mon­ey-mak­ing glob­al cor­po­rate giant that just can't seem to get its sto­ry straight.

Per­haps Hyatt exec­u­tives would them­selves ben­e­fit from a yoga reg­i­men empha­siz­ing truth­ful­ness. But, first, our friends at Yoga Jour­nal should per­haps reex­am­ine their own practices.
Carl Finamore
is a del­e­gate to the San Fran­cis­co Labor Coun­cil, AFL-CIO, and for­mer Pres­i­dent (retired), Air Trans­port Employ­ees, Local Lodge
1781
, IAMAW.