Baltimore Politicians Are Letting Union Jobs Die While Making Way for Luxury Real Estate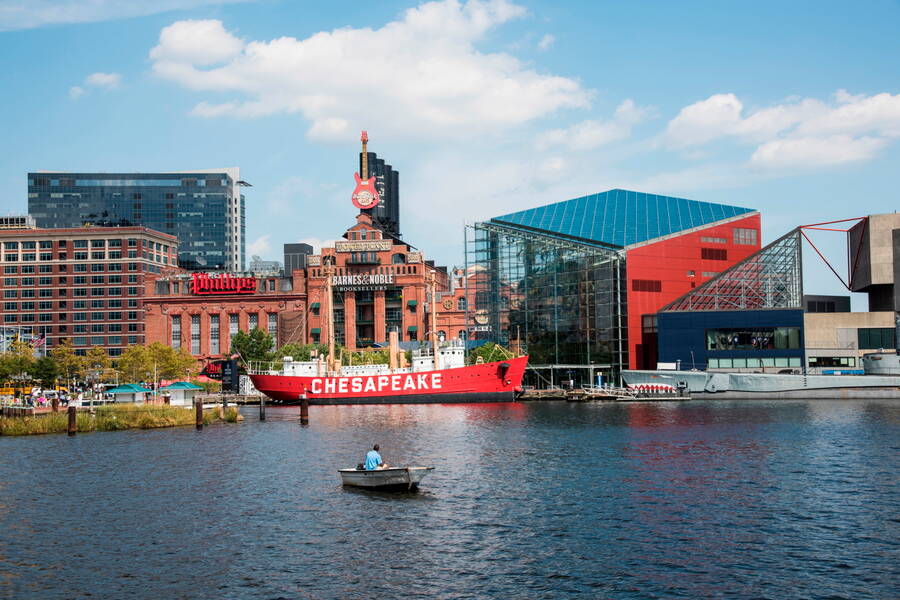 BAL­TI­MORE – Elect­ed offi­cials are still tak­ing heat for their recent deci­sion to award near­ly $1 bil­lion in pub­lic ben­e­fits for a lux­u­ry real estate project on the old indus­tri­al water­front. Law­mak­ers were fur­ther embar­rassed in July when it emerged that one of the imme­di­ate results of the award is to kill rough­ly 100 of the few remain­ing union­ized man­u­fac­tur­ing jobs in a city still reel­ing from the 2015 upris­ings against police killings.
Work­ers at the Locke Insu­la­tors plant were ​"stunned" July 10 to learn that cor­po­rate man­agers intend­ed to close the fac­to­ry and elim­i­nate their jobs, says Den­nis Orton, a rep­re­sen­ta­tive of the Unit­ed Elec­tri­cal (UE) union. With­out con­sult­ing work­ers, union rep­re­sen­ta­tives or com­mu­ni­ty lead­ers, the com­pa­ny filed a legal­ly required notice that it would shut­ter the plant per­ma­nent­ly in just 60 days, Orton reports.
Locke offi­cials offered no con­vinc­ing expla­na­tion for the unex­pect­ed announce­ment. But for city res­i­dents, the expla­na­tion seemed obvi­ous: The Locke plant sits on a
26
-acre site that is a ripe tar­get for real estate spec­u­la­tion as the mul­ti-bil­lion water­front rede­vel­op­ment project moves for­ward. Indeed, the site is adja­cent to Nick's Fish House, a restau­rant con­trolled by bil­lion­aire busi­ness­man Kevin Plank, the prin­ci­pal pro­mot­er of the immense water­front redevelopment.
The whole thing is just per­verse, remarks Nicole King, chair of the depart­ment of Amer­i­can Stud­ies at the Uni­ver­si­ty of Mary­land-Bal­ti­more Coun­ty. King, who is work­ing on an aca­d­e­m­ic study of dein­dus­tri­al­iza­tion in the region, says she doesn't see any log­ic in killing off man­u­fac­tur­ing jobs for the sake of spec­u­la­tive real estate ven­tures. Adding insult to injury, it is fund­ing from the pub­lic purse that makes all this spec­u­la­tion pos­si­ble. ​
"
To me that is uneth­i­cal," said King, argu­ing that there is ​
"
a real fail­ure of vision" on the part of city's elect­ed leaders.
The Locke sce­nario con­tains echoes of the Spar­rows Point dis­as­ter, Baltimore's prime sym­bol of slow, painful dein­dus­tri­al­iza­tion, says Mark Reut­ter, a jour­nal­ist and author of a his­to­ry of the giant steel plant. The own­ers of Spar­rows Point declared bank­rupt­cy in 2001, begin­ning an ago­niz­ing process that elim­i­nat­ed some 20,000 jobs before the steel works were final­ly demol­ished in 2015. Spar­rows Point, like Locke, was a vic­tim of ​"absen­tee own­ers keen to cash out" and ​"short-sight­ed (local) offi­cials who can't seem to see a future for their own city," com­ments Reutter.
In the case of Locke, the absen­tee own­er is a thriv­ing multi­na­tion­al cor­po­ra­tion based in Japan called NGK Insu­la­tors Ltd. It employs more than 17,000 peo­ple world­wide with fac­to­ries in Asia, Europe and North Amer­i­ca. The insu­la­tors and oth­er prod­ucts it man­u­fac­tures are sold to elec­tric util­i­ties, automak­ers and oth­er indus­tri­al busi­ness­es glob­al­ly. In a May press release, the com­pa­ny boast­ed about invest­ing in new man­u­fac­tur­ing facil­i­ties — not in Bal­ti­more — and expand­ing into the grow­ing semi­con­duc­tor industry.
Locke had been a sub­sidiary of U.S.-based Gen­er­al Elec­tric until 1974 when it was bought by NGK, and GE was the main cus­tomer for the insu­la­tors made in Bal­ti­more, accord­ing to UE's Orton. Pro­duc­tion at the plant has already ceased, he says, so the union's hopes of sav­ing the jobs are get­ting no encour­age­ment from the Japan­ese or U.S. man­agers. Orton com­ments that many work­ers sus­pect that the shut­down had been arranged long ago by GE, which has been eager in recent years to out­source more man­u­fac­tur­ing to cheap labor sources in Asia.
As for the union mem­bers on the pro­duc­tion line, ​"they are just stunned … They were caught com­plete­ly off guard," says Orton. The union had nego­ti­at­ed a new three-year con­tract just last year, he says, and that cre­at­ed a sense of secu­ri­ty. At a union mem­ber­ship meet­ing Aug. 5, the scene was ​"very emo­tion­al … there was some out­rage," he says.
"Peo­ple are pre­pared to fight back," Orton insists, but pow­er­ful allies may be in short sup­ply. Antho­ny McCarthy, press sec­re­tary for May­or Cather­ine Pugh, tells In These Times, ​"there is very lit­tle the may­or can do." They mayor's office has offered its ​"ser­vices" to dis­placed work­ers, McCarthy says, but there is no city effort under­way to actu­al­ly save the jobs.
Inquires direct­ed to NGK head­quar­ters in Nagoya were referred to Ray Weiss, a local press agent here. In an email, Weiss stat­ed, ​"We are not at lib­er­ty to dis­cuss any­thing further."
Mean­while, the ground­break­ing on Plank's rede­vel­op­ment project has been post­poned. ​"Plank's first promise to the city was that they would break ground this sum­mer. He's already bro­ken his first promise," Reut­ter com­ments. ​"I think he's a lot like Trump."
The 84 man­u­fac­tur­ing jobs at Locke are cer­tain to con­firm the down­ward trend in man­u­fac­tur­ing jobs in Bal­ti­more chart­ed by the fed­er­al Bureau of Labor Sta­tis­tics. The bureau cal­cu­lates there are only about 10,000 man­u­fac­tur­ing jobs left inside the Bal­ti­more city lim­its, or less than 4 per­cent of the total jobs.
Although the union work­ers at Locke are a racial­ly mixed group, dein­dus­tri­al­iza­tion has fall­en espe­cial­ly hard on the African-Amer­i­can com­mu­ni­ty. Just last year the Alliance of Amer­i­can Man­u­fac­tur­ing pub­lished a study detail­ing the dis­pro­por­tion­ate impact on black com­mu­ni­ties, cit­ing Bal­ti­more as one of the prime exam­ples — along­side Flint, Mich. and Youngstown, Ohio.
"The dein­dus­tri­al­iza­tion of Bal­ti­more is pret­ty much com­plete now," laments Reutter.
Bruce Vail
is a Bal­ti­more-based free­lance writer with decades of expe­ri­ence cov­er­ing labor and busi­ness sto­ries for news­pa­pers, mag­a­zines and new media. He was a reporter for Bloomberg BNA's Dai­ly Labor Report, cov­er­ing col­lec­tive bar­gain­ing issues in a wide range of indus­tries, and a mar­itime indus­try reporter and edi­tor for the Jour­nal of Com­merce, serv­ing both in the newspaper's New York City head­quar­ters and in the Wash­ing­ton, D.C. bureau.