In Baltimore and Across the Country, Black Faces in High Places Haven't Helped Average Black People
Electing African-American political leaders has done little to alleviate the suffering of Black America.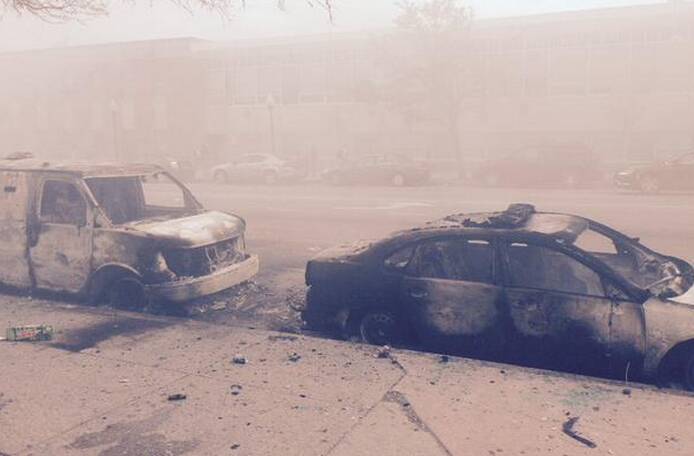 This year marks the 50th anniver­sary of many of the most sig­nif­i­cant events of the Black Free­dom Strug­gle of the 1960s. Two years ago, we cel­e­brat­ed the March on Wash­ing­ton; last year we rec­og­nized the 1964 Civ­il Rights Act that end­ed Jim Crow apartheid in the South. This year, we have already seen com­mem­o­ra­tions of the anniver­sary of the Vot­ing Rights Act, and summer's end will see the 50th anniver­sary of the Watts Rebel­lion in Los Ange­les. Of course, the coun­try had seen rebel­lions in Rochester, New York, Philadel­phia and Tren­ton, New Jer­sey, to a name a few cities, in 1964, but up to that point, Watts was unprece­dent­ed in its scale, dam­age, deaths and sheer feroc­i­ty in the sum­mer of 1965. The upris­ing in South Cen­tral Los Ange­les rep­re­sent­ed a stark con­clu­sion to the non­vi­o­lent phase of the movement.
Today, we have more Black elected officials in the United States than at any point in American history. Yet for the vast majority of Black people, life has changed very little. Black elected officials have largely governed in the same way as their white counterparts, reflecting all of the racism, corruption and policies favoring the wealthy seen throughout mainstream politics.
The acrid plumes of smoke that hang over the city of Bal­ti­more are a stark reminder of the recent past of the 1960s. But the riots over the death of 25-year-old Fred­die Gray seen in Bal­ti­more over the past few days aren't sim­ply a replay of events that took place 50 years ago. The inequities that ignit­ed hun­dreds of Amer­i­can cities in the 1960s still exist and have, in fact, deep­ened over the last half-cen­tu­ry. Then as now, per­va­sive police vio­lence and harass­ment defines the humil­i­a­tion and pow­er­less­ness of life for mil­lions of work­ing-class and poor African Americans.
But what makes the Bal­ti­more upris­ing dif­fer­ent from an ear­li­er era is that the vicious attacks on African Amer­i­cans have unfold­ed at a time of unprece­dent­ed Black polit­i­cal power.
Few­er than 40 miles from Bal­ti­more, in the nation's capi­tol, resides the nation's first African-Amer­i­can pres­i­dent. There are 43 Black mem­bers of Con­gress and two Sen­a­tors — the high­est num­ber of Black Con­gress mem­bers in Amer­i­can his­to­ry. And just as the West Side of Bal­ti­more was erupt­ing against the police killing of Fred­die Gray, Loret­ta Lynch became the first Black woman appoint­ed as Attor­ney General.
This isn't only a nation­al phe­nom­e­non; it's also reflect­ed in local pol­i­tics. In Bal­ti­more, African Amer­i­cans con­trol vir­tu­al­ly the entire polit­i­cal appa­ra­tus. May­or Stephanie Rawl­ings-Blake and Police Com­mis­sion­er Antho­ny Batts have been the most promi­nent faces of polit­i­cal pow­er in Bal­ti­more over the last sev­er­al weeks. But Baltimore's City Coun­cil has 15 mem­bers, and a major­i­ty, eight, are African Amer­i­can, includ­ing its pres­i­dent. The super­in­ten­dent of the pub­lic schools and the entire board of the city's hous­ing com­mis­sion are African Amer­i­can. Across the Unit­ed States, thou­sands of Black elect­ed offi­cials are gov­ern­ing many of the nation's cities and suburbs.
In this respect, the events in Bal­ti­more are dis­sim­i­lar from what hap­pened in Fer­gu­son, Mis­souri last sum­mer. There, the small sub­urb just north of Saint Louis had a major­i­ty Black pop­u­la­tion large­ly gov­erned by a white sub­ur­ban gov­ern­ment, and the lack of Black polit­i­cal pow­er and rep­re­sen­ta­tion became a nar­ra­tive thread in pop­u­lar expla­na­tions for what went wrong. Elect­ing African Amer­i­cans into polit­i­cal office in Fer­gu­son thus became a focal point for many local and nation­al activists.
But if the mur­der of Mike Brown and the rebel­lion in Fer­gu­son was rem­i­nis­cent of the old Jim Crow, then the mur­der of Fred­die Gray and the Bal­ti­more upris­ing is sym­bol­ic of the new Black power.
In fact, pur­suit of Black elec­toral pow­er became one of the prin­ci­pal strate­gies that emerged from the Black Pow­er era. At the end of the 1960s, the calls for ​"com­mu­ni­ty con­trol" over the cities that Black peo­ple lived in became loud­er. Such calls made sense: the ​"Great Migra­tion" brought mil­lions of African Amer­i­cans into the nation's cities and helped to ele­vate Black con­cerns into polit­i­cal dis­cus­sion (though they were rarely act­ed upon) and trans­formed many met­ro­pol­i­tan demo­graph­ics as Blacks moved in and whites moved out.
White polit­i­cal con­trol of increas­ing­ly Black cities exac­er­bat­ed exist­ing ten­sions over those cities' con­di­tions. In cities like Chica­go, the patron­age machine could draw in some Black par­tic­i­pa­tion, but that hard­ly resem­bled any real Black polit­i­cal or eco­nom­ic con­trol of the city's infra­struc­ture. The destruc­tion and insta­bil­i­ty caused by urban rebel­lions over the course of the decade advanced the idea among elites that per­haps more Black con­trol and own­er­ship with­in the cities might help to calm the rebel­lious Black population.
Today, we have more Black elect­ed offi­cials in the Unit­ed States than at any point in Amer­i­can his­to­ry. Yet for the vast major­i­ty of Black peo­ple, life has changed very lit­tle. Black elect­ed offi­cials have large­ly gov­erned in the same way as their white coun­ter­parts, reflect­ing all of the racism, cor­rup­tion and poli­cies favor­ing the wealthy seen through­out main­stream politics.
Bal­ti­more is a tell­tale exam­ple. May­or Rawl­ings-Blake may be African Amer­i­can, but under her lead­er­ship, large swaths of Black Bal­ti­more have remained poor, unem­ployed and per­pet­u­al­ly harassed and abused by the police. In the last four years alone, more than 100 peo­ple have won civ­il suits against police bru­tal­i­ty. Dur­ing Rawlings-Blake's tenure, the city has been forced to pay $5.7 mil­lion to set­tle civ­il suits regard­ing police mis­con­duct and bru­tal­i­ty — an amount that does not include the $5.8 mil­lion Bal­ti­more has paid to defend police who have abused the Black public.
Despite the law­less­ness of the Bal­ti­more Police Depart­ment, the may­or reserved her harsh­est com­ments for those involved in the upris­ing, describ­ing them as ​"crim­i­nals" and ​"thugs." For any­one remote­ly aware of Rawlings-Blake's may­oral his­to­ry, her lash­ing out at the vic­tims of police cor­rup­tion and bru­tal­i­ty would not have been surprising.
Even though unwar­rant­ed police attacks had been wide­ly doc­u­ment­ed and adju­di­cat­ed, a month pri­or to the unrest in Bal­ti­more, the may­or blamed Black men for vio­lence in Bal­ti­more. Invok­ing her inner Rudy Giu­liani, Rawl­ings-Blake said of vio­lence in the city, ​"Too many of us in the black com­mu­ni­ty have become com­pla­cent about black-on-black crime. …While many of us are will­ing to march and protest and become active in the face of police mis­con­duct, many of us turn a blind eye when it's us killing us."
Ignor­ing the long his­to­ry of racism and the epi­dem­ic of police ter­ror­ism in shap­ing Black life in Bal­ti­more, the may­or, as has become typ­i­cal of the Black polit­i­cal elite, blamed the prob­lems of the city on the African Amer­i­cans who live there.
The major dif­fer­ence between life in cities like Bal­ti­more today and 50 years ago is not only the exis­tence of a Black polit­i­cal stra­tum that gov­erns and man­ages much of Black Amer­i­ca, but also the ways this pow­er­ful Black polit­i­cal class helps to deflect a seri­ous inter­ro­ga­tion of struc­tur­al inequal­i­ty and insti­tu­tion­al racism. Instead, lead­ers from that polit­i­cal class res­ur­rect old and con­ve­nient nar­ra­tives that indict Black fam­i­lies and cul­ture as the cen­tral expla­na­tion for per­sis­tent racial inequality.
To main­tain legit­i­ma­cy with­in the Demo­c­ra­t­ic Par­ty, which most of these Black politi­cians con­sid­er home, they toe the par­ty line that empha­sizes per­son­al respon­si­bil­i­ty and rejects rais­ing tax­es to fund des­per­ate­ly need­ed social pro­grams. And Black elect­ed offi­cials either cre­ate or widen the space for whites to inter­ro­gate the moral habits of ordi­nary Black peo­ple. When Pres­i­dent Oba­ma, May­or Rawl­ings-Blake and Attor­ney Gen­er­al Lynch refer to Black pro­tes­tors as ​"thugs" and ​"crim­i­nals," white Repub­li­cans do not have to.
Black elect­ed offi­cials often invoke a sense of racial sol­i­dar­i­ty, famil­iar­i­ty and insight into the lives of the Black poor and work­ing class — only to then chas­tise or blame ordi­nary African Amer­i­cans for dete­ri­o­rat­ing con­di­tions in their own neighborhoods.
This is not just a prod­uct of con­tempt for the Black poor, but also the result of the pres­sures of gov­ern­ing big cities in an age of aus­ter­i­ty. Cities have been thrust into com­pe­ti­tion with each oth­er to attract cap­i­tal, result­ing in a race to the bot­tom to cut tax­es and essen­tial­ly shove out those in need of social ser­vices. Focus­ing on indi­vid­ual fail­ure and lapsed moral­i­ty (rather than struc­tur­al inequities) jus­ti­fies the bud­get cuts and shrink­ing of the pub­lic sphere that these Black polit­i­cal elites are charged with car­ry­ing out. What African Amer­i­cans in cities around the coun­try need, accord­ing to this nar­ra­tive, is per­son­al trans­for­ma­tion, not expand­ed social services.
Black polit­i­cal oper­a­tives oper­ate in the same ter­rain as their white com­peti­tors. They com­pete to stay in the good graces of wealthy donors while max­i­miz­ing polit­i­cal con­nec­tions to bol­ster their cam­paign war chests. They, too, rely on aggres­sive polic­ing to make up for the social prob­lems cre­at­ed when pover­ty, gut­ted social ser­vices and no prospects for suc­cess in Amer­i­can soci­ety con­verge and even­tu­al­ly combust.
The upris­ing in Bal­ti­more has crys­tal­ized the deep­en­ing polit­i­cal and class divide in Black Amer­i­ca. This is a new devel­op­ment in the Black free­dom strug­gle that his­tor­i­cal­ly has been unit­ed across class lines to fight racism. From the White House to City Halls across the coun­try, the growth and mat­u­ra­tion of the Black polit­i­cal class has firm­ly placed them in a posi­tion of man­ag­ing the crises that con­tin­ue to unfold in Black neigh­bor­hoods across the coun­try. Black polit­i­cal oper­a­tives have no bet­ter solu­tions for ordi­nary African Amer­i­cans than any oth­er elect­ed offi­cials. In Fer­gu­son and now in Bal­ti­more, it's the move­ment in the streets that is bring­ing glob­al atten­tion to the racism and inequal­i­ty that still thrives in Amer­i­can soci­ety — not Black faces in high places.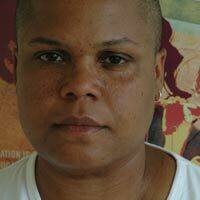 Keean­ga-Yamaht­ta Tay­lor
is a writer, pub­lic speak­er and activist liv­ing in Philadel­phia. She writes on Black pol­i­tics, hous­ing inequal­i­ty and issues of race and class in the Unit­ed States. She is the author of the forth­com­ing From #Black­Lives­Mat­ter to Black Lib­er­a­tion, pub­lished by Hay­mar­ket Books in Jan­u­ary
2016
. She is an Assis­tant Pro­fes­sor in the Depart­ment of African Amer­i­can Stud­ies at Prince­ton Uni­ver­si­ty. Fol­low her on Twit­ter: @KeeangaYamahtta.