Amid Freezing Classrooms, Baltimore's Teachers Fight to Democratize City's Schools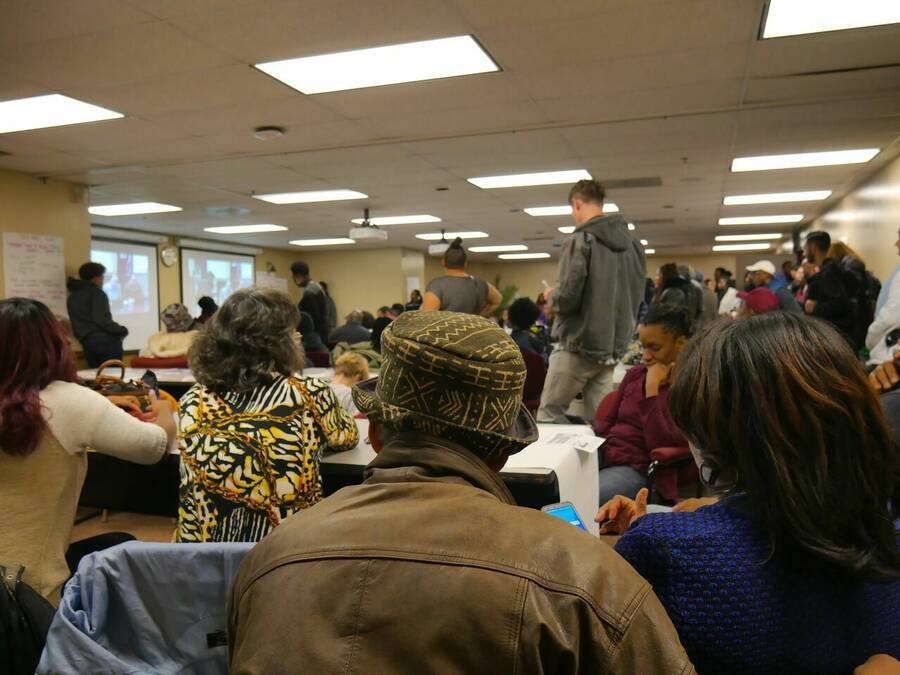 When a pho­to­graph of bun­dled-up stu­dents in a frigid Bal­ti­more class­room recent­ly spread on social media — with tem­per­a­tures in schools as low as the mid-30s — the city became a focal point of pub­lic atten­tion. But two orga­ni­za­tions of Bal­ti­more teach­ers say such sit­u­a­tions, far from iso­lat­ed, are the lat­est exam­ples of why edu­ca­tors are push­ing to rad­i­cal­ly democ­ra­tize the city's school system
"It wasn't until we start­ed shar­ing pic­tures in our class­rooms show­ing 30 and 40-degree tem­per­a­tures and speak­ing out togeth­er in a uni­fied way that it got anyone's atten­tion," says Kim­ber­ly Mooney, a teacher and mem­ber of the Bal­ti­more Cau­cus of Edu­ca­tors for Democ­ra­cy and Equi­ty (CEDE), a cau­cus of the Bal­ti­more Teach­ers Union (BTU), which is itself part of the Amer­i­can Fed­er­a­tion of Teachers.
Last year, Mooney and CEDE ran a near­ly suc­cess­ful insur­gent cam­paign against the BTU's entrenched Pres­i­dent Mari­et­ta Eng­lish, call­ing for the union to be more trans­par­ent and proac­tive around key issues, includ­ing reduc­ing class sizes, rolling back stan­dard­ized test­ing and advanc­ing social jus­tice issues rel­e­vant in the city. That mobi­liza­tion devel­oped into a fresh orga­ni­za­tion of teach­ers that is help­ing lead the fight for a new approach to Baltimore's school system.
Along­side CEDE is anoth­er grass­roots teacher-run effort and BTU cau­cus, the Bal­ti­more Move­ment of Rank-and-File Edu­ca­tors (BMORE). Inspired by the 2012 Chica­go Teach­ers Union strike, BMORE describes part of its mis­sion as ​"work­ing to trans­form the BTU from a ser­vice union to a social jus­tice union."
Both groups launched peti­tions this week in light of the freez­ing class­rooms. ​"Bal­ti­more City chil­dren attend­ing decrepit school facil­i­ties with­out func­tion­ing heat and drink­able water is a tragedy that the state of Mary­land cre­at­ed over decades of under­fund­ing," reads BMORE's state­ment and list of demands. ​"They have repeat­ed­ly neglect­ed their own def­i­n­i­tion of ade­qua­cy by 3 bil­lion dol­lars over the past two decades alone, much of which would've pre­vent­ed these cir­cum­stances before they happened."
CEDE and BMORE pre­sent­ed their peti­tions to Baltimore's Board of Edu­ca­tion in a Tues­day board meet­ing where crowds of teach­ers, stu­dents and par­tic­i­pants of numer­ous racial and social jus­tice orga­ni­za­tions gath­ered in such large num­bers that two over­flow rooms were need­ed to host them.
Behind the issue of Baltimore's freez­ing class­rooms is the poor con­di­tion of the city's edu­ca­tion sys­tem in gen­er­al. The fight to rad­i­cal­ly change those con­di­tions, led by groups like BMORE and CEDE, is hap­pen­ing on many lev­els. Above all, it is a fight against pow­er-hold­ers in the rich­est state — in the world's rich­est coun­try. Sec­ond­ly, it's a fight against a city school board that has inad­e­quate­ly dealt with its bud­get real­i­ties and too-often ignored or pushed aside need­ed changes. And final­ly, it's a strug­gle to make the BTU a more com­mu­ni­ty-focused, grass­roots-dri­ven union.
"We came across these nation­al sto­ries where peo­ple want­ed to see unions become more demo­c­ra­t­ic, less top-down, and advo­cate on behalf of the entire com­mu­ni­ty, says teacher and BMORE mem­ber Corey Gaber. ​"And we said, ​'Why can't we trans­form the BTU to be more like these unions we are see­ing else­where that are pro-active unions?'"
"We start­ed as a study group read­ing about what the Chica­go Teach­ers Union did back in 2010 and 2012," says teacher Natalia Bac­chus, one of BMORE's founders and a teacher at Moravia Park Ele­men­tary. She explains that Chica­go teach­ers built grass­roots pow­er in order to take con­trol of their union and push it in a new direc­tion that mobi­lized its mem­bers, while inspir­ing teach­ers from around the coun­try with a work­ing model.
BMORE took the ini­tia­tive on their own to start that process while, unknown to them at the time, CEDE was doing the same thing. Often in col­lab­o­ra­tion, the two groups have since been pur­su­ing strate­gies and cam­paigns to rad­i­cal­ly change their union and, through those efforts, change the way the edu­ca­tion sys­tem func­tions in Baltimore.
While Mooney says CEDE has def­i­nite­ly been inspired and informed by the Chica­go Teach­ers Union as well, the inspi­ra­tion for the group real­ly grew out of the con­di­tions of Baltimore's schools. ​"I think it was more of a frus­tra­tion with the way things were in our dis­trict and the lack of urgency about those issues from our union," Mooney explains.
Both groups have tak­en sim­i­lar approach­es to their mis­sions: putting pow­er in the hands of teach­ers who see the school sys­tem as a part of a much larg­er com­mu­ni­ty — one that was under siege by the State of Mary­land long before this win­ter. And they see the grass­roots mobi­liza­tion of their fel­low union mem­bers as necce­sary con­di­tions to affect­ing greater changes at the city and state level.
"We exist in a back­drop where cuts have been hap­pen­ing for decades," says teacher and BMORE mem­ber Cristi­na Dun­can Evans. ​"Bal­ti­more City has nev­er had ade­quate fund­ing. It's like the frog in the boil­ing water, and the frog doesn't notice."
"We're in a sit­u­a­tion," Evans con­tin­ues, ​"where a prob­lem that has grown over decades has now reached a point where, for some rea­son, we don't have com­mu­ni­ca­tion plans to par­ents or a set pol­i­cy about what is the min­i­mum accept­ed tem­per­a­ture in a school building."
BMORE sees the role of racial dis­crim­i­na­tion against a pre­dom­i­nant­ly black stu­dent body as an inex­tri­ca­ble part of the prob­lem, says Evans, explain­ing that the group launched with a focus on build­ing capac­i­ty with teach­ers of col­or. ​"We believe in ele­vat­ing teach­ers' voic­es and putting more pow­er in the hands of peo­ple in Bal­ti­more City who are clos­est to edu­ca­tion­al issues," Evans says, ​"and we do that in a way that rec­og­nizes that this is a racial jus­tice issue."
While BMORE and CEDE are both push­ing imme­di­ate demands this week, they are more focused on the long-term work of build­ing grass­roots pow­er. BMORE has launched an inter-union cam­paign to change what they say is an unfair vot­ing process in which teach­ers must cast bal­lots in per­son, on a school day, in a small win­dow of time. They have gath­ered more than 800 sig­na­tures call­ing for a mail-in process to increase turnout. They are also push­ing for changes to the state's manda­to­ry test­ing process, includ­ing a revi­sion of the inter­pre­ta­tion of the Every Stu­dent Suc­ceeds Act and the test-bur­den it carries.
While push­ing for these changes, BMORE is also host­ing its own study groups, build­ing coali­tion with oth­er social jus­tice groups in the city and work­ing with a nation­al net­work of sim­i­lar groups to share knowl­edge and ideas.
Mooney says that grass­roots orga­niz­ing with­in the school sys­tem is essen­tial. ​"Peo­ple fail to act because they are afraid of the reper­cus­sions," she empha­sizes. ​"I think that what we have seen is that if we act togeth­er, they can't sin­gle out indi­vid­u­als as eas­i­ly. It's impor­tant to find those peo­ple will­ing to stand with you in solidarity.
"We didn't ask any­body per­mis­sion to do what we're doing right now," Gaber says of BMORE's orga­niz­ing cam­paigns. ​"We got togeth­er, talked about it, and made a list of demands. And now our demands are becom­ing a lead nar­ra­tive. That start­ed with teach­ers talking."
Fol­low­ing Tues­day night's meet­ing, the Board of Edu­ca­tion will hold a town hall meet­ing to focus specif­i­cal­ly on issues realt­ed to facil­i­ties and maintenance.
The Bal­ti­more Teach­ers Union did not respond to a request for an interview.
Ryan Har­vey
is a Bal­ti­more-based jour­nal­ist and musi­cian and the cofounder of Fire­brand Records. His work focus­es on glob­al pol­i­tics, social move­ments and music.