Baltimore's Democratic Mayor Breaks Promise, Vetoes $15 Minimum Wage Bill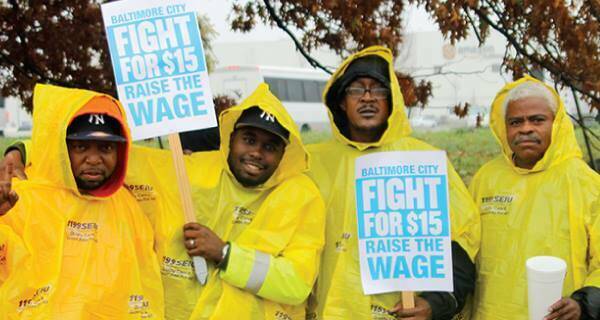 BALTIMORE – Baltimore Mayor Catherine Pugh dealt a shattering blow to the Fight for $15 campaign, vetoing a new minimum wage law passed overwhelmingly by the City Council just last week.
The effect was amplified as it quickly became clear that Pugh, a Democrat, had succeeded in lining up the votes necessary to prevent a threatened council override of her veto. Despite the fact that the minimum wage bill passed the council with the support of 12 of its 15 members — enough to override a veto — the solidarity of the pro-Fight for $15 members disintegrated under pressure. According to reports, several supporters of the higher minimum wage switched sides and are now pledging to sustain the mayor's veto.
Pugh's action represents a reversal from a promise she made during last year's mayoral campaign to sign a $15 minimum wage bill if passed by the council. That reversal is engendering bitterness from some minimum wage proponents.
"Catherine Pugh not only went back on this promise, but it tells us that everything she said (during the campaign) is in question," says Charly Carter, executive director of the pro-labor Maryland Working Families.
Supporters of a higher minimum wage are now left floundering for a new strategy. There does not appear to be a practical path forward legislatively, either at the city, state or federal level, Carter says. The best approach may be to concentrate on making progressive gains in the 2018 statewide elections and to renew the fight at the state level in 2019.
Currently, the Maryland minimum wage stands at $8.75 an hour. Under legislation passed in 2014, it is scheduled to rise to $9.25 an hour in July and to rise again to $10.10 in 2018.
As part of her remarks announcing the veto, Pugh said, ​"it is in the interests of the city that we follow the state," in adopting minimum wage legislation. Such a comment suggests that Pugh and other elected officials from Baltimore can be induced to support a rise in the statewide minimum wage after 2018, Carter says.
The veto is the latest in a string of serious blows to the Fight for $15 campaign in Maryland. As reported by In These Times, an effort to enact a local minimum wage in populous Montgomery County went down in flames in January when county executive Ike Leggett vetoed the bill. As in the case in Baltimore, all the important elected leaders in Montgomery County are Democrats, and the higher minimum wage proposal fell because pro-business Democrats split with more progressive Democrats.
Leggett's veto was immediately followed by the introduction of the Baltimore bill, which had been scaled back significantly from a minimum wage proposal that was narrowly defeated in the council last year. The new Baltimore proposal contained gaping loopholes designed to garner support from small businesses, but even those concessions were not enough to convince Pugh and others.
Ricarra Jones, a political organizer for the 1199SEIU United Healthcare Workers union, says the Pugh reversal is a little mysterious.
"She says she met with a lot of people before making her decision, but she refused to meet with us, and she didn't meet with any of the labor groups or faith organizations that supported [Fight for] $15," Jones said. ​"I guess that means that she met with corporate lobbyists and representatives of big companies. Who knows what kind of pressure they exerted, or what kind of promises were made."
SEIU has been in the forefront of the minimum wage fight in Baltimore since it began and is now re-assessing campaign strategy, according to Jones.
"Fight for $15 is a national movement. We have successes and we have reverses. We are not folding up our tent because of this setback," she said.
Bruce Vail
is a Baltimore-based freelance writer with decades of experience covering labor and business stories for newspapers, magazines and new media. He was a reporter for Bloomberg BNA's Daily Labor Report, covering collective bargaining issues in a wide range of industries, and a maritime industry reporter and editor for the Journal of Commerce, serving both in the newspaper's New York City headquarters and in the Washington, D.C. bureau.