Bargain to Organize: From Boon to Embarrassment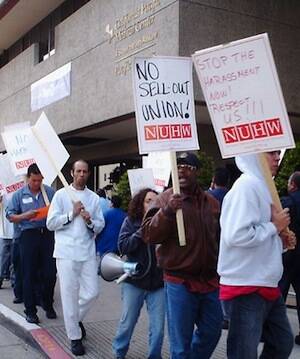 One sign, among many, of labor's cur­rent tra­vails is the stalled union growth strat­e­gy known as ​"Bar­gain to Organize."
More than a decade ago, there was no big­ger buzz­word in union orga­niz­ing cir­cles. When John Sweeney was elect­ed AFL-CIO pres­i­dent in 1995, he encour­aged affil­i­ates to employ the tac­tic by pres­sur­ing union­ized com­pa­nies to per­mit uncon­test­ed orga­niz­ing dri­ves at their non-union facil­i­ties or subsidiaries.
In one mod­el Bar­gain to Orga­nize cam­paign that began in 2008, the 6,000 SEIU mem­bers employed by Help At Home, a for-prof­it home health­care com­pa­ny, used their own con­tract nego­ti­a­tions in Illi­nois to con­front man­age­ment about its record of union-bust­ing in neigh­bor­ing Indiana.
Then-SEIU orga­niz­er Matt Luskin report­ed that after an aggres­sive mem­ber­ship mobi­liza­tion cam­paign, Help At Home signed an agree­ment that not only gave rais­es and bet­ter ben­e­fits to Illi­nois work­ers, but also ​"expand­ed the orga­niz­ing rights of thou­sands of work­ers in oth­er states where the com­pa­ny operates."
Bypass­ing The Board
In every indus­try set­ting, the goal of Bar­gain to Orga­nize has been some com­bi­na­tion of man­age­ment neu­tral­i­ty, card check, and/​or a ​"free and fair" elec­tion process that enables work­ers to engage in union activ­i­ty with­out harass­ment, threats, intim­i­da­tion or job discrimination.
One major suc­cess for the strat­e­gy came after a five-year strug­gle in the 1990s, when the Com­mu­ni­ca­tions Work­ers for Amer­i­ca (CWA) final­ly won a card check and neu­tral­i­ty deal that now applies to employ­ees of AT&T Mobil­i­ty. Under its terms, AT&T will rec­og­nize CWA if a major­i­ty of the work­ers in a pre-spec­i­fied bar­gain­ing unit sign union autho­riza­tion cards. The Amer­i­can Arbi­tra­tion Asso­ci­a­tion (AAA) con­ducts the card count and cer­ti­fies the results. AT&T Mobil­i­ty man­agers are not allowed to inter­fere with union orga­niz­ing activ­i­ty. Man­age­ment is even oblig­ed to pro­vide CWA with employ­ee infor­ma­tion and work­place access that's not required under Nation­al Labor Rela­tions Board elec­tion rules.
This nego­ti­at­ed process elim­i­nates the Board­'s role in deter­min­ing the scope of new bar­gain­ing units – a fre­quent source of rep­re­sen­ta­tion elec­tion delays. Plus, it avoids the cost­ly, uphill bat­tle of an employ­er-con­test­ed NLRB elec­tion campaign.
Through card check, more than 40,000 AT&T cel­lu­lar tech­ni­cians, cus­tomer ser­vice reps and retail sales­peo­ple have gained union con­tract cov­er­age. In the hey­day of Bar­gain to Orga­nize, sim­i­lar large-scale mem­ber­ship gains were made by the Team­sters at UPS Freight; UNITE HERE at the Hilton Hotel chain; the SEIU and oth­er unions at Kaiser Per­ma­nente; and, most recent­ly, the SEIU and Cal­i­for­nia Nurs­es Asso­ci­a­tion at Hos­pi­tal Cor­po­ra­tion of Amer­i­ca (HCA). (For more details on some of these strug­gles, see ​"A Look at Three ​'Strate­gic Cam­paigns.'")
Few­er Deals To Be Made?
In the last sev­er­al years, how­ev­er, few AFL-CIO or Change To Win affil­i­ates have made any new large-scale Bar­gain to Orga­nize break­throughs. Although some unions are still wag­ing ​"lever­age cam­paigns" to neu­tral­ize employ­er inter­fer­ence – like UNITE HERE's cru­cial Las Vegas bat­tle with the non-union Sta­tion Casi­no chain – exist­ing bar­gain­ing rela­tion­ships have not yield­ed addi­tion­al pro­tec­tions for unrep­re­sent­ed employ­ees at Ver­i­zon, Gen­er­al Elec­tric and many oth­er par­tial­ly union­ized firms.
Instead, unions in tele­com, man­u­fac­tur­ing, and oth­er indus­tries have been thrown on the defen­sive by man­age­ment demands for con­tract con­ces­sions. In this cli­mate, union pro­pos­als for orga­niz­ing rights have become ​"throw­away demands." The demo­niza­tion and defeat of ​"card check" in labor's failed 2007-10 cam­paign for the Employ­ee Free Choice Act (EFCA) has led some unions to aban­don that approach in favor of the old mod­el of secret bal­lot elec­tions (with an employ­er pledge that they will be ​"free and fair.") How­ev­er, in many tough bar­gain­ing sit­u­a­tions, ​"even those mod­est steps are next to impos­si­ble now," says one top union leader. ​"That's why most peo­ple aren't even try­ing anymore."
Where some unions have con­tin­ued to use their bar­gain­ing rela­tion­ships with employ­ers to gain or main­tain mem­ber­ship, the results have become increas­ing­ly con­tro­ver­sial and even legal­ly ques­tion­able. They have revived long­stand­ing rank-and-file con­cerns about unfa­vor­able trade-offs between con­tract stan­dards and growth.
What Quid Pro Quos?
Such Bar­gain to Orga­nize ten­sions and con­tro­ver­sies are not new. When I was work­ing with CWA mem­bers in the 1990s at the phone com­pa­ny now known as Ver­i­zon, it took much edu­ca­tion and dis­cus­sion before local union activists embraced the idea of putting orga­niz­ing-relat­ed demands on a par with wages, ben­e­fits, and work­ing con­di­tions. Even after orga­niz­ing rights became a strike issue – in a 17-day walk­out by 75,000 Ver­i­zon work­ers in 2000 – some influ­en­tial local offi­cials still viewed card check and neu­tral­i­ty as a far-removed ​"nation­al union issue." (Many Inter­na­tion­al Broth­er­hood of Elec­tri­cal Work­ers strik­ers viewed it as just a CWA issue!)
In 2008 – 2010, as I report­ed in The Civ­il Wars in U.S. Labor, the cost­ly series of dis­putes that enveloped SEIU, CNA, and UNITE-HERE arose part­ly over Bar­gain to Orga­nize strat­e­gy dis­agree­ments. Then-Change to Win lead­ers Andy Stern and Bruce Raynor argued that ​"con­tract relief" was need­ed to gain an orga­ni­za­tion­al foothold in health­care, food ser­vice, and oth­er indus­tries. If local unions weren't will­ing to part­ner with man­age­ment and promise some degree of ​"labor peace," too many nurs­ing homes, hos­pi­tal chains and cater­ing con­trac­tors would thwart union­iz­ing efforts.
In one prob­lem­at­ic Stern-Raynor orga­niz­ing exper­i­ment, new­ly recruit­ed food ser­vice work­ers end­ed up in a nation­wide ​"local," Ser­vice Work­ers Unit­ed (SWU); SWU mem­bers were cov­ered by a ​"tem­plate agree­ment" that some­times under­cut exist­ing local UNITE-HERE con­tracts with the same employ­ers. Adding insult to injury, the affect­ed work­ers belat­ed­ly dis­cov­ered that top union nego­tia­tors had secret­ly agreed to restrict mem­ber­ship activ­i­ty – such as infor­ma­tion­al pick­et­ing, con­sumer appeals, and oth­er con­tract cam­paign tac­tics – that would be nec­es­sary to win future wage and ben­e­fit improvements.
Bar­gain­ing for De-cert Protection
Crit­ics of this non-trans­par­ent, con­ces­sion­ary approach now cite Unit­ed Health­care Work­ers-West, SEIU's third largest affil­i­ate, as the lat­est prac­ti­tion­er of a debased form of Bar­gain to Orga­nize. Instead of mobi­liz­ing its mem­bers like SEIU's Illi­nois Health­care affil­i­ate did at Help at Home, UHW has bar­gained to keep its exist­ing dues-pay­ers from escap­ing to the new Nation­al Union of Health­care Work­ers (NUHW).
Ear­li­er this year, UHW was faced with the defec­tion of 750 work­ers at Seton Med­ical Cen­ter to NUHW. So the incum­bent union made a side deal with the hos­pi­tal own­er, the Daugh­ters of Char­i­ty, which con­sol­i­dat­ed five sep­a­rate bar­gain­ing units into a sin­gle one cov­er­ing 3,000 employ­ees. This ten­ta­tive agree­ment – designed to make decer­ti­fi­ca­tion more dif­fi­cult – was made con­tin­gent on sub­se­quent union approval of pen­sion and med­ical plan changes.
When these pro­posed give­backs were revealed in late April, Daugh­ters of Char­i­ty work­ers dis­cov­ered that they will now have a 401(k) account rather than be cov­ered by a defined ben­e­fit pen­sion plan; they will pay 25 per­cent of the month­ly pre­mi­ums for pre­vi­ous­ly free PPO med­ical cov­er­age; their out-of-pock­et costs for med­ical plan uti­liza­tion (doc­tor vis­its, pre­scrip­tions, etc.) will dou­ble; and work­ers who fail to meet var­i­ous ​"Well­ness Pro­gram" stan­dards for per­son­al health­i­ness will pay 20 per­cent more for the cost of their insur­ance premiums.
To get these con­ces­sions approved, UHW con­duct­ed a rushed two-day rat­i­fi­ca­tion vote that began less than 12 hours after a set­tle­ment was announced. (The SEIU con­sti­tu­tion requires 3‑days advance notice of such votes; work­ers at Daugh­ters of Char­i­ty got only nine hours.) Accord­ing to work­ers who com­plained to SEIU pres­i­dent Mary Kay Hen­ry, UHW reps refused to pro­vide them with copies of the ten­ta­tive agree­ment. Dis­grun­tled Daugh­ters of Char­i­ty work­ers con­tin­ue to orga­nize for NUHW and expect an NLRB re-run of the elec­tion they nar­row­ly lost at Seton Med­ical Cen­ter in March.
Employ­ee Free Choice?
At Chap­man Hos­pi­tal, a non-union hos­pi­tal in south­ern Cal­i­for­nia, UHW/SEIU engaged in orga­niz­ing mis­con­duct that pub­licly dis­cred­its the very con­cept of card check – play­ing into the hands of the rightwing, cor­po­rate oppo­nents of Employ­ee Free Choice Act. UHW announced last win­ter that 220 work­ers had formed a new bar­gain­ing unit after a card-check process agreed to by man­age­ment. In June, how­ev­er, the NLRB issued an unfair labor prac­tice com­plaint against Chap­man and UHW, charg­ing that the hos­pi­tal had rec­og­nized the union with­out real major­i­ty sup­port. To avoid a hear­ing, both par­ties signed a set­tle­ment ear­li­er this month that removed UHW/SEIU as the bar­gain­ing rep­re­sen­ta­tive of the hos­pi­tal workers.
In Ken­tucky, the NLRB has also cracked down on a sim­i­lar exam­ple of com­pa­ny-union col­lu­sion. On August 1, the Board asked a fed­er­al court to issue a rare 10(j) injunc­tion against the UAW and Voith Indus­tri­al Ser­vices, a con­trac­tor hired by Ford in Feb­ru­ary to trans­port new­ly assem­bled SUVs from its Louisville assem­bly plant. This car haul work was pre­vi­ous­ly per­formed by 160 mem­bers of Team­sters Local 89 employed by Jack Coop­er Trans­port, a sig­na­to­ry to the IBT's nation­al auto trans­port con­tract. Accord­ing to the NLRB, almost all of these expe­ri­enced, $20-an-hour Team­ster dri­vers were replaced when Ford brought in Voith instead. Voith's replace­ment work­force (paid $11 per hour) then came under an infe­ri­or con­tract, pre-arranged with the UAW, per a sim­i­lar deal involv­ing Ford and Voith in Michi­gan last year. Recog­ni­tion of the UAW was grant­ed before most new dri­vers were even hired.
​"We believe this is an unlaw­ful col­lec­tive bar­gain­ing rela­tion­ship," NLRB region­al direc­tor Gary Muf­fley told the Louisville Couri­er Jour­nal on August 11. The NLRB is seek­ing an order that would rein­state the dis­placed dri­vers and restore the Team­ster bar­gain­ing rela­tion­ship that's been in place since 1962.
Bar­gain to Orga­nize's bot­tom fish­ing, like the UHW's card check sham at Chap­man or the UAW's under­cut­ting of the IBT in car-haul, may add to ​"union den­si­ty" on paper but it's not going to boost work­ers' pow­er or help any­one make con­tract gains. Like­wise, the chal­lenge of per­suad­ing union mem­bers that they have stake in union growth strate­gies only gets more dif­fi­cult when con­ces­sion bar­gain­ing becomes a way of slam­ming the door on employ­ee free choice between com­pet­ing unions.
Steve Ear­ly worked for 27 years as an orga­niz­er and inter­na­tion­al rep­re­sen­ta­tive for the Com­mu­ni­ca­tions Work­ers of Amer­i­ca. He is the author of sev­er­al books, includ­ing Refin­ery Town: Big Oil, Big Mon­ey, and the Remak­ing of an Amer­i­can City (Bea­con Press).