"Baskets" Portrays Rural, Working Class America Differently and That's a Good Thing
Chris­tine Bas­kets is unlike any char­ac­ter you've seen on tele­vi­sion. The heart of FX's exis­ten­tial com­e­dy Bas­kets, she is a heavy­set, thin-lipped matri­arch, simul­ta­ne­ous­ly for­mi­da­ble and endear­ing. She car­ries her extra weight like armor, and yet, her body reveals unspo­ken vul­ner­a­bil­i­ty — a life­time of shame and dis­ap­point­ment. You take one look at her no-non­sense face and imme­di­ate­ly want her to like you, to approve of you. A Rea­gan fan­girl, she thinks it's just as hon­or­able for her child to get a job at Arby's as it is for him to pur­sue his art. She's played by vet­er­an com­ic Louie Anderson.
Cre­at­ed by mas­ters of pathos Louis C.K., Zach Gal­i­fi­anakis and Jonathan Krisel, Bas­kets fol­lows the exploits of Chip Bas­kets (Gal­i­fi­anakis), a failed clown with the soul of an artist and the tal­ent of a groupie. After flunk­ing out of a pres­ti­gious Parisian clown acad­e­my, he slinks home to the dusty sub­urb of Bak­ers­field, Cal­i­for­nia, an oil-rich indus­tri­al hub pop­u­lar­ly regard­ed as being a place peo­ple escape from, not flock to. Broke, bereft, and yearn­ing to per­form, he grudg­ing­ly returns to the suf­fo­cat­ing bosom of his mom, the afore­men­tioned Chris­tine, and takes an unfor­giv­ing role as the local rodeo clown.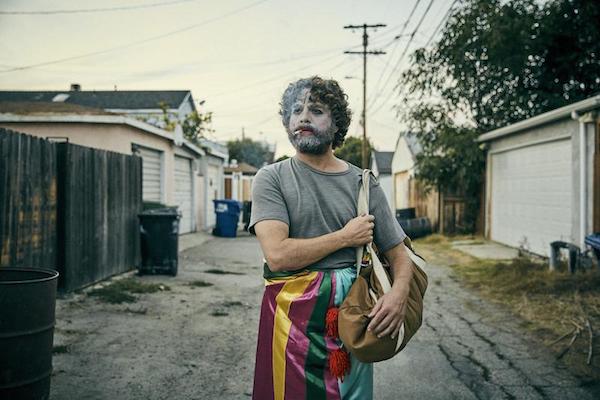 Zach Gal­i­fi­anakis play­ing Chip Bas­kets, a rodeo clown in Bak­ers­field, Calif. Gal­i­fi­anakis also plays Chip's twin broth­er Dale. (Image: FX Networks)
The series is an absur­dist, quixot­ic half-hour that relies on enough gal­lows humor to com­pare it to oth­er ​"sad auteur come­dies." But unlike Trans­par­ent, Fleabag, or Lady Dyna­mite, which also explore grief and dis­place­ment, Bas­kets' char­ac­ters don't live in a wealthy, lib­er­al, or cos­mopoli­tan city. Instead, the show strives to show­case peo­ple on the mar­gins of pop­u­lar imag­i­na­tion: drifters, Jug­ga­los, aging cow­boys and ordi­nary, chain store-fanat­ic sub­ur­ban­ites. A sub­lime por­trait of the Amer­i­can west — you can prac­ti­cal­ly taste the grit in your mouth — the show is also television's most empa­thet­ic por­tray­al of rur­al, work­ing class America.
Although a dram­e­dy, Bas­kets may be most close­ly mapped to broad, net­work sit­coms the likes of Roseanne, My Name is Earl, The Mid­dle, and Mom—com­ic social real­ist con­struc­tions of America's white poor. (Roseanne is per­haps also the last time a mor­bid­ly obese mid­dle-aged woman led a com­e­dy before Bas­kets debuted last win­ter. Giv­en the con­nec­tion between weight and class, it's unsur­pris­ing that both series cri­tique Amer­i­can social strat­i­fi­ca­tion.) Bas­kets, how­ev­er, flips the script: the inhab­i­tants of this world aren't treat­ed as mere ​"yokels" with quo­tid­i­an tastes, but as three-dimen­sion­al humans with long­ings and inse­cu­ri­ties. In fact, most laughs derive from Chip's pre­ten­sions — his attempts at order­ing bougie lattes from con­ve­nience store clerks or styling him­self a mod­ern Pier­rot at the rodeo.
As widen­ing U.S. socioe­co­nom­ic divides threat­en to tear us apart at the seams, a show like Bas­kets takes a lov­ing lens to a so-called fly­over com­mu­ni­ty and serves to remind urban view­ers that beyond the peo­ple out­side of the left-lean­ing, city-dwelling bub­ble are peo­ple, not mouth­pieces. To an audi­ence unfa­mil­iar with pas­toral life (or grate­ful to have escaped sub­ur­bia), the series has the capac­i­ty to soft­en the view­er whose heart has been cal­ci­fied through years of snip­ing with face­less red-state social media commentariat.
Where any oth­er com­e­dy would go for the jugu­lar with con­de­scend­ing barbs aimed at the con­ser­v­a­tive, salt-of-the-earth locals, Bas­kets rewrites clichés of rur­al life. In one of the best episodes of the first sea­son, Chip ven­tures into the wilder­ness with his boss, Eddie, a straight-shoot­ing, elder­ly bron­co. Chip believes they are on a quest for cow­boy jus­tice, but in the ten­der dénoue­ment, our pro­tag­o­nist dis­cov­ers that Eddie's ver­sion of ​"set­tling accounts" means hand­ing off his pis­tol to an estranged teenage son who lives on a reser­va­tion. ​"It total­ly screwed my life up. So you're old enough now. You may as well have it."
Beyond its twists, Bas­kets true strength is its abil­i­ty to heal — a soul-cleans­ing expe­ri­ence for the view­er, a rit­u­al­is­tic rebirth for those of us who have ached through a tumul­tuous elec­tion sea­son and its after­math. We are no bet­ter, no smarter, no more sophis­ti­cat­ed than the beau­ti­ful, trau­ma­tized Mrs. Bas­kets. We have seen her pain, but we can feel her triumph.
[If you like what you've read, help us spread the word. ​

"

Like" Rur­al Amer­i­ca In These Times on Face­book. Click on the ​

"

Like Page" but­ton below the bear on the upper right of your screen. Also, fol­low RAITT on Twit­ter @RuralAmericaITT]
Robyn Bahr
is a film and tele­vi­sion crit­ic whose writ­ing has appeared in the
Vil­lage Voice
,
Slate
and oth­er pub­li­ca­tions. She tweets @RobynBahr.