Battling Big Cola
Parents and health advocates fight to make sure Pepsi is not the choice of a new generation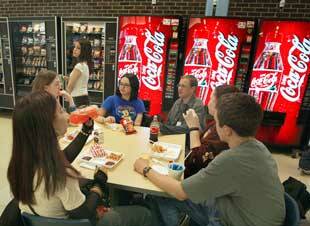 Over the past sev­er­al years, pub­lic school dis­tricts have made deals with the likes of Pep­si-Cola and Coca-Cola to keep their school cafe­te­rias oper­at­ing in the black and to give school prin­ci­pals some extra cash to pay for things like band uni­forms. But as one sci­en­tif­ic report after anoth­er reveals the grow­ing health risks of obe­si­ty – espe­cial­ly among chil­dren – par­ents, doc­tors and nutri­tion advo­cates across the nation are march­ing on their state capi­tols to demand change. They've come to kick out the cola.
Pep­si and Coke are not tak­ing the chal­lenge lying down. Using a page from Big Tobacco's play­book, Big Cola is pulling out all the stops in a des­per­ate fight to halt state leg­is­la­tures from enact­ing tough new nutri­tion stan­dards for pub­lic schools. What's at stake for the soda com­pa­nies? Mil­lions of young con­sumers whose future brand loy­al­ty will be embed­ded in their mal­leable cor­tex­es. What's at stake for the rest of us? A med­ical bill for obe­si­ty-relat­ed ill­ness­es that, accord­ing to the Cen­ter for Dis­ease Con­trol, now stands at $93 bil­lion per year, or 9.1 per­cent of all U.S. med­ical expenditures.
Con­necti­cut is the most recent state where cit­i­zens have start­ed won­der­ing why their schools are being used as junk food feed­ing tubes. Under the lead­er­ship of Demo­c­ra­t­ic State Sen­a­tor Don­ald E. Williams, pres­i­dent pro tem­pore of the Con­necti­cut Sen­ate, and Lucy Nolan, exec­u­tive direc­tor of End Hunger Con­necti­cut!, both hous­es of the state leg­is­la­ture have passed by over­whelm­ing mar­gins the tough­est school nutri­tion stan­dards in the coun­try. If Repub­li­can Gov­er­nor M. Jodi Rell signs the bill (as In These Times went to press, a guber­na­to­r­i­al veto was pos­si­ble), no child will be able to buy a sug­ary bev­er­age in a Con­necti­cut pub­lic school. Instead of ago­niz­ing over whether to push the Coke or Pep­si but­ton on school vend­ing machines, lit­tle John­ny will only be able to choose from bot­tled water, 100 per­cent fruit juice or unsweet­ened milk.
While John­ny may pout for a while, he may be pleased years lat­er when he hasn't joined the ranks of the 65 per­cent of Amer­i­can adults who are now over­weight. And Con­necti­cut and U.S. tax­pay­ers may also rejoice when the obe­si­ty-relat­ed ill­ness por­tion of Med­ic­aid and Medicare expen­di­tures, which cur­rent­ly stands at $665 mil­lion annu­al­ly in Con­necti­cut alone, begins to decline.
But as Williams and Nolan have learned, any­one who goes up against the car­bon­at­ed com­man­dos of Big Cola faces an uphill bat­tle. In spite of a statewide opin­ion poll con­duct­ed by the Con­necti­cut Cen­ter for Research and Analy­sis that showed 70 per­cent of the state's cit­i­zens sup­port­ing a school soda ban, Pep­si-Cola and Coca-Cola have each hired the state's most pow­er­ful and con­nect­ed lob­by­ists to fight the reform efforts. With com­bined lob­by­ing fees that approach $150,000 (a small por­tion of which is also being used to defeat yet anoth­er soda indus­try neme­sis, a stricter bot­tle return law), Big Cola's hired guns have been stalk­ing the halls of Connecticut's state capi­tol, dis­sem­i­nat­ing mis­in­for­ma­tion and dis­sem­bling the issue. Like Iago whis­per­ing into the ear of Oth­el­lo, they have told leg­is­la­tors that the food and bev­er­age menu of local schools is none of their busi­ness. Accord­ing to Nolan, they are say­ing that what chil­dren eat should only be decid­ed by school boards and par­ents. They have even gone as far as to sug­gest that state gov­ern­ment is dis­em­pow­er­ing chil­dren by tak­ing away their oppor­tu­ni­ty to buy junk food in school.
Big Cola suc­ceed­ed in obfus­cat­ing the issue so well that Connecticut's House of Rep­re­sen­ta­tives debat­ed the soda ban for an astound­ing eight hours – far more time than they devot­ed to any oth­er issue this ses­sion, includ­ing the nation's first leg­isla­tive­ly autho­rized same-sex civ­il union bill and a failed attempt to out­law state exe­cu­tions. End Hunger's Nolan, a moth­er of three school-age chil­dren, cred­its Williams for stand­ing strong in the face of unre­lent­ing lob­by­ing pres­sure. ​"You have to be will­ing to go up against the state's tough­est lob­by­ist," Nolan says. ​"Just look at how much mon­ey they spent!"
Such resolve doesn't appear to be the forth­com­ing in this year's Ore­gon leg­is­la­ture. Mary Lou Hen­nrich, direc­tor of the Com­mu­ni­ty Health Part­ner­ship, is lead­ing a group of health orga­ni­za­tions, med­ical asso­ci­a­tions and aca­d­e­mics called the Ore­gon Nutri­tion Pol­i­cy Alliance. Togeth­er, they put for­ward leg­is­la­tion to reform the state's school food envi­ron­ment with a spe­cial empha­sis on reduc­ing the avail­abil­i­ty of unhealthy food. When the advo­cates made a few tech­ni­cal mis­steps, Big Cola imme­di­ate­ly start­ed sow­ing the seeds of dis­con­tent. ​"They went around to school food ser­vice direc­tors and local offi­cials telling them they shouldn't let state gov­ern­ment tell them what to do," Hen­nrich says. Big Cola even had the chutz­pah to bring in a school board offi­cial from Eugene who tes­ti­fied against the healthy school food bill. It turned out that he was also the pres­i­dent of a local Pep­si bot­tling com­pa­ny. Accord­ing to Hen­nrich, the bill is now in seri­ous trouble.
Joy Johan­son, senior pol­i­cy asso­ciate at the Wash­ing­ton, D.C.-based Cen­ter for Sci­ence in the Pub­lic Inter­est, has seen this pat­tern time and again. She points out that the food and bev­er­age indus­try has become quite adept at play­ing a game of seman­tics that dis­ori­ents over­worked state leg­is­la­tors and con­fus­es the gen­er­al pub­lic. For instance, the word ​"ban," as in ​"soda ban," has been trans­lat­ed by Big Cola to mean that Big Broth­er is tread­ing on your civ­il liberties.
"The local con­trol mes­sage that keeps sur­fac­ing through­out this debate," Johan­son says, ​"is not com­ing from par­ents or even par­tic­u­lar­ly from local school author­i­ties; it's com­ing from Coke." She notes that 90 per­cent of all local school dis­tricts don't have a cer­ti­fied nutri­tion pro­fes­sion­al on staff, which means that a state-lev­el per­son qual­i­fied to make deci­sions based on the best sci­en­tif­ic infor­ma­tion is a boost to local schools, not a hin­drance as Big Cola sug­gests. Of course, no one com­plains when state boards of edu­ca­tion require a min­i­mum num­ber of cours­es in Eng­lish and math to earn a high school diplo­ma, or when the fed­er­al gov­ern­ment demands com­pli­ance with ​"No Child Left Behind."
"Healthy school food has become a polit­i­cal­ly con­tentious issue when it should be a bipar­ti­san one," Johan­son says. ​"After all, we're talk­ing about our children's health."
But even when Big Cola knows it has to retreat, it finds a way to fight a suc­cess­ful rear­guard action. After a hard-fought bat­tle in this year's New Mex­i­co leg­is­la­ture, pedi­a­tri­cians, school food direc­tors and nutri­tion­ists man­aged to secure leg­isla­tive con­sent for an expert com­mit­tee with the author­i­ty to estab­lish nutri­tion stan­dards for schools. But there was a cost. The leg­is­la­ture required that the com­mit­tee mem­bers include rep­re­sen­ta­tives of the bev­er­age and food indus­try. In oth­er words, Big Cola con­vinced the leg­is­la­ture that the fox should join the chick­en coop's secu­ri­ty guard.
A 20-ounce bot­tle of Coke con­tains no less than 16 tea­spoons of sug­ar. Today, 56 to 85 per­cent of chil­dren con­sume at least one soda dai­ly in school, in spite of the fact that the Amer­i­can Acad­e­my of Pedi­atrics has declared that soda should not be sold in schools – peri­od. Yet Big Cola and its hired guns are spend­ing mil­lions of dol­lars at all lev­els of gov­ern­ment to retain what they claim as their right, and pre­sum­ably that of local schools, to give chil­dren their dai­ly sug­ar fix.
It's not that chil­dren aren't oth­er­wise bom­bard­ed with con­sumer mes­sages – on tele­vi­sion, at the mall and from their peers. It's just that maybe pub­lic schools should offer a sanc­tu­ary from life as one big commercial.
Mar­i­on Nes­tle, a pro­fes­sor of nutri­tion at New York Uni­ver­si­ty, put it this way: ​"There needs to be one place in soci­ety where chil­dren feel that their needs come first – not their future as con­sumers. In Amer­i­can soci­ety today, schools are the only option. That's why every aspect of school food mat­ters so much."
Mark Winne
is a free­lance writer from San­ta Fe, New Mexico.